KTM duo Andy Wilksch and Riley McGillivray blast to AORC victories at Keyneton, South Australia for Round 8 of the AORC.
KTM-backed Australian off-road racers Andy Wilksch and Riley McGillivray left their rivals in the dust at the seventh and eighth round of the 2023 Australian Off-Road Championship (AORC) at Keyneton, SA, with both riders standing atop the podium this weekend.
Saturday's Cross Country format – the first since 2019 – was dominated by Wilksch and his 2023 KTM 450 EXC-F, as he also charged to his first outright victory of this year's series. Wilksch led the field through the first turn and continued to hold a front-running position for the duration of the gruelling six-lap event.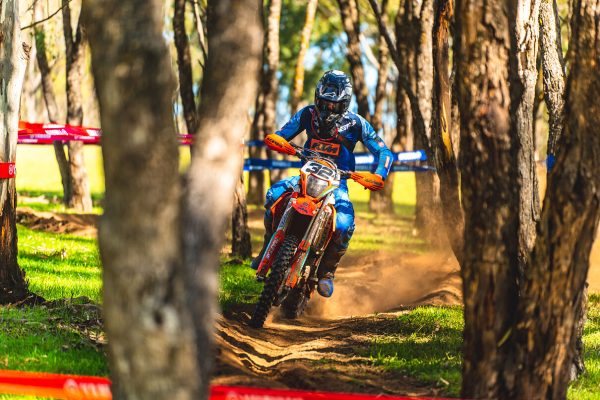 After logging the fastest lap-time of the entire race, the 26-year-old spent some extra time in his fuel stop to replace his air filter and cover, in order to ensure his machine would continue to perform at its peak in the dry, dusty conditions.
The gamble paid off, as while some of his nearest rivals struggled in the conditions late in the race, Wilksch stormed to both the E2 and outright wins, with his finishing time of 2h56m34s beating the second-placed racer by more than one-and-a-half minutes.
Unfortunately, Sunday's eighth round was a difficult one for Wilksch. On the opening lap of the Sprint formats, the current E3 champion tweaked his troubled knee in a creek crossing. He finished the test in fifth outright, but as pain increased during the second test, he made the difficult decision to retire from the round.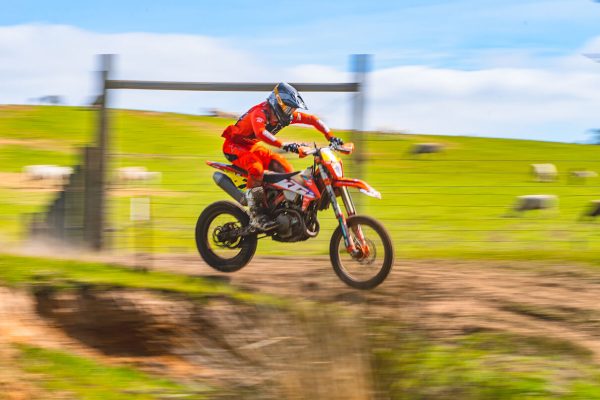 Meanwhile, in the E3 class, talented KTM-equipped teenager McGillivray impressed the paddock once again by topping the E3 class standings and placing a well-earned fourth outright in Saturday's Cross Country race. Finishing 4m14s behind Wilksch, McGillivray set the second-fastest lap of the day, as he revelled in the dusty conditions.
Sunday's Sprint formats again saw the 19-year-old excel in the dusty, technical special tests, as he comfortably put his 2023 KTM 500 EXC-F at the top of the leaderboard early on, and never looked like relinquishing it. After the five tests, McGillivray finished more than a minute clear of the rest of the E3 field and sixth in the outright standings.
Rounds nine and 10 of AORC 2023 will be held at Kyogle in New South Wales from 16-17 September.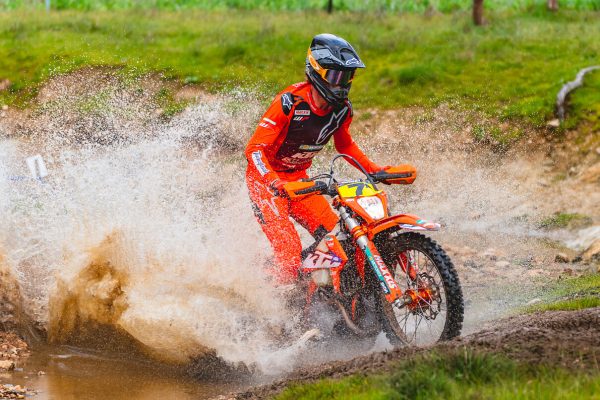 Andrew Wilksch: "It was a big weekend and managing energy was key. It was cool to have a return to the Cross Country format and I had a really good race – I got the holeshot and pushed hard early to gain a lead. Knowing how dusty it was, we spent some extra time at the fuel-stop swapping out the filter and cover, to make sure we could manage the bike as best we could for the rest of the race. I had some E2 contenders right behind me, but I focused forward, hit my marks, and was able to pull it together and win my first outright of the year! Today I wanted to back it up, but sadly I hit a soft spot in a creek on the first test and hurt my right knee, which I've had dramas with all year. I really struggled to put weight through it on the second test, so we made the tough decision to not continue as I wasn't competitive anymore. It was a far from ideal way to end the weekend, but I'm super-stoked to get my first win for KTM and show what we can do."
Riley McGillivray: "It was a great weekend for me and I was more stoked to score my best-ever outright position than I was to win the E3 class both days, to be honest! Yesterday I started slow in the Cross Country race, but soon got into the flow of it and tried to keep it on two wheels. Conditions were pretty tough – dusty and rocky – but I really like the technical stuff. Conditions were similar today and it was a matter of finding new lines and being more creative to stay out of the dusty ruts and off the ground. I was consistently about 15 seconds faster each lap, so was able to build a good buffer. After such a huge break in the AORC calendar it's great to be back racing again and I'm looking forward to Kyogle in a few weeks' time."
2023 Australian Off-Road Championship – Keyneton, SA
Round seven results:
E2
1. Andy Wilksch (KTM)
2. Joshua Green (Yamaha)
3. Jye Dickson (GASGAS)
4. Fraser Higlett (Beta)
5. Jeremy Carpentier (Yamaha)
E3
1. Riley McGillivray (KTM)
2. Stefan Granquist (Husqvarna)
3. Sam Pretscherer (Husqvarna)
4. Patrick McGillivray (KTM)
5. Jayden Rudd (Husqvarna)
Round eight results:
E3
1. Riley McGillivray (KTM)
2. Sam Pretscherer (Husqvarna)
3. Stefan Granquist (Husqvarna)
4. Luke Bunnik (Beta)
5. Jayden Rudd (Husqvarn