The ShopYamaha Off Road team was back to full strength at Rd 7 & 8 of the Australian Off-Road Championship (AORC) with Kyron Bacon winning E1.
Both Kyron Bacon and Josh Green returned to action at Rd 7 & 8 of the AORC after being side-lined for some time with injuries, but both picked up where they left off and scored impressive results over the weekend.
The weekend saw a Cross- Country format used on Saturday that had competitors on the bike for around three hours in dry and dusty conditions. Kyron Bacon made his return to racing and took a cautious approach as things got under way, but it wasn't too long before he started finding his groove and he upped the pace as the day went on.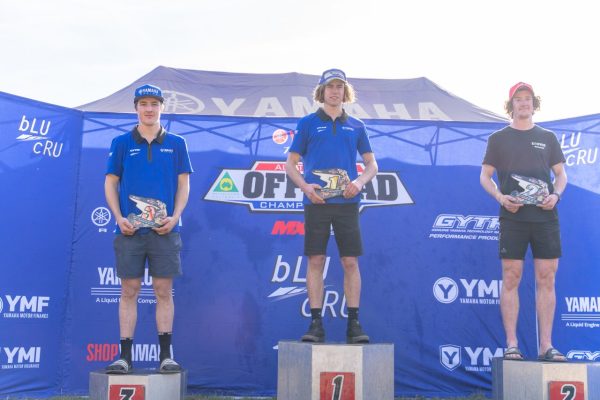 He finished the day in second place in the E1 (250cc) class as well as second Outright in a positive day back between the banners.
Day two and the Sprint format kicked in and Bacon continued to gain momentum. Again, he took the win in E1 making it a class 1-1 on the weekend, but he also stepped up and took the Outright victory to signal he is back and ready to regain his place as Australia's number 1 off road racer.
"I'm just happy to be back at the AORC and racing again," Bacon offered at days' end. "It had been nearly three months between races for me and while my recovery went well, I just wanted to get back to an AORC round and see how my progress was coming along.
"I still think there is room for improvement and it took me a little to get warmed up each day, but it was a positive weekend for me and the team and its good to be back.
"Thank you to everyone in the team for supporting me and standing by me during my injury. It was cool to be back with the guys and having fun racing. You don't realise how much you miss it until you can't do it," Bacon ends.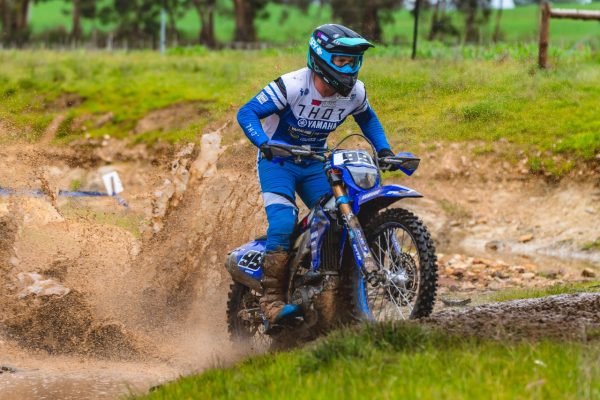 For Green, the battle against injury was a little more intense. He raced time to recover from knee surgery and got back on the bike with a couple of weeks up his sleeve, only to hurt his thumb in the lead up to the SA round and have to nurse it through as well as his knee.
But Green is as tough as nails and was able to get through the weekend, not only in one piece, but also make some inroads in the championship hunt.
Green finished the Cross Country second in class (E2) and third Outright and then put in another solid performance on Sunday to rack up another second place in class and fourth Outright on Sunday. The ultra consistent weekend saw Green consolidate his position at the top of the E2 championship and increase his lead in the Outright standings.
"I can't say I had a lot of fun on the weekend as most of the time it was damage control to get through the weekend and preserve my body. I had strapping all over me and then the dusty conditions also meant looking after the bike also become a priority.
"Thankfully we were able to do both, and we leave here in pretty good shape. There are a few weeks until the next round and being at Kyogle, it will be technical, so I will need the time for my thumb to recover and be ready to go in September," Green ends.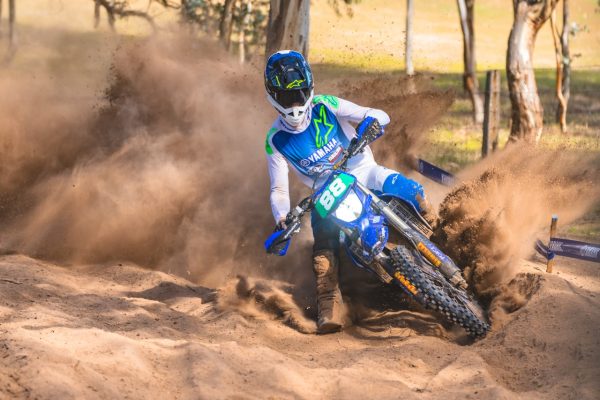 It also proved to be good weekend for the bLU cRU support riders who pulled down plenty of podium results on the weekend. Cooper Sheidow finished third on both days and his consistency shows up on the championship standings as he now leads the E1 class by eight points over his nearest rival.
Wil Dennett also leads the EJ (under 19) championship chase after another good performance on the weekend. Dennett finished with 3-1 results in South Australia and now stretches his lead out to 21 points. Dennett has been the big improver of the 2023 season and sits comfortably inside the top 10 out right riders at most rounds.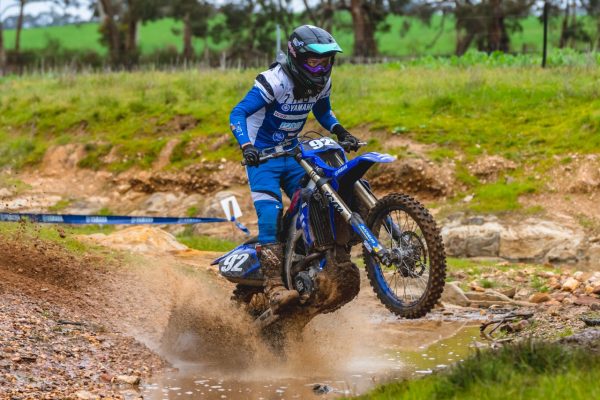 Jett Yarnold finished up with 5-2 results and just sits off a podium position in the EJ class in fourth. Yarnold had a tough day on Saturday to come home fifth in class but found form on Sunday and notched his best result of the season so far with a second-place finish.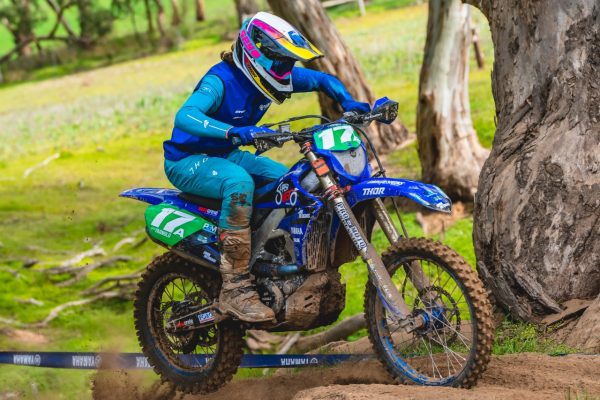 Marcus Nowland also scored a season high result, taking the class win (J3) on Sunday. Nowland was fifth on Saturday but rebounded well to take the class win on Sunday and now moves to fourth in the EJ division.
The next round of the Australian Off-Road Championship is set down for Kyogle, NSW on September 16 and 17.