Phill Lovett won the SSV Superlite B Class for Can-Am at this years Tatts Finke Desert Race.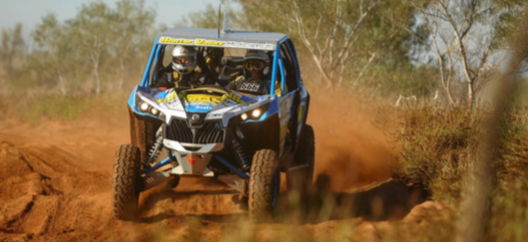 The 3 times Finke Motorcycle winner and 23 times contender partnered with Allan Samuels for the tough, 500km two-day race from Alice Spings to Finke and back, piloting their Can-Am Maverick X ds Turbo to the class win.
Lovett was quickly followed by Jeff McNiven and Frank Waite with Mick Crossland and Greg Campbell rounding out the top three for an all Can-Am podium.
To support entrants in this year Tattersalls Finke Desert Race Can-Am and Polaris again teamed up to provide a "Pit Stop" service at the Finke end of the track. Free food, shelter and technical support, as well as the ability to purchase much needed service parts are made available to all Finke entrants driving a Can-Am or Polaris SSV at the event.
"The SSV segment is the fastest growing segment in Australian off-road racing because it provides affordable and easy entry into a highly competitive racing environment" said Matthew O'Connor, Brand Marketing Advisor for Can-Am Australia and New Zealand
"By providing a support service such as the Finke Pit-Stop, Can-Am and Polaris are working together to grow the sport and make it easy for privateers to compete in high quality motorsport." Can-Am also provides a turn-key, CAMS approved, race ready Can-Am Maverick X ds Turbo that can be purchased from dealers around the country.