I own a 2015 Maico 700 and saw a cylinder on German eBay listed as a 700cc one. I was going to buy it as a spare but the seller asked if I wanted to pay a little more for the whole engine. It was in bad shape and missing pieces, but I bought it anyway.
I got the engine and cylinder in the mail a few weeks later and the piston said 98mm on it. That was odd because my 2015 Maico 700 has a 100mm piston. I found out that this cylinder was not from a Maico 700 but from an even rarer 660 sidecar motocross engine, of which probably less than 20 were made. The cases were pretty much hand-cast and so I decided not only to rebuild it but to put it into a late-model Maico 500 frame. I had two of them, so I took one and built this engine for it.
Modifications
I rebuilt the entire engine. It was caked with dirt and so I cleaned it out and replaced all the bearings and seals. The next thing I did was, since the gearbox design was the same as for the modern Maicos, buy new first and second gears that were lower for enduro use, as opposed to the high gearing fitted for sidecar motocross. I also put in a brand new clutch, as that's also the same as the modern 700. My new connecting rod was scraping in the cases and I noticed the old one had been filed down on the bottom. So I fixed that and the next problem was that the piston hit the cylinder head and was too high by several millimetres. I had to have a special cylinder spacer made to compensate for that. I powdercoated the frame and hubs and built new wheels. I also bought new white plastics, custom graphics and a Zabel 700 custom exhaust. It is the only Maico 660 engine I have ever seen and probably the only one in a modern Maico frame.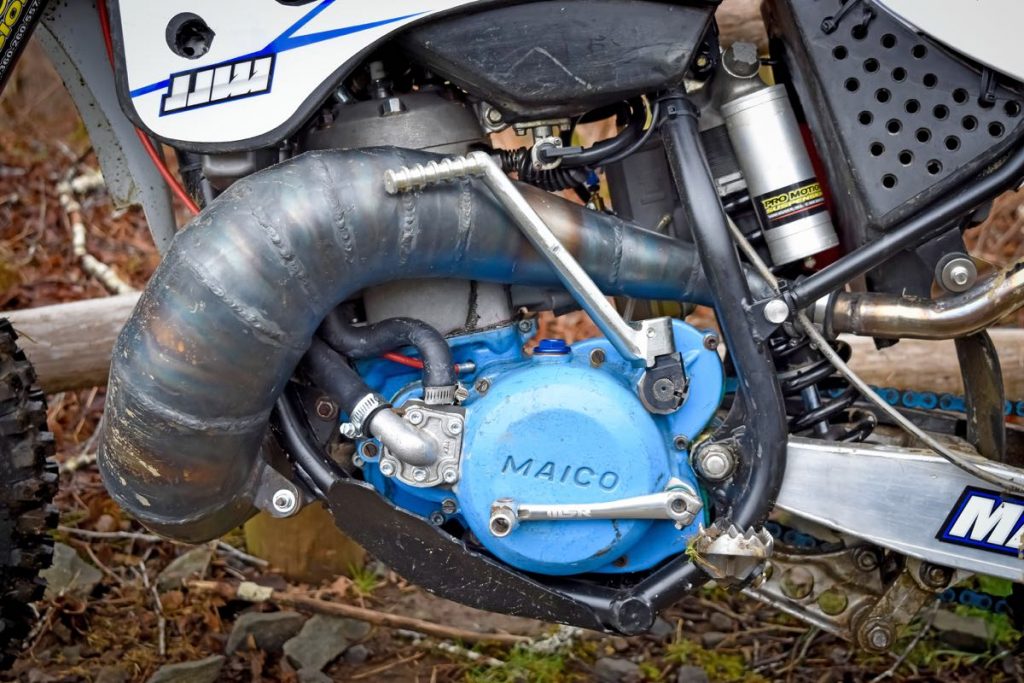 How does it go?
There were initial problems which I, finally, have fixed. The first one was the airbox. I originally had put a clip on but that didn't work too well and it ran too rich. I was able to get an air boot for it but it was too small, so I had to use a heatgun to get it to the correct size. The next issue was that the engine would flood and backfire. The problem ended up being the PVL ignition. Although it was new, these CDIs seem to have grounding problems and it burnt out. I replaced it with a power dynamo and it's run excellent ever since. The bike has a tonne of low-end power and will just idle up a hillclimb.
Recommend it?
I would recommend a Maico for sure, but finding a Maico 660 is going to be tough since there pretty much aren't any around. You could buy a modern Maico 700 or 620 which have hydraulic clutches as opposed to the cable clutch of the old 660. I definitely recommend a "Clake One Light Clutch" on any of these beasts because the clutch pull is 25 pounds without it versus four with one. Toby Opferman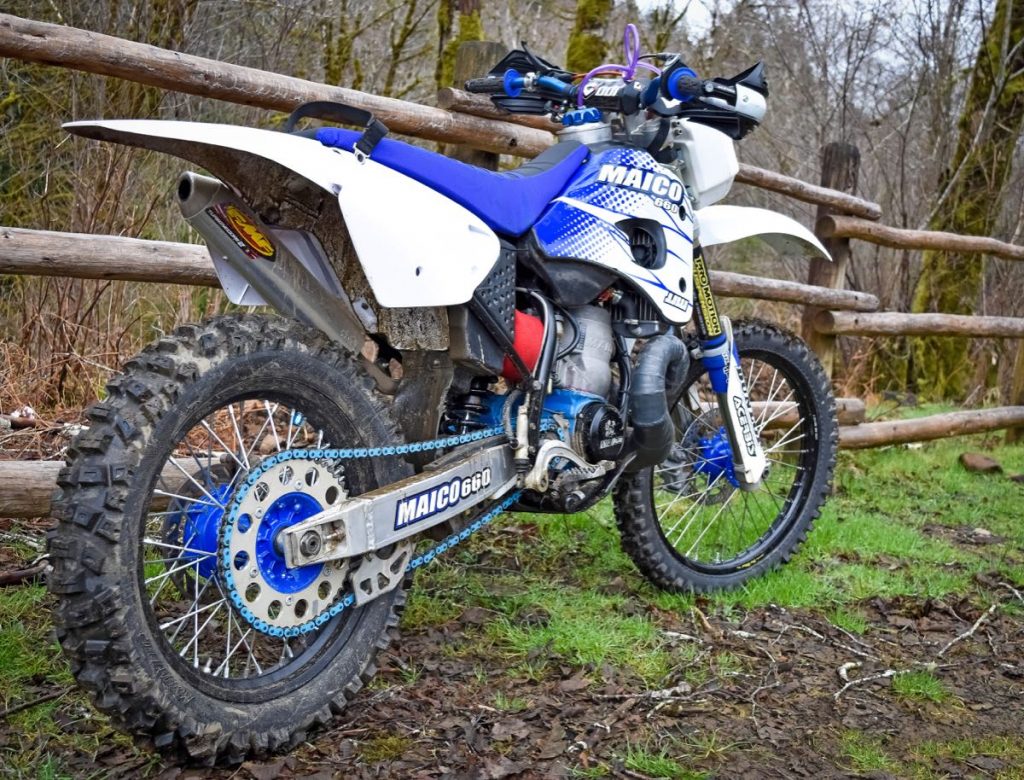 Five Thing You Didn't Know About Maico
1. Although Maico went bankrupt in 1983 and again in 1986, the 500 has had continuous improvements since that time, including the addition of a power valve, hydraulic clutch and increased displacement.
2. Maico donated motorcycles for the 1972 Olympics in Munich, which were used to follow the torch bearers.
3. The 500 was last completely redesigned in 1998 by late, great tuner Hermann Walgenbach (Hewa Power), making it more modern than a CR500 or KX500.
4. The modern Maico 620 and 700 were designed in 2003 by Axel Kostler for a supermoto team as they wanted more power than the 500 had.
5. Maicos were built in the Netherlands from 1997 to 1999, when Kostler moved it back to Germany. He produces about 50 bikes a year, including a 685cc enduro and supermoto.