The EnduroGP of Euskadi in Basque Country of Spain was run over the weekend and while Australian Matt Phillips didn't lock in his best result the Sherco rider still maintains the overall points lead.
Husqvarna mounted Mathias Bellino was in top form during the two days of intense racing. The Frechman secured two well-deserved EnduroGP and Enduro 2 wins after working hard ahead of the event to earn the win in the Friday night super test. Carrying his speed into the first full day of competition he then won each of the three special tests during the opening lap to establish himself at the head of the results. At the end of the day he placed 25 seconds ahead of his closest challenger.
Day two saw more of the same from Bellino, who again turned in an impressive opening lap. Producing a mistake free ride he comfortably topped the overall EnduroGP and Enduro 2 class results to complete a near perfect weekend.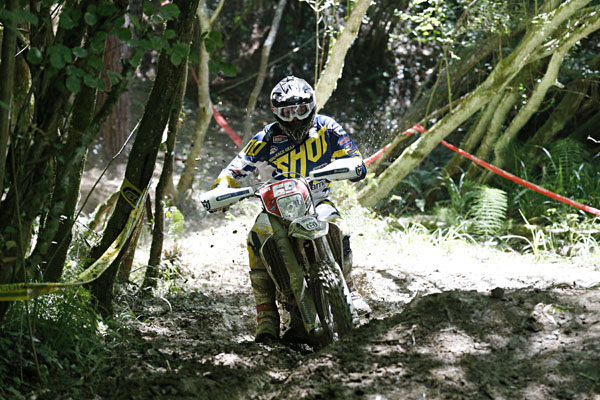 Matt Phillips ended day one of the EnduroGP in fifth overall but third in the E2 class. The Sherco rider then backed that up with a fourth in class and fifth overall on Day 2, 45 second off the pace of event winner, Bellino.
Phillips' result on the weekend weren't his strongest of the season but the Tasmanian still maintains a 28 point lead over his closest rival, TM's Eero Remes. Steve Holcombe from the Beta team is third.
The Maxxis FIM EnduroGP World Championship next heads to Fabriano, Italy in two weeks time.
Results
Day 1
EnduroGP
1. Mathias Bellino (Husqvarna) 1:06:47.54;
2. Alex Salvini (Beta) 1:07:12.87;
3. Manuel Monni (TM) 1:07:14.29;
4. Nathan Watson (KTM) 1:07:19.73;
5. Matthew Phillips (Sherco) 1:07:27.48
Day 2
EnduroGP
1. Mathias Bellino (Husqvarna) 1:04:55.26;
2. Loic Larrieu (Yamaha) 1:05:21.80;
3. Nahtan Watson (KTM) 1:05:27.21;
4. Alex Salvini (Beta) 1:05:28.74;
5. Matthew Phillips (Sherco) 1:05:40.40
Championship Standings (After Round Six)
EnduroGP
1. Matthew Phillips (Sherco) 181pts;
2. Eero Remes (TM) 153pts;
3. Steve Holcombe (Beta) 148pts;
4. Mathias Bellino (Husqvarna) 146pts;
5. Nathan Watson (KTM) 142pts