2015 and 2016 Australian Track Champion, Max Whale will lead the pack with his KX250F, while Brad West will continue to represent the KX Junior Squad in Australian junior motocross competition.
Max has already set the pace at the 2017 Troy Bayliss Classic where he won his three heat races by twenty to thirty bike lengths and came 2nd in his class (Junior 250cc 4-Stroke, 13-16yr old) following a less than favourable start that saw him enter the first turn in 8th position.
"Max plans to compete as a junior until he turns 16 half way through the year which will qualify him for senior competition, so ultimately Max will aim to be a junior and senior champion all in the one year!" said Max's father, Brett Whale who is well-versed in off road racing given his stint as the Australian factory Kawasaki motocross Team Manager in the past.
Traveling to the United States last year proved fruitful for Max who claimed 16 podiums and an Ohio State title aboard his Kawasaki KX450 during his mission to conquer the 2016 AMA Amateur Nationals. "We are planning to race in the U.S. again this year which is another level of racing and Max will be looking forward to doing it again. Because of Max's age, he will race in the Pro Series. The experience will hopefully generate some exposure and build Max's profile," commented Brett.
The lightning fast Queenslander has already set the pace with his all new 2017 KX250F, proving that he can go faster than his previous model year racing machine during pre-season testing.
"The whole package handles so perfectly and works so well. It's the best motorcycle I have ever ridden and I absolutely love it," commented Max on his 2017 KX250F.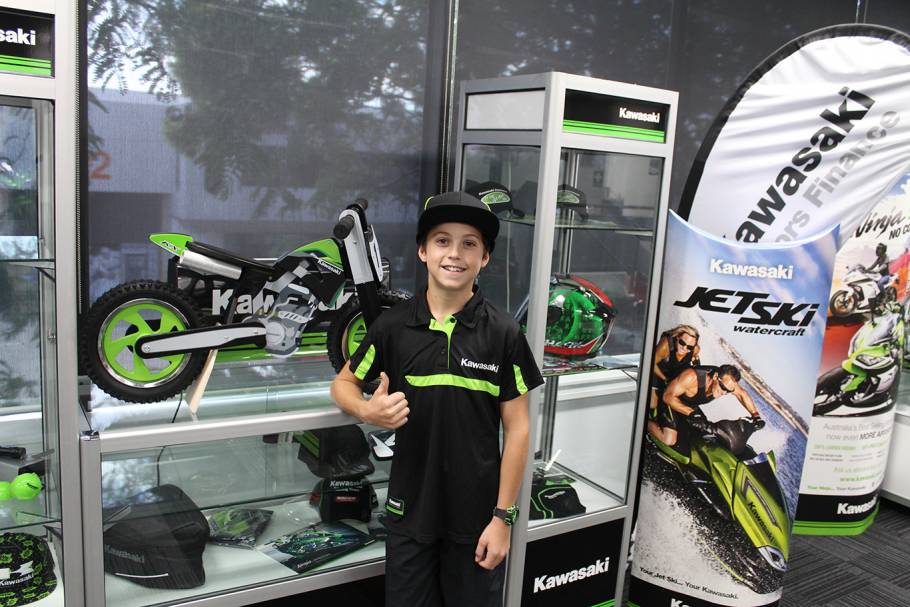 Brad West enters his third year of receiving direct support from Kawasaki Motors Australia as a member of the KX Junior Squad and he will step up from his small wheel KX85 to campaign aboard a large wheel KX85-II, provided with the assistance of Rosenberg Motorcycles in Rockhampton QLD.
Spurred on by coming a close second in his class at the 2015 Junior Motocross Championship, the hungry 12 year old Queenslander aims to be triumphant in every race that he enters this year and ultimately hopes to be selected to represent Australia at the Junior Motocross World Championship in Tartu, a small province of Estonia in Europe.
"Brad has shown great maturity and focus in terms of how he approaches a season. He has had a solid off season, keeping fit and healthy so coming out blistering at the beginning of races is great but we need to maintain the pace all year and that's what we are going to do," said Brad's father, Sean West.
Brad's preferred weapon of choice is the KX85-II for multiple reasons. "The way the bike turns, the brakes and the handling is better than any I have ridden," commented Brad.
National Sales and Marketing Manager of Kawasaki Motors Australia, Robert Walker said "We are extremely proud of the progress that Brad West and Max Whale have made during their time with the KX Junior Squad and we are honoured to be supporting the development of Australian talent at the grassroots level and beyond."