When Harrison Saunders purchased his dream bike online from Portugal he had no idea what he was really buying. This is the story about how Joel Smet's bike ended up in Australia.
Imagine scanning the world for exotic bike parts so you can build your dream bike, and a genuine factory bike falls in your lap, Joel Smet's bike. You bag the deal of the century only to find out the bike is stolen. Not only that, it belongs to your childhood motocross hero on the other side of the world. What do you do?
This is exactly the situation that Harry Saunders found himself in when he unknowingly purchased five-time world motocross champion Joel Smet's bike that was stolen. It was actually his 2003 championship winning Factory KTM 550. The bike was stolen from the Sportimonium Museum near Brussels in Belgium in 2015 and through an unlikely chain of events, it ended up in Melbourne. This is Harry's story.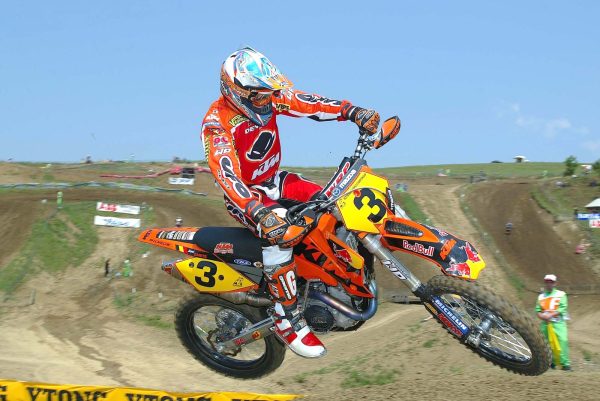 THE HOLY GRAIL
"I have been collecting 2000s era KTM parts since 2018 for a project build I am doing," Harry explained. "My initial plan was to build a Tyler Ratray replica KTM 125cc but that turned into building a Marc de Reuver 2003/2004 model and after being able to source some cool parts like a GP engine and 52mm forks the project escalated. The rabbit hole you go down is crazy during the Covid-19 lockdowns I was searching the entire world for parts.
"I was searching at the end of 2021 and I set the Facebook Market Place search to Portugal. I found this bike listed as a KTM Supermotard 2004 model. My mate and I noticed the forks and the magnesium triple clamps straight away. The more we analysed the ad, we noticed some more cool stuff and thought it must be a works motocross bike, minus the wheels.
"It was pretty cheap, listed at 4,500 Euro. I knew the bike was special and just couldn't let it slip away. I started communicating with the guy in Portugal via Google translate. I asked the seller if the bike was special or if it was an ex-race team bike and he said it was not. He had no idea what he had.
"We got the point of sorting out a deal but he wouldn't do Paypal because he wasn't prepared to ship the bike until I paid for it. That was a deal breaker for me. I wasn't prepared to risk spending $6,500AU to some sketchy dude in Portugal and get done over for it.
"I kept checking if it was still listed online and the more I went into it, I realised it could have been one of Joel Smets' bikes. It had the logos of his personal sponsors Denicol lubricants and DT1 air filters which were different to the KTM Factory Team at the time who was using Motorex and Twin Air. So I thought perhaps it was one of Smets' 450cc bikes that he ran second to Stefan Everts on in 2003.
"Then I couldn't let it go and wanted to bite the bullet. I worked out a way to get the bike here and I sent the bloke a bank transfer. I completely risked losing $6,500 but it paid off."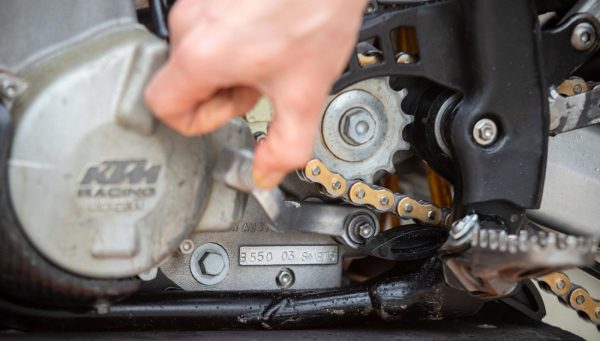 AUSSIE CONNECTIONS
"In the two weeks trying to figure out how to get the bike to Melbourne, I contacted Scott Lillis, Daniel Milner's mechanic in Europe. He is living in Italy and at his wife's place in France. He told me if I could get the bike from Portugal to France, he could get it to Australia for me. If it wasn't for Scotty, I wouldn't have bought the bike because there was no way I could get it here.
"I sent the bank transfer and a couple of weeks went by then he shipped the bike to Scotty in France. Scotty went over the bike and confirmed it had cool shit all over it like magnesium and titanium and we knew it must a full works bike. But we still didn't know what it was exactly because Scotty either didn't see or didn't tell me about the engine stampings on the cases with Smets' name on them.
"Scott stripped the bike down and split it into four 30kg boxes and sent it to Australia through DHL because that was the cheapest way to get it here. It cost $2,500AUD but it would have cost $4,000AUD if sent as a full-sized bike."
BAD NEWS
"It took around three months from the date I paid old mate in Portugal until the four boxes rocked up on my doorstep in Australia. During the time I was waiting I decided to do some research on it and I came across a YouTube interview with Joel Smets. About half-way though, Joel started talking about his five world championship bikes and about how his 1995 Husaberg was stolen from an exhibition at a Namur and how his 2003 KTM 550SX was stolen from a sports museum in Brussels.
"My heart dropped and I knew I possibly had that bike on its way to me in Australia. I had to sweat on it until it arrived but it was in the back of my mind that I had bought a stolen bike. As soon as the boxes arrived I ripped open the box with the engine in it and there it was stamped on the cases. B 03 550 SMETS.
"It was insane and I couldn't believe it. It blew my mind and I didn't know what to do with it. Smets was my hero as a kid. I met him when I was ten years old at the 500cc world championship round at Broadford and I just felt like I needed to get his bike back to him.
"I sat on it for about a week to think about what I was going to do then I tried to contact Joel on Facebook with no response. Then I messaged Harry Norton, an Australian mechanic working for the Red Bull Factory KTM motocross team who works for Joel. I explained I possibly had his boss's stolen 2003 world championship-winning bike. Harry told Joel and it blew his mind. They asked me to send the engine, frame and suspension numbers so they could cross-check it and they confirmed it was in-fact the stolen bike."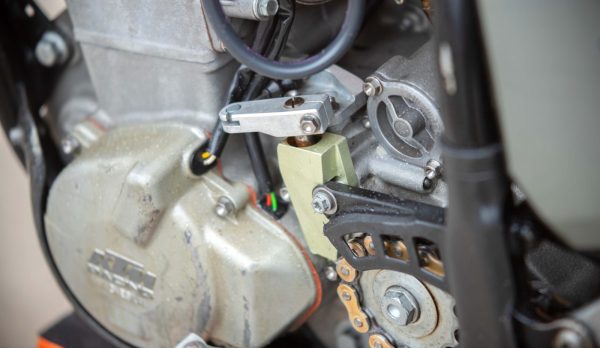 THE RIGHT THING TO DO
"It was bitter-sweet but my parents taught me to pay it forward and do to others what you would want done to yourself. I have been a racer my whole life and if I won a world championship and my bike was stolen I would want nothing more than to have it back. It would be my most prized possession. The whole experience was sick. It was the best and I was so excited.
"After KTM confirmed the bike was Joel's he emailed me and asked what I wanted to do about it. I explained I only wanted what I paid for it. I didn't want to screw anything extra out of it. Just because I bought the bike didn't make un-stolen. Maybe he got an insurance pay-out for it but that wasn't the point.
"I left the bike in boxes for a while and Joel organised to have it shipped back to Austria. I had it for five months before that was sorted out because he was so busy with the race team. I assembled the bike and had it on display in my parent's lounge room for two months. It was in really good condition considering it had been missing for seven years and used a daily street rocket in Portugal.
"There were a few little pieces missing and it had some gravel rash on the axles but it was 95 percent there. As it turned out I had the parts to replace the missing pieces from the parts I had been collecting so I finished the build while I had it. I then semi-stripped it back down to ship to Joel and took my parts off it.
"By the time I shipped it to him we had been talking for six months and he transferred me the money in good faith and away the bike went. Rather than going to Belgium where he lives, I sent it to the KTM factory in Austria and one of the guys there has taken it home to restore for Joel."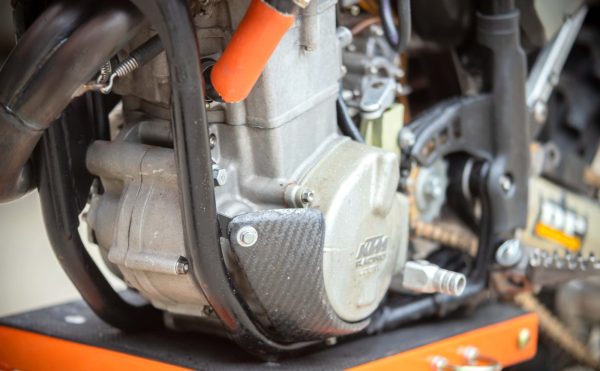 HAPPY ENDING
"The guy in Portugal said the bike was not his and that he was selling it for one of his Dad's mates. Because he never did me over I never went back and pursued him when we figured it all out. Joel never asked who I bought it off. Joel got his bike back and I didn't get screwed over, so I let it slide.
"The guy I bought it off seemed too straight to know what he had and I suspect the guy he was selling it for bought it hot and didn't know what he had. I typed a letter and put it in with the bike when I sent it and explained my story and outlined all the defects I found. Joel thanked me and offered if he could help me with anything.
"I sent him a list of the remaining parts I have been searching for, for my 125cc bike build and said if he knew anyone with them I would happily pay for them but I haven't heard anything from him yet. I know he must be busy but a couple of signed jerseys would be nice. My wife and I are heading to Europe for our honeymoon and we plan to go to the MXGP at Lommel so maybe I will catch up with him then? The way it all unfolded and the fact that Joel was my childhood hero is crazy, you couldn't make this story up."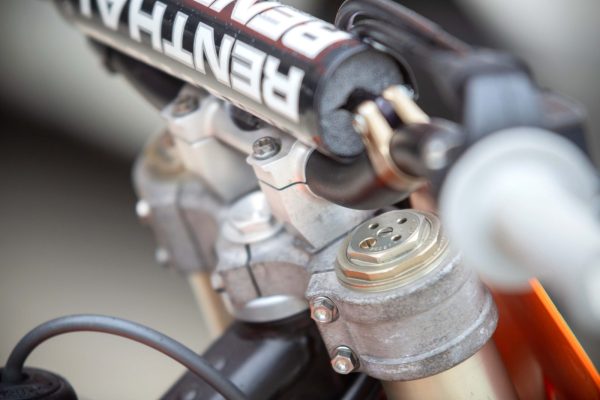 For more on this story check out issue #529 of ADB
WORDS // STEPHEN TUFF
PHOTOS // KANE O'ROURKE AND KTM