A EC 450F and EC 500F have been added to the MY24 GASGAS enduro lineup, plus all MY24 machines get a host of major upgrades.
GASGAS claim both big-bore bikes are more suited to open going and flowy trails and feature all the same top-level components as the rest of the MY24 GASGAS enduro range. We're talking Braktec brakes, WP suspension, and enduro-specific PANKL transmissions. They also still hang onto the rear suspension linkage and the new motors across the range that are both lighter and more powerful. This was achieved by GAGSAS' engineers repositioning the motors inside the new frames to centralize weight and balance things out a little better.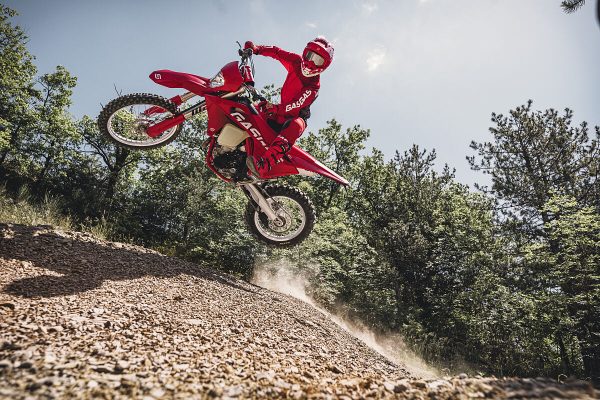 Here's a look at the technical details not he MY24 GASGAS enduro range:
Technical Highlights Enduro
New frame – Engineered to be stable at speed while remaining incredibly agile through tight and twisty trails, the new frame amplifies the riding experience for everyone.
New aluminum subframe – Strong, reliable, and plays a vital role in the ergonomics and handling of each bike.
New die-cast aluminum swingarm – Light, strong, and offering just the right amount of flex!
New bodywork – Refined rider triangle gives larger contact areas so riders can better grip the bike for improved control. And of course, it's all red!
WP XPLOR front fork with open cartridge – Undergoing plenty of technical changes to further improve performance and overall handling, the WP XPLOR forks are a little longer, assembled with new settings, and remain easily adjustable by hand.
WP XACT rear shock with rear linkage – Shorter and lighter yet retaining 300mm of travel, the WP XACT shock features a new piston for improved comfort. And to make sure the shock action is always consistent and progressive, all GASGAS enduro bikes are equipped with a linkage.
New forged triple clamps – Featuring a new steering stem that offers a little more flex for improved comfort.
New Braktec brakes – With brake disks unique to GASGAS and new calipers front and rear, it's never been easier to keep things under control in the woods.
Neken Handlebars – Made from high-strength aluminum and with a bar bend unique to GASGAS, durability and comfort are guaranteed while a bigger bar pad improves safety.
New footpegs – Bigger is definitely better when it comes to footpegs, which means the new GASGAS bikes offer better control in all conditions.
New Throttle Body Injection with separate oil tank for 2 strokes – Bringing our 2-stroke enduro dirt bikes bang up to date, Throttle Body Injection makes sure the motors run clean, crisp, and create strong power throughout the rev range.
New electronic exhaust control 2 strokes – Controlling how the exhaust ports open, the new electronic powervalve improves durability while boosting torque.
New motors – Centralizing mass while also being lighter, not to mention that they produce more usable torque, the performance from each motor is even better for 2024.
New, unified motor position – All 4-stroke models have the motor mounted in the same position to improve the overall handling of each and every bike.
Map Select Switch – Take the riding experience of any of our four strokes to the next level with a Map Select Switch! Readily available as a Technical Accessory, with the simple press of the corresponding button, traction control, a quickshifter, and a choice of two maps can be engaged to customize the performance of each enduro bike. And by adding one to any of our 2-strokes, you'll also get the choice of two different engine maps.
Full line-up: EC 250, EC 300, EC 250F, EC 350F, EC 450F, EC 500F