The MY24 GASGAS XC range consists of five cross country bikes and are brand new from front to back and top to bottom, just like the motocrossers and enduros.
Built to the same high standard as the MY24 GASGAS motocross and enduro bikes, the cross country models combine essential parts from the GASGAS motocross and enduro ranges such as the fuel injection, larger fuel tank, and 18-inch rear wheels, which is better for cross-country. The XC range will be in Australia later this year.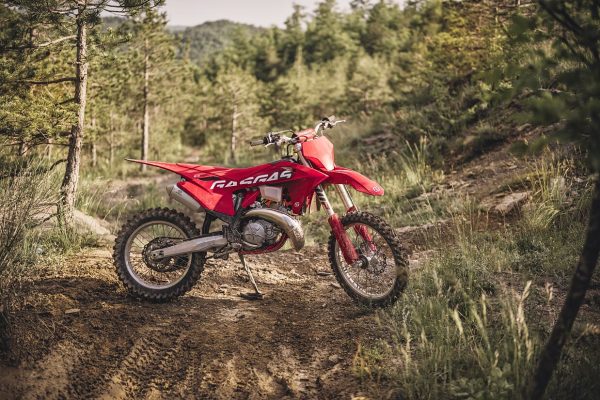 Here's a quick look at what's new for MY24:
New frame – Engineered to be stable at speed, the new frames retain their best-in-class cornering ability and give improved rider feedback.
New aluminum subframe – Strong, reliable, and plays a vital role in the ergonomics and handling of each dirt bike.
New die-cast aluminum swingarm – Light, strong, and offering just the right amount of flex!
New bodywork – Refined rider triangle gives larger contact areas so riders can better grip the bike for improved control. And of course, it's all red!
New hour meter – Helps to make sure all riders stay on top of maintaining their bike.
WP XACT front fork with closed cartridge technology – Easily adjustable by hand, steel springs with a pressurized oil chamber plus a hydrostop to take the sting out of heavy landings.
WP XACT rear shock – Shorter and lighter yet retaining 300mm of travel, the WP XACT shock has a new piston to improve both comfort and performance.
New forged triple clamps – Featuring a new steering stem that offers a little more flex for improved comfort.
High-performance Braktec hydraulic clutch system – As close as you can get to maintenance-free, ensuring consistency and performance at all times.
New Braktec brakes – Brake disks that are unique to GASGAS and new calipers front and rear. It's never been easier to keep things under control.
Neken handlebars – Made from high-strength aluminum and with a bar bend that's unique to GASGAS, durability and comfort are guaranteed. There's a bigger bar pad for improved safety too.
New footrests – Bigger is definitely better when it comes to GASGAS footrests! They help keep your feet where they need to be in all conditions.
New TBI injection with premix for 2-strokes – Bringing our 2-strokes bang up to date, Throttle Body Injection makes sure the motors run clean, crisp, and create strong power throughout the rev range.
New electronic exhaust control for 2 strokes – Controlling how the exhaust ports open, the new electronic powervalve creates maximum power and offers improved durability.
New engines – Centralizing mass while also being lighter, not to mention producing more power, the motors deliver even better performance for 2024.
New, unified motor position – All 4-stroke models have the motor mounted in the same position to improve the overall handling of each and every bike.
Map Select Switch – By adding a Map Select Switch to any of our four strokes, the riding experience is taken to new levels! With the simple press of the corresponding button, launch control, traction control, a quickshifter, and a choice of two maps can be engaged to customize the performance of each bike for every rider. And by adding one to any of our 2-strokes, you'll also get the choice of two different engine maps.
Full line-up: EX 250, EX 300, EX 250F, EX 350F, EX 450F