A 1-1 scorecard saw KTM Racing Team rider Nathan Crawford perfect in Round 7 of the 2023 ProMX Championship at QMP.
After posting the third-fastest qualifying time, Nathan Crawford was up-front in the opening MX2 moto, stalking the leader before making a pass at the mid-way point. From there, it was smooth sailing, going on to capture the race win. A holeshot in the second moto saw Crawford power his KTM 250 SX-F to a wire-to-wire victory, which sealed the overall and keeps him in title contention with a single round remaining.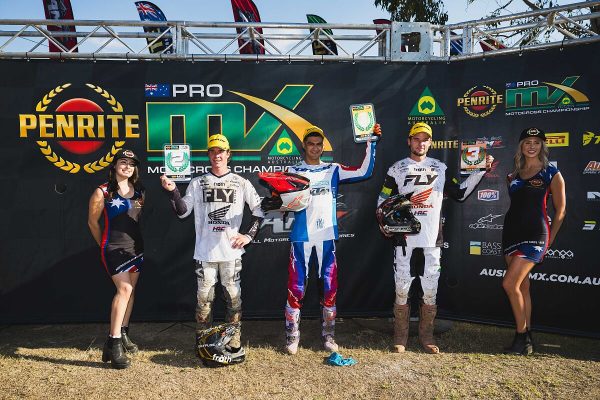 Fresh off a training trip to the United States, MX2 newcomer Kayden Minear began his QMP day by charging to P4 in qualifying. A pair of mid-field starts made it difficult for the Western Australian teenager, as he battled to 14-11 moto scores for 12th overall, and maintains sixth place in the series standings.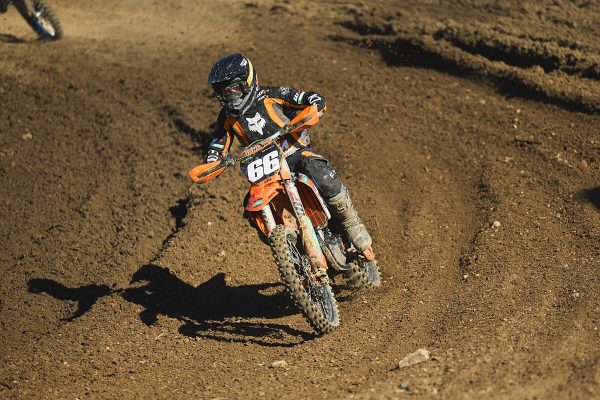 MX1 mainstay Gibbs opened his day with the fourth-fastest qualifying time, before racing to seventh place in the opening moto. Achieving more comfort in the second outing, the KTM 450 SX-F rider rallied to a fourth-place result, which would be enough for fifth overall.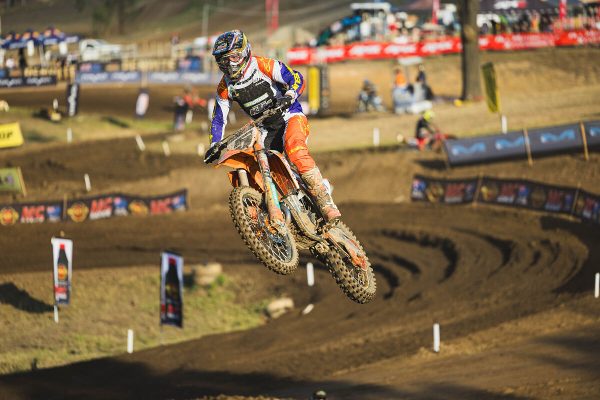 Gibbs' fifth place at QMP sees him move into third place in the MX1 championship standings, as the series heads to the iconic Coolum Pines venue for the final round of the 2023 season this coming weekend.
Nathan Crawford: "Today was solid – these types of rides are hard to come by. I got great starts in both motos and then captured the perfect 1-1, which was awesome. I can't say enough about my starts today, the KTM and Dunlop combination just hooked up and made my day a whole lot easier, so I'm stoked to pick up a dual race win, and the goal is to just keep winning."
Kayden Minear: "Finished the day here in QMP for round seven, which started really good with P4 in qualifying. A couple of bad starts made my racing really difficult as I was buried in the pack, but I really gave it my all both motos, and now I'm excited to hit the sand this weekend!"
Kirk Gibbs: "Bit of a rough day for me today! I qualified in fourth and then had two fairly average starts for me, which made it really difficult in the motos. Tightened up in the first moto pretty badly, however, second moto we made some great changes and I charged from about eighth into fourth place, and felt really good. So we just need to improve those first motos and we'll be great."
2023 Australian ProMX Championship – Queensland Moto Park, QLD
MX1 round seven results:
1. Dean Ferris (Yamaha) 50
2. Jed Beaton (Honda) 42
3. Kyle Webster (Honda) 42
4. Brett Metcalfe (KTM) 34
5. Kirk Gibbs (KTM Racing Team) 32
MX1 championship standings:
1. Dean Ferris (Yamaha) 271
2. Jed Beaton (Honda) 256
3. Kirk Gibbs (KTM Racing Team) 222
4. Aaron Tanti (Yamaha) 217
5. Kyle Webster (Honda) 198
MX2 round seven results:
1. Nathan Crawford (KTM Racing Team) 50
2. Brodie Connolly (Honda) 42
3. Wilson Todd (Honda) 42
4. Noah Ferguson (GASGAS) 36
5. Jayce Cosford (Yamaha) 30
12. Kayden Minear (KTM Racing Team) 17
MX2 championship standings:
1. Wilson Todd (Honda) 284
2. Nathan Crawford (KTM Racing Team) 257
3. Brodie Connolly (Honda) 230
4. Rhys Budd (Yamaha) 206
5. Noah Fergusson (GASGAS) 189
6. Kayden Minear (KTM Racing Team) 167