If you dream of a Dakar Rally podium then get in some local practice first. Racing is one thing, and racing while navigating of any sort, with GPS or roadbook is another.
There are many differences between our local events, like the Condo 750, and international races but the concept and basic skills remain the same. You have liaison sections (untimed transport between competitive sections) and the race itself timed over the competitive sections. Rally's can be one or multiple days in length and from a few hundred kilometres to the Dakar Rally that covers around. In 1986 the Dakar ran from Paris to Algiers then back to Dakar, an astonishing 15,000km.
Our local events rarely go "off-piste" which the French refer to as no tracks, however don't be fooled, thinking that navigating your way around dirt road, dirt tracks and farm trails is easy. There is still a huge challenge in reading your road book, matching up landmarks and staying on the right track, especially at speed! At least Australian road books are written in English. Since the Dakar is run by the French, you need to brush up on your language skills.
In order to race "off-piste" a GPS is needed. These are preloaded by the Rally organisers and can have hidden way points that need to be located before the next one unlocks. Roadbooks are also used with the GPS, which have written directions and intermediate distance readings as well as cumulative distance. The road book will also mark single, double and triple cautions which you might want to take heed of, if you plan on making the finish line.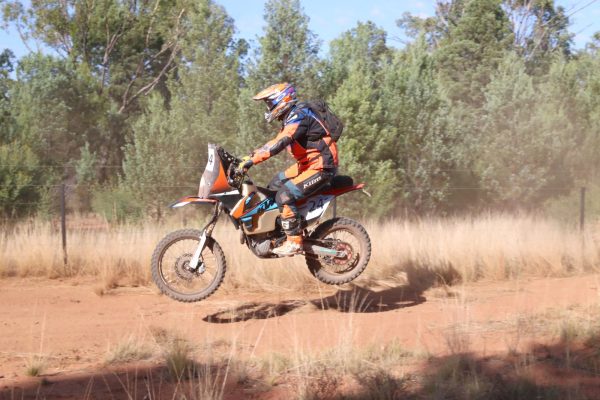 Why Don't We Run More?
Unlike a race held on a circuit, rally's cover a lot of land, just take a look at the Condo 750, and that just adds to the already complex red tape involved in running any motorcycle event and in Australia we heavily rely on private land to hold a long distance rally. Thankfully there seems to be plenty of land owners who offer up their own property for the race organisers to use and mark out their intended course. Without the generosity of these land owners, we would not have navigation rallys at all. Can you imagine trying to run a 5000km event on nothing but public land? Good luck trying to get that across the line.
The land to run an event is one thing, putting it all together is another. Don't forget every kilometre of the rally needs to be mapped out, checked, marked, and measured to compile the road books. This is done multiple times to ensure the course is accurate. That can be months' worth of work.
The Condo 750 is run by a stellar group of volunteers that donate so much time, effort and resources to bring the punters a two day race. Sunraysia Safari (a four day Rally) is run by Troy Bennett, managing director of Rally Management Australia and Troy is all too familiar with the amount of time and money it takes to pull together a multi day event.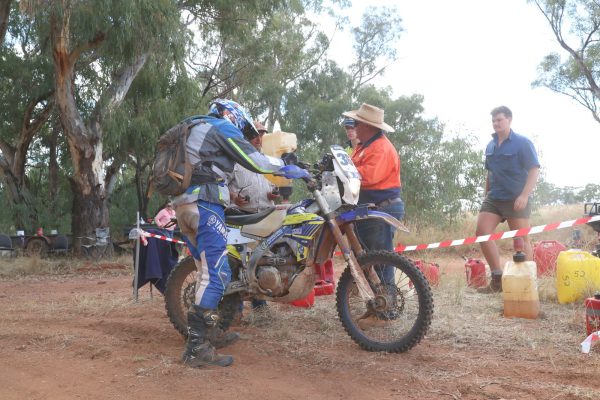 What's Next?
Troy Bennett kindly gave us the heads up on what it takes to run a rally.
TB: The biggest hurdle in putting together a multi-day rally is establishing those connections with farmers, competitors and of course sponsors. The set up cost involved is quite substantial, however we are now heading into our fifth year of Sunraysia Safari, so we are seeing value in our investment. There is quite a lot of bureaucracy to contend with but I have that under control.
This year we already have 77 nominations and room for 20 or so more before we hit capacity. I believe the future for Aussie rally is solid! In fact we are currently putting together a second four day rally that will be held in the first half of 2024. Like the Sunraysia, it will be approximately 1200km of competitive over four days of racing.
Lonely Mans Race
If you are pumped up by the crowd cheering you on as you cut lap after lap, perhaps rally is not for you. The downside to rally is the lack of crowds as the course is not publicly announced. It is a navigation race after all! Public liability becomes an issue as well, since you can not control spectators over hundreds of kilometres of course.
The best way to be involved is to either volunteer as an official, or join a service crew. You get to see some of the racing as well as be involved directly with the race. Remember, without volunteers, races like this just don't exist.
Although you can race a rally on your own and maintain your own bike at daily services and overnight stops, it is so much easier with a crew. Aussie rally's have a minimal fee for service crews, but if you plan on taking a mechanic with you to Dakar, count your pennys. Last time I checked, it was upward of $15,000 just to enter a mechanic!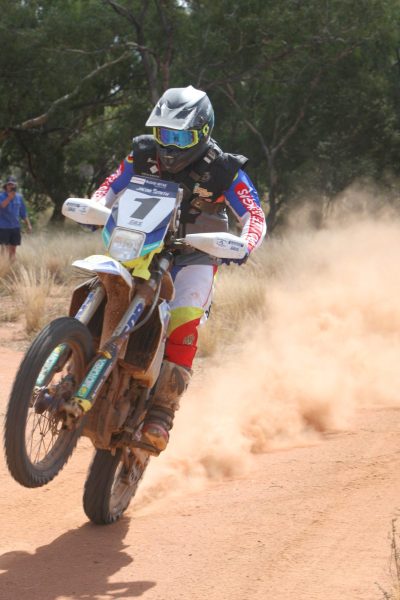 Crystal Balls
So what is the future for navigation rallys? On a world wide scale the future is bright. It is a unique way of racing that becomes addictive. On a world scale, the money is there, the manufacturers see value in races like Dakar and there are strong rallys being held in Europe, Africa, Asia and South Africa.
Locally, I have my fingers crossed we keep this breeding ground alive for those who strive to race overseas. This year, the Condo 750 made a remarkable return after a few COVID years wiped it from the calendar. In the 30th running of the event, the Condo not only attracted a field of 47 riders, but 8 of those were first time navigation riders. Many are now preparing for the Sunraysia Safari and looking forward to Condo in 2024.