NEW PRODUCT: O'Neal RMX Boots | News
Introducing the All New O'Neal RMX Boot – This entirely new MX boot has been completely designed and developed in Italy and delivers superior high end features and technical advancements.
The RMX is a no compromise development achievement featuring a maximum level of protection and passing CE standard EN 13634 LEVEL II. The RMX, The new standard is now set!
The hands-on expertise of some of the world's finest craftsman in MX boot design, development and technology have infused all of their experience to ensure the RMX from O'NEAL is pure premium performance in all riding conditions.
Montebelluna Italy is a town deeply entrenched in the tradition of fine footwear design, development and production. The town and general surrounding area some 30 miles Northwest of Venice and is the home of facilities for Nike along with many of the worlds finest hiking, skiing and outdoor boot footwear brands on the planet. The area is also home to many famous Moto boot brands. It is here where the O'NEAL development team was expanded, hiring on the expertise of premium Moto boot professionals in order to develop an MX boot filled with features, performance and technology only found previously in premium high priced MX boot brands. The result is a perfect and market-leading fit for the All-New O'NEAL RMX boots. Tested by pro-SX riders on treacherous tracks and terrain in harsh conditions, the RMX perform flawlessly each and every time when pushed to the limits.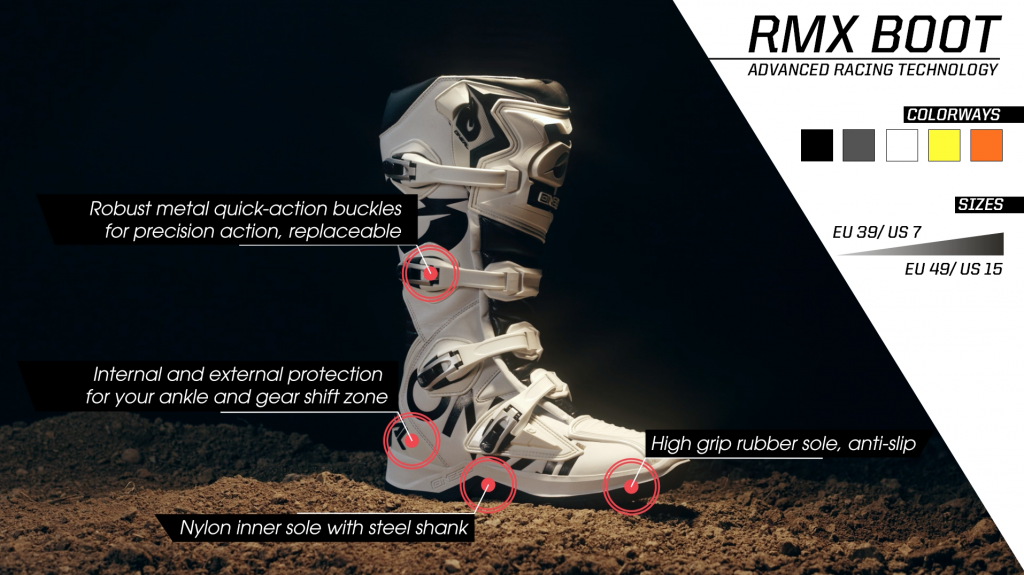 Extensive testing and refinement during the development process means this boot sets a new standard in the sub-$300 segment. The RMX is packed with premium features and materials and accordingly is comparable with other brand boots on the market costing twice as much.
O'NEAL has designed, developed and sold some 2 million plus MX boots since starting in business in 1970. The RMX is simply the next stage of development for O'NEAL, a brand dedicated to premium product and protection for nearly 50 years.
The maximum level of protection has been achieved by passing the CE standard EN 13634 LEVEL II. This higher level of certification is aimed at boots often costing significantly more than the RMX.
As well as the fit of the boot being developed with the very best product engineers and riders available, the feature level is also equally uncompromising:
– 4 aluminum buckles for a tailored fit with memory adjustment so the fit remains consistent time and time again from one ride to the next
– Injected nylon mid-sole with steel shank for increased stiffness for improved contact with the bike with the rubber compound on the outsole giving the perfect balance between grip and durability
The RMX delivers an incredibly high level of features and technology all at a great price.
RMX Boot Black, Orange, Black/ Gray, Black/ Neon Yellow, White
PRICE
RRP: $299.95
Available now!