Team HRC's Tim Gajser put in a near-perfect performance to the MXGP of Flanders to not only take the overall victory but extend his lead in the championship standings.
A second place in qualification gave him second gate pick and he took full advantage to get excellent starts on the Honda CRF450RW in both races at the Lommel circuit. In moto one, the #243 quickly swept into the lead on the first lap and was looking extremely comfortable, pulling out a small lead from the chasing pack. Unfortunately, he made one small mistake two-thirds of the way through the race and dropped back to second, which is where he ended up finishing. It was a minor disappointment, but Gajser was determined not to let it affect him, as he tried to back up his overall win here from 2019 when he went two-two.
Last year's event was a milestone victory for the Slovenian rider as Lommel is called the toughest race on the calendar due to the deep, ever-changing sand that makes up this whole facility. Known as a hard-pack rider earlier in his career, Gajser has worked tirelessly to improve his sand abilities and the second moto today was an example of the high level he has now reached. Once again, he rounded the first corner in second place and after a lap of following the leader, he made his move and never looked back. Every lap he would pull out another second on the riders behind, and by the time the chequered flag was waved he crossed the line over 10 seconds ahead. This gave him two-one results for the overall victory and 47 crucial points in the championship battle.
"From the beginning of the day, I felt great on the track and on the bike. In the first moto, I got a good start, in second place around the first corner and then I moved quickly into the lead, pulling out a little gap," said Gajser. "Unfortunately, I made a small mistake and fell, which allowed Gautier to pass me and I finished second. In the second moto, I had a good first corner and came out second again. I passed Jorge in the second lap and then pulled out a decent gap to control the race and take the overall. I'm really happy to take the victory here because we have worked so hard to get better in the sand and this is toughest race to win. Everyone in the team has been great and we just keep on pushing to get better and better and I can't thank everyone enough!"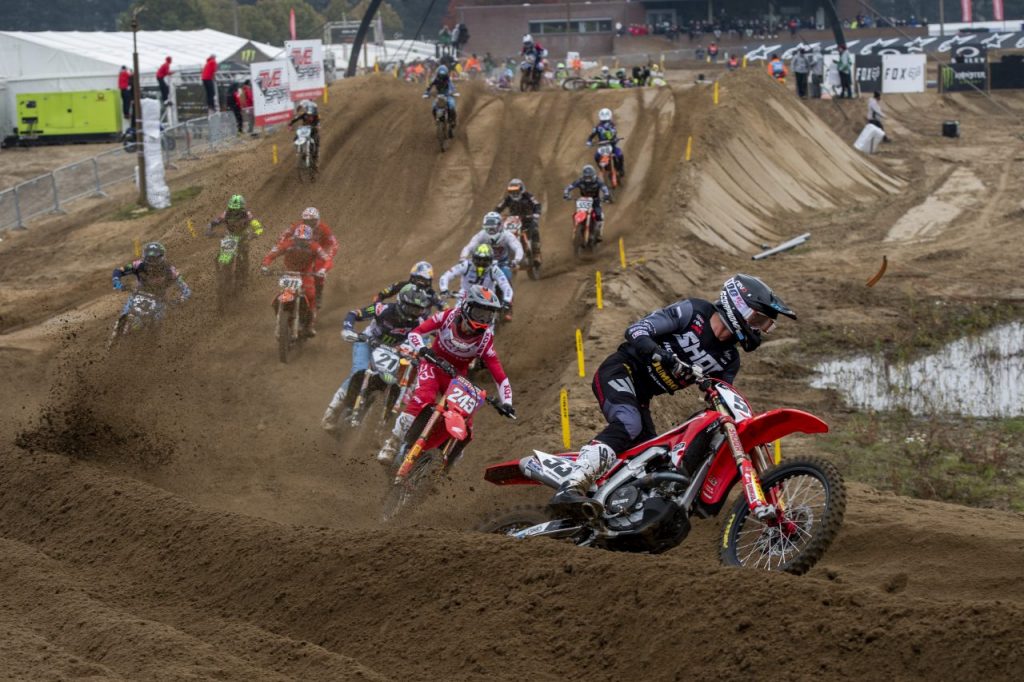 Coming into this Belgian triple-header Gajser was 24 points clear of second place, but that has now doubled to 48, and with two more events here, he will be looking to increase that gap even more this coming week. Now though, he has a couple of days off, before racing again on Wednesday 21 October for round 14 of this 18-event world championship.
Elsewhere in the MXGP class Dylan Walsh got a great holeshot and briefly led the first MXGP race. He showed good speed throughout the races although his points tally doesn't reflect this, but he'll certainly be looking forward to coming back on Wednesday. Jeremy van Horebeek had his best moto finish of the season with a fifth in race one, and would have been a podium threat had he not got caught up in a first lap collision in race two. He still came through the pack really well though and is another rider excited to return in a couple of days.
In the MX2 class, Alvin Ostlund and Stephen Rubini were the standout riders on what were extremely difficult conditions in Lommel. Both riders showed speed and good passing ability to get 10th and 11th overall respectively and will be hoping for a bit better starts in order to challenge again for those top 10 spots. Unfortunately Bailey Malkiewicz also had problems on the first lap in moto one and was forced to pull off, but he put in a valiant performance in race two, getting 15th in what is his first outing at this notorious venue.