Prado brilliant in Russia, Cairoli falters | News
Red Bull KTM's Jorge Prado claimed his seventh overall victory from eight rounds of the 2019 MX2 class at a hot and hard-packed Grand Prix of Russia.
The drops and climbs of Orlyonok drew MXGP to Russia for the third year in succession and the first of another three-in-a-row sequence of dates in the 2019 campaign. Sunshine and temperatures of 30 degrees beat down on the impressive venue on the banks of the Black Sea. The track was hard, slick and quick, complicated for overtaking and demanded an element of caution from the athletes.
MXGP
Tony Cairoli conceded control of the red plate as series leader as the Red Bull KTM man took 8th place overall. A crash in Saturday's Qualification Heat left the Italian briefly winded and meant a starting slot of 25th on Sunday. He was pushed out of the first race start and had to battle through for 12th spot. In the second race he gated much better and was able to rescue substantial positions for 4th.
Cairoli now trails Tim Gajser by 13 points in the MXGP standings.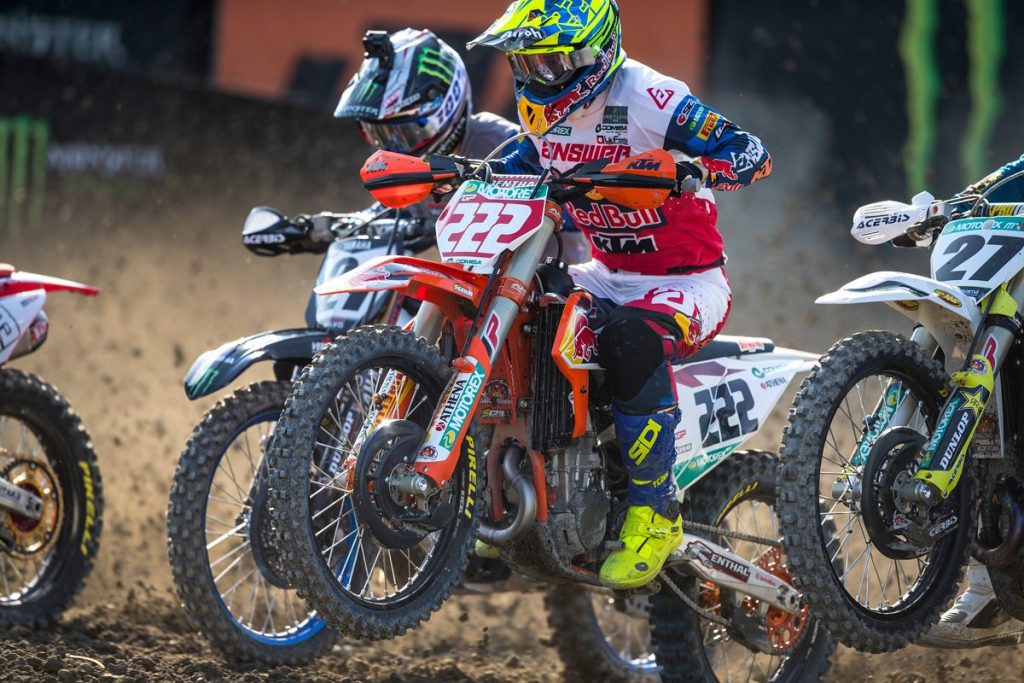 Red Bull KTM were back to full strength for the first time this season as World Champion Jeffrey Herlings re-joined the MXGP pack after recovering from a broken right foot. The Dutchman was also a faller on Saturday but his aced his pre-event goal of a position between 5-10 by running to 4th in the first moto and 7th in the second. The 24 year old will have ample opportunity to gain more race fitness with trips to Kegums (Latvia) and Teutschenthal (Germany) in the next two weeks.
Jeffrey Herlings: "I had a serious injury and it has been tough to get back here, mentally and physically, and with a lot of pain for a long time. I did not expect this result here today especially on this track. So to be close to the podium again feels pretty beautiful. I like the track in Latvia but I don't have any firm expectations and I will not forget where I have come from to get to this point. Having said that we'll always try to fight for a podium spot when we can!"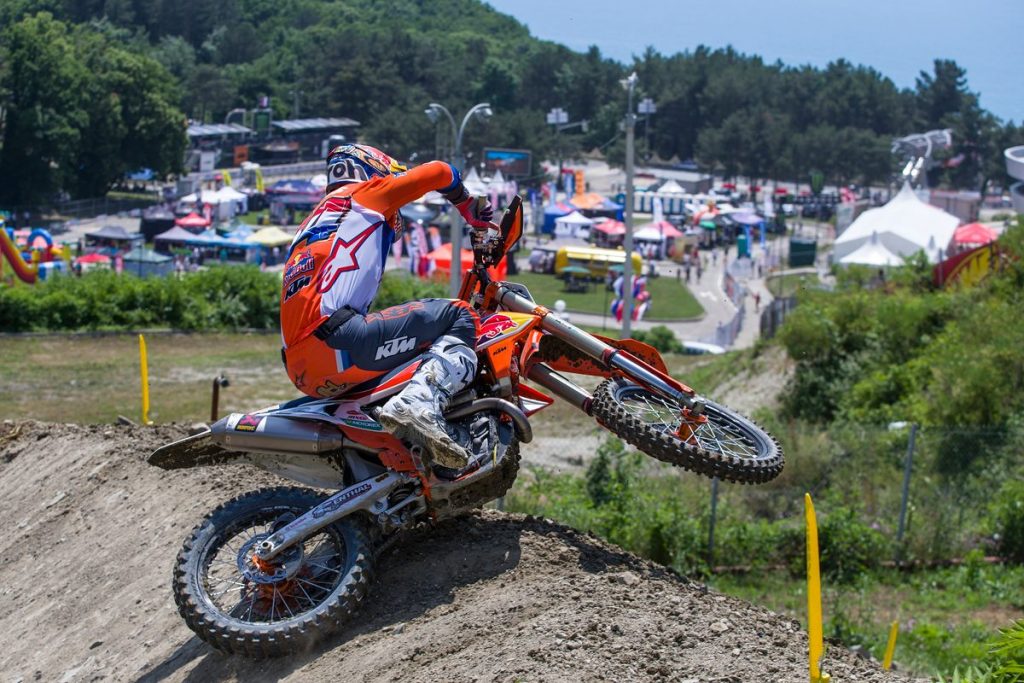 Tony Cairoli: "A very difficult weekend and of course the crash from yesterday did not help as it meant I was totally on the outside for the gate pick. I was riding very stiff and by missing the start it is almost impossible to make a good result on this track; everybody is riding at a similar speed. We lost the red plate but the positive is that I'm not badly injured, and we saw some big crashes today. We walk away a bit banged-up but we will re-group and look to Latvia, which is a nice track, and to regain some points."
Jorge Prado had to work for his twelfth moto victory from fifteen in the first race in Russia. The Spaniard started from Pole Position (after his fourth Qualification Heat triumph on Saturday) but rounded the first corner deep in the top ten. Prado chased his peers and (satisfyingly) overtook main title rival Thomas Kjer Olsen in the closing stages to seize the chequered flag. In the second race the eighteen year old notched his tenth holeshot and disappeared for his sixth double of the season and sixth 'overall' win in a row.
Tom Vialle finished 4th at Orlyonok. The rookie made a top three start in the first moto and collected 4th by the end of the 30 minute and 2 lap distance. Later in the day the Frenchman was again circulating near the top of the leaderboard and made sure of 5th. As a consequence of a solid day Vialle is now 5th in the championship.
Prado holds the red plate by 20 points from Olsen.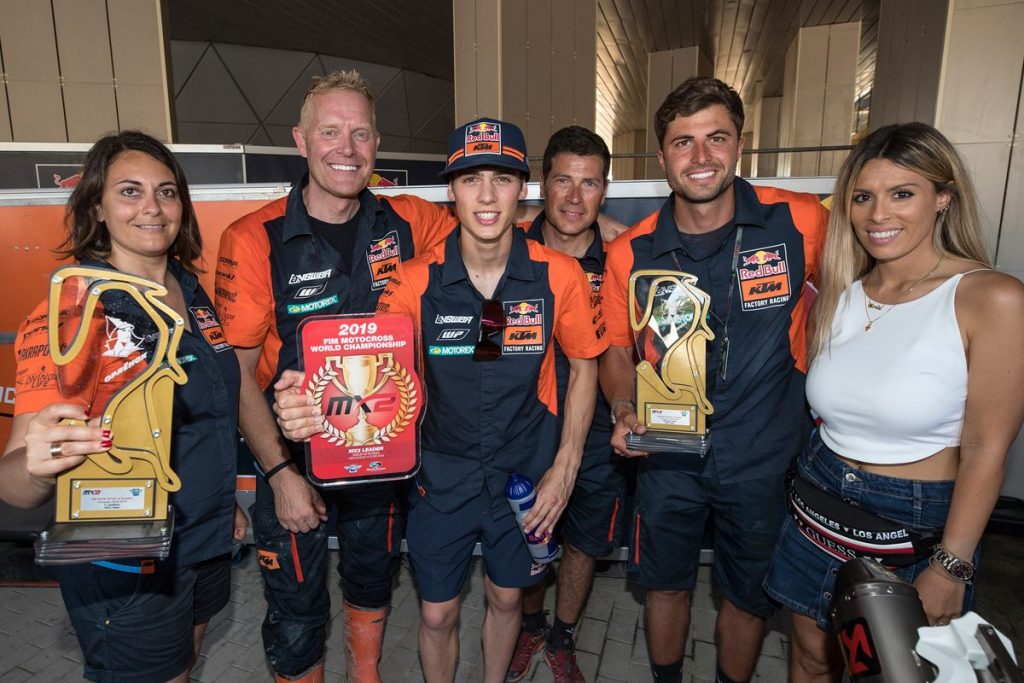 Jorge Prado: "It was a very hard weekend because in the first moto I had a good jump out of the gate but collided with a few other riders in the first corner and lost a lot of positions. I had to work my way up to the front and it took all moto! With two laps to go I made the pass for first place: I was really happy afterwards, even if it did mean I had to use a lot of energy. I knew that the holeshot would be important and concentrated so much for the second moto. It made my life much easier. I'm happy to win again. Latvia is a track I like. My first year there I almost made a podium and last year I won the Qualifying race and the second moto. I'm looking forward to it and hope to make my gap in the championship a little bigger."
Tom Vialle: "A good weekend for me and I'm happy with these results here. It felt like both days went well although my starts were not perfect. I'm fifth in the championship at the moment and that feels great but I know there is still a long way to go. I have to keep trying to score as many points each weekend. We go to Latvia next and it's my first visit there so I'll be hoping to be good again."
The MXGP paddock will congregate again to tackle the sandy top-soil of Kegums in Latvia next weekend.
Results MXGP Russia 2019
1. Tim Gajser (SLO), Honda (1-1)
2. Arnaud Tonus (SUI), Yamaha (2-2)
3. Jeremy Seewer (SUI), Yamaha (5-3)
4. Jeffrey Herlings (NED), Red Bull KTM (4-7)
5. Romain Febvre (FRA), Yamaha (4-9)
Other KTM
8. Tony Cairoli (ITA), Red Bull KTM (12-4)
Standings MXGP 2019 after 08 of 18 rounds
1. Tim Gajser 351 points
2. Tony Cairoli 338
3. Gautier Paulin 231
4. Jeremy Seewer 220
5. Arminas Jasikonis 212
Other KTM
24. Jeffrey Herlings 32
Results MX2 Russia 2019
1. Jorge Prado (ESP), Red Bull KTM (1-1)
2. Thomas Kjer Olsen (DEN), Husqvarna (2-2)
3. Jago Geerts (BEL), Yamaha (3-3)
4. Tom Vialle (FRA), Red Bull KTM (4-5)
5. Michele Cervellin (ITA), Yamaha (9-4)
Standings MX2 2019 after 08 of 18 rounds
1. Jorge Prado 347
2. Thomas Kjer Olsen 327
3. Jago Geerts 257
4. Henry Jacobi 236
5. Tom Vialle 216