Price claims sixth Finke Desert Race win | News
North Star Pastoral KTM Desert Racing Team's Toby Price has claimed a record sixth-career Finke victory in the 2018 Tatts Finke Desert Race.
Price led home an emphatic 1-2 result for the team ahead of local standout David Walsh.
Price was unstoppable aboard his factory KTM 500 EXC-F, topping the Prologue before setting a blazing pace from Alice Springs to Finke and back to register an overall time of 3h55m25.1s, placing him 10m19.7s in front of Walsh following a gruelling 480-kilometre return trip in the relentless Australian outback.
After missing last year's Finke Desert Race through injury, 30-year-old Price proved the class of the field in 2018, leading the way down with a time of 1h57m45.6s to establish a 4m12.8s advantage overnight. He upped the pace marginally on the run home with a 1h57m39.5s effort to deliver one of his most impressive performances yet and become the winningest rider of all-time in the iconic event.
Unfortunately for Price, he was forced into a DNF result the Truck Category with a broken Power Steering Pump on the final day of the 2018 Finke Desert Race.
The Red Bull Trophy Truck required a gearbox and transmission replacement which was removed from Billy Geddes Truck and flown by helicopter from Alice Springs to Finke at 10:30 pm prior to the final leg of the race.
Price and Navigator Jason Duncan started 2nd for the return trip from Finke to Alice Springs but blew a Power Steering Pump which forced the duo into a DNF result.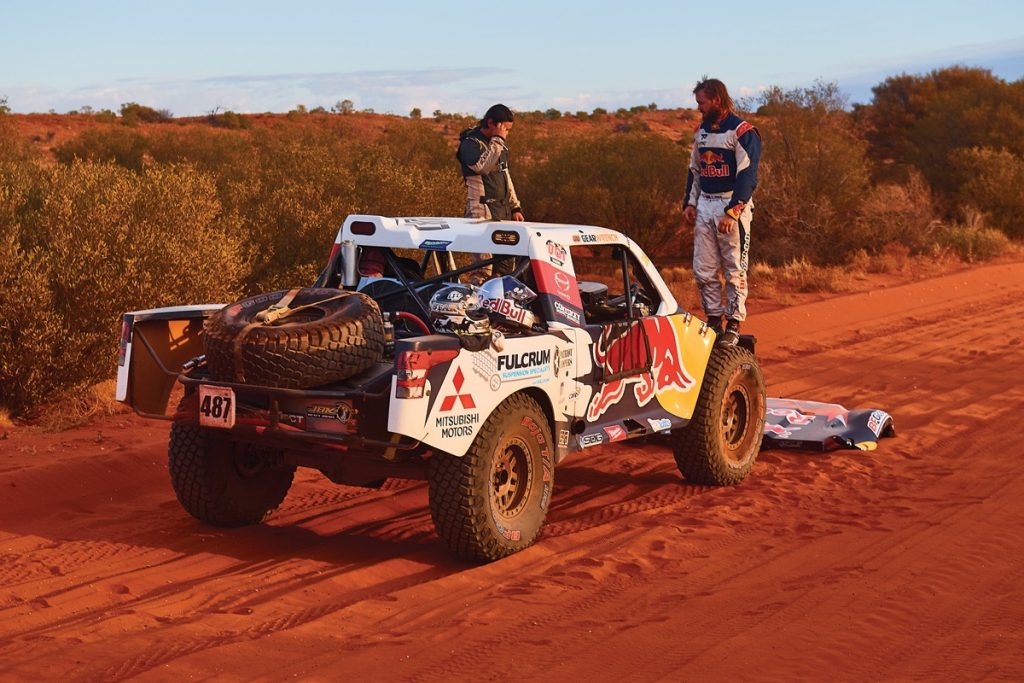 "All went really well, we're pumped – we got our 6th win for the Finke Desert Race! The race was definitely hard on us, we had a little bit of get off around the 100km mark coming home. Overall I'm stoked, six wins on the bike for KTM and it's amazing that we've got the record for all-time wins in that category.
"I can't thank KTM enough, they always put in a massive effort and have everything ready to go for us. Unfortunately, we didn't go as well in the truck category for the 'iron man' double blowing a power steering pump. All and all it was good times and I'm happy everything is all wrapped up for the weekend! Time to kick back and relax a little bit and celebrate with the team."
Walsh, 28, was the perfect wingman alongside former Dakar Rally winner Price in this year's edition, recording the second-fastest time to Finke despite starting out of position 28 following the Prologue and still recovering from a major incident while preparing in the lead-up. He ultimately maintained position two as he took the final chequered flag this afternoon, returning to the rostrum for the first time since 2016 in a heroic ride.
"I'm really happy with this result in the 2018 Finke Desert Race. I was able to push really hard on day one and managed to put myself into second place, so from there it was good to maintain that today and take that spot on the podium," said Walsh. "I'm really pumped for the whole North Star Pastoral KTM Desert Racing Team and to bring it home in one piece to join Toby in a 1-2 result for everybody involved – I can't thank the crew enough for all of their efforts once again this year."
And KTM's success didn't end there, with supported riders Jack Simpson and Kent Collins finishing third and fourth respectively, much to the delight of participants taking part in the KTM Australia Adventure Rallye: Outback Run, which culminated in the Northern Territory to show their support of the KTM-mounted racers competing.
Glenn Kearney, Motorsport Manager for KTM Australia had this to say about the event. "What an awesome event for the whole North Star Pastoral KTM Desert Racing Team! It was a 1-2 finish across the line with Toby Price and David Walsh on the KTM 500 EXC-F machinery, plus it was great to see Jack Simpson across the line in third also on the same model. It was a huge effort from our whole team and we couldn't be happier – especially after the disappointment of last year and to sweep the podium is unreal. Toby, what can you say about the guy?
"He is an absolute freak and showed that throughout this year's event. And it was a super-human effort from David after having the biggest crash just two weeks ago. It was in doubt whether he would even be able to line up, so for him to come through from 28th to second in these dusty conditions was just unbelievable. Finke is a huge effort from the whole team, the riders and mechanics right through to all of our helpers, with 36 people involved. We can't thank North Star Pastoral and, most of all, KTM for the opportunity to go out there and show exactly what our bikes are capable of."