QLD Moto Odyssey day one and two: Glass House Mountains to Fraser Island
QLD Moto Odyssey
When the blokes at Patriot Campers told us the TH560 was a bloody big trailer I kinda shrugged it off. I mean how big could it be? It's not like it has an ensuite, lounge room or T.V.
But when we rolled into the Patriot depot in Brisbane I was glad we bought a Toyota LandCruiser 79 series with its V8 diesel grunt, because the TH560 looks like something spawned from 'Mad Max.' It's a tank on wheels!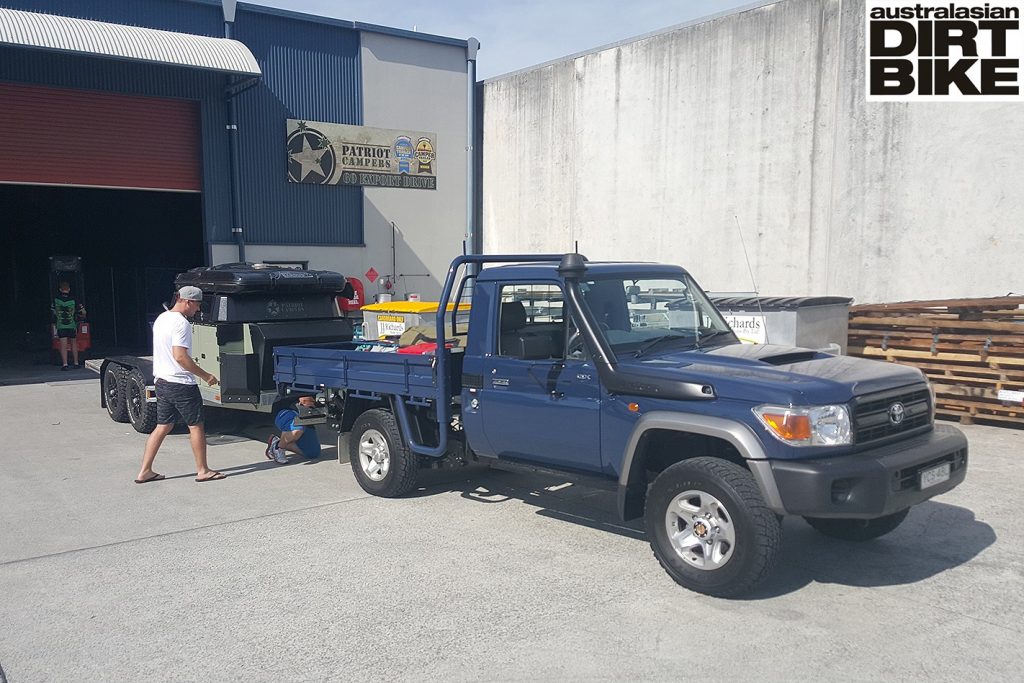 If you've been religiously reading your monthly serving of ADB and following us on the interwebs and social channels you'd be aware we've headed north to the sunny state of Qld for a ride-and-drive tour of the state. And we're cutting tracks in our readers' backyards with a call out to our loyal followers to take us on their hallowed turf.
The first stop on our agenda was the Glass House Mountains with Cross Country Action's Andrew Franklin. After picking up the trailer from Patriot and a pair of WR250Fs from Yamaha we were on our way to Steve Irwin Drive and a bunch of epic singletrack.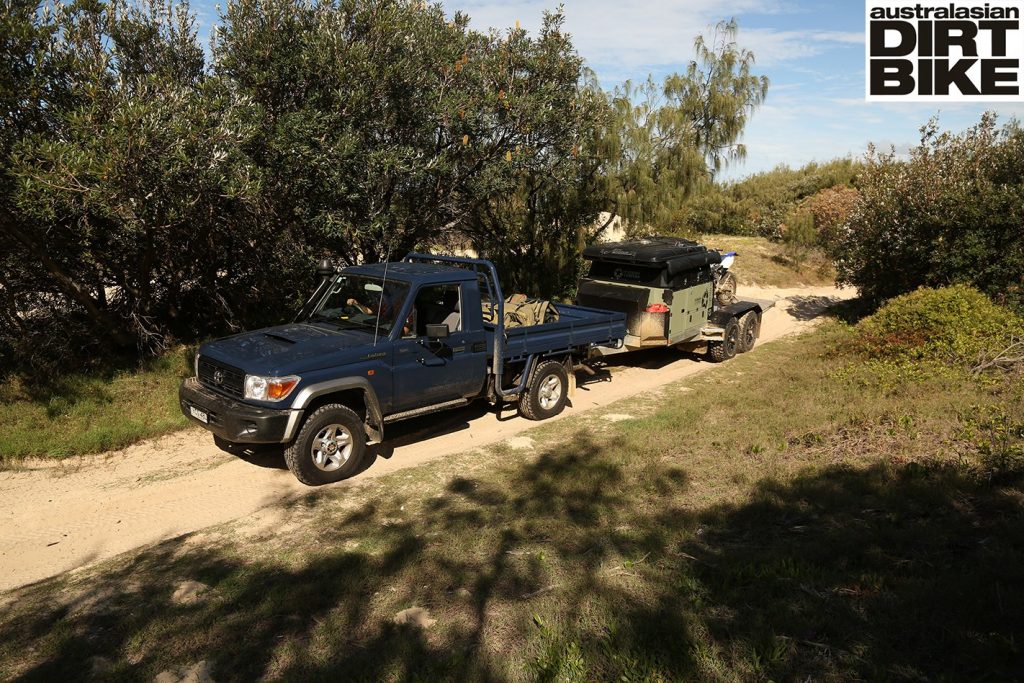 Franklin met us at the Beerburrum State Forest and escorted us through a bunch of black loamy pine forest. Beerburrum really is a trailrider's wet dream with sandy loam and a touch of moisture in the ground. Think bush-based supercross track and you get the idea of what to expect just off Steve Irwin Drive, one hour north of Brisbane.
After a cheeky night ride (see pic) we set-up camp, threw a bunch of steaks on the Patriot camper barby and cracked a tin of Fourex Gold. It was a big day and we were in the swags before midnight. The following morning we made our way to Fraser Island, the biggest sand island in the world.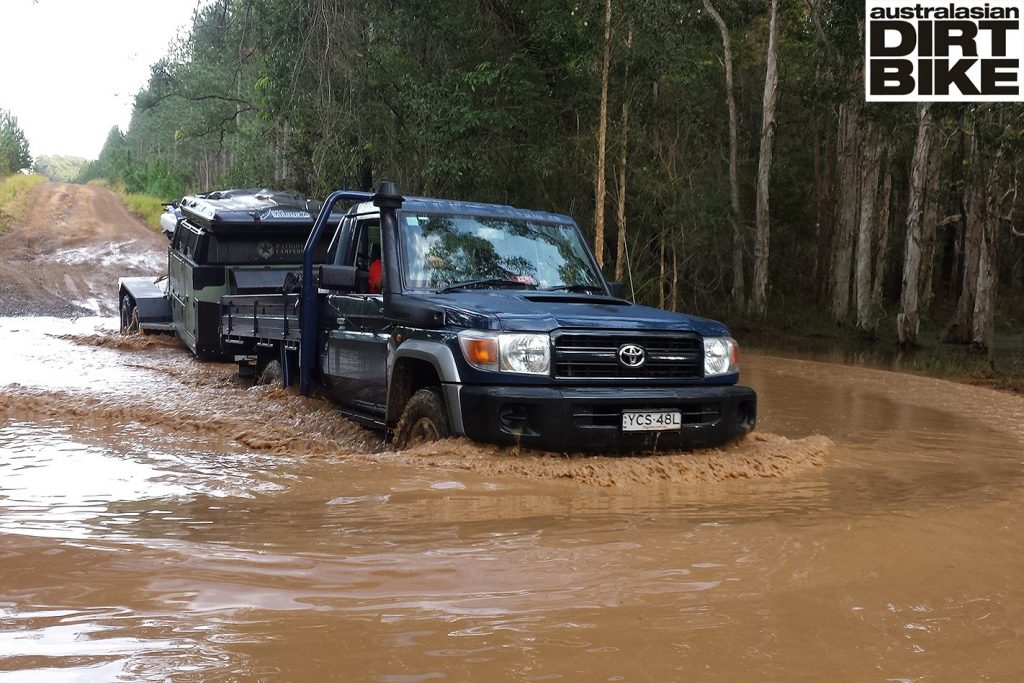 We caught the ferry from Inskip Point and, once on the island, made our way north to the One Tree Rocks camping area just north of Eurong. We set up camp, ripped the bikes off the TH560 and headed for Lake Mackenzie.
After playing tag with a bunch of on-coming Nissan Patrols we finally made it and were so hot and sweaty (oh yeah I forgot to mention the weather in Qld makes a mockery of anything we get down Mexico way). Lake Mackenzie is a massive lake where the water sits around the 24 degree mark. Pure bliss. We then took the beach to Maheno Shipwreck and Eli Creek for a sticky beak and a float down the creek to cool off.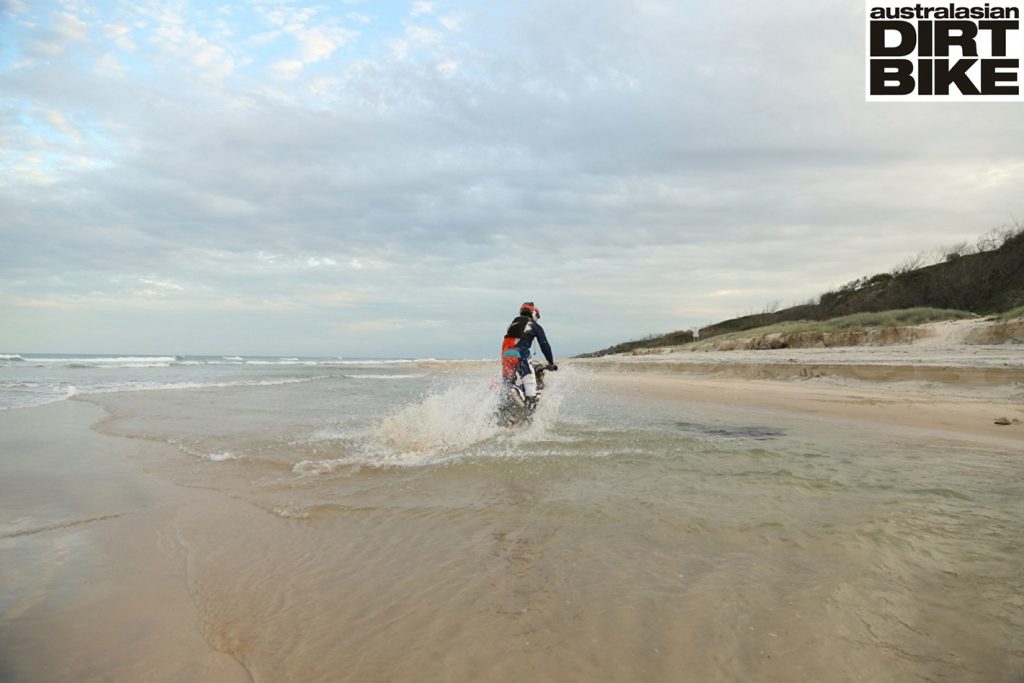 As I write this it's Sunday night, we've fought off a few dingoes and we're enjoying a glass of white and a few beers by the camp fire. This great southern land has so much to offer a dirtbiker and we've only scratched the surface! Gladstone tomorrow and Kalpowar tracks. Stay tuned….
To receive the latest news, reviews and video highlights from the world of dirt bikes, sign up to our weekly newsletter here.