RACE WRAP I MURRUMBIDGEE RUMBLE HARD ENDURO | Features
ADB's Warren Jack was in Griffith, NSW to watch all the carnage unfold at Grassroots Enduro Murrumbidgee Rumble Hard Enduro.
WORDS AND PICS: WARREN JACK – THIS FEATURE WAS FIRST PUBLISHED IN ADB ISSUE #482
When Grassroots Enduro boss cockie Greg Petersen first told me that he was running the Murrumbidgee Rumble Hard Enduro near Griffith, in NSW's food bowl, my first thought was, "He'll have to import some hills". Being a large farming area growing wheat, barley, grapes, rice and cotton, among other things, it's pretty flat.
So flat in fact that you can see tomorrow coming, and watch yesterday leaving. Greg had a nasty little secret because he knew farmers Andrew and Bobbie Ryan had a large broken ridgeline on their 20,000-acre property at Goolgowi that was useless for cropping but absolutely perfect for hard enduro.
This ridgeline is pretty big and, while not real high if you come from mountain country, it's more than high enough, steep enough and tough enough for the purposes of a serious event. The rocky slopes are thickly covered with wattle, eucalypts and native pine trees and, of course, there is a lot of fallen timber among the rocks. It was claimed to be the hardest extreme enduro so far on the Aussie calendar and not too many would argue about it. Despite that, there was no shortage of riders wanting to enter.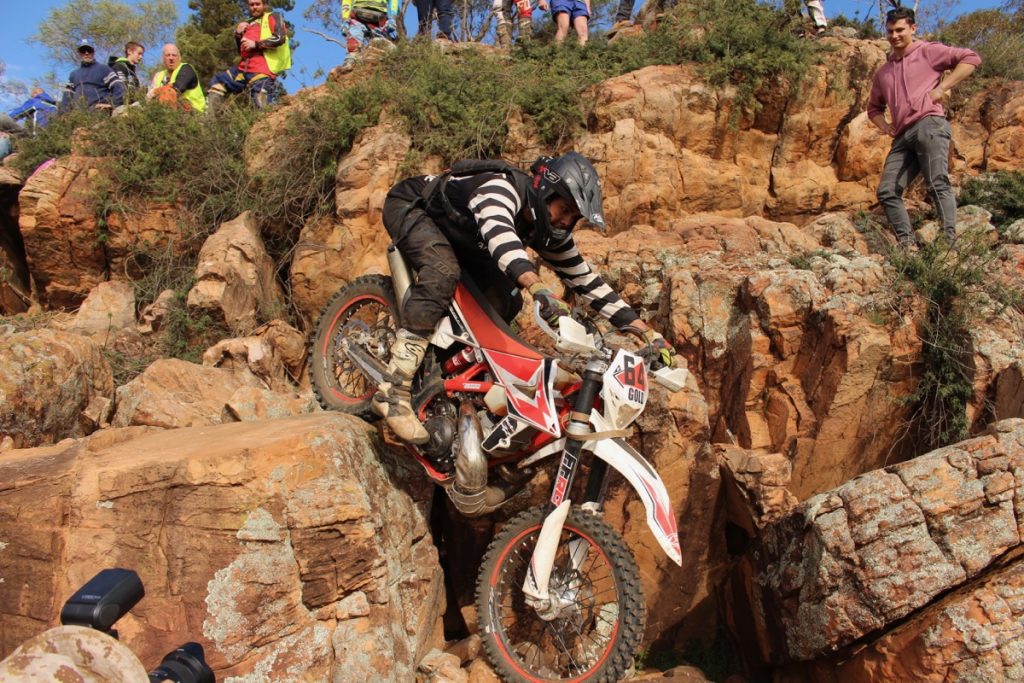 In fact, 167 turned up to pit their skills against the deviousness of the course markers. Gold Class had 12 riders, 80 opted to ride in Silver and Bronze attracted the remaining 75. Riders self-grade into the class they feel is most suited to their skill level, and it seems to be a successful system. Only a single Gold rider DNF'ed but Silver claimed 14 and Bronze 16, which says heaps about the cahoonas of the riders, as many places on the course looked impassable to a mountain goat.
One full lap was about 40km and race time was set at four hours, with Greg figuring that the Gold riders would most likely only manage a single lap. Four of them just saw that as an extra challenge and managed two. The top seven Silver riders managed three laps on a slightly easier course and 11 Bronze riders managed three on theirs. Gold and Silver sections were all clearly marked, with the majority of the track being shared by all three classes.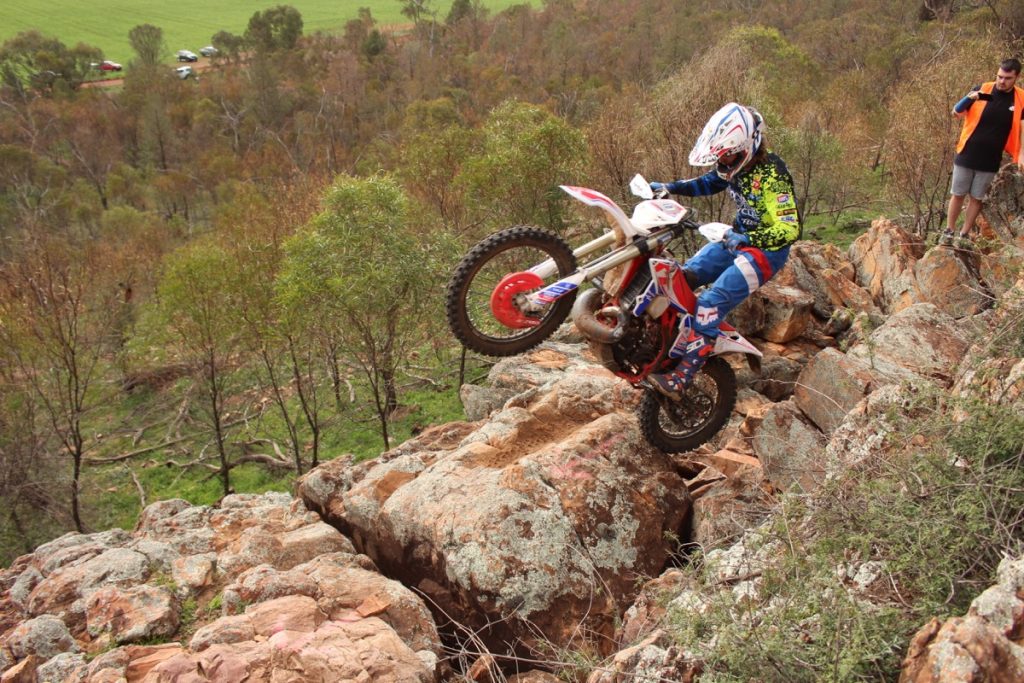 UNDERPANTS
There was a bit of open running on farm tracks, but mostly just between the parc ferme and the ridge which was the dominant, you might say only, geographical feature in the area. It's a long way in any given direction before you find any other hills and this particular one was as rough as hessian underpants.
A Gold section named Dream Crusher was approached via some tight singletrack through scrub and over rocks and logs along a gully that is obviously a watercourse when it rains. The trees thinned out as the climb began but that meant less things for the course markers to put arrows and bunting on so, in places, riders followed spray painted arrows on the rocks themselves. Not content with running riders up steep rocky slopes, the course markers liberally sprinkled in tight, off-camber turns along the climb as well as running them across narrow ledges and down slippery drop-offs. A pair of wedge-tailed eagles were circling above, just waiting for the carnage to provide them with a decent meal. Some vultures would have made the scene complete.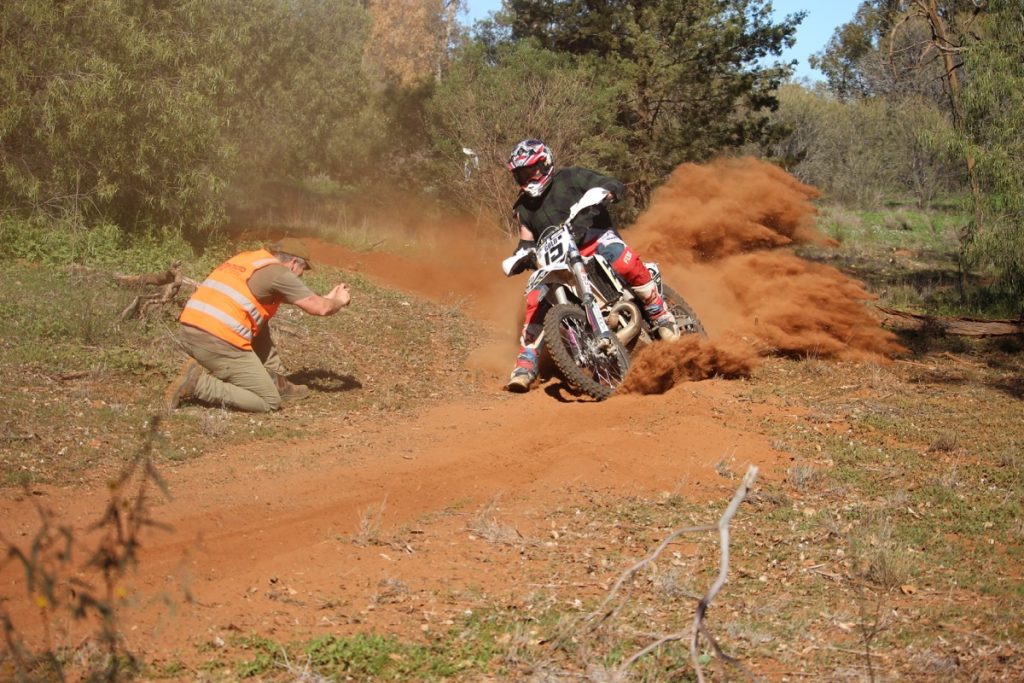 Another section, called Maze Runner, was both a Gold and Silver section until halfway up a climb where Silver riders veered slightly left up a dry, smooth rock wall with no run up then zig-zagged up the hill through some more off-camber turns. Gold riders turned hard right over some large boulders that blocked all view of just where the track went until a rider got to the top. From there it went off a vertical drop about one metre high onto a small rock ledge, then there was a gap to be jumped onto the next rock which sloped downhill with a single wheel's width bit of level going across to the rocky, dusty climb back up. It is hard to describe just how tricky it was, have a good look at the photos or search YouTube for some footage. I was in this section when the top three riders came through and eventual winner Tim Coleman and Chris Perry (second) both bulldogged their bikes down the drop and over the gap but Ruben Chadwick actually rode down, across and up and somehow only managed third place.
A prologue on the Saturday, which included a man-made set of endurocross obstacles not only kept spectators entertained but sorted the starting order for the main event. One of the event sponsors, J & P Motorcycles in Griffith, put up $500 for a "Dash for Cash" which was run over the man-made part of the course under lights on Saturday night and open to the top 16 qualifiers from the prologue.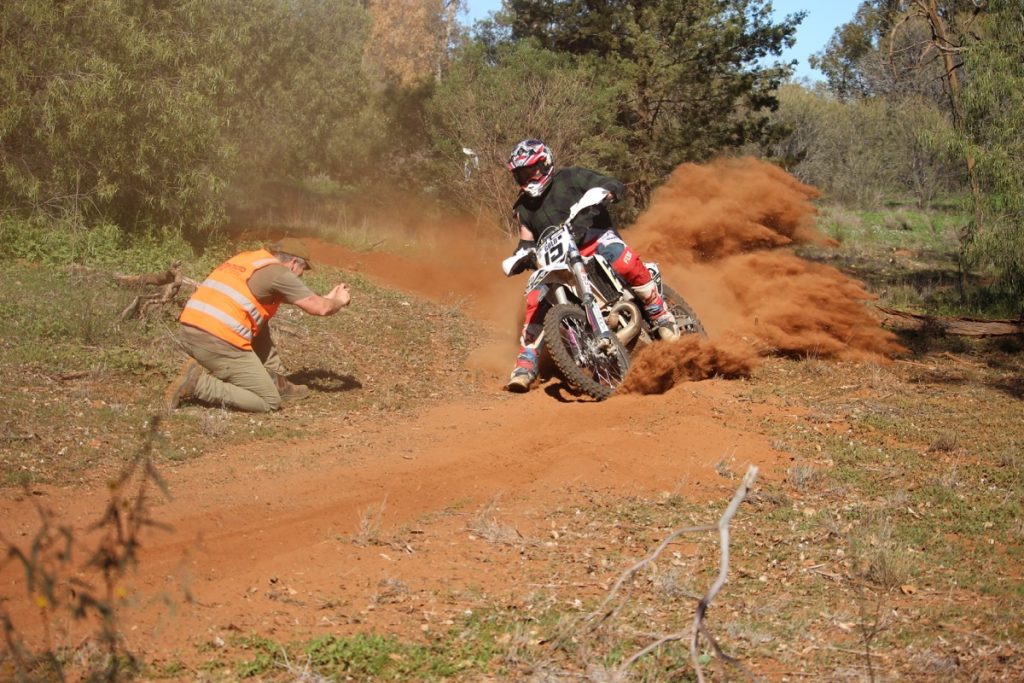 The course was a tribute to someone's skill with a tractor, as it consisted of large earthmover tyres standing upright, bunches of logs fanned out through U-turn corners, a rock garden, a steep hillclimb covered in tyres on the climb and descent and several other crowd-pleasing carnage contrivances.
Heats were staged with two riders at a time in a knockout-style of competition that gave each of them three rides. It went down to the wire with Coleman and Chadwick winning all their heats until they inevitably faced off, with Chadwick taking home the money. There was plenty of action all through the heats with carnage galore, but no injuries to either bikes or riders. There may have been a few fresh bruises evident the next morning but when you can show off to a crowd it's well worth it.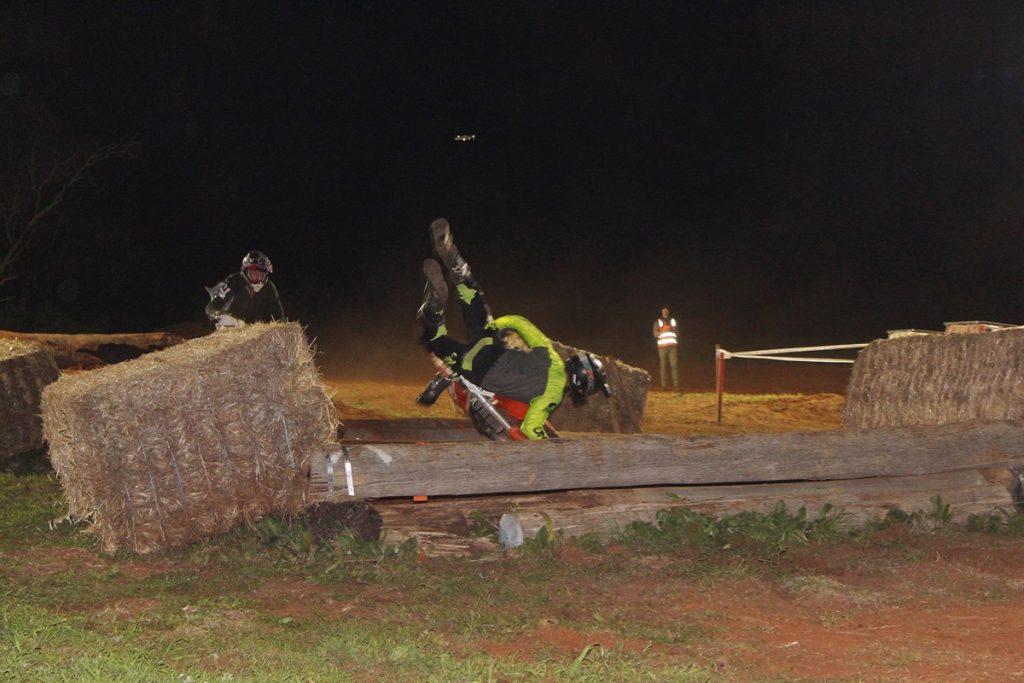 By the finish on Sunday the winners were sorted and the stories were trickling in. Father-and-son duo David and Josh Cooper were the last two Silvers home, having finished just one lap, riding together, at 5:17.15 and 5:17.08. Andrew Iddon, who had nominated for Silver, was riding in his first dirtbike race, and backed his confidence in his ability with a 19th on two laps in a time of 4:19.19.
Donation
Chris Ryan finished ahead of him in 17th with a 4:16.41 and enjoyed himself so much he donated $1000 to Grass Roots Enduro to help keep the fledgling organisation running. Obviously he wants to see and ride more hard enduro events in Australia. He is not the only one either as sponsorship was evident from Golden Tyre Australia, Zac Speed International, Rack N Roll, Full Force Racing Components, B & B Off-Road, Viral Goggles, Acerbis and MITS Alloy. Grass Roots Enduro runs its events under the coverage of the Australian Motorcyclists Association, not Motorcycling Australia, and so many of the costs of competing, such as a race licence, are much lower.
It looks like hard enduro is here to stay, judging from the feedback around the pits. Nobody had a bad word to say about the event despite how difficult the course was. It would seem riders are keen to push their skills to the limit and then a bit further still. Grassroots Enduro has hit on a winning formula and is planning even more events across the country. If you want to test yourself, or just stand gobsmacked at what others can do, get yourself to the next one.