Racing Action Gets Underway on Day Two at KTM AJMX | News
Day Two of the 2019 KTM Australian Junior Motocross Championships kicked off on Monday with perfect weather conditions after timed qualifying on day one.
WORDS: MA | PICS: Aaryn Minerds
28-150cc 2st/250cc 4st – 13-U15
The Junior Lites class kicked off the first round of finals of the day with Cooper Holroyd (NSW) posting the fastest lap of the race to take the win ahead of Queenslander pair, Ryan Alexanderson and Cody Drew.
65cc – 7-U10
The opening heat of the 65cc-7 – U10 seen Victorian Joe Dunne take the win with a fastest lap time of 2.18 ahead of South Australians Jai Hay and Ryder Woodrow.
The second heat of the 65cc 7-U10 was strongly won by Tasmanian, Cooper Ford and fellow Tasmanian, Jay Jennings, came in for second closely followed by Jack Burton from New South Wales.
Heat three of the 65cc 7-U10 was won by New South Welshman, Jack Burton closely followed by Queenslander Lachlan Allen with fellow Queenslander, Cooper Downing coming in third.
To top off the day Heat 4 of this class saw a three-way battle with Cooper Downing (QLD), Ryder Woodrow (SA) and Joe Dunne (VIC) switching positions multiple times throughout the race with Downing eventually taking the win from Woodrow and Dunne in third.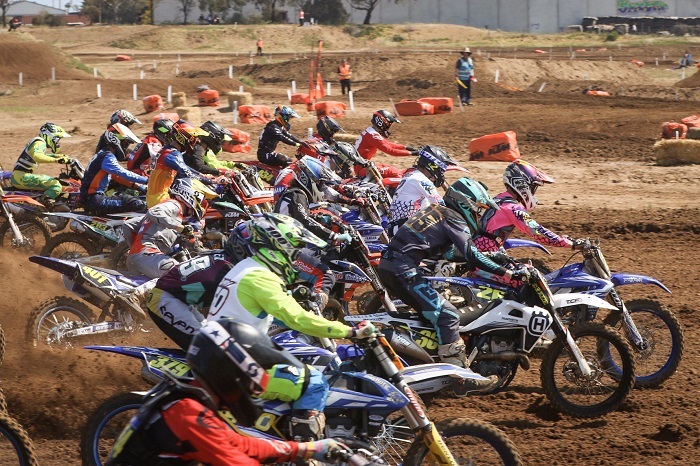 128-150cc 2st/250cc 4st – 13-U16 Girls
The first final of the girls junior lites saw Taylor Thompson lead the majority of the race before Queensland's Charlie Cannon made a late pass to take the win with Taylah McCutcheon rounding up the top three.
In the afternoons second final, it was once again Cannon taking the race win, this time by a comfortable 11 seconds ahead of Thompson, with McCutcheon finishing three seconds adrift in third.
85cc/150cc 4st – 9 – U12 SW
In the opening heat of 9 – U12 class, it was Queensland's Jet Alsop taking a narrow win ahead of New South Welshman Kayd Kingsford and WA sandgroper Kayden Minear rounding up the top three.
Heat 2 was won by Victorian Liam Owens by 1.5 seconds ahead of Coby Hantis and Hixson McInnes, both from New South Wales.
The third heat seen Jet Alsop taking his second win of the day ahead of Coby Hantis (NSW) and Liam Owens (QLD).
The fourth and final heat for the day saw West Australian, Kayden Minear, have a comfortable win ahead of Victorian Heath Fisher followed by Kayd Kingsford for third place.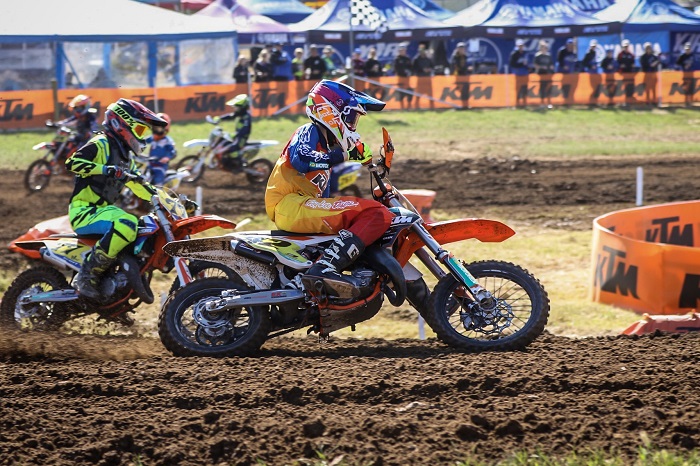 85cc/150cc 4st – 12-U16 Girls BW
Charli Cannon made it three for three for the day repeating the success she had on her bigger bike by claiming first ahead of Taylah McCutcheon with Tyler Thomson coming in third.
125cc – 15yo
Local South Australian won the opening 125cc Under 15-year-old final by 7 seconds over Queensland's Levi Rogers and New South Welshman, Blake Fox a further 8 seconds adrift in third.
85cc/150cc 4st BW – 12-U14
Ryder Kingsford from New South Wales raced to a commanding win ahead of fellow New South Welshman, Seth Burchell in the opening heat with Dylan Walsh from Western Australia rounding up the top three.
Heat 2 saw Queensland's Braden Plath lead home Tasmanian Jett Burgess-Stevens and Queenslander Kobe Drew placing third.
85cc/150cc 4st – 14-U16
The first final for this class was won by Hunter Collins from New South Wales ahead state counterpart Ben Novak while Queensland's Zachary Watson came in third.
65cc 10-U12
The opening final for this class was won by Western Australia's Kayden Minear who finished 13 seconds ahead of Kye Woods from New South Wales Kayd Kingsford came in third.
125cc – 13-U15
The opening heat was a West Australian onslaught with Liam Atkinson finishing narrowly ahead of Brock Flynn with Jake Turner in third, some 30 seconds back.
Heat two was won by Queensland's Ryan Alexanderson with Tasmanian Jett Burgess-Stevens crossing the final line 2.3 seconds behind with Ryder Kingsford (NSW) placing third.
50cc Division 2 – 7-U9
The first final was won by Western Australia's Mason Brown taking the win ahead of 2018 class champion, Bodie Court from Queensland. West Australian, Deegan Fort came through with a strong third.
128-150cc 2st/250cc 4st 15 yo
Local boy Alex Larwood claimed his second win for the day storming home for a 28 second victory over New South Wales Blake Fox and Ben Novak.
For Live Timing via My Laps click here