ADB Reader, Rock, shows off his pristine 2000 Honda CR500.
WHY'D YA BUY IT?
Who wouldn't want one of these beauties sitting in their garage? The CR500 represents all the things that were great about our sport – crazy power that took real cahunas to hang onto. All my idols when I was growing up raced 500s and they made the crowd go mad at every race meet. This bike was in desperate need of a restoration but it was in fair condition when I bought it. I've always said I wanted to own one of those bikes and now I do!
WHAT YA DONE TO IT?
A fair bit of work went into making this thing the machine you see today. It's easy to build a CR500 with whatever parts you can find but trying to rebuild one with largely standard parts is hard. It's a full restoration though, with genuine and aftermarket parts used. The fuel tank and handlebars are not standard and it has an MSV header pipe. I've used a 39mm carburettor and bolted on dome nuts on the head only. The bike received a general tidy up of everything using mostly Honda parts.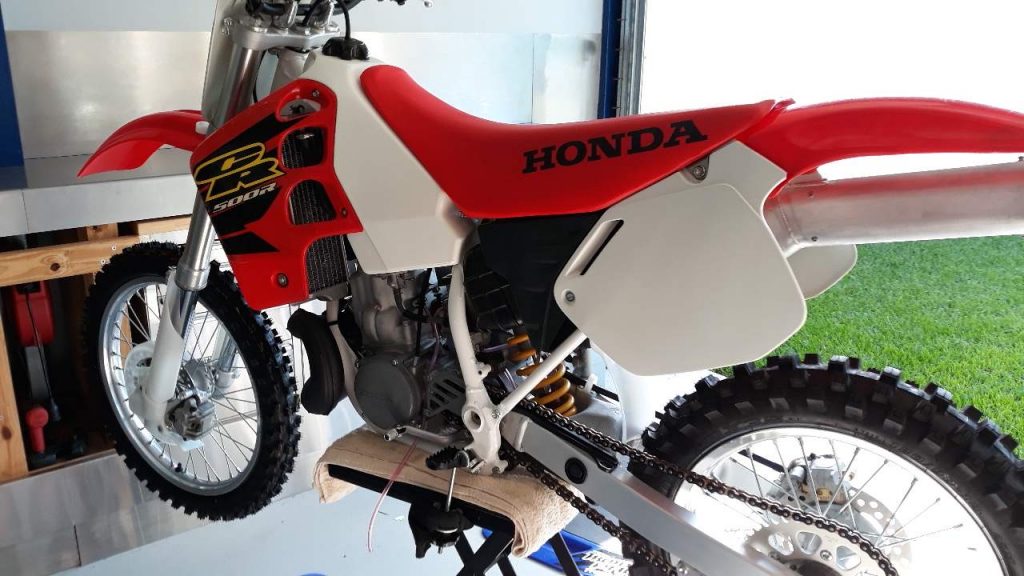 HOW'D IT GO?
The job went well, with no real hiccups. As for how it goes to ride, just ask any old bastard mad enough to ride one back in the day. It produces incredible torque and, being a 500, the power just keeps on coming. I don't know many people who could hold this bike wide open.
The resto job makes it look just like it did back in the day and it handles just like you'd expect from a bike born in 2000. I have had no major problems with it since the rebuild.
RECOMMEND IT?
If you're a two-stroke guy, then I'd definitely recommend it. But this bike isn't for the faint-hearted, it takes a serious pilot to hang onto it and the work involved in restoring something to near original condition isn't as easy as just bastardising parts from everywhere and bolting them on. You have to be patient and good at your research when undertaking a project like this. with Mitch Lees