READER'S RIDE: 2008 Honda CRF450X | Reader's Ride
We look at the 2008 Honda CRF450X of ADB reader Brendon Flower.
This Basics
WHAT: 2008 Honda CRF450X
WHO: Brendon Flower
WHERE FROM: Albany Motorcycles
HOW MUCH: $8500
WHY'D YA BUY IT?
I bought the bike because I had previously owned an XR400 but I wanted that bit more power and handling. When Honda released the CRF I knew that that was the bike I was looking for. I had my first child and, unfortunately, had to sell the XR and didn't have a bike for four years, until I scored myself a well-paying job in the mines. Once I had settled in, I decided it was finally time. So the CRF had to be the one and I have absolutely loved it.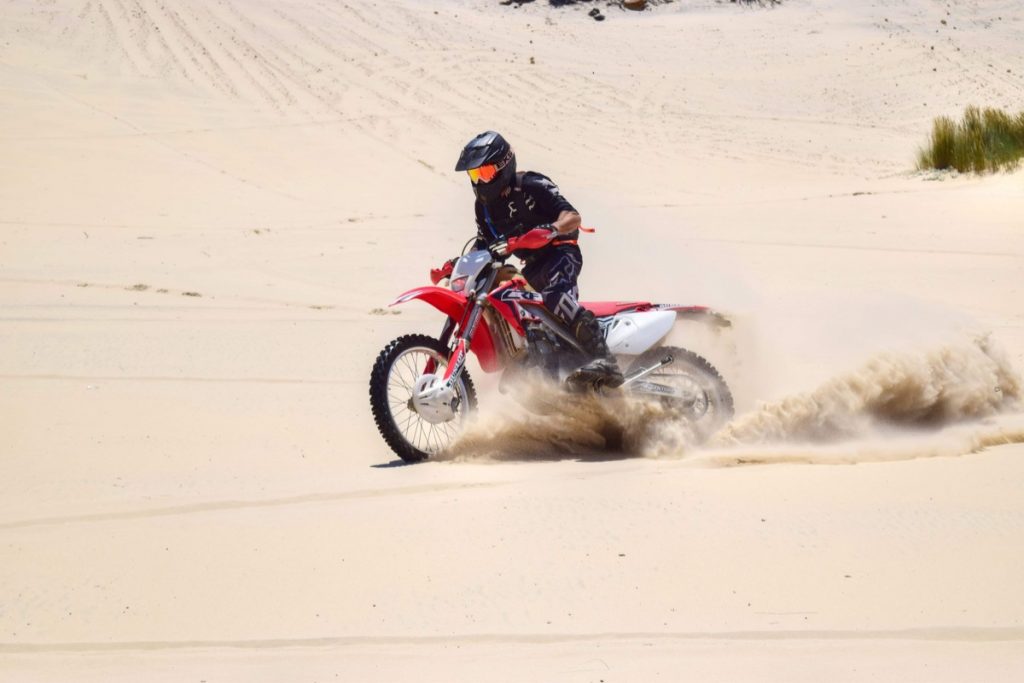 WHAT YA DONE TO IT?
I haven't done a lot. When I got it new I had the 12-litre Clarke tank put straight on for longer-distance riding and a TAG handlebar. Then over the years I've added a few extras like a FMF Powercore 4 muffler, gripper seatcover, a GPI steering damper and a custom graphics kit. I would love to eventually get a bigger tank and maybe some Pivot Pegz but, for now, it does everything I need.
HOW'S IT GO?
I personally think the bike goes hard. I'm far from being a pro rider and more just love riding so it has more than enough power for me but the biggest thing is the handling. I have had some really close calls and got out of shape pretty bad at times and she's always saved me from crashing. From high-speed, open sections to tight singletrack, it has always been a great, well-rounded machine and puts a big smile on my face every time.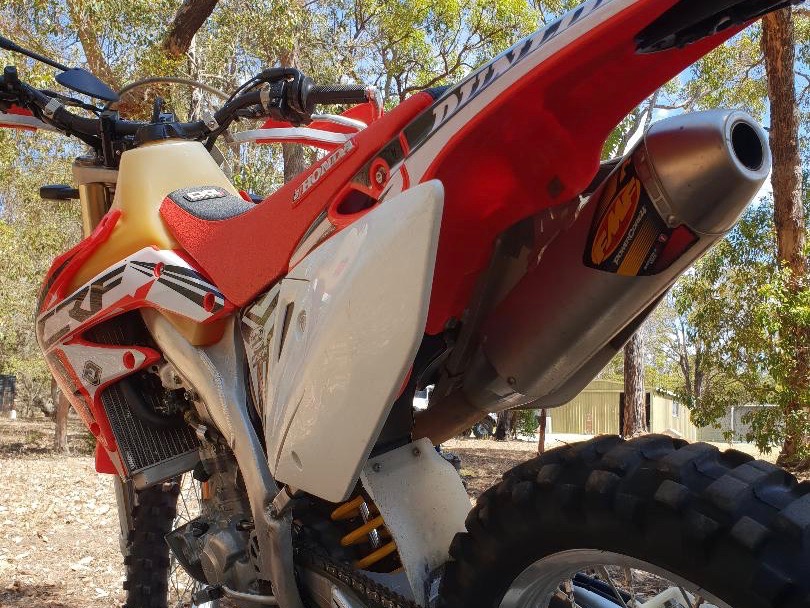 RECOMMEND IT?
As for recommending the bike, absolutely yes. It is super reliable and I have always looked after it. It has never let me down and always got me home. If I had any gripe with it, it would be that I wish Honda had made the oil capacity greater in the engine and gearbox so that I didn't have to change the oil so regularly. Apart from that I absolutely love it.
Dylan Ruddy
5 THINGS YOU DIDN'T KNOW ABOUT BRENDON
1 I hit a kangaroo on it doing about 100kmh on a firebreak once and didn't bend or break anything on the bike. I didn't escape without injury, though.
2 I have my own fabrication business, BF Customs, and do a lot of old dirtbike frame repairs and custom fabrication.
3 I have a passion for old dirtbikes and enjoy restoring them with my sons, who are 15 and 11 years old.
4 I live on the south coast of Western Australia and love going on 300km-plus trailrides with mates to help me unwind from the week.
5 My dream is to buy and restore a Honda CR500.