2004 Honda XR650R: Reader's Bike | Reader's Ride
We take a look at the 2004 Honda XR650R owned by ADB reader Colin Paul Olive.
Why Did You Buy It?
This 2004 Honda XR650R was advertised in Queensland. I'd been looking for one for some time, but most of them were butchered or poorly maintained.
On first inspection, this one looked great, so I snapped it up and brought it back to Sydney.
It was a nice, original bike with low kilometres and it was all for under $5000.
What Have You Done To It?
I've set the bike up for adventure riding. It has oversized radiators, silicone hoses and a custom exhaust. I've also added 'bar risers and a CR high 'bar, as well as an extended throttle cable, and improved clutch and clutch cables. There's also a folding gearlever and brake pedal, Race Tech Gold Valves in the fork, a heavier rear spring and braided front brake line. Electronically, the bike has a Trail Tech Vapor digital speedo, GPS, USB port and electric fuel pump.
I have custom made a number of parts, including the aluminium bashplate, aluminium fork and front disc guards, aluminium chainguard, a rear [guard] fuel tank, radiator-shroud fuel tanks, aluminium front mudguard brace and fairing. I've also just made a set of pannier tanks (since the main photo was taken) to get the weight of the fuel lower, with a bit more capacity. The exhaust system has been lowered, rally style, to accommodate them.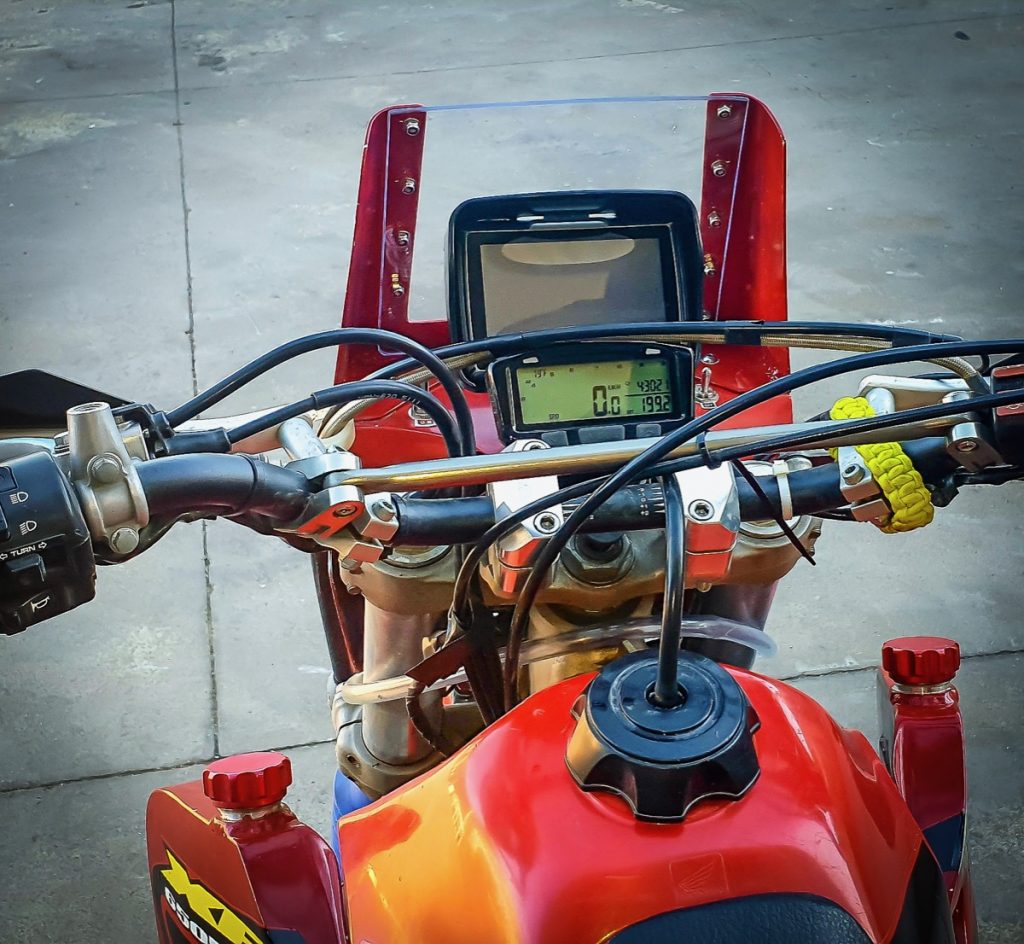 How Does it Go?
The bike runs strong and it is super reliable. I've kept the engine relatively stock other than a port-and-polish job, opening up the airbox and changing the exhaust. The carb is stock, but it has been re-jetted to suit the mods. I run two fuel filters to keep the carb clean and the bike starts first kick, hot or cold, every time.
I've never had an issue with the stock carburettor; you just need to know how to keep them clean and regularly check the float level. I have a good 300km range with hard riding. I tend to ride more technical trails and the bike will run clean on longer straights to almost 170kmh. In the desert she will skip along on the red dirt at 130kmh; you just have to get them breathing properly though. I did try running the stock headers, to maintain low-end grunt, with a dogleg mid-pipe but it looked shit. The stainless-steel header pipes were a real nightmare to make but certainly worth the effort. The new set-up (above right) certainly looks the part.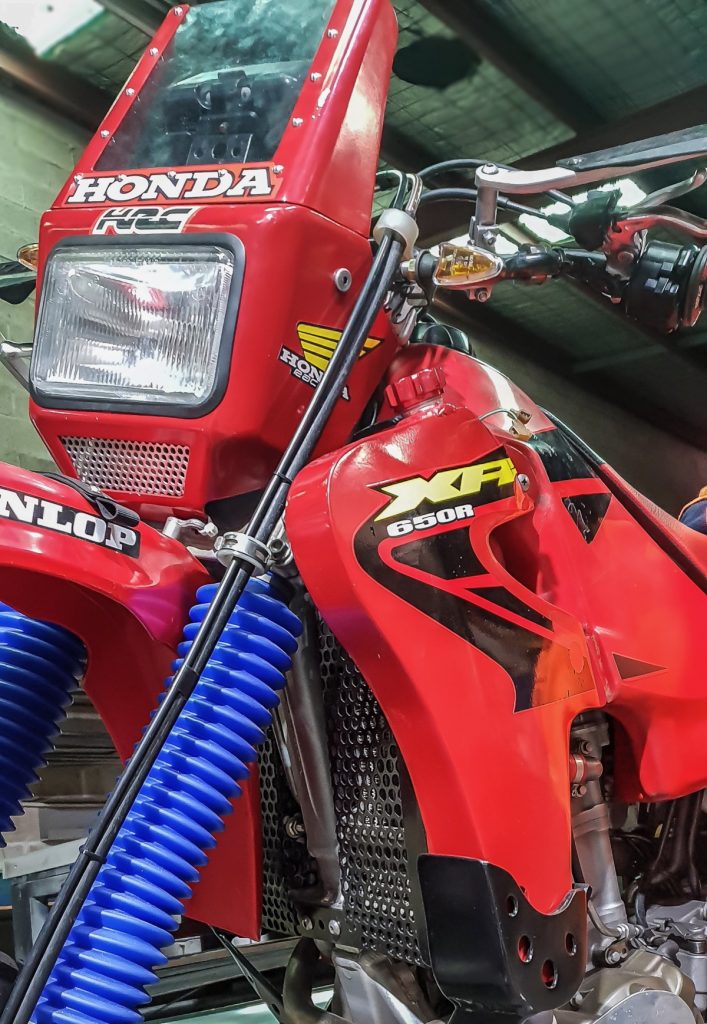 Recommend it?
The Honda XR650R is perhaps the last of the old-school dirtbikes, with 300mm of wheel travel at both ends and superb handling at high speed. Adjustment of the valves can be done with a ring spanner and screwdriver; try that with a modern, throwaway bike! For a big machine, it is relatively light, at a tad over 130kg, and slim for its capacity, making it a joy to ride on all terrain.
The engine is an absolute joy to use. You can short shift and mono out of corners at the twist of the wrist. But the big XR loves to rev hard as well. Things start happening quick at high revs in the last couple of gears, so she always keeps you on your toes. You can pick these bikes up for around $5000, which is a bargain in my opinion.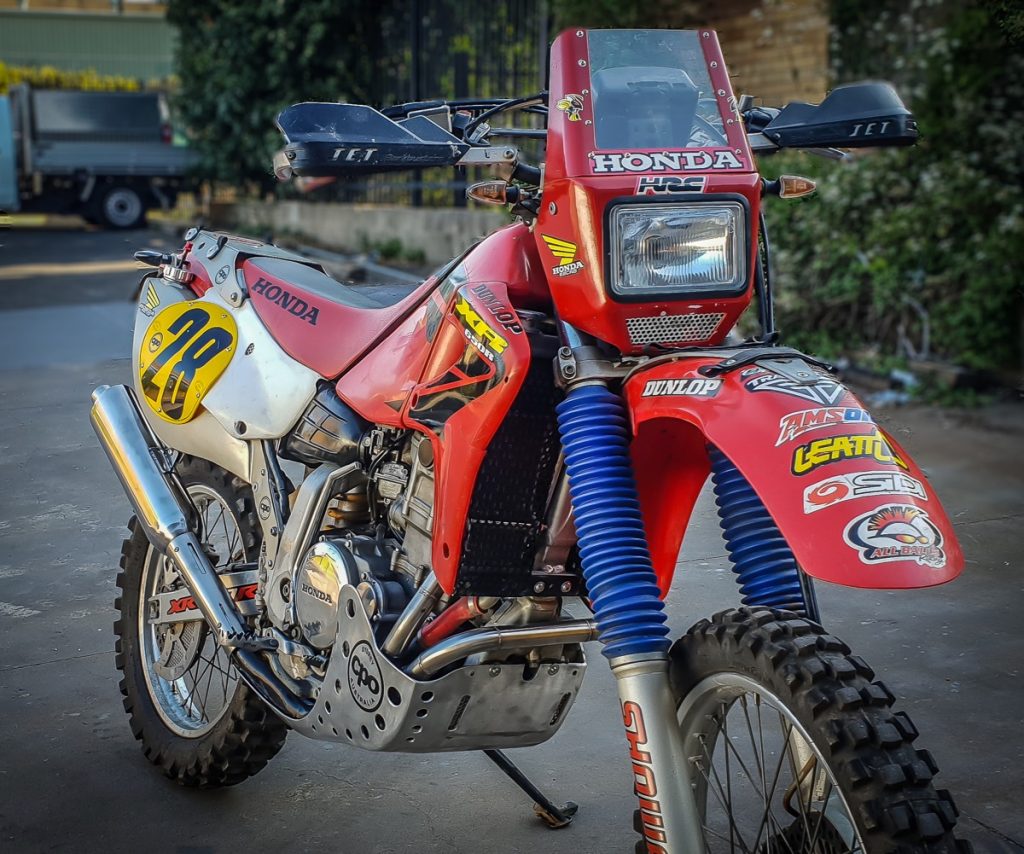 5 THINGS YOU DIDN'T KNOW ABOUT THE HONDA XR650R
1. All custom work has been done in Colin's workshop, CPO Fabrications in Sydney.
2. Colin plans to set the bike up to compete in a few rallies next year and will add a Dakar-style dash.
3. On technical trails he runs 15/47 gearing but in the desert he changes to a 16-tooth countershaft sprocket.
4. Colin says the Kriega toolbags are tough as nails
and completely waterproof.
5. The custom stainless steel headers and muffler give an extra three horsepower with no loss of mid-range.