The Mansfield Monster - 1200cc of sheer terror!
What: Harley Sportster mated to Euro trailbikes
Who: Rod Glue
Where I built it: My workshop at Vacuum Truck's
When Early: 2010
How much: $8000
Why I built it: I wanted a Harley and a trailie, plus I love the noise!
Why I Built it:
What do you get when you splice a Buell top-end and a Harley Davidson 883 Sportster bottom-end, in a Harley frame with a KTM 525 EXC front-end and a Husky TE 510 rear-end? How about 1200cc of sheer terror!
A Husqvarna back-end, including the complete linkage, has been spliced together to create the frame of the Frankenstein. The Husky rear-end was used to suit the right-hand final drive of the Harley donk. Tipping the scales at 206kg, you have to be 2m tall and weigh 140kg to tame this roost-flinging Frankenstein. I went with a matte black colour scheme because that's the Harley look.
How it's performed:
I get out to ride the two-wheeled rocketship about three times a week. With that in mind, I usually wait to see how dirty it gets before I wash it which is usually every few rides and doing this regularly aids longevity and performance. It has performed pretty well all things considered but it has made me appreciate cable-ties more then ever: they have replaced the exhaust mounts, radiator hose clamps and they also stop the bashplate and shrouds from falling off. An 11.5L tank and grip warmers help us old bastards with arthritis and the KTM steering damper is a help, too.
The Maintenance regime:
It's 18 months old and done over 5000km. It has separate gearbox and engine oil so I can get more out of my changes. I drain the gearbox oil every 1000km, the engine every 500km and throw in a new air filter every three rides. Lubing the chain is a myth so I never do it, I tighten the spokes regularly and keep cable-ties on hand.
Should you build one?
Yep… if you are mental enough. I've sold this one and am building another. In fact, I'll build you one! Having Bolton KTM close by I can get my hands on lots of stuff.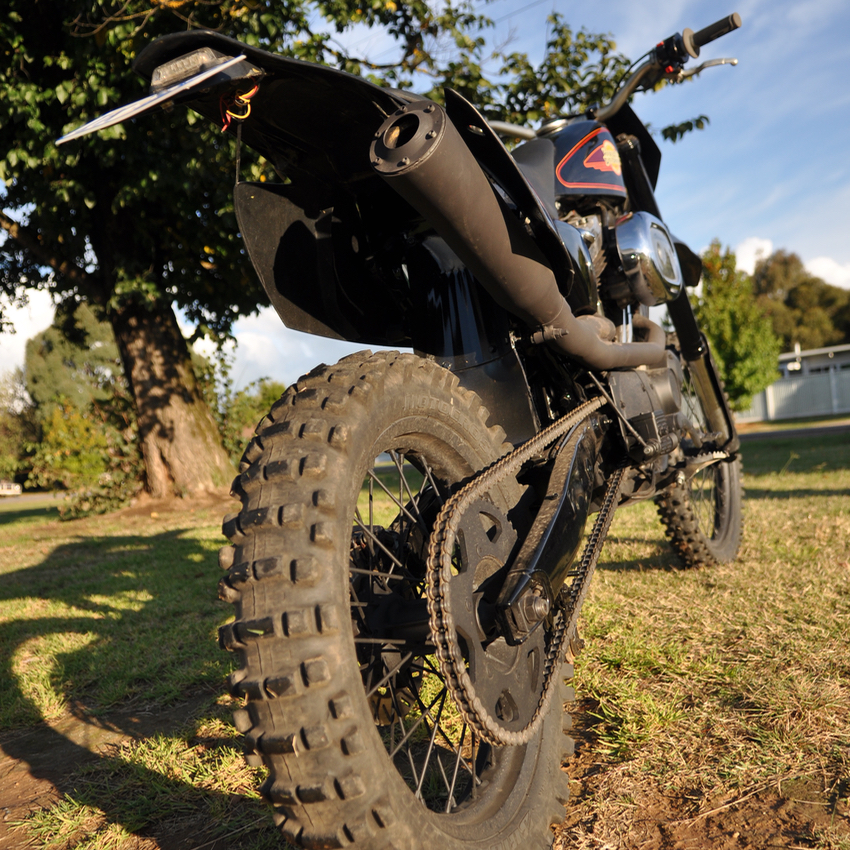 The exhaust on this beast was made at home in Mansfield, Victoria, like the rest of the bike.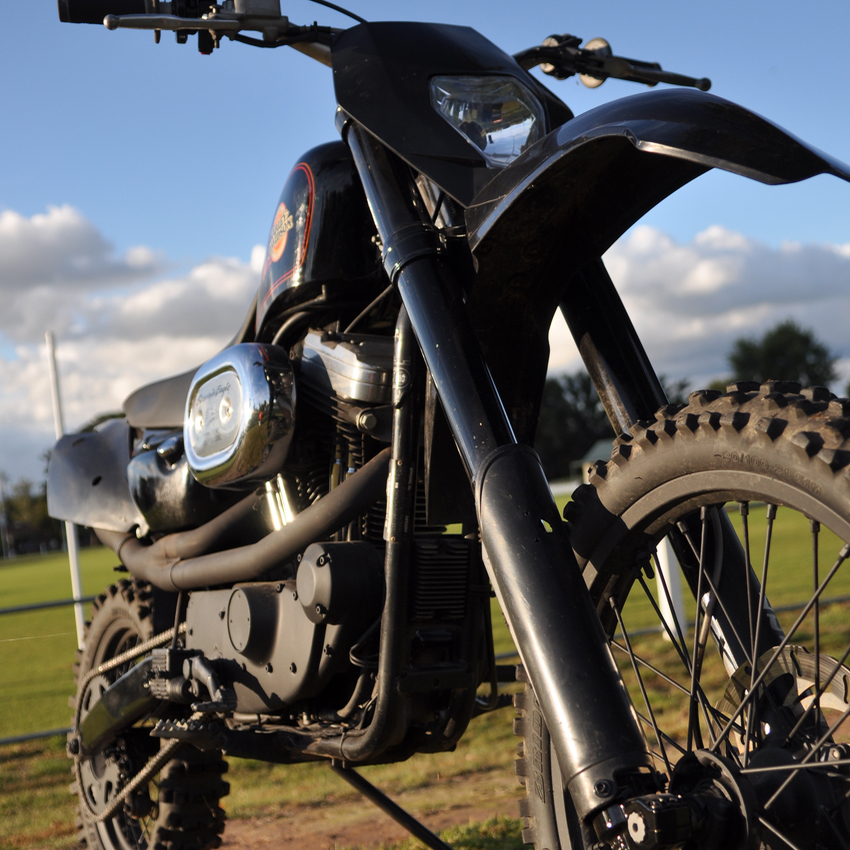 The KTM front-end works well and matches the flat-black paint for a menacing look.