Many moons ago Suzuki produced some of the best two-stroke enduro bikes on the market, first the PE (Pure Enduro) series and then the RMX250.
The 1998 Suzuki RMX250 suspension was tuned soft, just how trailriders liked it, and the engine could torque underwater with a flywheel the size of a serving dish.
It was essentially the Suzuki RM250 motocross machine with trail-specific modifications. But those mods weren't just minor adjustments to engine mapping and suspension settings like we see these days. They were wholesale changes.
Sadly, Suzuki Japan didn't see the value in an ADR-compliant two-stroke, largely because the Australian market was too small and the Yanks didn't need all that road gear. As a result, the Suzuki RMX250 was discontinued after 1998, having been introduced in 1989.
In those 10 years the bike was continuously refined with things like a two-piece clutch cover in 1990, inverted fork (until 1995 when they went to a conventional fork), different colour schemes and updated seats, redesigned headlight cowlings, handguards and disc covers, not to mention engine and gearing changes, revised wiring looms, subframes and dash setup.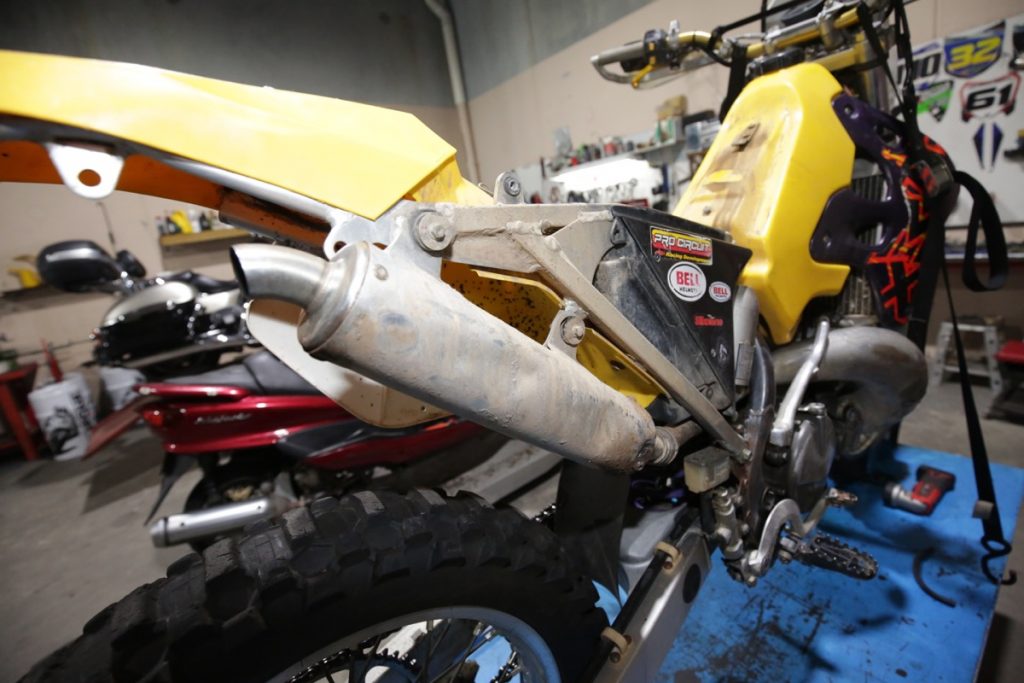 It truly was an enduro/trailbike even though it started out as a motocrosser. Strangely enough, the bike wasn't a massive hit and, as a result, second-hand Suzuki RMX250 aren't as cheap as you would think, with riders all over the country deciding to hang onto their noble steeds. We did find this 1998 one, which was in average condition but running. We paid $1500 for it, unregistered and looking like it should be a simple tart up with a little TLC. How wrong we were.
The aim of this build was not to restore it to showroom condition and leave it in a glass case but to create an alternative to the expensive European two-stroke enduros that we can register and ride every weekend in the bush. We hope to ride the Suzuki RMX250 at events like the Kowen Forest Ride and Myrtleford Alpine Rally and even at a round or two of the Grassroots Enduro Australia Series.
POWER PACK
The bike will be ridden like a regular trailbike and washed accordingly so we're not going to bother with new engine cases or flash rims and hubs, they would just get bashed and bruised. We want this bike to be as reliable as possible and as practical as any modern bike.
One of the benefits of a bike like the Suzuki RMX250 is that it produces plenty of power without expensive, regular servicing. Quite simply, there was no four-stroke that could compete with the two-strokes in the '90s. To find a bike with similar power you would need to run a modern high-powered four-stroke which are more expensive and harder to service. You could purchase a relatively new two-stroke but that would be more than double the price.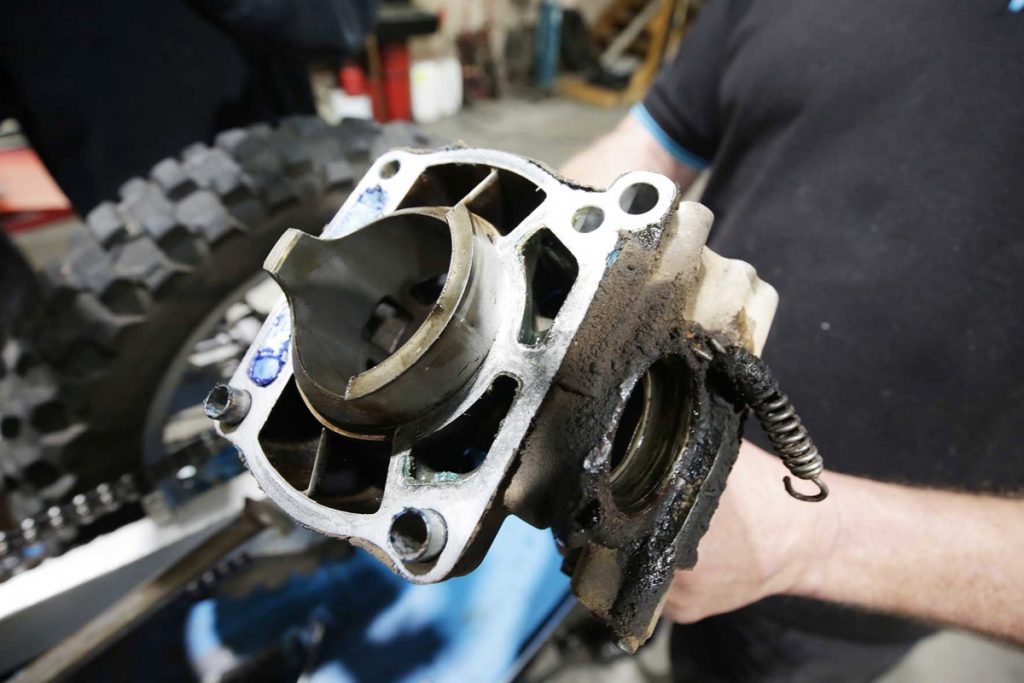 And don't forget, until recently, two-stroke technology hadn't come all that far so a bike from the late '90s isn't all that different to what you could buy a few years ago. And to some people, they were even better! Our aim is to keep up with our mates on newer, flashier and more expensive machines while having the same level of fun without breaking the bank.
We also plan to use this bike in comparos against modern two-strokes. We've got a few interesting tests planned with the bike once it is finished to see if the new models are all that much better. We're also keen to get Ben Grabham to test it as he told us he raced one back in the day. We want to see how much slower or faster he thinks it is, how far two-strokes have come and if it's anything like he remembers.
With this in mind we enlisted the help of Mat Boyd from Boyd's Motorcycle Surgery in Newcastle to strip it down and rebuild it. Boydy has been our Technical Editor for over seven years and has worked on just about every bike ever built. He's a perfectionist, so when we brought him a bike that looked like it had been used as a boat anchor he nearly had a brain aneurysm. But he immediately pulled the t-bars out and got to work.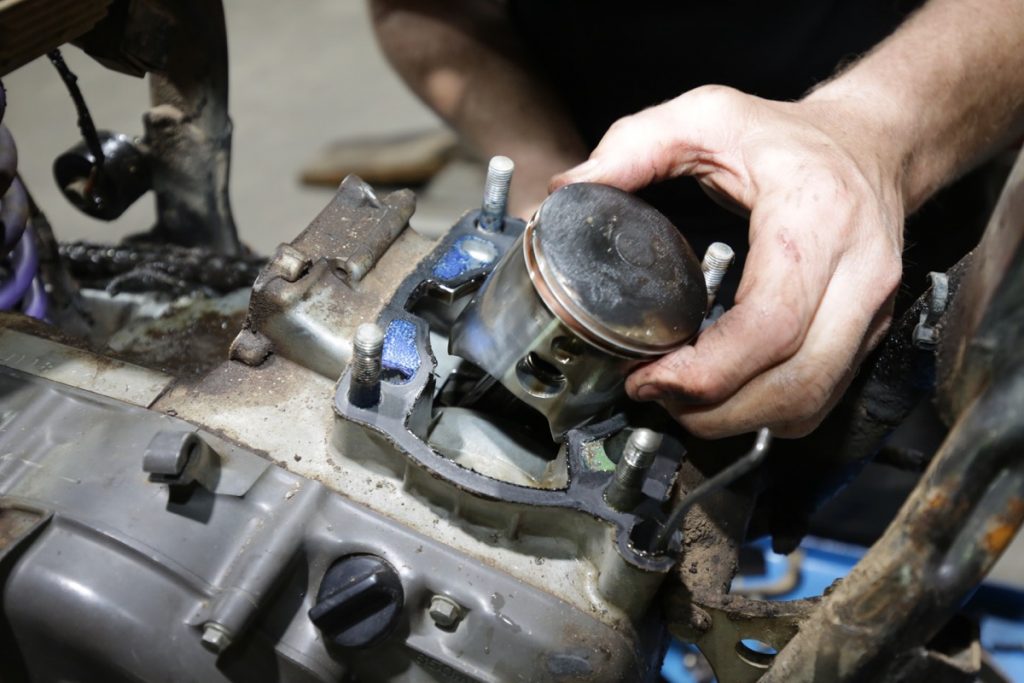 We then had to make the tough call on who to get parts off. As discussed, we wanted this bike to be reliable and perform flawlessly, so choosing the right parts providers was key. The only way to guarantee this was to use genuine bits and Suzuki Australia carry just about every part for this bike, so they were our main provider. We then hit up MXstore for our rego gear, Topline Upholstery for a seat, Kustom MX for graphics plus Serco for a bunch of delicious cockpit parts and Dunlop for tyres. But there'll be more on what parts we needed, why we needed them and how much they cost later. In this first feature we pull the it down and figure out what's gotta go! Part 2 and 3 will be the build.
WHAT NEEDED REPLACING?
• Swingarm bearings and seals – Rusted solid and fitted incorrectly, with spacers hand cut to the wrong size out of old wheel spacers.
• Linkage bearings and seals – Rusted solid thanks to the seals being
flogged out.
• Wheel bearings and seals – Wheel bearings loose and worn out, seals all damaged.
• Chain and sprockets – Chain old and rusty and the teeth on the sprockets all curled over.
• Chainguides – Both upper and lower guides were excessively worn.
• Tyres and tubes – Tyres were old and hard and the tubes didn't look like they'd seen daylight in 20 years.
• Front rim lock – Missing.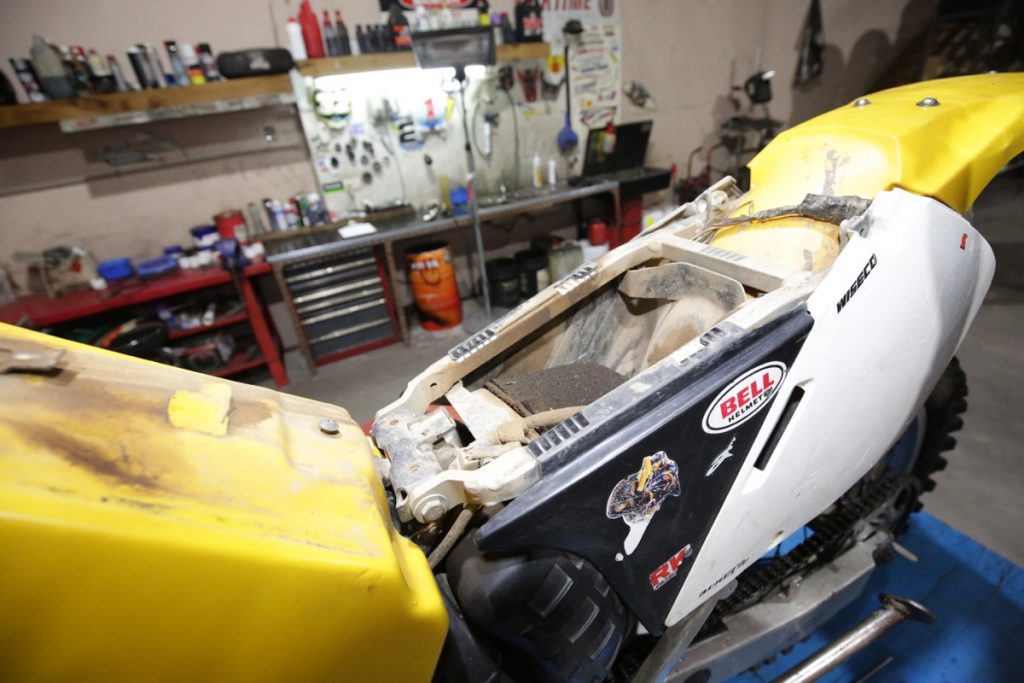 • Brake pads – Front and rear pads were worn.
• Brake pins and clips – The pins and clips on the front and rear calipers where either missing or worn.
• Brake reservoir – The rear one was corroded, cracked and leaking fluid.
• Fork seals, bushes and boots – Fork seals were leaking and the fork bushes were worn. The dust boots were old and torn and faded to a dirty mustard yellow and the right-hand lower fork lug was worn and not clamping the axle correctly.
• Shock – The seal was leaking, the shock bush was worn and the bump-stop rubber was missing.
• Air filter – The air filter looked like it had not been serviced for 20 years and possibly washed only a handful of times.
• Silencer – Bent and dented in numerous locations and the packing was soaked with two-stroke oil.
• Expansion chamber – Bent, dented, rusty and not sealing in the exhaust port correctly (see How to Tech for more on this little gem).
• Brake pedal – Wrong one fitted. Didn't line up with the master cylinder correctly.
• Gearlever – Bent and the spline was worn.
• Footpegs – Bent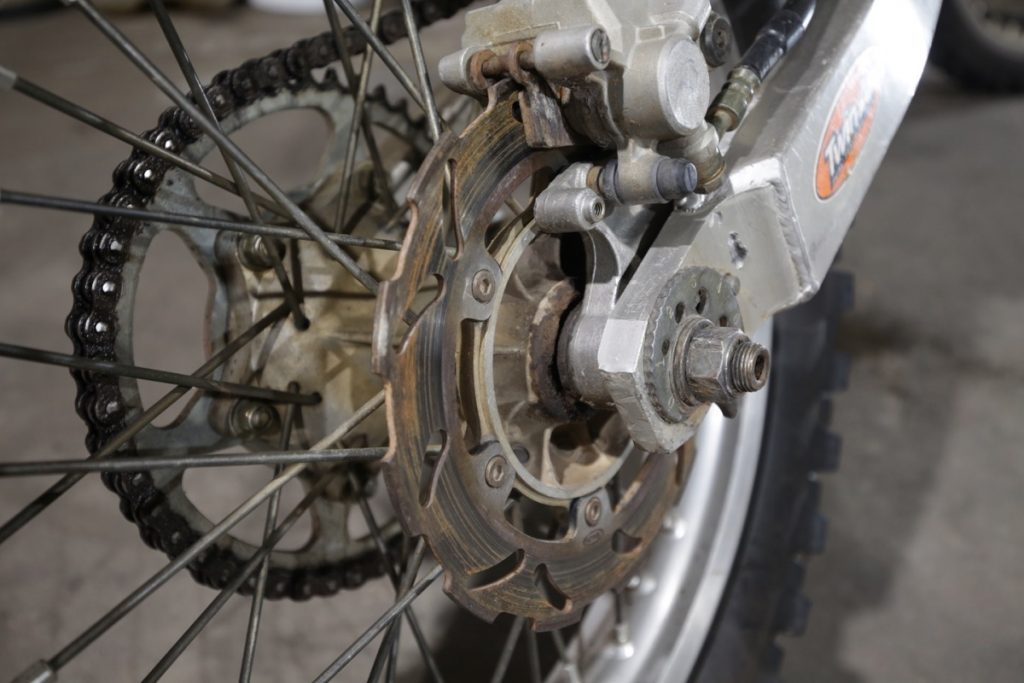 • Kickstarter – Spline was loose and the kickstarter folded back too far, causing your foot to slip off easily.
• Handlebar – Bent and twisted
• Handgrips – Old and worn
• Levers – All flogged out and loose.
• Cables – Frayed and covered in built-up grease and grime.
• Throttle tube – Cracked and broken
• Brakeline fittings – All cracked and broken
• Speedo – Old and ugly
• Headlight – Old and ugly
• Taillight – Old and broken
• Wiring – Damaged and frayed in several locations.
• Subframe – Broken (snapped the end)
• Fuel tap – Leaking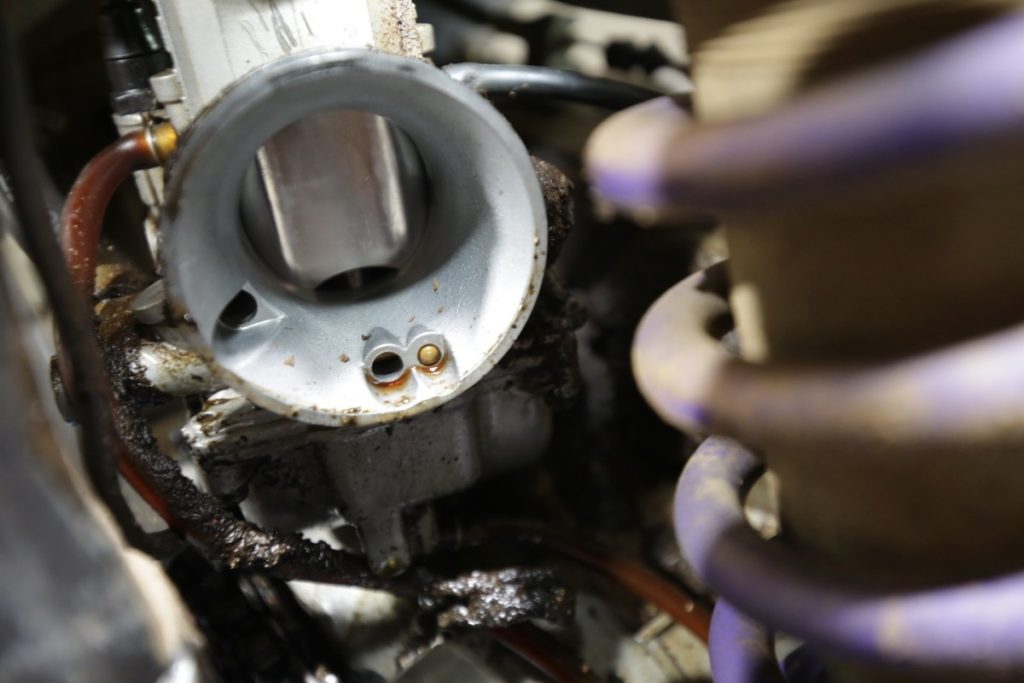 • Fuel lines – Leaking or missing
• Carburettor – Surprisingly, in okay condition but needed a new needle and floatbowl gasket.
• Seals and gaskets – The engine had oil leaks from nearly every seal and gasket fitted.
• Piston – Worn and loose in the cylinder.
• Main bearings – Loose and making a growling noise.
• Crankshaft – Small amount of play in the conrod bearing.
• Power valve – Plastic clips on power valve rod both broken.
• Clutch – Needed replacing.
• Gearbox – All the gears and shift forks were in good condition but the gearbox bearings were showing signs of wear.
• Water pump – The seal was leaking as the impellor was worn and rusty.
• Spokes – All needed re-tensioning.
• Reed valve – Petals were chipped and worn.
• Radiators – Bent and the filler cap was not sealing correctly.
• Seat – The cover was torn and part of the foam was missing.
• Plastics – Not broken but very scratched up.
• Missing – The front and rear disc guards were missing and so was the engine protection bar that bolts to the bottom frame rails.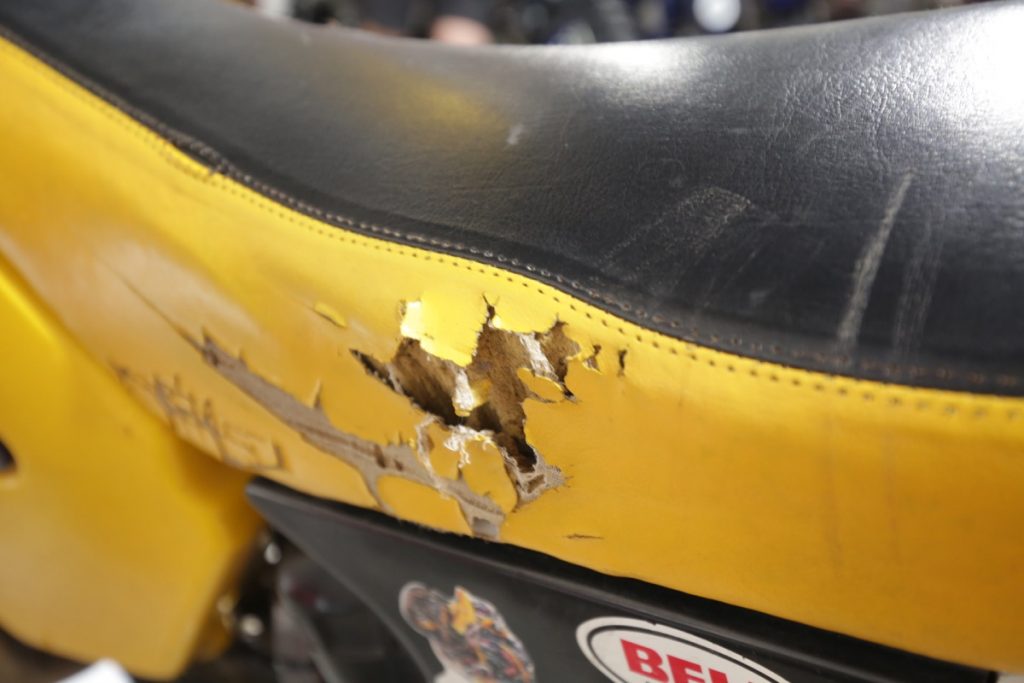 Getting parts
Suzuki Australia stocks almost every part for this Suzuki RMX250 so we hit them up and they delivered in spades. While genuine parts will be slightly more expensive than aftermarket ones we wanted to make sure this bike was reliable and there's no better guarantee than genuine parts. We will reveal the full list of parts in next issue's build feature but we managed to get everything from engine internals, bearings and external accessories from them. They arrived within a week and it was a breeze thanks to the comprehensive parts list.
MXSTORE was next on our hit list because we needed a bunch of ADR-compliance stuff to make the thing legal again. They had everything we needed to get the bike through the blueslip process in NSW from speedo to numberplate holder, headlight and blinkers. Their online ordering system made looking for parts easy as we could simply plug in the model name and everything available for the 1998 Suzuki RMX250 came up. MXstore threw in a few more goodies but we can reveal that list next issue too.
DUNLOP was the obvious choice for rubber on this project. While the team here on ADB are split on which brand makes the best tyres, in the end Dunlop got the vote. We opted for the MX52 medium-soft up front and medium-hard out the back. When we pulled the old tyres off the rims, rubber crumbled into our hands!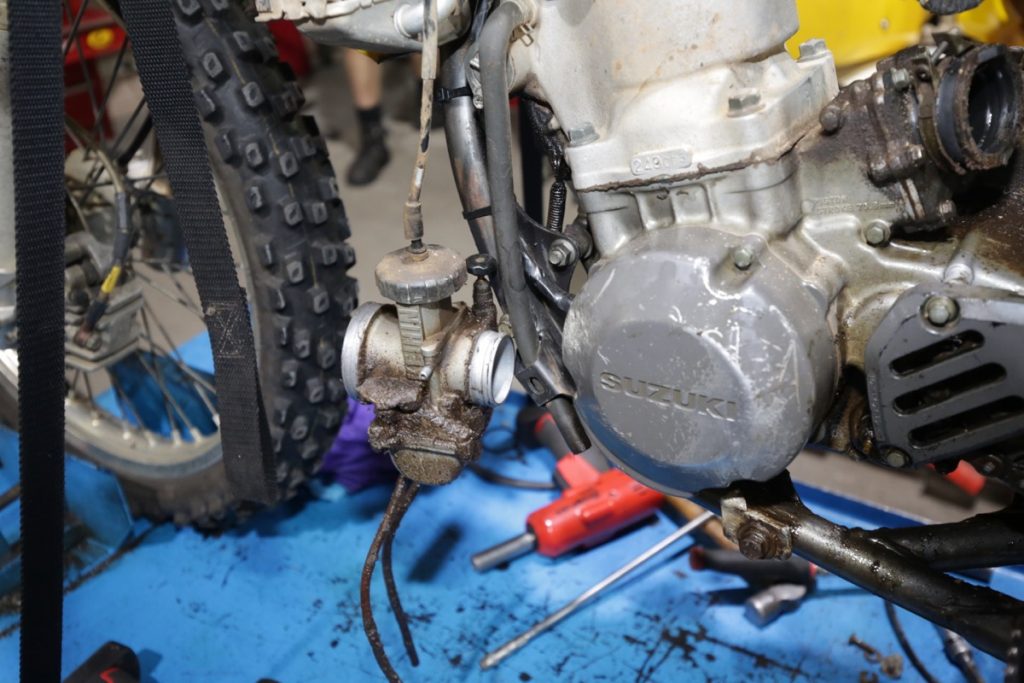 TOPLINE UPHOLSTERY was needed to patch a massive hole in the seat. The cover had been ripped and a piece the size of a golf ball was missing from the foam. We unbolted the seat and sent it down to them in Victoria. They transformed the seat and now it is better than it ever was. We can reveal what was done next issue.
SERCO was our one-stop shop for everything in the cockpit. The original levers, switchblocks, handgrips and 'bar were all bent and bashed, so we replaced the entire setup with a new handlebar and adjustable clutch from Pro Taper. Man does it look good, wait 'til you see it!
KUSTOM MX was the final piece in the puzzle as the original graphics were over 20 years old and nearly invisible. When we hit them up for a set of graphics we let them get creative. They suggested a play on the Suzuki of Troy idea. All we can say is it looks cool and transformed the bike.
WORDS and PHOTOS // MITCH LEES & MAT BOYD