Rod's 2018 Dakar Rally | Features | News
Factory Yamaha Rally rider Rod Faggotter gives us a quick run through his 2018 Dakar Rally. Keep an eye out for the full story in an upcoming issue of ADB magazine.
I jetted out of Brisbane 1 January and after three flights arrived in Lima, but not before our mates in the Auckland airport confiscated my Vegemite and two rear shock I was taking over to trial!! Arrrrrggggh!
The next few days were busy with preparation, scrutineering and riders briefing. I also managed to squeeze in a ride to adjust to the rally bike.
The first week went well with a few top 20 results and I held my position in the top 20 overall.
I lost some time on Day 5 when my teammate Franco Caimi cartwheeled his bike and destroyed the front-end and map gear. Got him going and he followed me until things got dusty and confusing and I lost track of him so I rode my own rest of the day.
After the rest day we rode into Bolivia, it was COLD! (0 degree mornings), WET and high altitude! Most of these four or so days were all above 3500-4000 meters with a top of 5000 meters. The bikes were running like choked up PW50's at this altitude, which makes the heavier sand sections "interesting."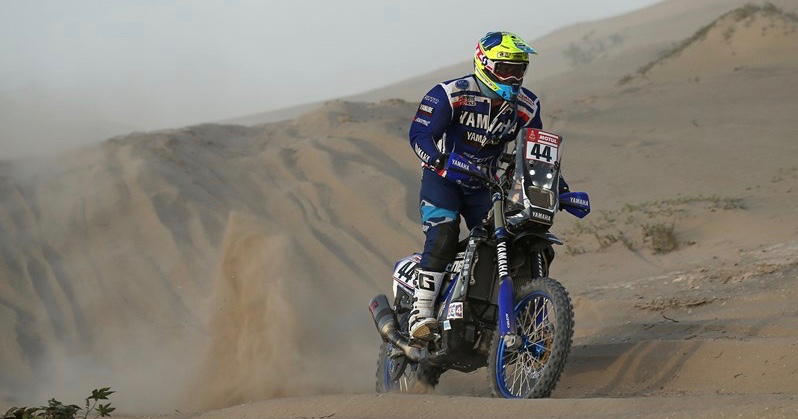 My old mate Franco got stuck on Day 1 of the first marathon (unsupported) stage. I stopped and with the help of USA MX legend Andrew Short, we got him out. Then about two hours later – he's STUCK again!! This time because he took a stupid line. I just shook my head at the scene and it took 4 of us to get him out.
All this bike un-bogging at altitude (low oxygen) really drained me and I was a bit spent by that arvo. Oh and Franco DNFed with a fried clutch so he never made finished the stage.
I serviced my two remaining teammate bikes (Adrien Van Beveren ; Xavier De Soultrait) that night as well as my own.
Next day was ok but then Xavier broke his arm in four places so we were down to two Yammie riders.
The next two days was more cold, wet and more shitty terrain that I didn't adjust to too well. At this stage I was hovering around just out of the top 20 and a little unimpressed with myself.
Then we were into Argentina and the weather/terrain and altitude were more to my liking. But then Adrien crashed 2km from the end of Stage 10 with a HUGE lead and injured himself (broken collarbone/ ribs and punctured lung).
I stopped also on this stage to Alexandro Botturi, who was on the Yammie factory team last year. He had crashed and knocked himself out and the frontwheel was bent so much it wouldn't turn through the front forks! – luckily he was OK and the organisers gave me back my time for stopping.
Hmmnn……. down to one and only Yammie in top 20 (not feeling any "pressure" to finish … that I already gave to myself – I was going push the bastard if I had too….)
The last few days were pretty uneventful, no crashes for me and steadily worked up to 16th outright at the end.
It was a little disappointing that we had two race stages cut from the event as I was feeling OK and recovering well, something that NOT crashing definitely assists with!
Overall super happy to complete another Dakar especially after last year's mechanical failure.Very grateful for the opportunity again supplied to me by the Yamaha factory team.
And of course super appreciative of all my supporters and sponsors on this email – I really appreciate all the support which has gotten me this far!
Rod