ALL-NEW SHOEI VFX-WR LAUNCHES MID MARCH | Back End | News
The new SHOEI VFX-WR off-road helmet lands in Australia mid-March, packed with features and boasting boasts the SHOEI - exclusive 'Motion Energy Distribution System' (M.E.D.S.).
The new VFX-WR has been completely redesigned and re-engineered without sacrificing an ounce of the quality and performance that have given SHOEI off-road riders championship winning confidence for decades. The all-new VFX-WR defines the future of performance off-road helmets.
SAFETY
Few characteristics of a motorcycle helmet are as critical as its rst-layer of defence – the outer shell – which is why the all-new VFX-WR features SHOEI's unique 6 layer Multi-Ply Matrix AIM+ Shell construction. Combine that with the proprietary, SHOEI- exclusive Motion Energy Distribution System [M.E.D.S.], and the all-new VFX-WR sets a new standard for safety and performance.
MOTION ENERGY DISTRIBUTION SYSTEM [M.E.D.S.]
• Proprietary, SHOEI exclusive rotational energy absorption technology
• Anchored by larger centre column, inner EPS layer swings during impact
• Strategically designed perimeter columns absorb rotational energy
• Signi cant reduction of rotational forces to the rider's head
• Preserves the lightweight, impact-absorbing characteristics of SHOEI's traditional EPS systems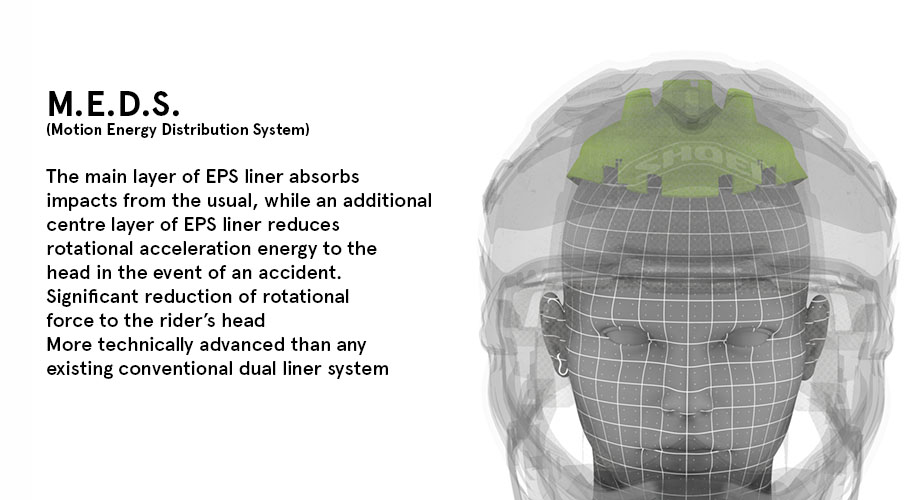 DUAL-LAYER / MULTI DENSITY EPS LINER
• Provides enhanced impact absorption by utilising varying densities of foam • Allows cooling air to travel unrestricted through tunnels created in the EPS • Precise placement of multi-density EPS material yields a more compact, lightweight design
• M.E.D.S. technology absorbs and reduces rotational energy
MULTI-PLY MATRIX AIM+ SHELL
• Proprietary technology integrates a six ply matrix
• Hand-laid interwoven layers of breglass with lightweight organic and high-performance bres
• SHOEI's strongest, lightest, most elastic shell provides optimal impact absorption
CHIN BAR EPS
High-quality EPS liner material throughout entire chin bar for enhanced impact absorption
SHELL DESIGN + AERODYNAMICS
Thanks to a new state-of-the-art shell forming technology exclusive only to SHOEI, the VFX-WR incorporates the aerodynamic advantages of a spoiler into its shell, and consistent shell thickness guarantees the proper strength, weight & protection of each and every helmet.
• Exclusive, state-of-the-art shell forming technology
• Incorporates the aerodynamic advantages of a spoiler into the shell
• Consistent shell thickness guarantees proper strength and weight
• Shell integrated goggle channel forms a perfect goggle retention system
VENTILATION PERFORMANCE
Racing environments can be extremely hot and fatiguing, which is precisely why next- level ventilation performance was a top priority when conceptualising the VFX-WR. Developed in SHOEI's in-house wind tunnel to realise optimal vent port shapes, sizes and locations, the VFX-WR's advanced ventilation performance has been optimised to excel in the most demanding conditions.
• Boasting sixteen (16) intake and exhaust vents in total
• Wind tunnel tested for optimal vent port shapes, sizes and locations
• Improved negative air pressure suction for enhanced cool-air intake and hot-air expulsion
• Cooling air channels in the dual-layer EPS liner further enhance air flow
• Optimised to excel in the demanding conditions of off-road and motocross environments
3D MAX-DRY INTERIOR SYSTEM
• Fully removable, washable, replaceable, and adjustable
• Max-Dry liner material absorbs and dissipates sweat 2X faster than traditional nylon interiors
• Soft yet durable lower cheek pad fabric for a plush t and feel
• Multi-layer cheek pads for maximum comfort and superior helmet stabilisation
• Three-dimensionally shaped to match the contours of a rider's head
LARGE EYEPORT
• Provides a massive peripheral eld of vision
• Large eye port facilitates oversized goggles
V-470 VISOR
• Fine-tuned by SHOEI's professional motocross and off-road racing team
• Specially designed for a seamless connection with the shell
• Provides superior roost protection and channels cooling air into helmet
• Utilises highest point of adjustability as its standard "home" position
• New range mechanism to easily and home position and prevent unexpected movement
• High-grade polycarbonate screws are capable of shearing off during impact to reduce forces to the rider's head
EMERGENCY QUICK RELEASE SYSTEM [E.Q.R.S.]
• Allows emergency medical personnel to easily and safely remove the cheek pads from an injured rider's helmet
• Helmet can be gently removed from an injured rider's head with minimal load placed on his/her neck
VFX-WR ARRIVAL DATES:
SOLID WHITE & MATT BLACK – Arriving Mid March (Available Approx March 12)
ZINGER GRAPHIC (3 Colours) – Arriving Mid March (Available Approx March 12)
GLAIVE GRAPHIC (4 Colours) – Arriving Mid March (Available Approx March 12)
GRANT 3 REPLICA (3 Colours) – Arriving Mid April
BLAZON GRAPHIC (2 Colours) – Arriving Mid April
Website: www.mcleodaccessories.com.au