Styke stunning in AORC debut | News
It was a great start to the 2018 Australian Off-Road Championship for the Active8 Yamalube Yamaha team with Luke Styke claiming class wins in the E1 division.
Perfect conditions greeted riders for the two-day event that saw a huge field of riders take on the opening two rounds of this years' championship. Both days were run under the sprint format and with the odd shower passing through the area keeping conditions prime, the Active8 Yamalube Yamaha team got off to a great start and are well placed after the opening weekend.
Luke Styke showed his transition to off-road is going well taking the E1 (250cc) class win on both days. Styke overcame a slow start on Saturday morning to take control of the class getting the upper hand in a tight battle with Jack Simpson. Styke went on to win six of the eight tests on Saturday and then dominated proceedings on Sunday, winning all eight tests in an impressive debut for the former motocross champ.
"It was good weekend result wise and I really enjoyed the weekend! It was all new to me and I'm still learning a lot of things, even the simple stuff like how the day runs, but it was a fun weekend and I guess I couldn't have asked for more.
"We have a bit of a gap between now and the next event which is the Four day, so there are some things I want to improve on and even just get more time on the bike in general. But, thanks to Yamaha and the Active8 team for a great weekend to start my off-road career and look forward to building on things from here," Styke said.
Josh Green proved he will be a championship contender in 2018 in the E2 division taking second place on both days with a clean run each day. He steadily improved over the course of the weekend and Sunday closed the gap between himself his nearest rival which gives him confidence moving forward.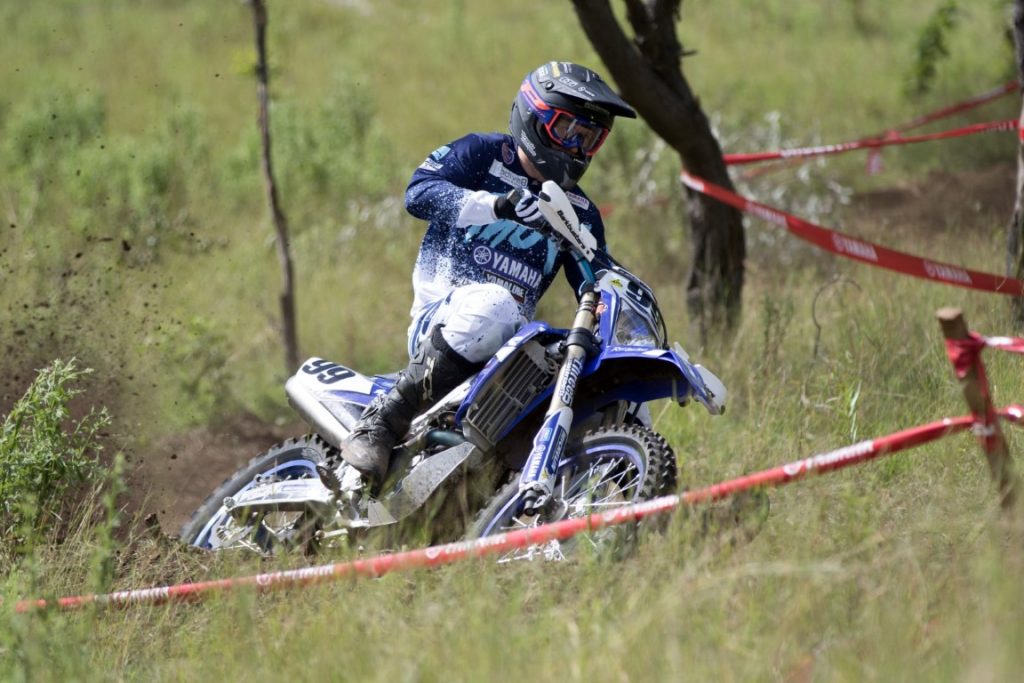 Green has put in a huge off season with his riding and training and it was pleasing for him to see some reward on the Sunday and keeps him motivated for the coming rounds.
"Opening rounds are always tough as you want to put in a good positive start to the championship but not throw too much emphasis on it as the reality is that it's just two rounds of the twelve we contest for the AORC,' Green begins.
"I feel I have made a good start and I'm well placed after the first two rounds. My bike was working well, fitness is good and on Sunday my test times were right there so I can take a lot of positives from the weekend and continue to work hard during the week to ensure I'm better again at the next round."
It was also a great start to the season for bLu cRU assist racer, Michael Driscoll. Driscoll took command of the EJ (under19) class winning both days comfortably and proving to have top 10 outright speed. Driscoll is the current EJ champion and made the perfect start to retaining his number one plate for 2018.
"The weekend was pretty good for me and its always nice to get the class win on both days," Driscoll starts. "Being my second year in the EJ class, I really now need to look towards comparing my times and racing with the guys in E1 as that is the next step in my career. I have to keep pushing myself and not rest with doing enough to win this class as if I want to prove that I can match it with the professionals, then I have to do times equal to them, so that's my goal for the coming rounds," he ends.
The next event on the off-road calendar is the Australian 4 Day Enduro at Cessnock on April 2-5. The Australian Off-Road Championship picks back up again on May 5 -6 when rounds three and four take place at Hedley in Victoria.
"It was a good start for the team and everyone left with a good feel about the weekend and what's to come," Team manager, AJ Roberts sums up. "Our Yamaha WR's were working well, the riders are fast and motivated and the team morale is good. All going well, we get Wil back for the next round and then we are at full strength and ready to take on the A4DE and the AORC."