Suzuki unveils V-STROM 1050 | News
Suzuki has unveiled the 2020 V-STROM 1050 range at EICMA motorcycle show in Milan, Italy.
The all-new model is a heavily updated version of the current 1037cc adventure bike but features more electronic rider aids and accessories than ever seen on a Suzuki V-STROM.
New for 2020
– Available in two variants: Standard and Cross-Touring (XT)
– New Suzuki Intelligent Ride System (S.I.R.S)
– New Cruise control system (XT model)
– New Hill hold control system (XT model)
– New Slope dependent control system (XT model)
– New Load dependent control system (XT model)
– New Suzuki Drive Mode Selector (SDMS)
– New Styling design inspired by legendary DR-Z desert-racer
– New Height adjustable windscreen
– New LED headlight and LED rear combination lights
– Updated Euro 5 compliant V-twin engine boasting higher output
– Australian Availability: Mid 2020 – Final colours, specifications and pricing TBC
Details
The Refined V-Twin Engine
The liquid-cooled, DOHC, 1037cm3 90° V-twin engine further evolved. It meets new Euro 5 emission control standards while achieving high power of 79.0kW / 8,500rpm while maintaining low fuel consumption (4.9L / 100km). Also, a 35kW version has been added for the European Driving License Directive.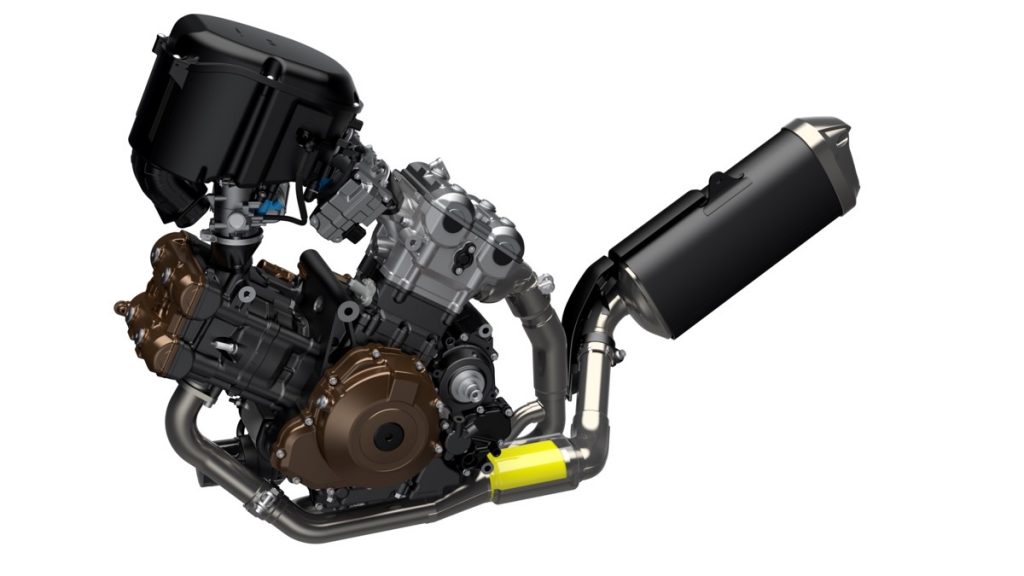 Low RPM Assist
The Low RPM assist system monitors and automatically raise the idle speed when taking off from a stop or when riding slowly. Using the electronic throttle, a even finer level control is made possible. The system makes it easier for the rider to pull away from a standstill or manoeuvre at slow speed.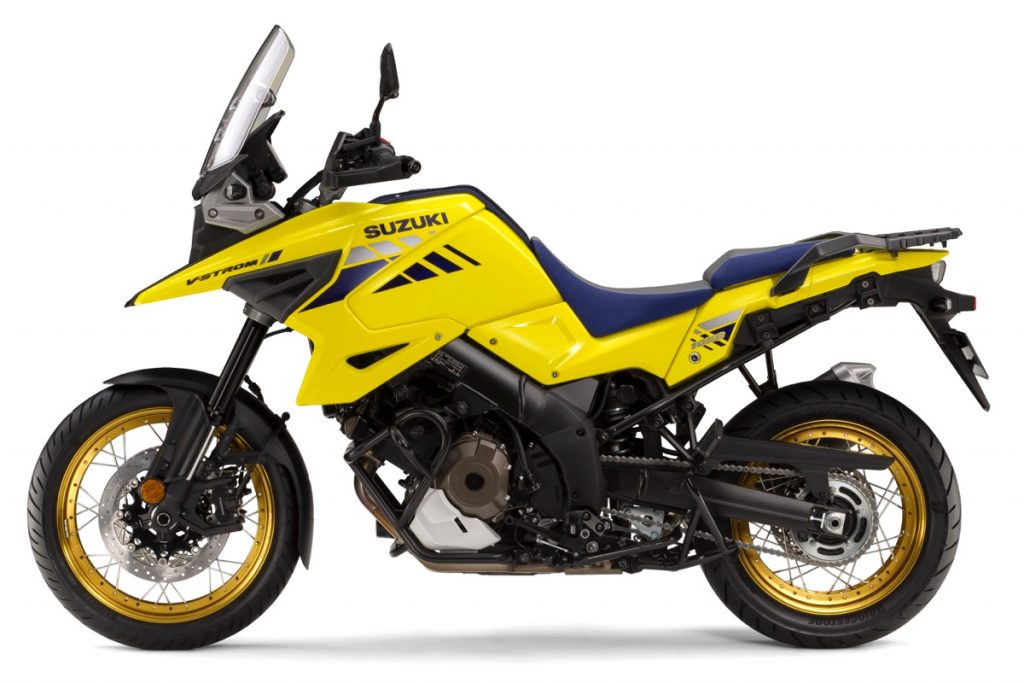 Suzuki Easy Start System
The Suzuki Easy Start System allows the rider to easily start the engine with a single press of the starter button in any weather conditions or engine state—whether cold or hot. There is no need to continue to press the starter button until the starter ignites and turns the engine.
Suzuki Clutch Assist System (SCAS)
The Suzuki Clutch Assist System (SCAS) works as an assist clutch to make the lever easier to pull while transmitting the power output, reducing fatigue on long touring.
Electronical Throttle Body Now, ride-by-wire throttle system is simpler, lighter and more compact than the previous model, with a larger bore (49mm compared to 45mm of the
previous model). The throttle body is independently installed to both the front and rear cylinder. Each throttle body has a single butterfly valve, allowing each to be opened and closed using its own independent motor for precise control.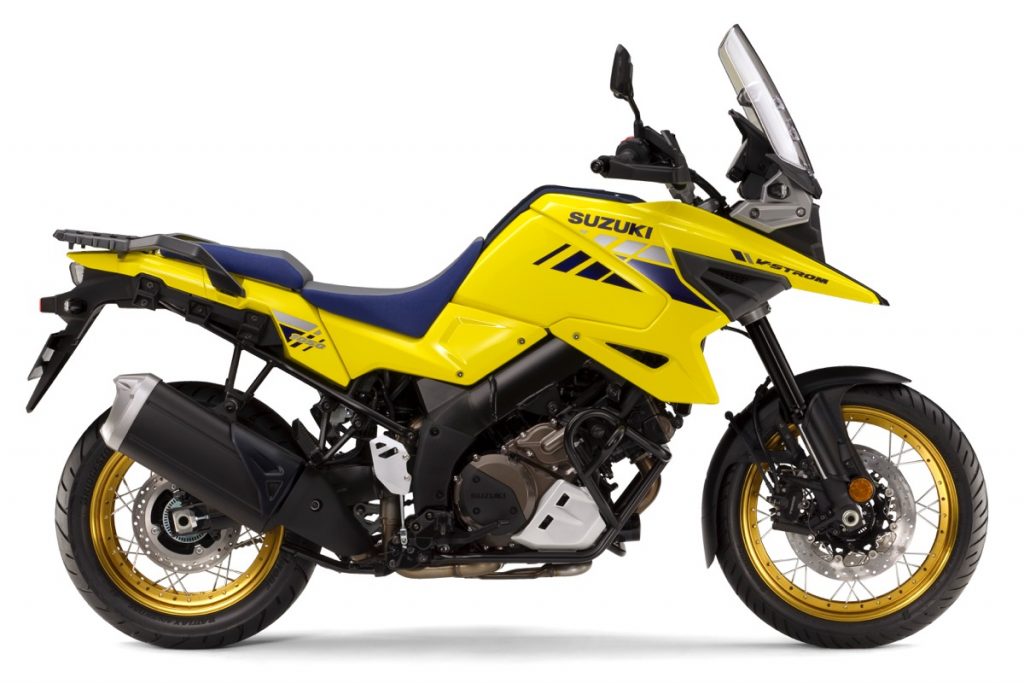 Camshafts and Cam-timing
Both the exhaust and intake cam profile are changed so that the amount of lift is increased and the camtiming has been set with less overlap. This provides better combustion efficiency and contributes to higher power output and low fuel consumption.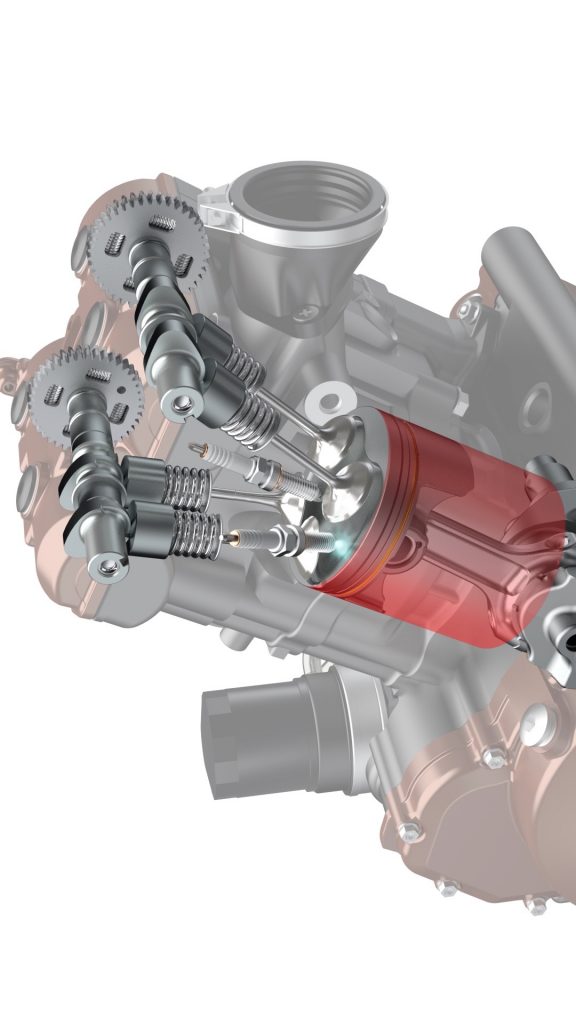 Dual Spark Technology
Each cylinder head is equipped with two iridium spark plugs. The ignition timing is controlled independently contributing to high combustion efficiency, higher power output, a more linear throttle response, easier engine startup and a more stable idle.
ECM
The newly programmed ECM (Engine Control Module) provides state-of-the-art engine management and has optimized settings to meet Euro 5 regulations.
Liquid-cooled Oil Cooler
Uses a new liquid-cooled oil cooler. Located where the oil filter is attached, it takes up less space and is both lightweight and compact. The liquid-cooled oil cooler provides flawless lubrication for a more powerful engine.
Multi-function Instrument Cluster
The instrument panel presents all required information on a full LCD screen using a clean and intuitive layout with information displayed in order of priority. Included in the display are the speedometer, tachometer (full pixel digital display), gear position indicator, odometer, trip meter (A, B), instantaneous fuel consumption, average fuel consumption, driving range, fuel level indicator, engine coolant temperature indicator, ambient air temperature indicator, clock, voltage meter, service reminder, SDMS mode, traction control mode, cruise control indicator, ABS mode, hill hold indicator, engine rpm indicator light, freeze indicator light, turn signal indicator light, high beam indicator light, traction control indicator light, ABS indicator light, and neutral indicator light.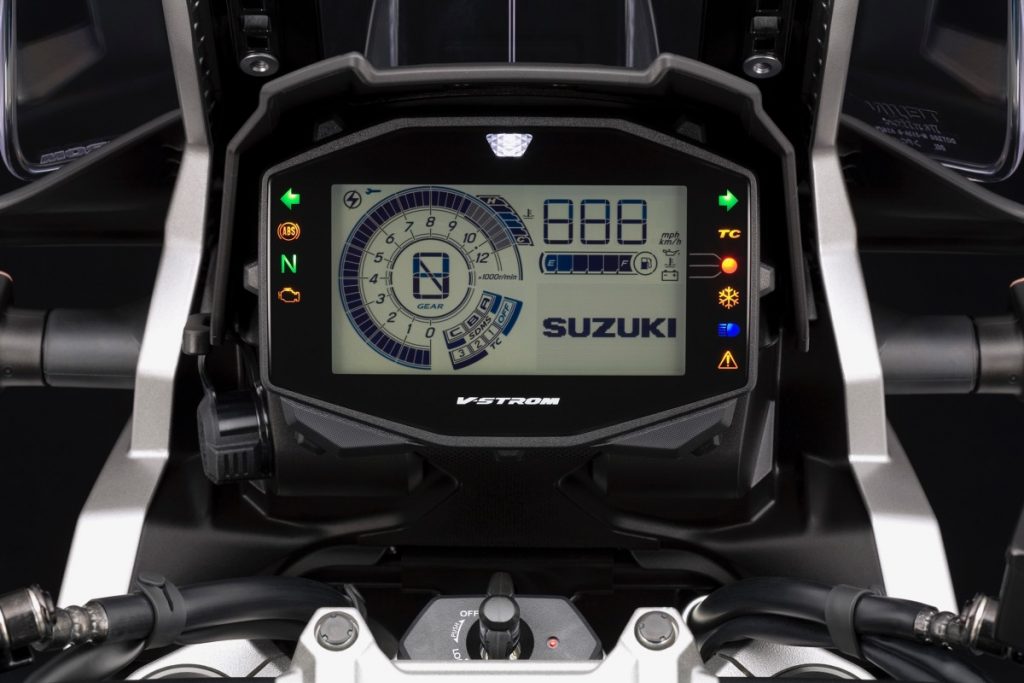 Adjustable Suspension with Excellent Wheel Selection
With an inner tube diameter of only 43mm, the spring preload and compression/rebound damping of the KYB inverted front forks can be fully adjusted, allowing the suspension to be set based on the preference of the rider or the usage conditions. The rear suspension is a bottom link type mono-shock, and the preload can be adjusted simply by turning the dial by hand. The V-STROM 1050XT model uses DID aluminium wire-spoked wheel rims, while the V-STROM 1050 model is equipped with 10-spoke aluminium cast wheels. Bridgestone Battlax Adventure A41 tires are standard equipped with a 110/80R19 radial tire on the front and 150/70R17 on the rear.
Durable Twin-spar Aluminum Frame
The lightweight cast aluminium twin-spar frame realizes the optimal rigidity balance for stability and handling performance. The swingarm is also aluminium supporting the balance and light handling.
Height Adjustable Windscreen
The windscreen reduces fatigue when riding at high speeds. Height is adjustable on the V-STROM 1050XT without any tools.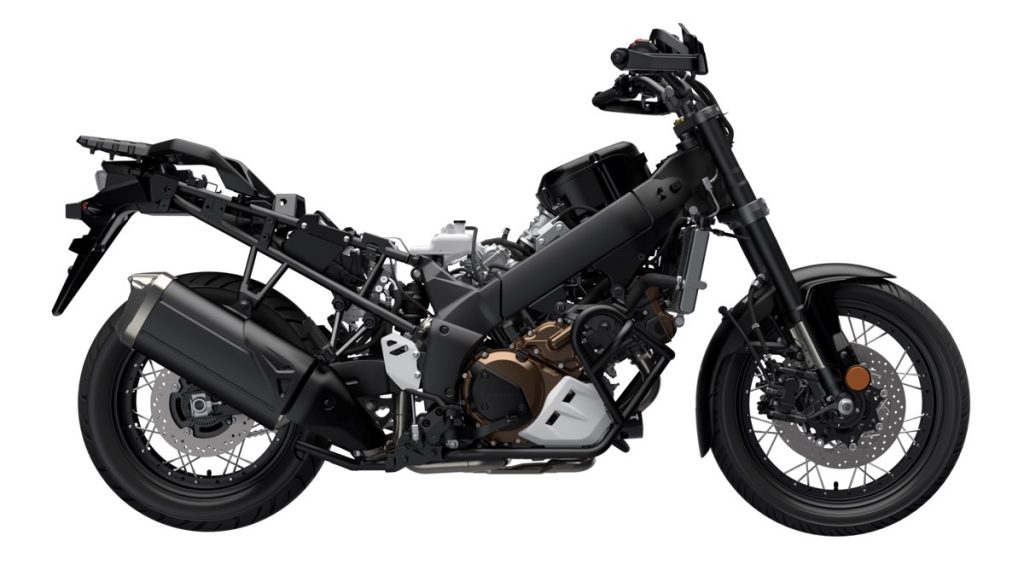 Comfortable Seat
The seat has a front/rear separate design and is just the right firmness to provide a comfortable ride with less fatigue even on long
rides. The height of the rider's seat can be adjusted 20mm higher on the V-STROM 1050XT.
Aluminum Tapered Handlebars
The new model is equipped with aluminium tapered handlebars. The shape enhances the offroad style feel.