The first round of the 2016/17 FIM SuperEnduro World Championship in Krakow, Poland mark the last official race of Taddy's career.
The KTM Factory Racing team rider and former six-time SuperEnduro champion took a well-deserved overall Prestige class win.
Husqvarna's Colton Haaker finished second With Alfredo Gomez rounding out the podium in third and Jonny Walker finishing just one-point behind in fourth it was a memorable night for KTM inside the Tauron Arena in Krakow.
The star of the show was unquestionably Taddy Blazusiak. Ending his illustrious career with overall victory, in winning two of the night's three finals and placing second in the third he gave the 13,000 Polish fans exactly what they'd come to see.
"No words can describe how happy I am," enthused the six-time SuperEnduro champion Blazusiak. "It's crazy how things have panned out for me these past few months. I worked really hard to get back after my injury in EnduroCross and then decided to skip the last round to get my thumb good again. It paid off and I was able to push 100% in Poland. It's such an amazing feeling racing in front of my home fans so I gave it all I had on the track."
Riding with 100% commitment Blazusiak gave his absolute all on the KTM 350 EXC-F, as he has done countless times before. "I was hitting my lines and it's amazing to get two race victories and the overall. I worked a lot during the past few months to be competitive but the way it all happened in Poland is just insane. To win the first two motos and cruise to second in the last one was just incredible. I couldn't really ask for more. It was one hell of a ride and I couldn't have asked for a better way to end my career."
Joining team-mate Blazusiak on the podium Alfredo Gomez secured one of the night's stand-out rides, showing the importance of consistency. Jetting back to Europe from The Roof of Africa, with virtually no real time spent preparing for SuperEnduro the Spaniard placed 4/2/3 for third overall with his KTM 300 EXC.
"I'm just so happy to get a spot on the overall podium," explained Gomez. "I believe the key was being super consistent throughout the night. I may not be the fastest guy out there but consistency is so important in SuperEnduro. Two weeks ago I had no intentions of racing the series. I came to Poland with no expectations, straight after my trip to South America for the Roof of Africa. Racing without pressure worked well for me this time and I had loads of fun in Poland."
As the rider who lead for much of last year's SuperEnduro championship before seeing his title aspirations derailed when he fractured his leg at the penultimate round, Jonny Walker returned to indoor racing focused only on challenging for the win.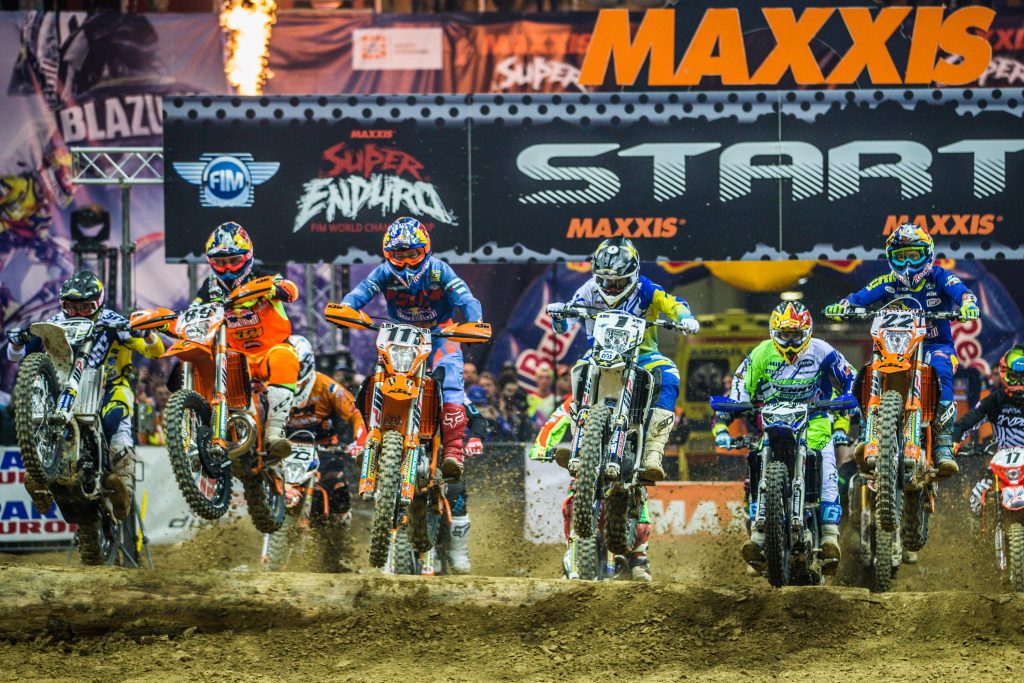 Showing impressive speed on the KTM 250 EXC-F Walker ended the night fourth overall with third in the opening final his best result. "It's great to be back racing in the series again, but things just didn't quite go how I hoped they would. After such a good championship last year, to end up getting hurt and not being able to fight for the title was tough. So it's just great to be back racing," commented the Brit. "But, to be honest, I struggled with the track tonight and couldn't find a good rhythm. I made a few costly mistakes while passing backmarkers. I know I should've been third but it is what it is. There were positives, like my speed, so I'm taking the good things out of my night of racing in Poland. We have a bit less than a month to the next round in Germany, so the plan is to continue working hard for that. As much as I wanted to be winning, it's cool that Taddy got to top the podium at his very last race. We've been teammates for five years and I've learned so much from him. Taddy is a legend of our sport so it's a fitting end to his career that he's going out on top."
Competing in the Prestige class for the first time, reigning SuperEnduro Junior World Champion Manuel Lettenbichler also enjoyed a positive night's racing finishing sixth overall. "It was my first race in the senior class and it went pretty good actually. There were lots of friends and people from Germany so it kind of felt like I was racing in front of my home crowd. The track was quite tough and I ended up making a few mistakes. To come away with three top six results in my very first race in this class is something really cool. I really enjoyed the racing in Poland and I'm looking forward to my home race in January."
The 2016/17 FIM SuperEnduro World Championship resumes on January 7th in Riesa, Germany.
Results/Standings SuperEnduro Krakow 2017 after 1 of 4 rounds
1. Taddy Blazusiak (POL), KTM, 58 points (1-1-2)
2. Colton Haaker (USA), Husqvarna, 54 (2-3-1)
3. Alfredo Gomez (ESP), KTM, 45 (4-2-3)
4. Jonny Walker (GBR), KTM, 44 (3-4-4)
5. Mike Brown (USA), Husqvarna, 31 (6-5-5)
Other KTM
6. Manuel Lettenbichler (GER), KTM, 26 (5-8-6)