Tayla Jones wins GNCC opener | News
Rockstar/Husqvarna/Moose Racing/Shaw Wines Tayla Jones captured the WXC class win at the season opener of the Grand National Cross Country Championship at in Palatka, Florida.
Fly/Maxxis/Pro Circuit/KTM's Becca Sheets earned second overall and in the WXC class, after coming through one minute behind Jones. KTM/MEPMX/Fly Racing's Mackenzie Tricker earned third in the WXC class and eighth overall in the morning race. A special guest made an appearance in the Sportsman A class, Travis Pastrana signed up and dabbled in some off-road racing for fun.
Tely Energy Racing/KTM's Steward Baylor Jr. would be the first one to cross the finish line after a grueling three-hour race of the XC1 class.
As the race got underway it was Imagine Moto/Makson Inc./Romar Marina's Heath Harrison grabbing the $250 All Balls Racing XC1 Holeshot Award and heading into the woods first. When they emerged, it was FMF/KTM Factory Racing's Kailub Russell in the lead position. Russell would maintain the lead for the first three laps before battling with S. Baylor. At the halfway mark Russell was in the number two position, Russell would remain focused for the last three laps and take the checkers and second place overall at the season opener.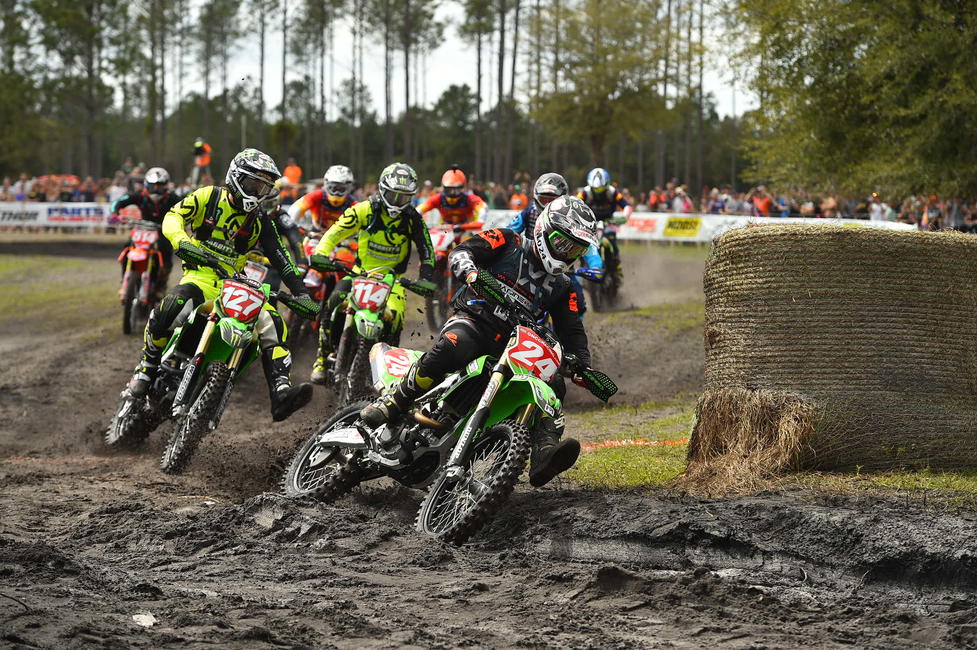 Rockstar Energy/Factory Husqvarna Racing's Thad Duvall did not get the start most hope for, but by the second lap Duvall was at the front of the pack fighting for second place. After swapping positions throughout the race, Duvall would hold onto the last podium position as the two-lap card came out. Duvall would remain consistent during the last two laps, ultimately finishing in third overall.
Duvall's teammate, Trevor Bollinger came through in the fourth place position at the conclusion of a demanding three-hour race. Bollinger looked comfortable and ready to battle for a National Championship on his new Rockstar Energy/Factory Husqvarna. XC1 Open Pro rookie and FMF/KTM Factory Racing's Josh Toth had a good season opener and XC1 debut as he finished in the fifth place position, after battling back from a seventh place start to the day.
The Babbitt's Online/Monster Energy/Kawasaki duo of Josh Strang and Jordan Ashburn finished sixth and eighth in the XC1 class. Strang and Ashburn both had a great jump off the line, heading into the woods second and third. Phoenix Racing Honda's Andrew Delong would hold onto a seventh place class finish in the Florida sand, while AmPro Yamaha's Paul Whibley took home ninth place. Lunova Racing/Team Green Kawasaki/Stiller Motorsports' Christopher Venditti also made his XC1 debut, rounding out the top 10 in class.
XC1 Pro Event Results:
1. Steward Baylor (KTM)
2. Kailub Russell (KTM)
3. Thad Duvall (HQV)
4. Trevor Bollinger (HQV)
5. Josh Toth (KTM)
6. Josh Strang (KAW)
7. Andrew Delong (HON)
8. Jordan Ashburn (KAW)
9. Paul Whibley (YAM)
10. Christopher Venditti (KAW)