TECH DETAILS: 2020 KTM Enduro range | News
KTM has revealed its new MY20 range of enduro bikes including a new 150 EXC TPI and limited edition 300 EXC TPI Erzbergrodeo.
Key updates to the 2020 KTM EXC range included new suspension settings to the WP XPLOR fork to create a more balanced ride by reducing the amount of fork dive. They have done this by reducing the spring rate and using a firmer damping setting to slow the fork down in the first part of the stroke.
The frames on all models have been made stiffer but the geometry remains unchanged. KTM decided to increase the stiffness of the frame to improve the turning response of the bike.
All engines, both four-stroke and two-stroke, have changes to improve rideability and the four-stroke engines have lost some weight.
Read all the details below from the KTM press launch. You can read our ride impression from the launch in ADB issue #479.
CHASSIS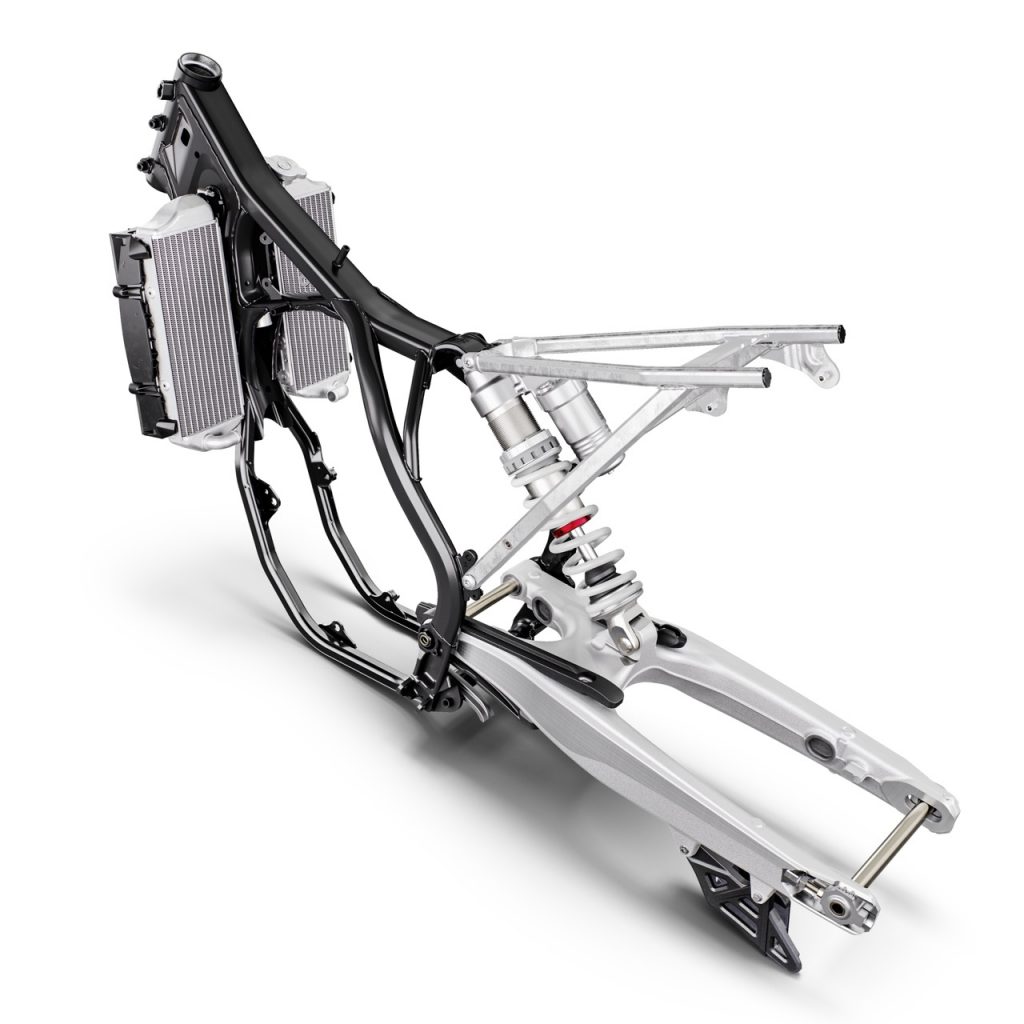 Frame
All KTM EXC models for model year 2020 feature updated steel frames made of chrome molybdenum steel sections, including hydro-formed elements produced with state-of-the-art robots. The frames use the same proven geometries as before but have been re-designed in several key areas for an optimized stiffness to provide increased feedback to the rider, as well as delivering an outstanding combination of playful agility and dependable stability.
Connecting the cylinder head to the frame, the lateral engine headstays of all models are now made of aluminum, enhancing cornering precision while reducing vibrations. Newly designed lateral frame guards feature a non-slip surface texture and the one on the right-hand side also provides heat protection against the silencer. In the 250/300 EXC frame, the engine is rotated downwards by one degree around the swingarm pivot for significantly more front wheel
traction.
The subframe is made of strong, especially lightweight profiles and now weighs less than 900 g. To increase rear fender stability, it has been lengthened by 40 mm.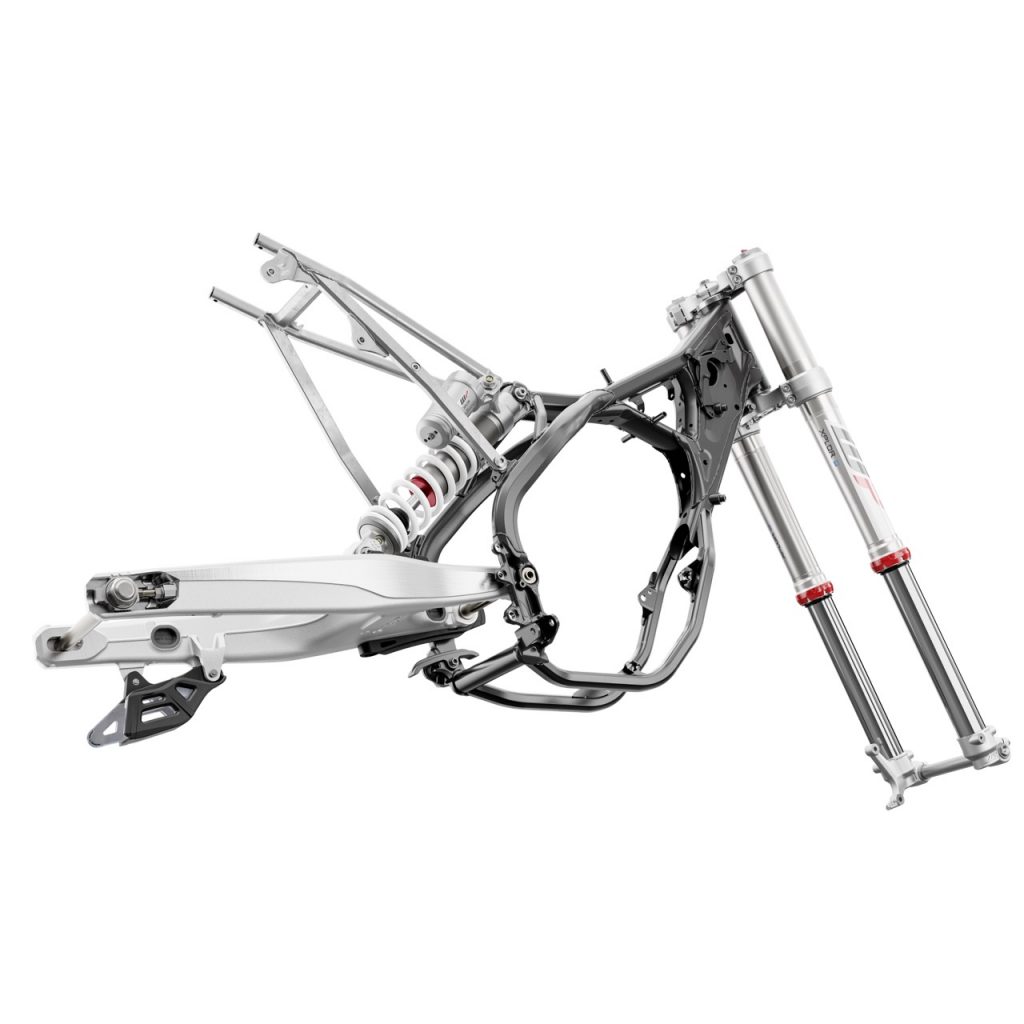 Fork
All EXC models are fitted with the WP XPLOR 48 upside-down fork. A split fork design developed by WP and KTM, it is fitted with springs on both sides, but with separate damping circuits, with the left-hand fork leg damping only the compression stage and the right hand one only the rebound. This means damping is easily adjusted via the dials on top of both fork tubes with 30 clicks each, while the two stages do not affect each other.
The fork receives a new, calibrated mid-valve piston for MY2020 to provide more consistent damping, as well as new upper fork caps with new clicker adjusters for easier adjustment, in addition to a new color/ graphic design. New settings keep the front end higher for enhanced rider feedback and provide even greater reserves against bottoming out. Standard on the SIX DAYS models and optional on the standard models, the convenient, three-stage spring preload adjuster has been reworked for easier operation without tools.
Shock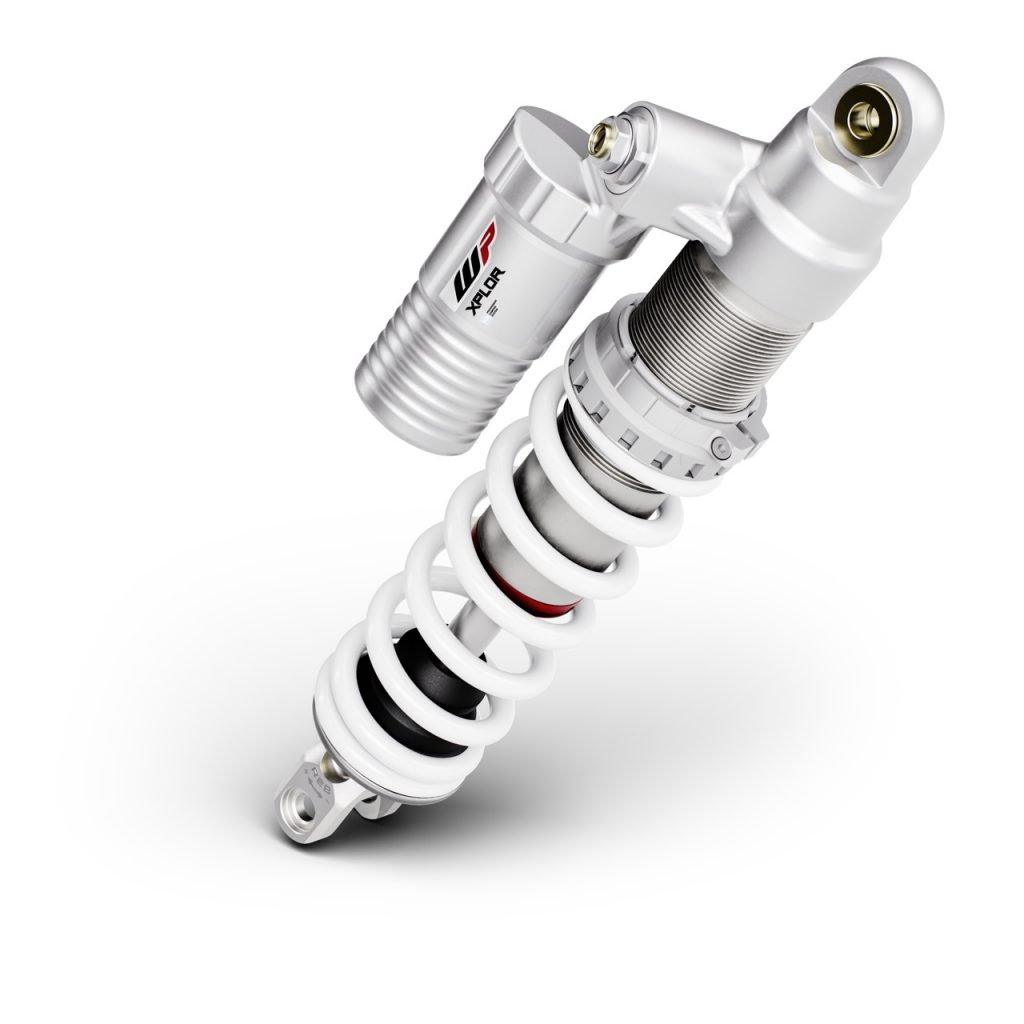 Fitted to all EXC models, the WP XPLOR PDS shock ab- sorber is the key element of the proven and successful PDS rear suspension design (Progressive Damping System), where the shock absorber is directly linked to the swingarm without an additional linkage system. Optimum damping progression for enduro riding is achieved by a second damping piston in combination with a closed cup towards the end of the stroke and supported by a progressive shock spring.
For MY2020, an optimized second piston and cup with a reworked shape and seal lead to further increased resistance against bottoming out without diminishing the ride. The new XPLOR PDS shock absorber provides enhanced damping characteristics and better hold-up while perfectly matching the new frame and reworked front end setup. Fully adjustable, including high- and low-speed compression adjustments, the shock ab- sorber makes setting up possible with great precision to match any track conditions and rider preferences.
Fuel Tank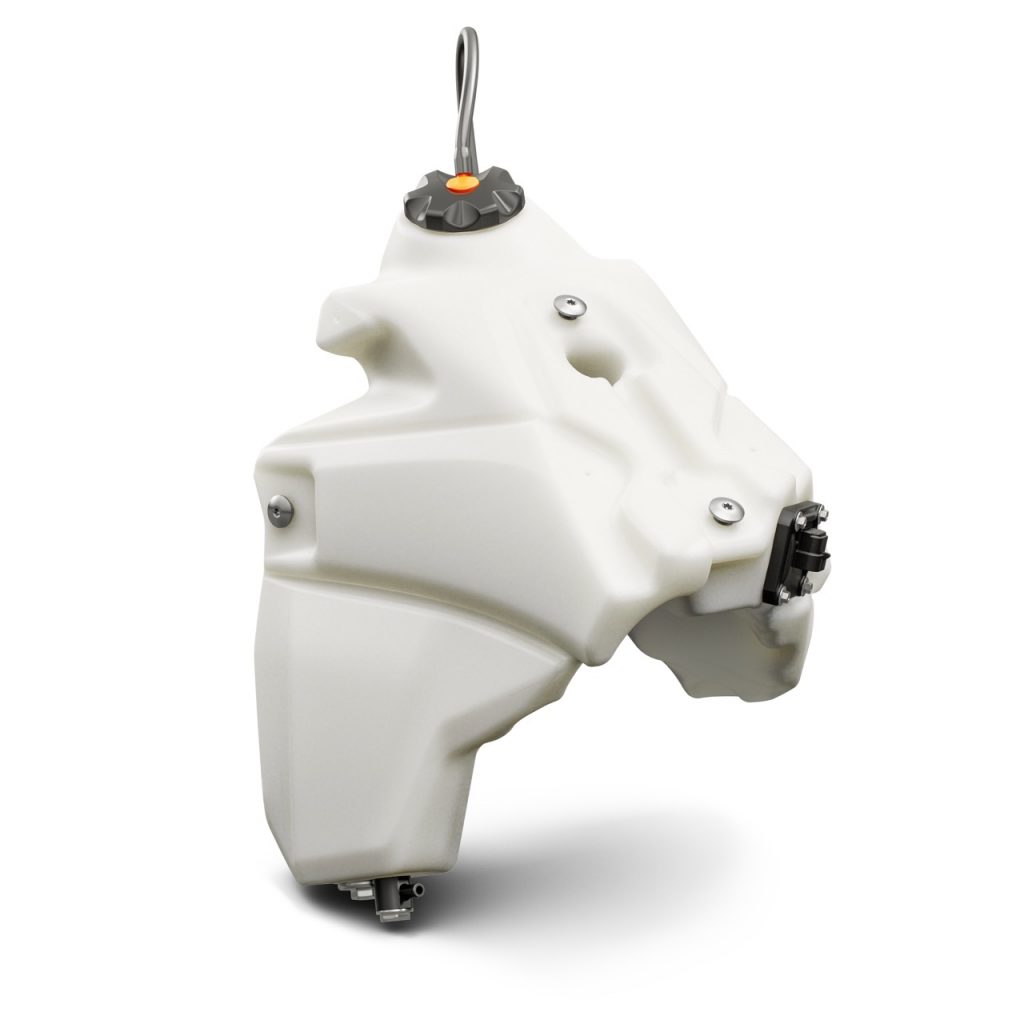 All models of the new EXC range are fitted with re- designed, lightweight polyethylene fuel tanks, enhanc- ing the ergonomics, while holding slightly more fuel than their predecessors. The 1/3-turn bayonet filler cap makes for quick and easy closure. All tanks are fitted with a fuel pump and a fuel level sensor.
Airbox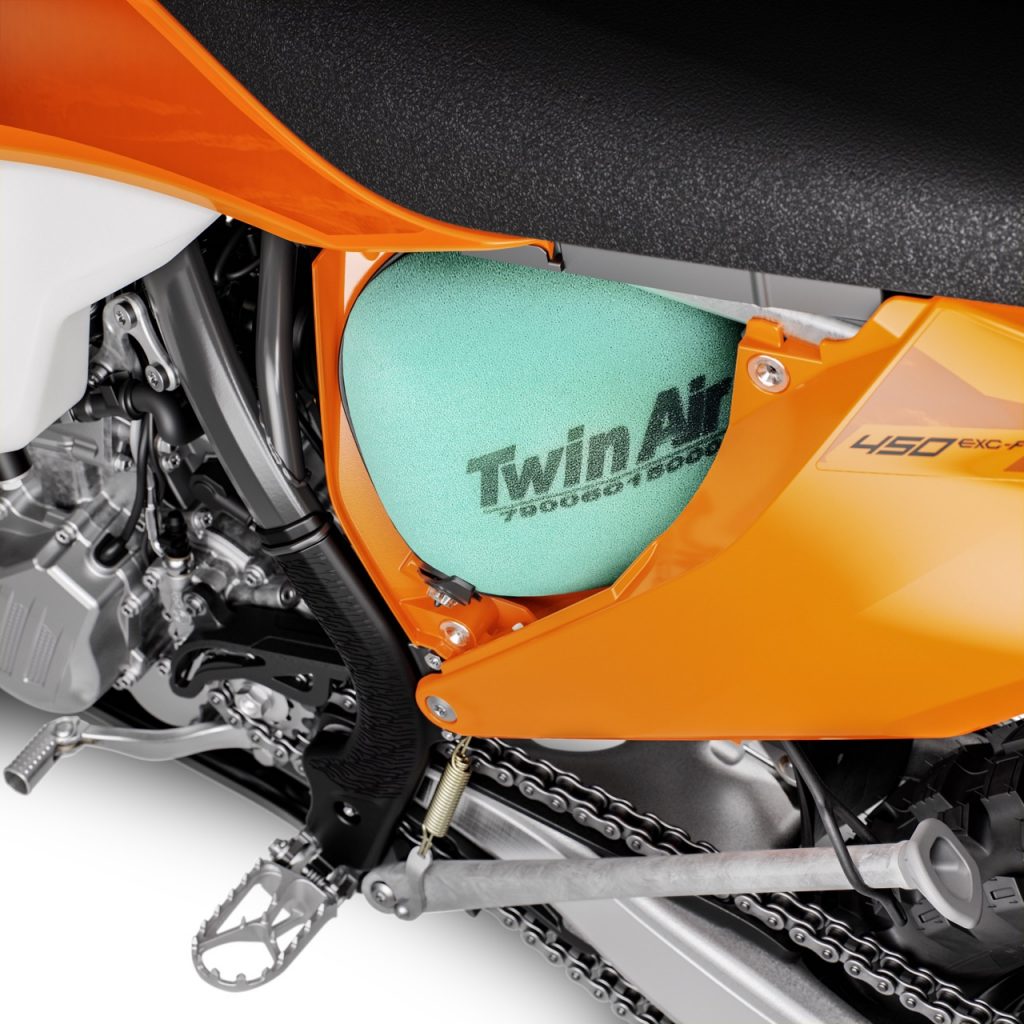 The new air filter box has been completely reworked in terms of gas dy- namics, ensuring enhanced intake airflow for optimum performance and throttle response. In addition, the new design offers maximum protection of the air filter against clogging. All two-stroke models now feature new intake funnels adapted to the new engine or engine position respectively and accommodating an intake air temperature sensor. The large Twin Air filter element is mounted on a rigid cage, which at the same time forms the air filter box mount. An original example of practical KTM design, the filter can be easily changed without tools in seconds.
Wheels
The KTM enduro wheels use lightweight, CNC milled hubs and high-end, black Giant rims to combine max- imum stability and ruggedness with minimum weight. For MY2020, the aluminum nipples feature a reworked design that ensures the spokes need to be tightened less frequently.
CO0LING SYSTEM
All the new KTM EXC models feature re-designed radiators mounted 12 mm lower than before, which significantly lowers the center of gravity. At the same time, the new radiator shape and new spoilers com- bine to enhance the ergonomics. Carefully optimized using computational fluid dynamics modelling (CFD), the enhanced coolant circulation and air flow increase the cooling efficiency. The reworked delta distributor integrated into the frame triangle features a center tube enlarged by 4 mm for a 57% greater cross sec- tion, increasing coolant flow from the cylinder head to the radiators. The KTM 450 EXC-F and KTM 500 EXC-F are fitted with an electric radiator fan as standard.
A sophisticated design, plus new radiator guards integrated into the front section of the spoilers provide effective impact protection for the new radiators.
250-300 Two-Stroke Engine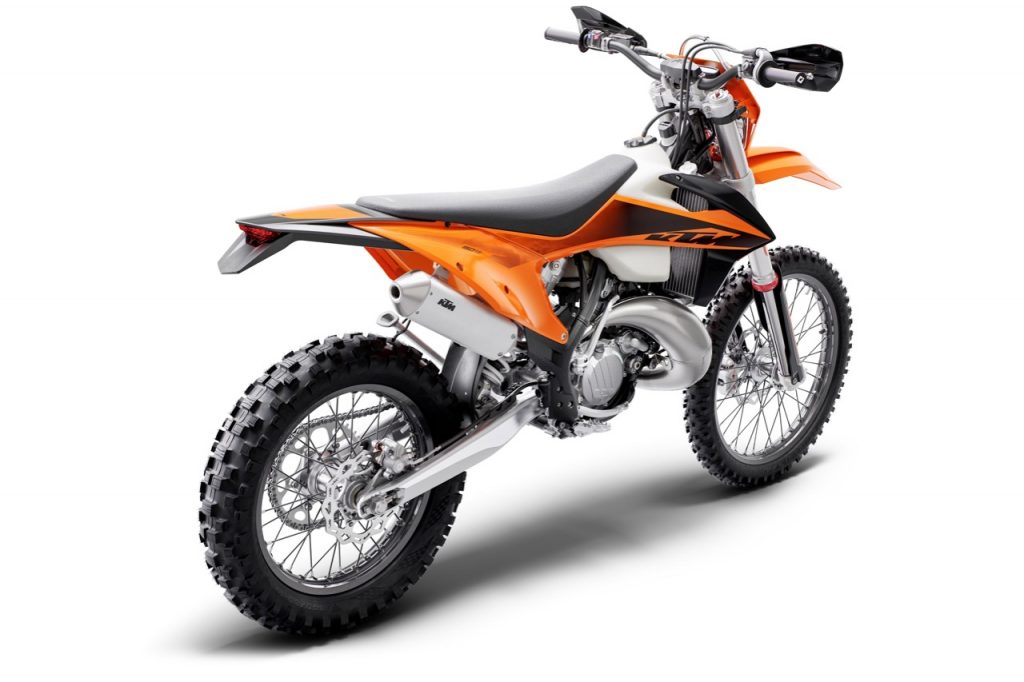 Throttle Body
All EXC TPI engines are fitted with a 39 mm throttle body made by Dell'Orto. Power is controlled by a butterfly valve via a twin-cable throttle assembly on the handlebar, with intake airflow data provided by a throttle position sensor. For MY2020, the reworked idle system allows more precise idle speed setting via the bypass screw. The enhanced cold start system supplies an increased amount of extra air when opening the bypass. Oil supplied by the electronically controlled oil pump via an oil intake tube is mixed with the incoming air to lubricate the moving engine parts.
Cylinder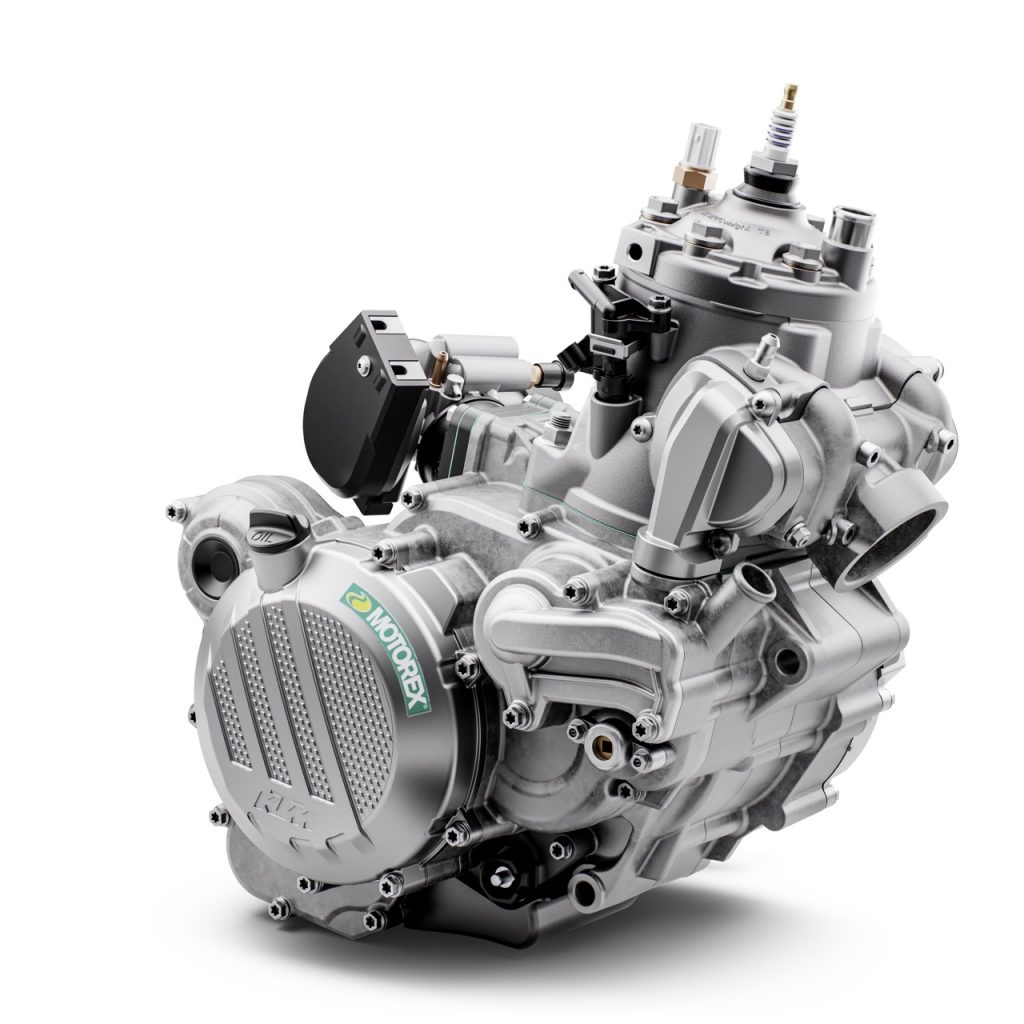 The cylinders are fitted with sophisticated TVC exhaust control. Their bore diameters are 66.4 mm and 72.0 mm respectively. Two lateral domes accommodate the injectors that spray fuel into the rear transfer ports. This downstream injection guarantees excellent atomization of the fuel with the upstreaming air for highly efficient combustion and significantly reduced unburned fuel emissions. For MY2020, the cylinders are upgraded with fully machined exhaust port windows, guaranteeing enhanced timing precision. At the same time, a reworked exhaust control valve drive and adjuster make for more precise adjustment and increased efficiency. Last but not least, in contrast
to the first TPI generation, the new models allow the use of a fairly common, standard spark plug, and the 250cc engine has now been given a new cylinder head with an increased compression ratio for enhanced enduro performance.
Oil Pump
The latest generation of KTM EXC TPI enduros is fitted with a newly designed oil tank featuring reworked, more flexible mountings for enhanced durability. In addition, the outlet is fitted with a mesh filter in order to protect the oil pump from dirt. Mounted underneath the tank, the oil pump delivers the lubricant to the throttle body where minute quantities are mixed with the intake air. Using engine speed and throttle posi- tion sensor data, the engine management's precise electronic control of the oil pump ensures the perfect amount of oil for any given conditions.
The filler cap assembly of the oil tank is located between the fuel tank and steering head, utilizing a hose in the upper frame tube to conduct the oil to the actual storage container. Automatic, electronically controlled oil injection reduces exhaust smoke by up to 50% compared with conventional pre-mix lubrica- tion. The advanced lubrication system maintains an average fuel-to-oil ratio of 1:80. This means the oil capacity of about 0.6 liters is sufficient for at least five tanks of fuel.
Engine Management System
The MY2020 KTM EXC TPI models feature the most modern engine management system (EMS) of any 2-stroke offroad competition motorcycle. The brain of the system is the electronic control unit (ECU) located below the seat. Updated with the latest digital map- pings to optimize performance and power delivery, it controls the ignition timing and the amount of fuel in- jected, using sensor data such as intake air pressure, throttle position and coolant temperature.
A new and additional ambient air pressure sensor enables the ECU to adapt the injection parameters to fast changes in altitude. While riders of carbureted 2-stroke engines need to keep an eye on altitude and temperature and re-jet accordingly, there is no need to set up the KTM TPI models for environmental conditions. Should the rider decide to mount an auxiliary radiator fan from the KTM PowerParts program, it will also be controlled directly by the EMS without adding a thermal switch. An optional map select switch allows the rider to select an alternate mapping for a smoother power delivery, while the standard map provides slightly sportier engine characteristics.
KTM 250 EXC-F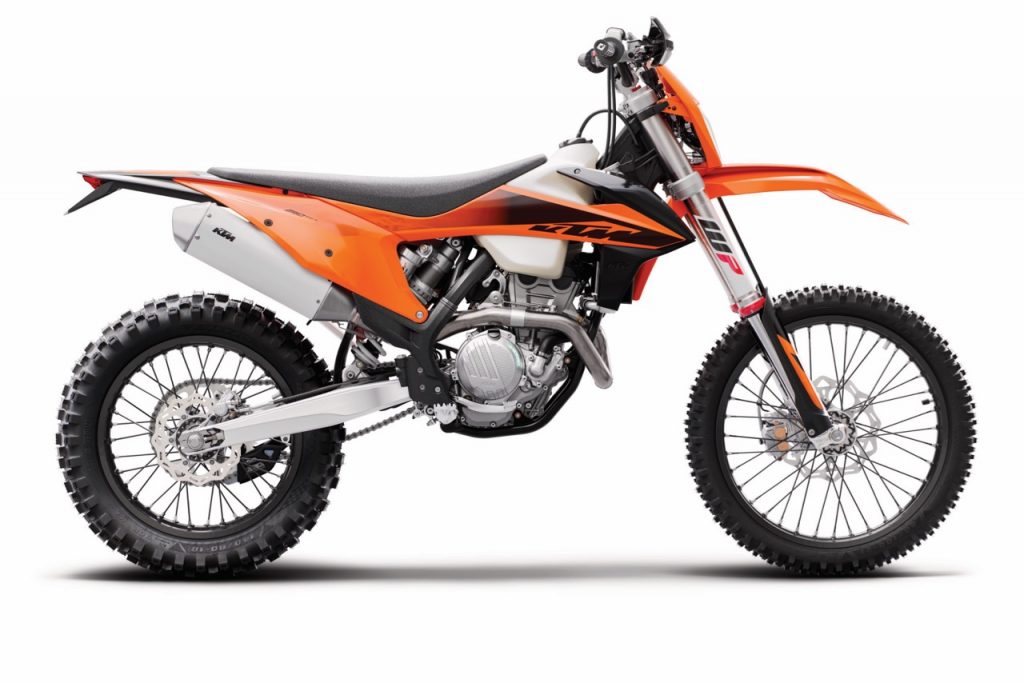 The KTM 250 EXC-F DOHC engine is a highly compact and lightweight design. For MY2020, several updates help it deliver class-leading torque and power across the entire power band, reaching all the way up to 12,800 rpm. Its compact architecture contributes to the bike's excellent mass centralization and amazing rideability. And it only weighs 27.9 kg. That's including the practical E-starter.
In MY2020, a reworked throttle cable mount provides smoother routing of the cables and better access, while an im- proved seal for the MAP sensor (manifold air pressure) makes the system even more reliable.
The ECU features updated mappings matched to the new exhaust, air fil- ter box and engine configuration. At the same time, it controls the unique KTM enduro traction control, which is activated by an optional map select switch that also provides access to different maps with alternate power delivery characteristics. A gear position sensor even allows KTM to use different mappings individually optimized for each gear.
CYLINDER & PISTON
The MY2020 engine features a new cylinder with a 78 mm bore carried over from the successful KTM 250 SX-F motocross engine, which, in conjunction with a new cylinder head gasket, raises the compression ratio from 12.8:1 to 13.8:1.
The lightweight, forged bridged box-type piston made by CP features a unique piston crown shape perfectly matched to the combustion chamber that stands out with its extra rigid structure and low weight. Low oscillat- ing masses make the engine extremely responsive.
KTM 350 EXC-F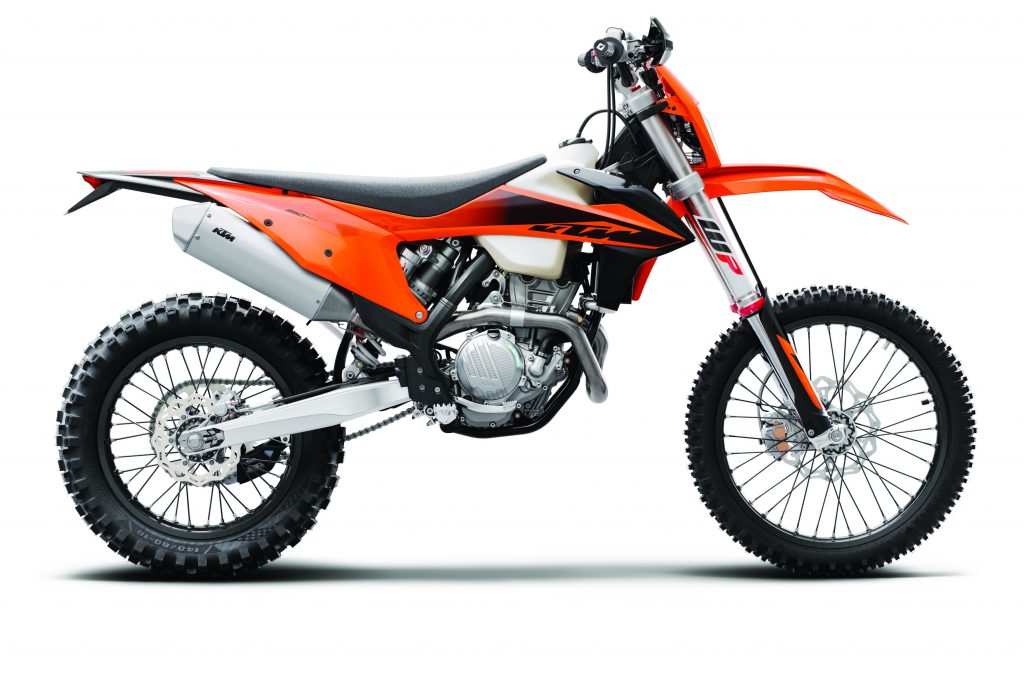 The engine of the KTM 350 EXC-F features a compact and very light (28.0 kg) construction. Featuring an improved transmission and re-designed lighter DOHC (double overheard camshaft) cylinder head, the engine is stronger than ever before. Lightweight valves and DLC coated cam followers provide lively but also very powerful engine characteristics. Fitted with the latest electronic fuel injection system and E-starter, it has an even wider usable speed range, improved perfor- mance and incredibly exciting rideability.
Like the 250, the 350 features updated maps.
CYLINDER HEAD
The KTM 350 EXC-F has a reworked cylinder head design, which saves 200 g of weight while retaining nearly the same, proven architecture. New, flow-op- timized ports and two overhead camshafts with optimized timings guarantee an outstanding power delivery with enduro specific torque characteristics. Cam followers with a DLC coating actuate lightweight valves (intake 36.3 mm, exhaust 29.1 mm) result in high engine speeds. The new head comes with a new cylinder head cover and gasket, a new spark plug and spark plug connector.
CYLINDER & PISTON
The new, extremely short cylinder with a bore of 88 mm features a reworked cooling concept and houses a new, forged bridged box-type piston made by CP. Its piston crown geometry is perfectly matched to the high-compression combustion chamber and stands out with an extra rigid structure and low weight. The compression ratio is raised from 12.3 to 13.5 for increased power, while low oscillating masses make for extremely lively characteristics.
KTM 450 and 500 EXC-F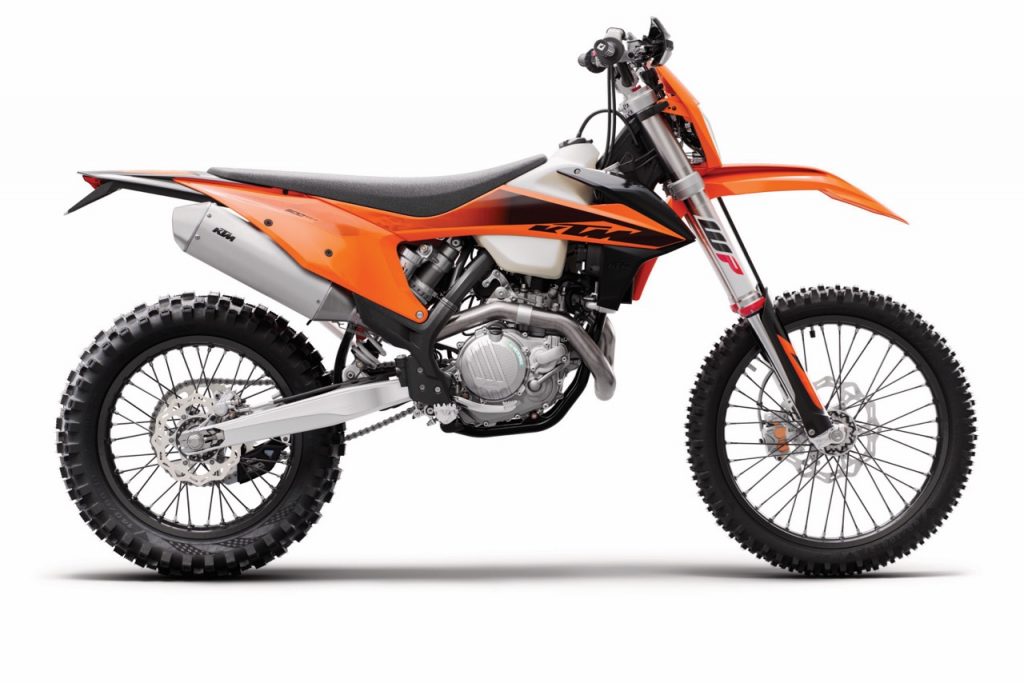 ENGINE
The new KTM 450 EXC-F's fuel-injected SOHC pow- erhouse is the lightest 450 single-cylinder offroad racing engine on the market. It is extremely compact, with ground-breaking torque and power across the entire rev range thanks to a newly developed cylinder head and updated electronic fuel injection system. In combination with a reworked engine case, KTM has reduced its weight to only 29.2 kg, making it the most compact, lightest and most competitive powerplant in its class.
The KTM 500 EXC-F's fuel-injected powerhouse features a highly compact and lightweight design while delivering awesome torque and power across the powerband. The four valves in the newly developed SOHC cylinder head are controlled by extremely rigid rocker arms, while flow-optimized ports ensure an efficient gas exchange.
Vibrations are kept in check by a carefully optimized crank drive with plain bearings, and a multifunc- tional balancer shaft additionally balances out the oscillating masses. The cutting-edge Keihin engine management system with electronic fuel injection and a reworked 42 mm throttle body ensure an astonishing response, while an optional map select switch allows the rider to select a different power curve mid-race and to activate the unique traction control system to provide maximized grip when needed.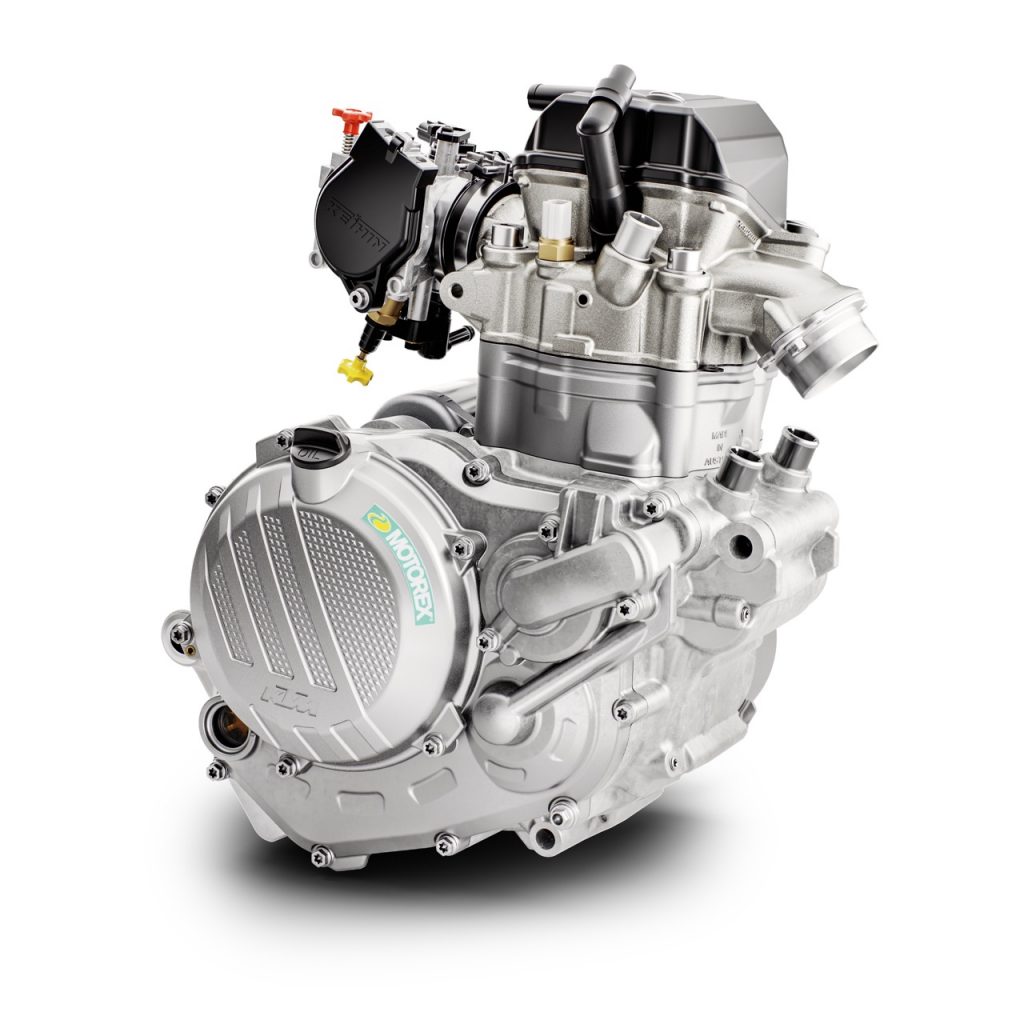 CYLINDER HEAD
The KTM 450 and 500 EXC-F engines are fitted with a newly developed, much more compact SOHC cylin- der head, which is 15 mm lower and 500 g lighter. This significantly improves the centralization of the masses and results in even better handling. The gas flow through the re-designed ports is controlled by a new overhead camshaft which is now closer to the center of gravity to improve handling. It features an enhanced axial mount for the decompressor shaft for more reliable starting and a new, more efficient inte- grated engine breather system for reduced oil losses. The valve timings have been carried over from the predecessor. The new, 40 mm titanium intake valves and 33 mm steel exhaust valves are shorter and matched to the new head design. They are activated via rocker arms that have an optimized, more rigid design with reduced inertia, guaranteeing more con- sistent performance across the powerband. A shorter timing chain and new chain guides contribute to a reduction in weight and low friction, while a new spark plug increases combustion efficiency. The new head configuration delivers a more efficient power delivery and unrivaled performance of the large displacement KTM engines.
Exhaust System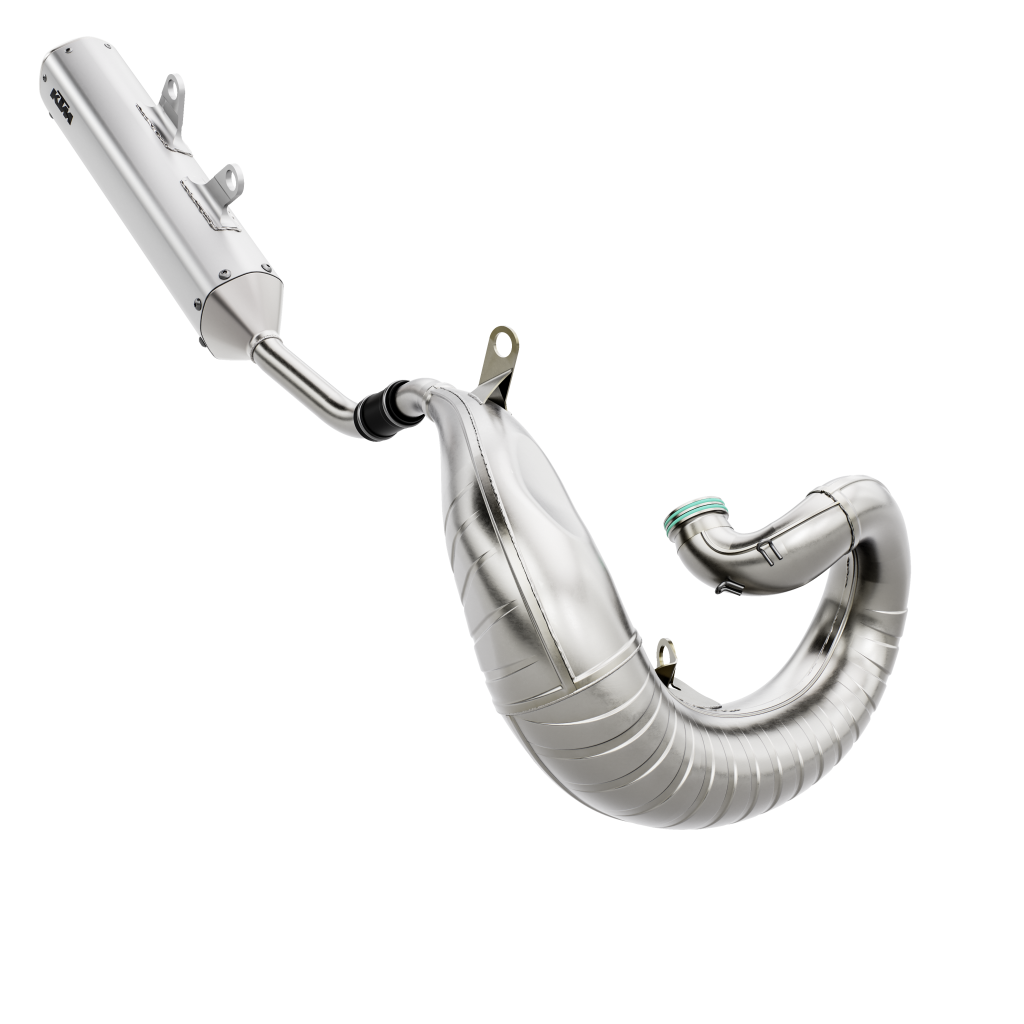 The KTM engineers put a lot of effort into developing completely reworked exhaust systems for all EXC models. The new components are key factors behind the enhanced power delivery and performance of the new bikes, while providing slimmer ergonomics and reliable compliance with racing noise limits.
The 250 and 300cc models feature new HD (heavy duty) exhaust pipes made by KTM using an innovative 3D stamping process that makes it possible to provide the outer shells with a corrugated surface. This renders the pipe a lot more rigid and resistant against rock and debris impacts, while significantly reducing noise. At the same time, the exhaust pipes have an oval cross section for increased ground clearance and reduced width. The 2-stroke silencers with their new, edgy profile and new end cap now have an increased volume as well as reworked internals developed individually for each model. The previous polymer mount has been replaced with lightweight, welded aluminum brackets. New perforated inner tubes and a new, lighter damping wool combine to provide more efficient noise damping and enhanced durability at approximately 200 g less weight (250/300cc).
The 4-stroke models now feature two-piece header pipes for a more user-friendly dismantling, while providing better access to the shock absorber. A new, slightly wider aluminum sleeve and end cap result in more compact and shorter main silencers, bringing the weight closer to the center of gravity for increased mass centralization.