TESTED: Daniel Sanders' Husqvarna FE501 | Factory Ride
Daniel "Chucky" Sanders ran a TE450 last year but liked the Husqvarna TE501 so much at Hattah and the Six Days that he decided to stick with that. Despite the equipment changes, both riders went through this season undefeated in E2 and E3 respectively but this time it was Chucky who took out the unofficial overall title from Milner.
There's no question that Sanders has matured as a rider since returning from Europe but some of the credit has to go to the bike (and Grabbo). With that in mind, I was keen to get on the #11 bike, slap on my race face and see what it was like to ride a bike that was going through the season unbeaten.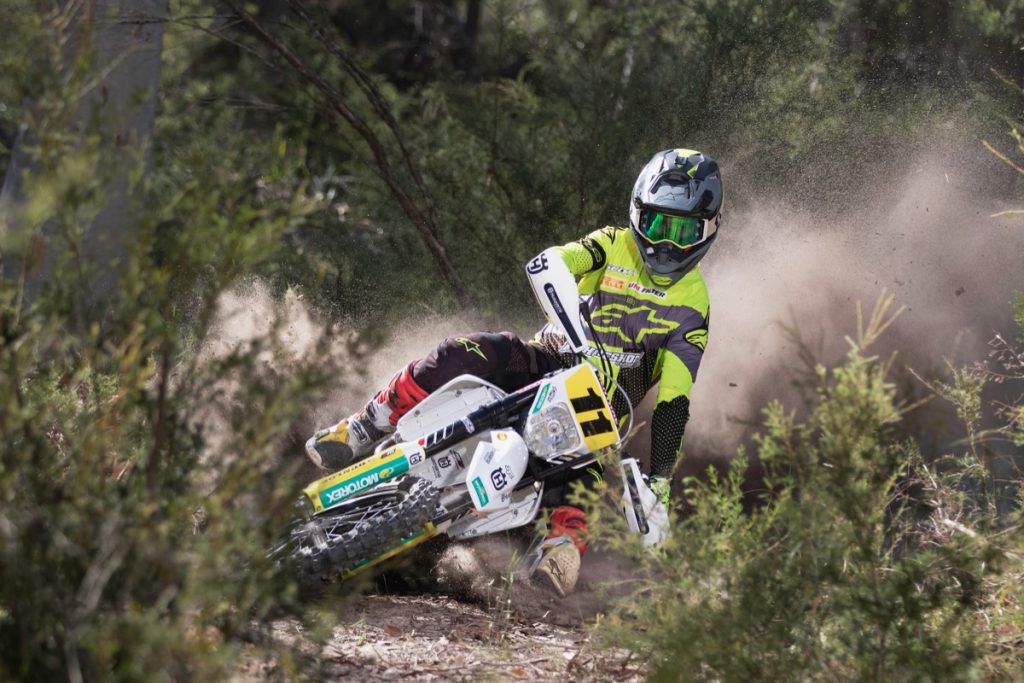 I was fortunate enough to ride the fastest bike in the AORC for 2019; the Husky Enduro Racing Team FE501. I didn't have too much trouble prising it out of them as they were keen to show off the machine that led Chucky to victory. We headed out to a test track that had a good range of hardpack before changing into deep sand through some trees.
It is quite a rough track with plenty of small, sharp bumps and tree roots just to keep you on your toes. Like everywhere in NSW at the time we tested, it was very dry but I was happy to suck dust just to get this bike out there.
While getting the rundown from HERT manager Christian Horwood, I couldn't help admiring the effort that'd gone into prepping the bike. I know I say this every time but, seriously, everything is polished and sparkling clean and I almost felt bad for taking it out and getting it dirty.
Okay, that's a lie, I didn't feel bad at all, I couldn't wait to get out there. First thing I noticed was that Sanders had the traction control switch on it but the numbers were blacked out. Apparently, the bright LEDs are a tad distracting, so a quick swipe of a Sharpie and they're invisible.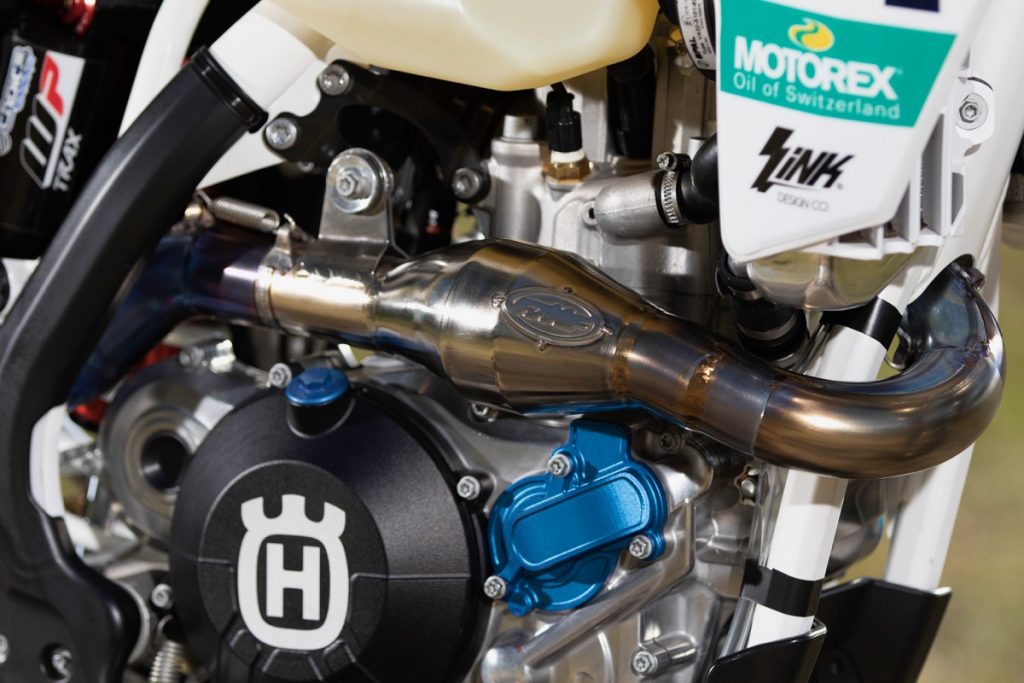 NO LIGHTS
Christian told me that Sanders loves to fiddle with the Vortex ignition and is constantly trying different settings and always trying to grow himself as a rider and learn more about the bike to make it better.
The engine is a top secret, in-house build and, once it fires up, boy does the custom-built FMF exhaust have a bark to it. It's kinda loud but in a good way, if that makes sense, but it feels and sounds fast as hell and I hadn't even moved yet. A few flicks of the clutch on the way to the track and, just as I suspected, the engine was very strong. Popping a wheelie is effortless and you get from corner to corner super quick and, more often than not, I found myself saying "holy shit" when getting on the gas.
This bike has no shortage of power in any part of the rev range. The bottom-end has tons of power, mid-range has more and up top, well you guessed it, mega power. The engine package is awesome and I think, at one point, I rode the entire track in third gear because the 501 has that much torque off the bottom but, if you're game enough, it can also rev to Mars [the planet, not the confectionary factory).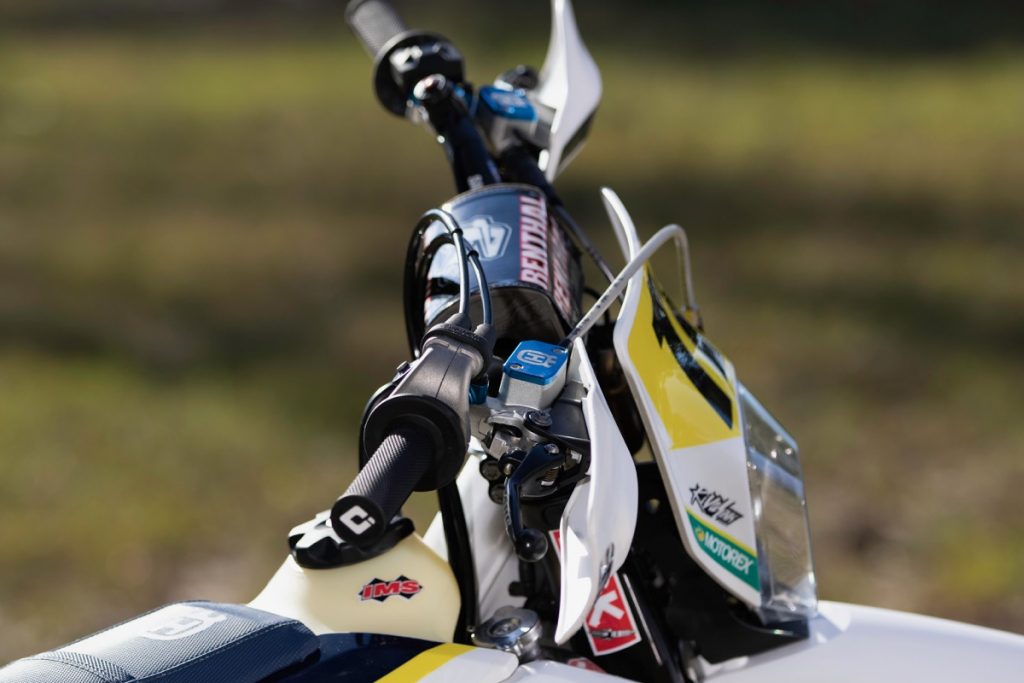 It could be a little scary for the average trail guy but I was loving it. Having so much power at your disposal is a lot of fun and although I did find myself having a few moments after getting a little throttle-happy on the straights, I really liked how Sanders has his engine setup.
You would think that the TE501 would feel heavy and sluggish on the trail but it's surprising. Obviously, it feels heavier than a 350 when the track tightens up, but when they are fast and flowing tracks like the ones found in the AORC these days, there isn't much you can fault with the propulsion unit.
It's definitely safer to short shift the bike and let the incredible torque do the work rather than rev it and rush corners. The beauty of having so much torque is that you can pretty well ride any track in the one gear, no dramas, and that saves energy.
I didn't feel the need to play with the Vortex at all as I thought the power was spot on, but I guess when you're riding this bike every day and searching for half a second here and there, you will do whatever it takes to aid you in that search.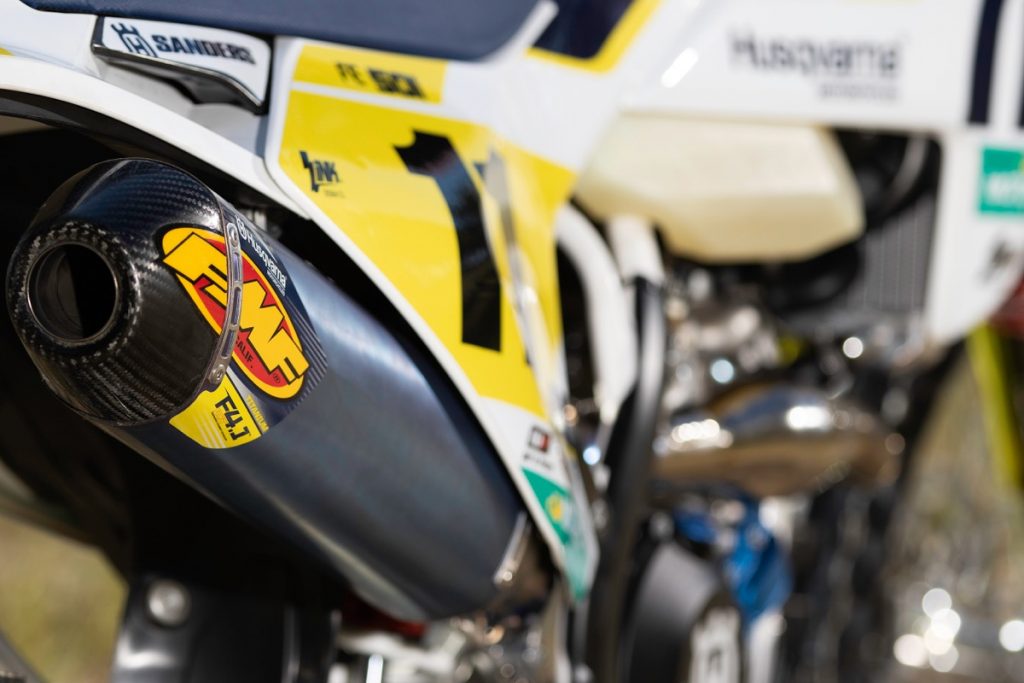 SUSPENSION
As with the KTM Enduro Racing Team, Choice Suspension is in charge of keeping the HERT bikes and their riders safe. The black WP 48mm Cone Valve fork not only works with true awesomeness, but it looks the part as well. Choice bro Anthony Giles has done a huge amount of testing with the team and the fork is extremely plush at the start of the stroke and soaks up every little bump, rut, root or square edge that is thrown at it. As it progresses through the stroke, it gets much, much firmer and it's rare to bottom it out. I found myself pushing the bike pretty hard to try and get the front end to do something I didn't want it to do, but it never really happened. Even over-jumping a few ramps on the test track didn't faze the fork and I felt quite confident I could hit anything I wanted as fast as I dared.
Sanders runs a WP Trax Link shock and it too feels very plush and planted. I was interested to see how the linkage Trax would compare with the PDS version I tested on Milner's 350EXC-F as there is a bit of a difference in the feel of the linkage rear versus the PDS. I sometimes tend to prefer the "more active" feel of the PDS on singletrack.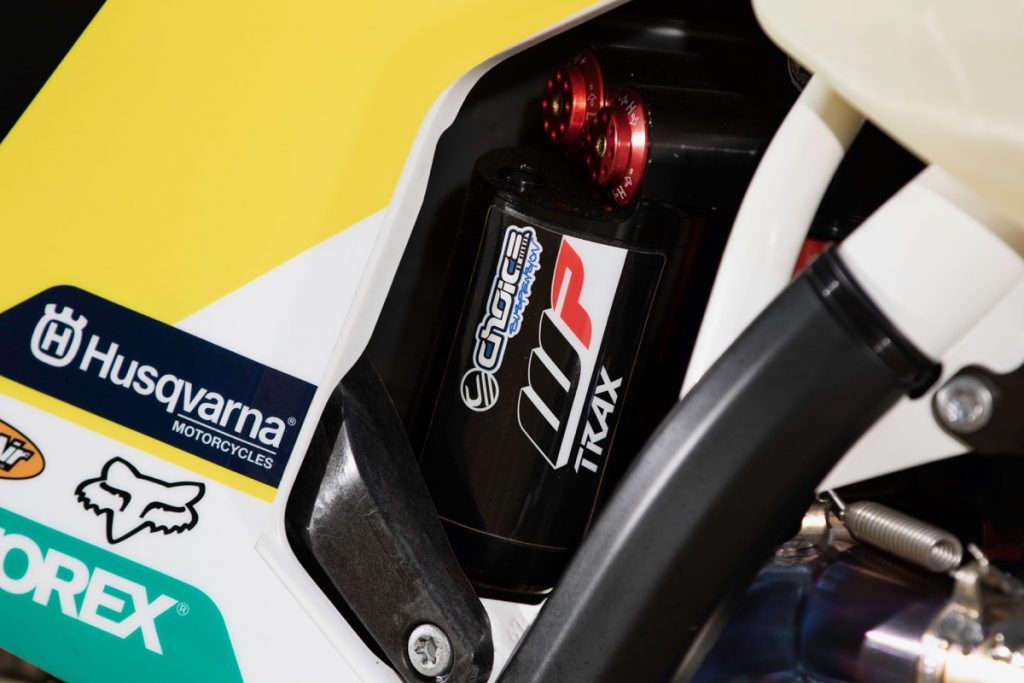 However, I was more than impressed with the way that Sanders and Choice have the Trax shock feeling. It would get incredible drive out of corners and the extra grunt that the 501 produces was eating acceleration bumps. Once you get in a rut, it settles and you are out of there quick smart.
Having a strong motor is one thing but you have to have the handling to go with it and the way that Sanders and Choice have the bike feeling is clear evidence of why these boys are so dominant. You can put the bike wherever you want it, jump it off anything and it'll get you through, no dramas.
But I still think that a punter would be happy to run the same specs. Sure, it'll be firm and they probably won't want to ride all day on it, but for that one time when things get a bit squirrelly along a straight, they would be glad it was set up the way it is.
FACTORY BITS
One thing that Husqvarna (and sister brand KTM) does, and does really well, is that it has its own aftermarket parts for almost every part of their bikes, whether it be for bling, for protection or just as a stronger replacement should the stock bits get damaged. And what better way to showcase these parts then on their factory race bikes.
Sanders' bike is a prime example and wherever they could put a blue-anodised Husky part, they have. Blue billet parts are everywhere, clutch and brake master cylinders, water pump cover, rear disc guard, oil filler cap, rear sprocket and much more. The billet clutch cover is a nice touch, as is the TM Designworks chainguides and sliders.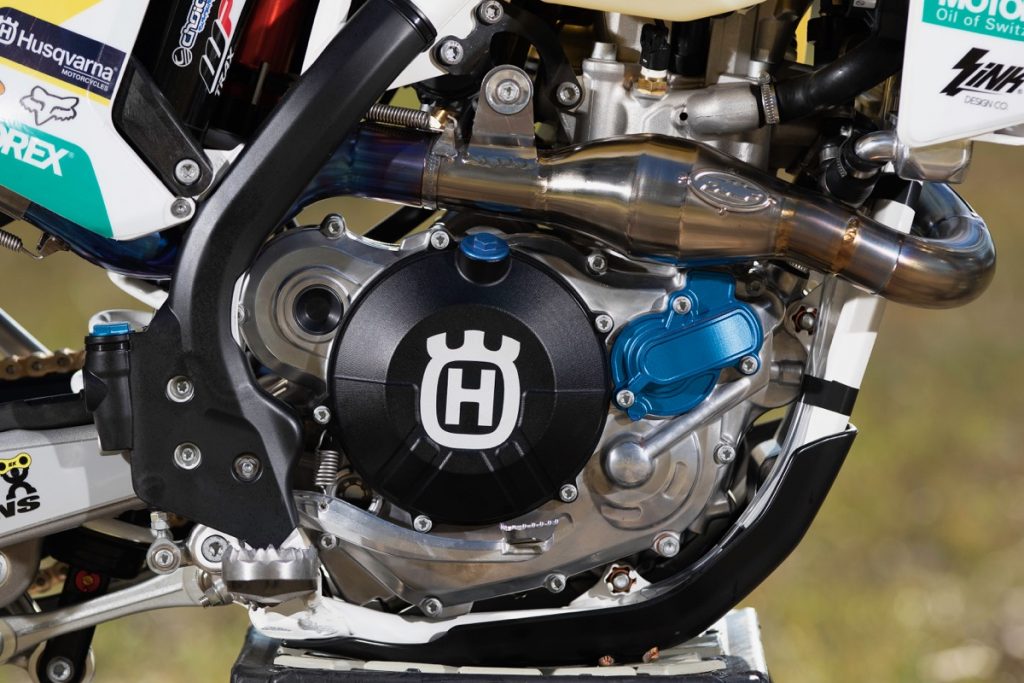 The custom FMF exhaust is polished to a mirror finish and just gives the bike that extra-sharp factory look. Rival Ink is the brand responsible for the graphics and it has come up with a very sharp looking kit. Husky decided to stick with the stock triple-clamps and tanks for the sprints but did run an oversize IMS tank for the cross-country rounds. Finally, a neat Topline seatcover stops Sanders sliding into Bass Strait and, thanks to team sponsor Dunlop Tyres, Sanders runs MX33s with Dunlop mousses.
VERDICT
As a bonafide big-bore enthusiast, I'd say that Sanders' FE501 is one of the most solid big-bore race packages I've ridden. It's super-fast, yet still has a very useable, rider-friendly feel and the suspension package is a killer. You can put the bike wherever you want and it just gives you the confidence to go out there and hit any line as fast as you can.
It's no wonder Sanders can go as fast as he can with a bike like this under him. And probably the coolest part about the bike is that an average trail guy, if he's game and has some extra money, can buy almost all of the parts through Husqvarna Australia and build an almost identical FE501 of their own, minus that engine.
The team manager – CHRISTIAN HORWOOD
"The FE501 with Sanders on board was already a proven, world-class package at the start of the season, having finished third outright in the 2018 ISDE. The bike is very versatile for the variety of terrain and racing formats in the AORC. Chucky worked extremely hard on his fitness over the off-season to step up to the big-bore class in AORC and it showed.
"This is our second year working with Chucky and he has shown big improvement in relaying exactly what he wants with the engine and suspension package. Lewie Landrigan has built a fantastic, reliable bike to a high standard and, along with head engine technician Danny Apro and Richard [Muurling] from Vortex, was able to customise the power and torque for the differing tracks.
"Anthony Giles from Choice Suspension worked very hard and put countless hours of development and testing into getting the WP suspension handling perfectly and exactly how Chucky liked it. We are distributing WP suspension in-house now and Chucky's bike was running an out-of-the-catalogue 48mm Cone Valve fork and Trax Link shock.
"All the parts on Chucky's bike can be purchased through a Husqvarna dealer, which is great as it showcases our genuine parts along with the team sponsors' products."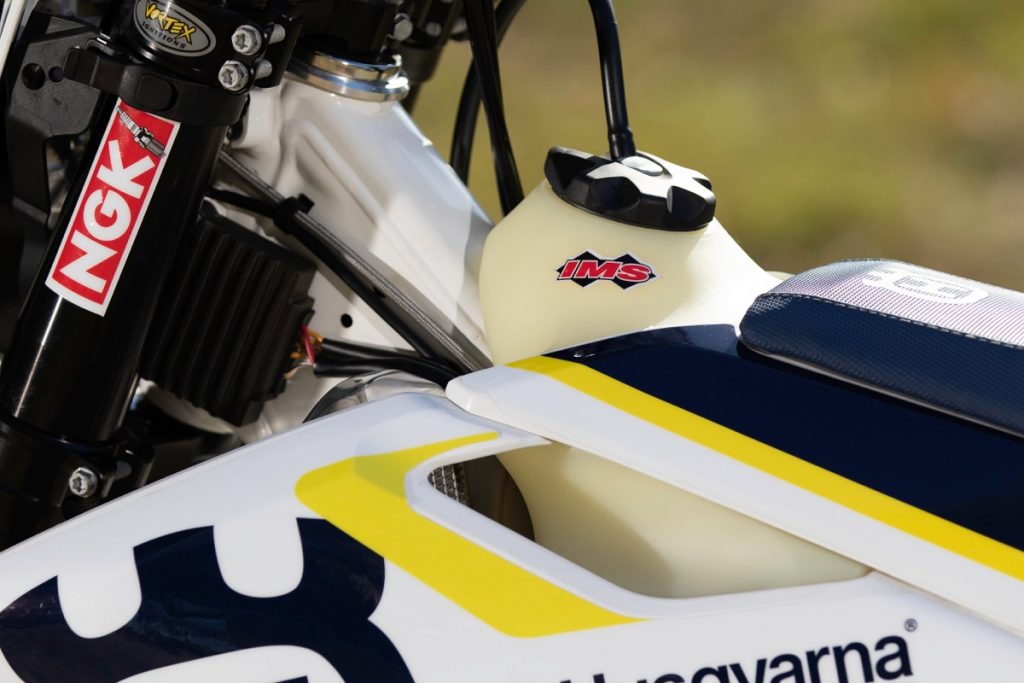 The rider DANIEL SANDERS
How was it going from 450 to 500?
It was easy. There isn't a lot of difference, just a little bit heavier feeling in the inertia but then you can pull that extra gear easier.
How was your pre-season testing?
We didn't actually do a whole lot. Because of the Six-Days, I had a rough idea what I was going to use and set up, it was a pretty easy change over. We changed across from Pirelli to Dunlop tyres and Choice Suspension, so those were the biggest things to test.
How did you like the bike compared to last year's weapon?
It has a lot more punch but the best thing is that I can tame it down to a 450 if I need, or crank up the power to an angry desert beast, with a click of the Vortex map and FMF pipes.
How did your season go? 
It was an awesome season, not only for me, but everyone in the Husqvarna Enduro Racing Team as well. We pushed really hard and got the FE501 working really well, so it was good to get it done at Hedley and to deliver for everybody at Husqvarna Motorcycles. My family and friends were there as well, so it was a great reward to get it all wrapped up."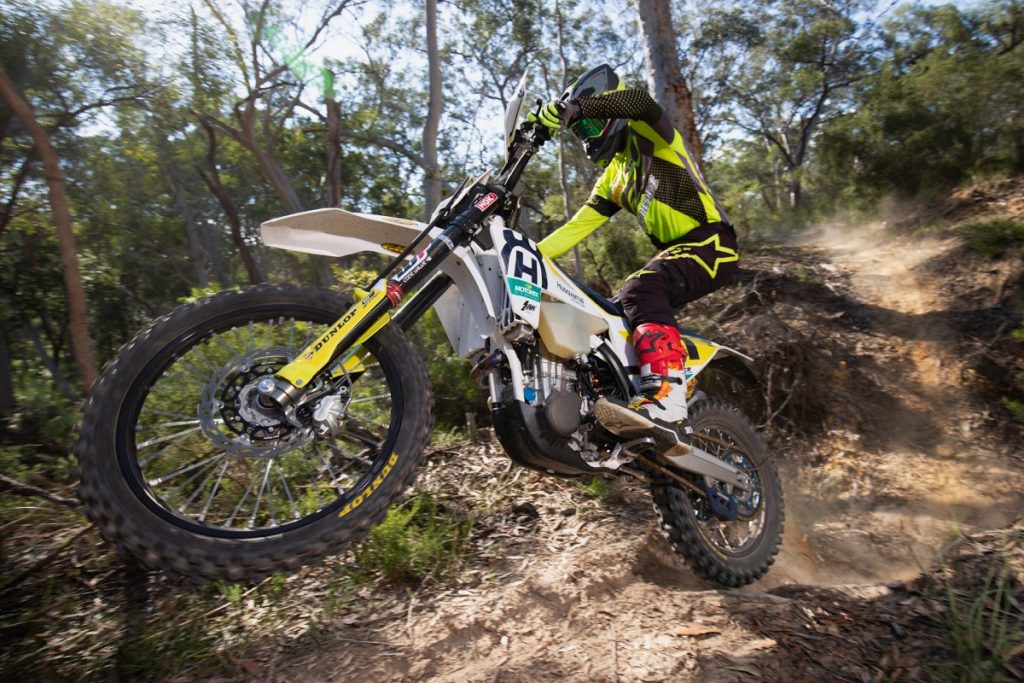 Trick stuff
· WP 48mm Cone Valve fork set up by Choice Suspension
· WP Trax Link shock tuned by Choice Suspension
· Dunlop MX33 tyres front and rear
· Dunlop mousses front and rear
· Renthal 672 bend alloy handlebar
· EK O-ring chain
· Motorex 10W60 oil plus fluids
· FMF custom exhaust system
· Rival Ink graphics kit
· Vortex ECU with custom mapping but using OEM map switch and traction control
· In-house engine mods
· IMS Enduro Core footpegs
· IMS 12L fuel tank for cross-country rounds
· Twin Air filter
· NGK iridium sparkplug
· Topline ribbed blue seatcover
· ARC clutch and brake levers
Husky stuff
· Solid rear disc
· Rear disc protector
· Supersprox Stealth sprocket
· PHDS handlebar mounts
· Blue-anodised brake and clutch master cylinder covers
· Clutch and brake master cylinder mounts
· Rear brake master cylinder cap
· Billet oil filler plug
· Oil filter cover
· Outer clutch cover
· Blue water pump cover
· Blue chainslider
· TM Designworks chainguide
· Carbon rear caliper guard
WORDS // GEOFF BRAICO PHOTOS // JP MEDIA – THIS FEATURE WAS FIRST PUBLISHED IN ADB ISSUE #482