It was love at first sight when, in 1996, Vince Strang arrived in Sydney from his motorcycle shop in Inverell to pick up two DR650s fresh off the boat.
His job was to prepare the two machines for Swedish riders Robert Gronlund and Olle Ohlsson to race in that year's Australian Safari. Vince Strang Motorcycles has been building trick Suzuki DR bikes ever since and, 21 years later, he's adamant that they're still the best blank-canvas machine available.
From rugged cattle station bike to super motard, stylish ride around town and bush pig, it can do it all but, Vince says, it's still the best rough-road outback adventurer around. It might not do anything better than a specialised bike but it does everything as well as many bikes while offering legendary reliability and great resale value.
"It's more fun per dollar than anything else," he says.
The early ones were torture tested in our desert races by riders like Ohlsson, Mike Shearer and Vince but when the racing got too hectic they became the bike of choice for adventure riders travelling around the world.
When Vince wasn't happy with what was available for DR650 adventurers, he got parts made. His shop stocks a huge range of DR bits, as demonstrated by my old bike and Vince's new one over the page.
He has a huge passion for the brand that has helped carry the shop through the years.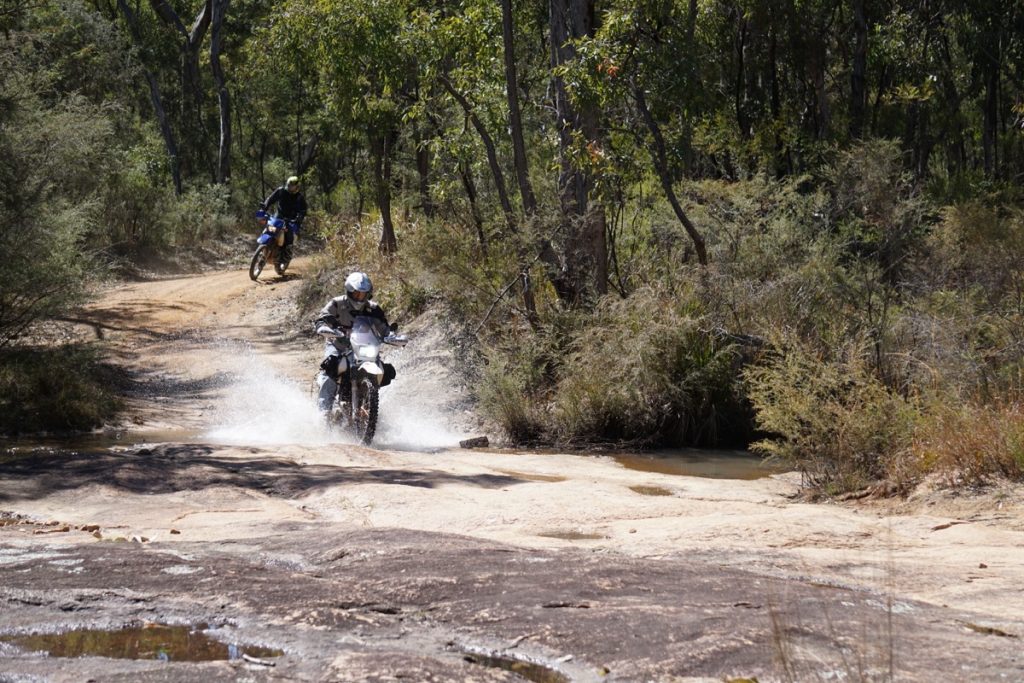 MUD IN PLACES
Vince Strang recently celebrated a major birthday and took the opportunity to show off his latest girlfriend, who's barely 21. Now, before you get agitated, the birthday was his dealership's fortieth and the love interest was his latest DR650SE, a Suzuki model that first landed here way back in 1996. The birthday bash consisted of a 237km dualsport ride and, for more adventurous DR owners, there was a 58km technical loop. Both rides came with free GPX files and route sheets that could be downloaded from the shop's website. Recent rain not only kept dust to a minimum, but there was also mud (remember that?) in places on the tech. loop.
Perhaps we should point out at this stage that Vince is the father of U.S-based enduro star Josh Strang. He knows how to map a ride. The adventure loop was a delightful romp through some of New England's finest backroads and unfenced trails through farmland.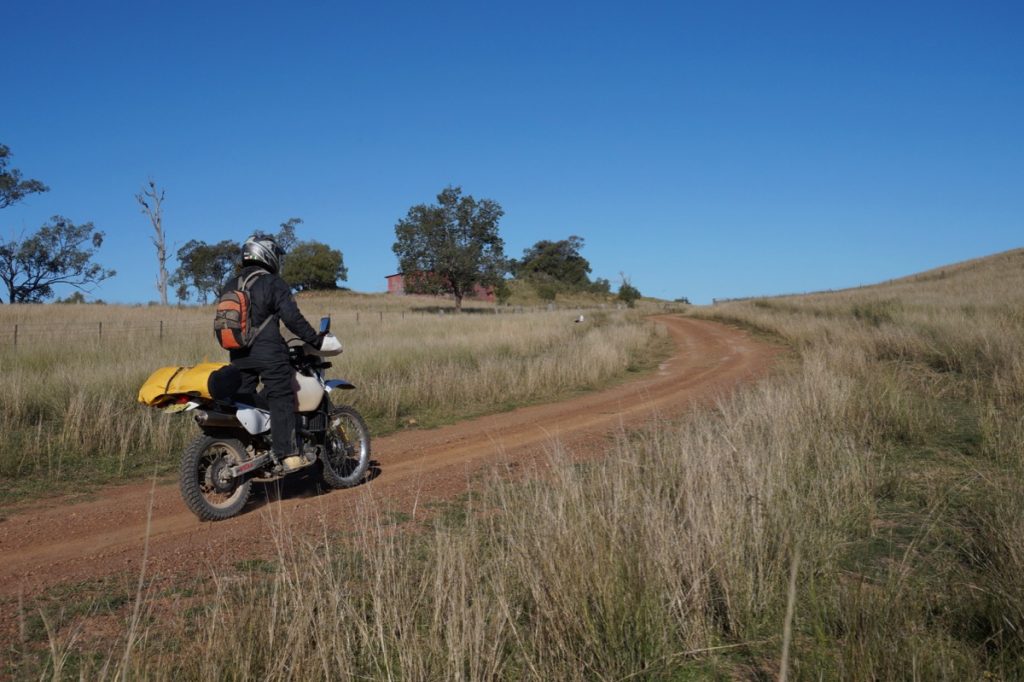 Under clear blue skies the riders meandered along mainly decomposed granite tracks, some a little sandy, with the odd sneaky forest section to avoid as much tar as possible. With a couple of lunch options the ride made for a cruisey half-day adventure that riders could do at their own pace.
The techo ride was a blast. From tight, rough sandy trails, singletrack littered with logs and rock steps, a few muddy sections, a nice climb to fantastic views and a couple of deep, sandy whoop sections that wouldn't be out of place on a motocross track this ride had it all. Despite being less than 60km, this loop took around three hours and produced a bunch of sweaty, dirty riders with huge smiles on their faces.
After both rides finished in Tingha, NSW, the exhausted participants were treated to a tyre-changing demo performed in "super slow-mo" by Vince so riders could get a better look. Well, that's what he said anyway.
With almost 100 riders turning up to help Vince celebrate the shop's fortieth, a large cake was then cut and a huge pile of gifts and Suzuki showbags were tossed to the baying crowd.
2013 DR Trix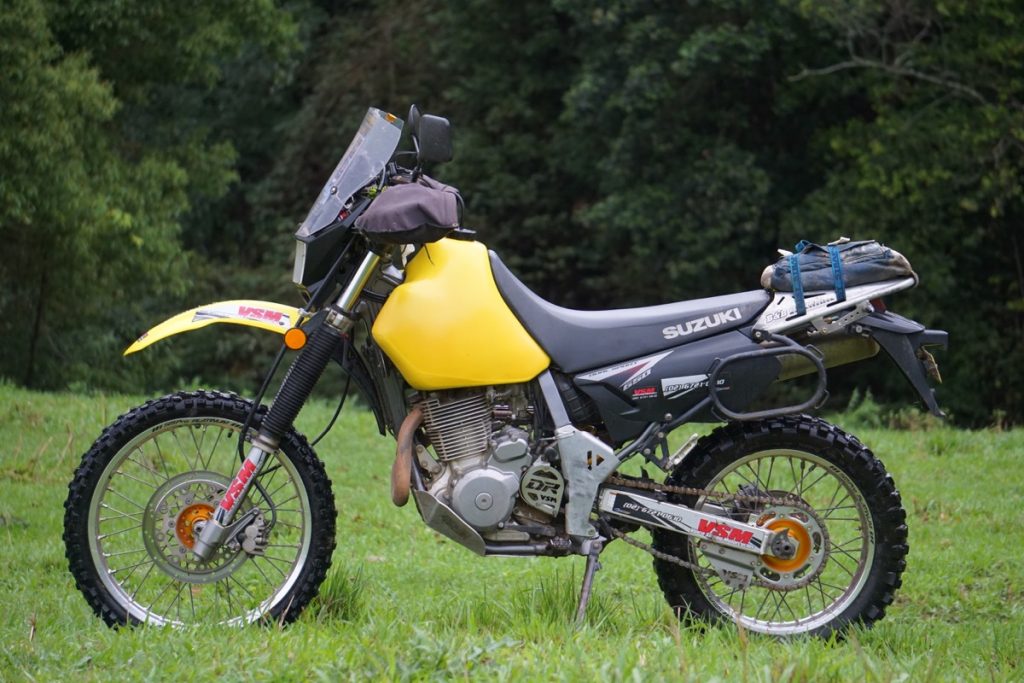 • VSM modded suspension at front and rear
• B&B Off-Road bashplate and rear carrier
• ProTaper handlebar
• Acerbis handguards
• Ballards hand covers
• IMS 20L tank (as shown) or 30L Safari for desert rides. The latter often expands to 32L
• VSM low footpegs (WR pattern)
• VSM windscreen and headlight protector
• VSM sprocket guard/case saver
• VSM rear chainguide support plate and frame guards
• Andy Strapz Soft-Bag Frames
• Marty scored a prototype set of SM Pro wheels from JTR in Cleveland, Qld, which he has been unable to break in 40,000km. He says he's just done the basics, with the bike running the stock motor (with rejetting), pipe, brakes and seat.
Martyn Blake's DR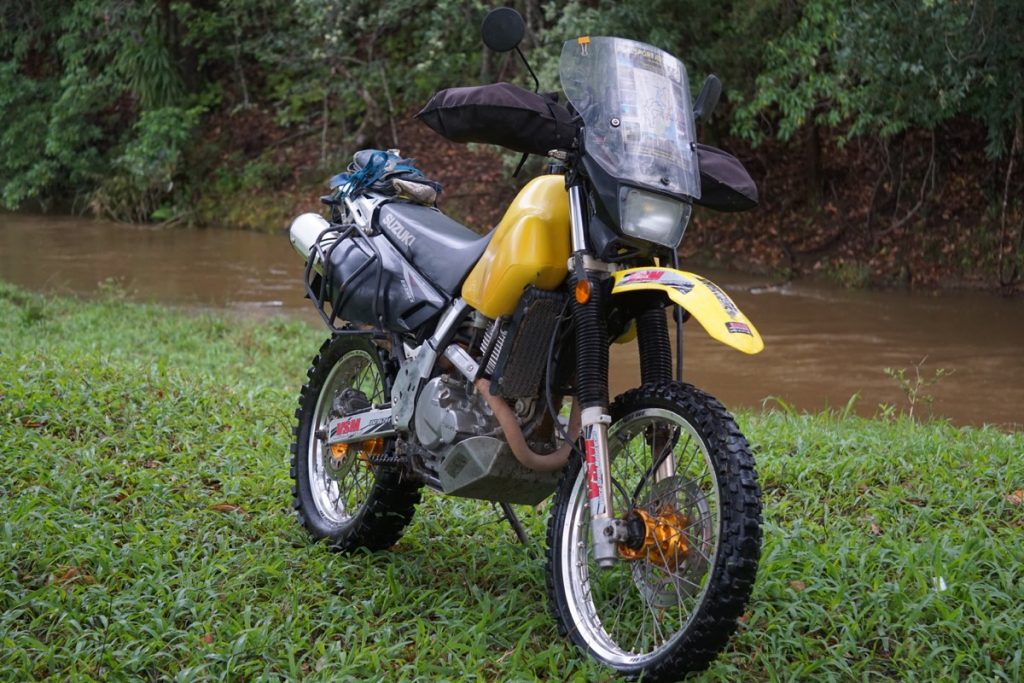 While not the trickiest Suzuki DR around, you would be hard pressed to find a harder working one than Marty's. It's done many thousands of kilometres as Dualsport Australia's mapping bike, checking out tracks throughout northern NSW to help produce his GPS track logs and printable route sheets for adventure riders on CD-ROM.
But it's also done lots of singletrack and had "a holiday" in the Simpson Desert. This bike has seen very little tar in its four-year life. No commuting, pampering or café runs for this girl.
"This is my third VSM Suzuki DR and, as usual, it has been rock-solid reliable despite serious dirt use," he says. "Besides wheel bearings, brake pads, air filters, chain and sprockets and enough oil to soak an Alaskan beach the only thing it's needed was a camchain tensioner gasket and a set of spark plugs; the plugs because they came in a Suzuki maintenance kit with an oil filter and I fitted them just in case.
"Even the valves remain untouched. The top chain roller has been removed from new [a common fix to prevent the frame tube from cracking in that area]. Issues with earlier models (like third-gear breakages and leaking base gaskets) have been fixed by Suzuki despite the bike appearing unchanged and if I can't break it no-one can."
2017 Suzuki DR Trix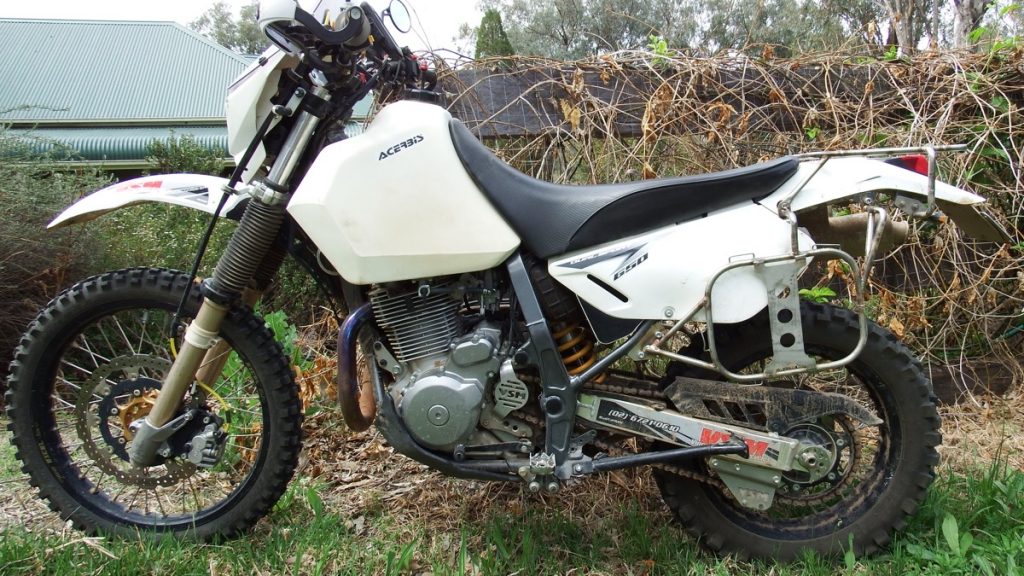 • Pirelli Scorpion Rally front tyre with extra-heavy-duty tube
• Takasago Excel rim laced to RAD gold hub (mostly for looks)
• Oversize disc rotor with BF Goodrich braided brake line
• VSM/MSC forkbrace
• DR-Z250 fork with .48 springs
• Polisport front guard
• VSM LED headlight bulb
• VSM windscreen
• 12V power outlet on headlight shroud
• Ignition switch/steering lock removed
• Custom acrylic dashboard with LED warning lights, ignition switch and grip-heater switch
• Renthal 7/8-inch high-bend handlebar with no raisers or adaptors, to save weight
• Acerbis Multiplo handguards
• Acerbis folding mirrors
• VSM grip heaters
• ProTaper dual-compound handgrips
• Acerbis 20L or 25L tank depending on range required
• Sargent seat
• Acerbis plastic sumpguard
• Staintune full stainless exhaust system
• VSM shock upgrade with 8kg spring (may swap out for Vince's '97 Safari Ohlins)
• 12V USB "live" outlet under sidecover
• Custom-made stainless steel rack and pannier support brackets
• VSM sprocket guard/case saver
• VSM rear chainguide support plate
• VSM footpeg lowering kit with Mk2 PivotPegz fitted
• VSM LED numberplate holder
• Rear Excel rim laced to RAD hub. Dunlop D606 with extra-heavy-duty tube
• Front and rear lowered slightly
Vince Strang's DR
Vince's current DR650 bristles with trick gear. The emphasis with his latest one was on strength, weight reduction and compliant suspension to handle as many sand whoops as he could throw at it. Gone is the Jebtech rally fairing he fitted on his previous bike, which has been replaced by a VSM windscreen to save a few kilos.
"Last year, while riding the technical Carson River Track, I realised I needed a lighter, simpler bike for that style of hard riding. While the last DR was great in the more open going with the Jebtech fairing, I'm not getting any younger," he says.
Small things add up, so he removed all the switchgear and replaced it with light, simple switches, commissioned a fork brace from MSC to run instead of steering damper, fitted an LED headlight bulb instead of an accesory lightbar and swapped out the popular Giant Loop pannier frames for a lighter, lower stainless steel pannier rack system that centralises mass.
"We were able to reduce a lot of high-up weight, making the bike easier to ride in very hard terrain," he says.
The bike is running a modified DR-Z250 fork but Vince is considering returning to a DR650 one with Plex Valves, heavy-duty springs and MSC preload adjuster caps.
The suspension has been lowered slightly as Vince's legs are getting worn down.
WORDS & PHOTOS // MARTYN BLAKE & ADB – THIS FEATURE WAS FIRST PUBLISHED IN ADB ISSUE #460 – JANUARY 2018