Team HRC's Tim Gajser has won his fourth world motocross championship in just six years, after winning this year's MXGP title.
Crowned at the Trentino circuit in Italy, home to many great memories for the Slovenian rider, Gajser wrapped up the title with three motos left to go in another season of fast, controlled riding. This title now moves Tim Gajser to the top of the list of HRC world champions, one clear of greats like Dave Thorpe, Eric Geboers, Georges Jobe and Andre Malherbe and it confirms his place as one of the best ever riders in motocross history.
In what has been a difficult season due to the global pandemic, the #243 has consistently shown he is the fastest rider on the track, winning 13 races and 4 overalls (before the MXGP of Pietramurata) on his way to this historic moment. Starting off the year back in March with moto wins at Matterley Basin, UK and Valkenswaard, Netherlands, Gajser immediately showed that he was a threat for victories on whatever surface they rode on, and that form continued when he won the first race back after the restart in Kegums, Latvia.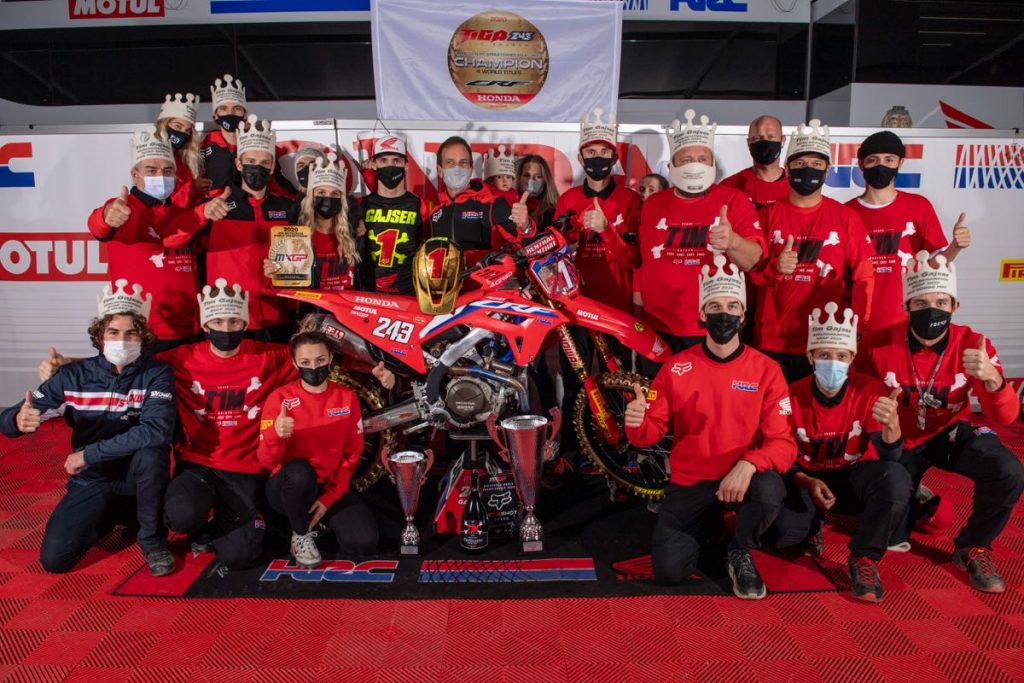 With the new one-day format in place, qualification was just a 25-minute timed session after 20 minutes of free practice and while other riders struggled to adapt, Gajser again showed the speed of the new Honda CRF450RW by getting first gate pick at six out of the next 10 rounds, and inside the top three in nine of them. Good gate picks led to good starts and holeshots and it also meant the Honda rider has led more laps, and has led in more races than any other rider in the field.
While race wins were coming often, an overall remained elusive and it wasn't until round 11 when Gajser was able to put in two strong motos and get onto the top step of the podium at the MXGP of Europe in Mantova, Italy. It was nothing more than he deserved and it allowed him to cement his position at the top of the class, after first getting the red plate at round nine. Since that moment, he has gone from strength to strength, podiuming in 12 straight races and extending his lead to over 70 points. This was highlighted at the triple-header in Belgium where Gajser won two of the three overalls, picking up an incredible 142 out of 150 points in the deep sand of Lommel, known as the toughest race on the motocross calendar.
From Lommel, it was back to Italy for the season-finale three rounds in Trentino, the venue where Gajser won his first ever world championship overall in 2015 and also where his 2019 campaign was kick-started after an epic encounter that ended with him going one-one, sparking amazing scenes of celebration. Unfortunately, fans weren't allowed to witness this years' success but the outpouring of support from the around the world has been immense and shows just what a popular figure 'Tiga243' is within the motocross community and beyond. With one round left, there is still chance for him to add to his amazing statistics but for now, Gajser is celebrating his amazing achievement of winning his fourth world championship title.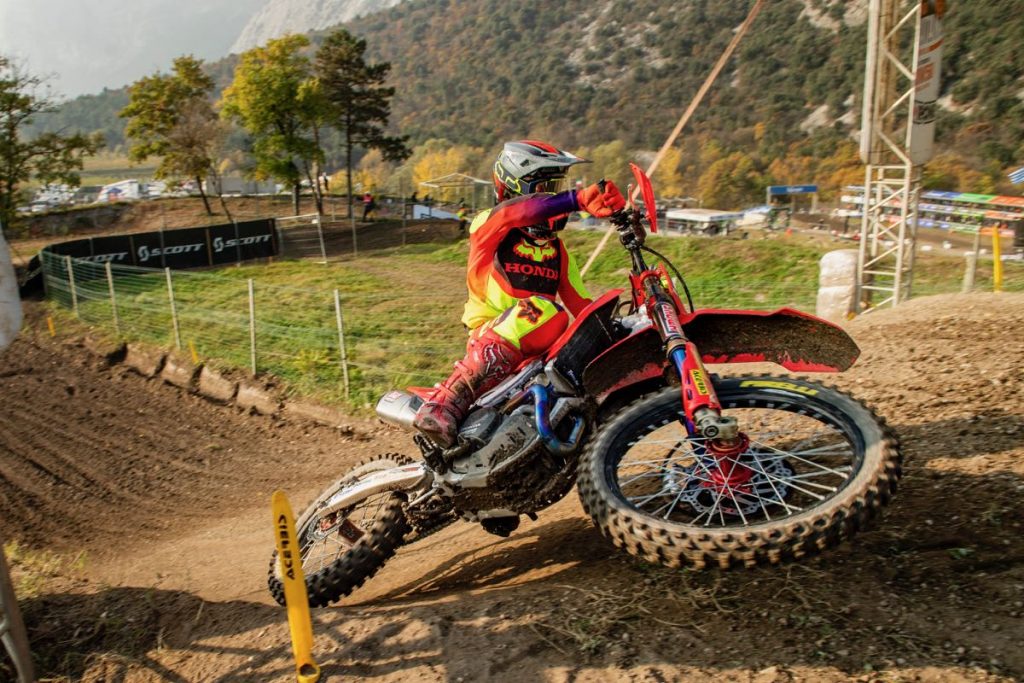 "It feels unbelievable to be world champion for a fourth time. Winning one time is amazing, but four times, I'm just speechless," said Gajser. "It was a weird season with the COVID-19 and then the break between the rounds two and three, but in the end, everything came together and we won another title!"
"Racing today was very nice, in the first race, I didn't have the best start but I was still able to come through the field and finish second and that meant that if I could win race two, I would take the overall. In the second moto I grabbed the holeshot and then had a really good battle with Romain all the way to the chequered flag. We were pushing the whole time so I'm super happy to win this title and the overall on the same day. A big thanks to the whole of Team HRC, there are a lot of people who are involved who couldn't be here today so a big thank you to all of them and to everyone who has supported me all year long. It is a privilege to ride for this team and I appreciate every single person who has helped me. Thank you!"
Gajser teammate, Queenslander Mitch Evans congratulated the Slovenian rider on his fourth world title; "It has been a great season for Tim, and he thoroughly deserves to win this title. He works extremely hard and I couldn't be happier for him and the whole team. It is a great group of people here and having now experienced the atmosphere this year, I am really happy to be here again next year. The injury is progressing really well and I'm aiming to come into 2021 just how I started this year, knowing that I'll be riding a championship-winning bike."