The KTM Factory Racing team of Toby Price, Sam Sunderland and Matthias Walkner, are ready to take on the Andalucia Rally in Spain.
In their first competitive rally since the Dakar back in January, the team will be joined in Spain by KTM Factory Racing's newest signing Daniel Sanders, who will be making his debut rally appearance.
Held in the south of Spain from October 6 to 10, the Andalucia Rally will challenge riders over five demanding days of racing. A short Super Special Stage will decide the start order for the first full day of rallying, with the four main legs made up of looped stages based around the bivouac town of Villamartin. With the event covering a total of over 1,300 kilometers, competitors will face 1,030 km of timed specials, the longest of which being on stage three – a demanding 300-kilometre route covering the dry, rocky tracks to the east of Sevilla.
Following his podium result at the 2020 Dakar Rally, Toby Price returned home to Australia where he kept himself busy riding and working on bikes whenever possible. Now with racing starting up again with the Andalucia Rally, Price is keen to make the best use of the time on his KTM 450 RALLY and prepare for the 2021 Dakar Rally.
Toby Price: "It's certainly been a tough time for everyone since January – the whole world has been turned upside down, but we're doing the best we can considering. I'm really thankful that the organizers have managed to arrange this rally in Spain, and we get to go racing again. After all, it's what we love to do! It's been good to get back out on the bike with the team and now we just need to do our best in Andalucia and learn what we can before the big one next January."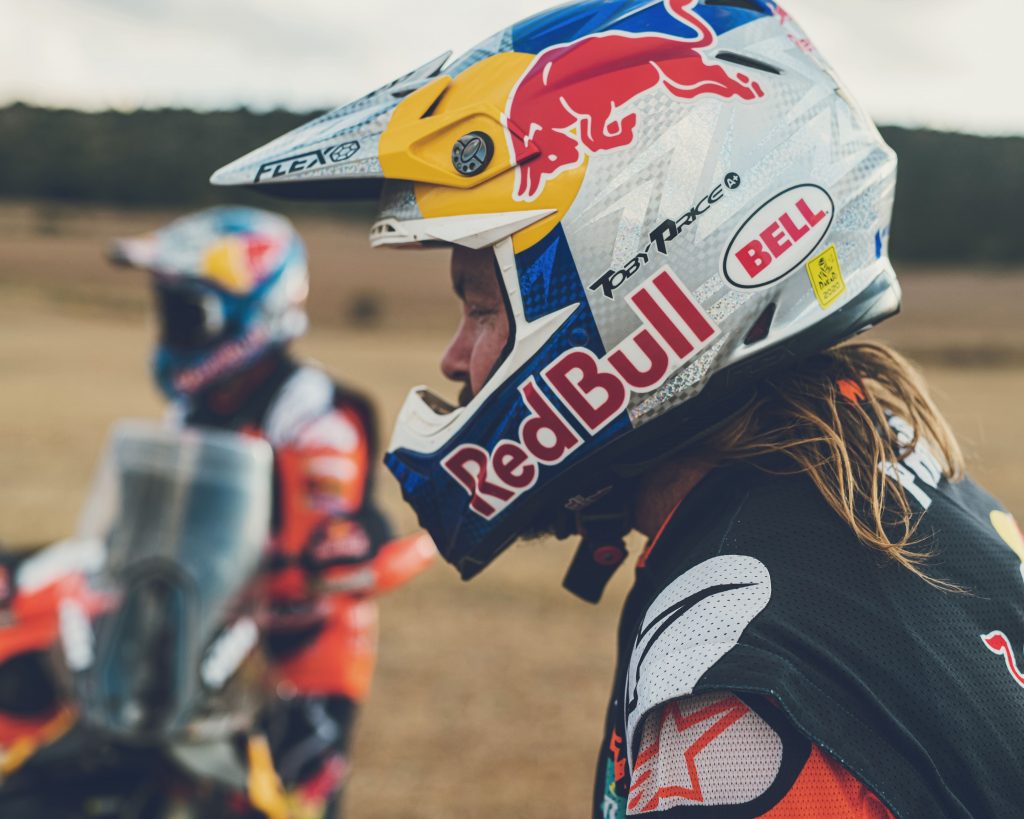 Making his first rally appearance for the KTM Factory Racing team, enduro star and outright ISDE winner Daniel Sanders is confident, yet fully aware of the challenge ahead of him. Undoubtedly fast offroad, as seen in his Australian desert racing successes, the 26-year-old will use the event to gain invaluable experience with the navigation required for top-level rally competition. Sanders travelled to Europe in September to spend time with KTM Rally Team Manager Jordi Viladoms and get up to speed with both his KTM 450 RALLY and essential road book techniques – he now has a chance to put that newly-found knowledge into practice.
Daniel Sanders: "I'm only a few weeks into my rally career and it's a really different experience. It's exciting though, I'm learning every day and I've been working on my road book skills a lot. Learning the bike is new for me as well, and I have to thank my team manager Jordi Viladoms for helping me fast-track my skills. It's a new discipline and I'm taking it step-by-step and learning as safely as possible. We have a few days to go before the Andalucia Rally and I'm excited for it. Prior to that it'll be some more roadbook work, and then race time! Hopefully it will go well, and I'll qualify for the 2021 Dakar."
2019 FIM Cross-Country Rallies World Champion Sam Sunderland was forced to abandon his 2020 Dakar Rally campaign following a crash on stage five. After a short period of rehabilitation at his home in France, Sunderland quickly returned to full fitness and restarted his training. Now, with a couple of recent weeks testing under his belt, the 2017 Dakar winner is fully motivated to get back to competition.
Sam Sunderland: "It's been nice to get back with the boys and the whole team, testing some new stuff on the bike and generally getting back into the race routine. It makes you realize just how much you love doing what you do. I'm looking forward to the Andalucia Rally, it's great that they have managed to fit in at least one before Dakar. The plan is to use the event to get back up to speed and treat it as a bit of a shakedown. I think it will be a different type of rally to what we're used to – more on-piste and possibly a bit dusty, but it's the same for everybody."
Following his excellent fifth-place performance at the 2020 Dakar Rally, Matthias Walkner returned to Austria for the Covid-19 lockdown period. Maintaining a solid fitness regime, the 34-year-old was also able to get some invaluable riding time in the woods near his home. Now fully fit and eager to get racing again, the former motocross star is hoping for a strong race in Andalucia.
Matthias Walkner: "It feels great to be able to prepare to race again. I'm really looking forward to the rally in Spain, I think it will be different, but a good learning experience for all of us. I was lucky that during the pandemic I was able to get out into the forest on my own and ride my enduro bike. It really helped to keep me bike-fit and, together with regular training in the gym, I'm feeling really good right now. Testing has been going well and the bike is feeling good, so now hopefully a good result in Andalucia and then concentrate on Dakar."
The Andalucia Rally commences with the Super Special Stage on Tuesday October 6, followed by four days of racing with the stages covering a total of 1,354 kilometers, 1,030 of which are timed specials.