When we talk about cult heroes in the dirtbike world, one name that springs to mind is KTM's Toby Price.
The man with the flying mullet has defied adversity on numerous occasions, including his inspiring win at the 2019 Dakar Rally with a broken hand. With a screw in his scaphoid trying to worm its way out, Toby Price persevered in excruciating pain to take the lead in the final stages and win the Dakar for the second time.
Over the next six months, Price underwent more surgery and rehab to rebuild his hand before making a successful return to racing at the Atacama Rally in September, where he won the gruelling fourth stage before crossing the line in fourth after helping teammate Sam Sunderland secure the world title. Price then went on to post the same result in Morocco, settling back into racing at warp speed while trying to avoid racing Dakar with another injury.
With such an up-and-down year we took the time to sit down with the Gold Coast-based rider to talk to him about his preparations for the 2020 edition and his thoughts on racing for the first time in Saudi Arabia.
ADB: It's been 10 months since your hand was destroyed at Dakar, how is it coming along now?
Toby Price: The hand is back on track. I'm still having a few little issues with it but the physio can fix that. At first we thought there might need to be more surgery but we're going to steer clear of that so we can come into Dakar 100 per cent healthy. All my rehab is going well and we should be all sorted by January. The screw has stopped wiggling after that second surgery so that is good. After that surgery I gave it more than three weeks to heal, which is all it got before Dakar, which means it's back on the normal path. I've lost a little movement in my wrist but it's nothing that will stop me.
After spending so much time on the sidelines, how is your general health and fitness?
I went into Chile having not raced at all so that [Atacama] race and Morocco have given me a chance to get back up to speed. My speed is there and my navigation is going well. I've got to go back to Morocco and Spain to do some more testing and riding in the next few weeks so, by January, we're going to be 100%. About a month out from Dakar I'm going to stay off the bike. I enjoy mountain biking so I'll try hooking into that a fair bit but you can get injured doing anything, so I've just got to be careful. That last month will be full-on trying to get organised packing and loading.
Will Saudi Arabia be all sand dunes?
There's more variety than you think. Sure, the majority will be sand but there are mountains to climb and rocky sections too. Never in my life did I think I'd be racing in Saudi. The cool thing is it brings everyone onto a level playing field because no one knows what to expect. We know what we're in for when it comes to the rally but it will be a new challenge and, at the end of the day, it is still riding the bike in the middle of nowhere and trying to navigate through it.
Speaking of navigation, will all the dunes make things more difficult?
Navigation will be harder because when you're playing in sand dunes it is difficult to navigate and make time up on people in front of you. You will see the results change each day. The bloke out first is at a massive disadvantage because he's making the tracks himself. There will be no other tracks around so the front guys will struggle. It will be difficult to understand and make a game plan for but we will assess it as we go and try and attack in the last four or five days.
We've heard rumours that the new roadbook, that you now get just before the start each day, is worse. Is that true?
The biggest change is that the roadbook comes highlighted. That's good because it saves us hours of marking the night before but the biggest problem [in Rally du Maroc] was that they weren't giving us enough information. So, for example, when we used them in Morocco they were telling us to go down this dry river bed and climb out and follow traces but, when we got out there, there was like five roads going everywhere. There was a lot of rolling the dice and you just had to take the dominant line and hope for the best. When you're trying to process this at 160kmh it is very easy to make a mistake. If they could give us more information with cap headings it would help.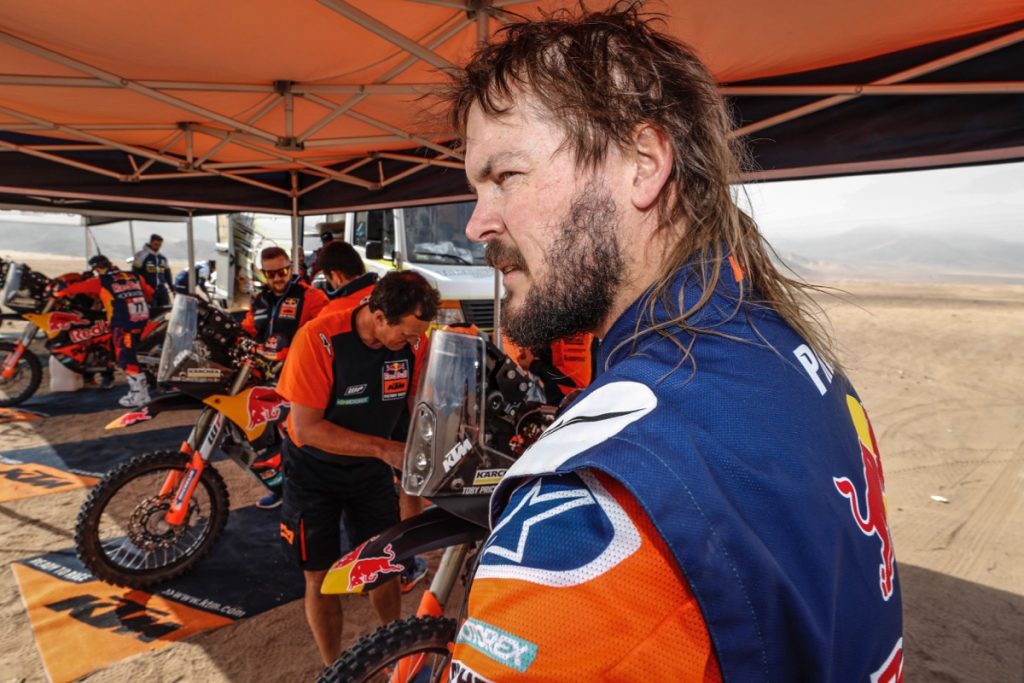 Most teams bring a "map man" along but, with the new rules, we're not allowed to add or change anything on the roadbook. We can highlight but we can't add more information to give us more of an idea on where to go. They now give the roadbook to us 15 minutes before we take off so, if there is a mistake, we can't change it. I found a mistake in the Moroccan roadbook that was meant to be capped 230degrees and they had 330degrees. So if you were climbing out of a rio at 205degrees you'd find a road, turn left and come down 900 metres and turn left again but, because you've made two left turns on the wrong cap headings, all of a sudden you're way out. A mistake like that will cause havoc and chaos for the riders out on the track. I love the new roadbooks as they are already highlighted, I don't mind getting it the morning of the stage but it has to be correct. I'm still 50/50 on that part of it.
How do you follow someone in the dunes? Do you still use your nav or just follow them?
Once you're in the dunes, if there is a trace of track you rely on the traces a little bit more as long as the sand dunes are capped at the same place. You have to keep checking your cap headings and make sure they line up with the track. Some of the dunes are so tall you have to deviate around them but once they line up you can wind it on. Once you work out the guy in front is nailing the navigation you can just wind it on and that is where you can make up a lot of time on the guys in front of you. If all five tracks go in different directions you stick to your caps.
Are there more tactics in this rally than any other year?
It's hard being the lead guy so I think you'll see the pace drop this year because everyone will want to be in that fifth or sixth position. If we know the following day is all dunes you will see some blokes trying to play games and sit themselves in a better position. When you're in the rock and rio it levels the playing field because the bikes don't turn the rocks over and therefore you need to navigate. But when you're on a big road you will see skid marks and stuff. It's a cat-and-mouse game but it's hard to predict what it's going to be like. You will have to assess it as you go.
We know you're an incredibly humble guy but is there anyone that can run your pace?
When I first came in, with my desert experience I brought a lot of outright speed. Sometimes I'm riding above my head and when everyone is doing that pace there's a big risk of getting injured so, I guess, I will take some claim to that pace and why we're seeing a lot of injuries. We're all still young and figure we'll heal fast but there are things starting to heal slower. Marc Coma and Cyril Despres focused on the navigation. They navigated 100 per cent but, now that we're adding a mix of speed, we're seeing blokes willing to twist the throttle, hang onto the thing and send it so there's more blokes that can win it.
Sure, since I've come in, the pace is crazy and chaotic and everyone is trying to do it but there is a lot more room for error and when it goes wrong it's a big one. In the sand, Sam Sunderland can run the pace, he lived in Dubai for years so he knows how to read the dunes well. Pablo Quintanilla can also run the pace and the only other guy is Joan Barreda. But with Barreda you're nearly certain someday something is going to go wrong or he's going to have a big one. When he does get everything right and perfect he is damn fast but I think he shuts the brain off a little bit. Most of the races I've seen him blow by, I'm thinking, shit I'm running a decent pace and this is my limit and that dude comes by like you're standing still! Twenty or 30 per cent of the time you'll see him up the track facing backwards. He is not scared to twist the throttle and hang off it. At Dakar you can't run at 100 per cent day in and day out or it will catch you out.
Ricky Brabec had the pace this year [at Dakar] and had everything going but got unfortunate with the bike. He has outright speed and is a force to be reckoned with. The sport has picked up over the last couple of years since I've come in and the speed's picked up, that's for sure.
There have been rumours that the event could be cancelled if the area is too dangerous and other countries deem it a no-go zone, therefore nullify insurances. Have you talked about that as a team?
There have been talks but, at the end of the day, Saudi Arabia has paid so much money for it to be there that they will want it to go ahead. No one is going to go there if they are not insured, that's the biggest problem. No one is going to take two cars worth 1.3 million euros each at the risk of not coming back with them. The conversation has happened but we don't have a back-up plan at this stage because we are confident it will go ahead. If the talks are still happening closer to the date we will reassess. I just hope I'm back in one piece. If I see a drone flying over my head I'm not going to go anywhere near it! I hope it goes ahead but our main concern is the safety side of things, I don't feel like losing a limb in case something drops from the sky.
Have you thought about life after bikes?
It's sad that my time is coming towards the end. I know two-wheeled racing isn't going to last forever. At this point in time I still don't know what I'm going to do. It's been my life since I was four. I want to go four-wheel racing but if you think motorcycles are expensive you times it by like 20 for cars. I'm starting to figure that out with my trophy truck here in Australia. I just love racing, I don't see myself wanting to get away from racing … running a team or doing something like that. Running my own program [with the truck] has helped me learn how to get things sorted. I don't want to ever be away from racing. When the time comes, I hope that decision will be quick and hopefully the doors will open.
More riders like Toby Price?
We heard rumours that Yamaha rider Josh Green was sizing up a ride for Dakar and, according to export riders like Hunter Lawrence, when international teams see one Aussie do well they go looking for more. So, we asked Toby Price if it's the same in rally and if teams are looking at some of our fast desert guys since he has had so much success?
"KTM are always asking who are guys to look at and I've mentioned riders like David Walsh and the guys doing enduro back home. Grabbo (Ben Grabham) going over and racing before me opened eyes for Aussies and rally and then my success has definitely put Australia on the map. I'd like to keep the Aussie record for myself but, at the end of the day, it would be good to see more Aussies over there racing. America has adopted me as well and we're seeing more Americans in the bikes and cars at Dakar. It's good having more people speaking English. Half the time you go to a team dinner and they're all speaking French or Spanish and German and I do not know what they're talking about so I just get on my phone and see what is happening back home."
WORDS // MITCH LEES || PHOTOS // KTM IMAGES, RED BULL PHOTOGRAPHY