Top-10 finish for Monster Energy Yamaha Factory Racing Team in Minneapolis | News
Monster Energy Yamaha Factory Racing Team's Justin Barcia and Aaron Plessinger scored top-10 finishes at Monster Energy AMA Supercross Championship in Minneapolis.
Barcia kicked off the weekend with an inspired heat race to come from behind to cross the line second. The New Yorker had another decent start in the main event and was on the heels of the lead pack in sixth, but unfortunately a mistake had him on the ground before getting moving again and looking to recover points. He was able to battle back from his error and cross the line in ninth.
"Going into the main event I didn't make any bike changes, or anything like that I was really comfortable. I was right on the main pack of guys in front of me, I just came into the corner pretty quick, pushed my front end and ended up going down pretty hard and rode home to ninth," said Barcia.
"For me it was a frustrating race to say the least because I felt like I was capable of being on the podium tonight and fighting for the win. It's definitely frustrating, but I felt like I was back to myself again, comfort wise and stuff, I felt good on the bike. I was happy with my riding, just wish I could've done better in the main event. Moving on to next weekend I just want to have good starts and get back up front."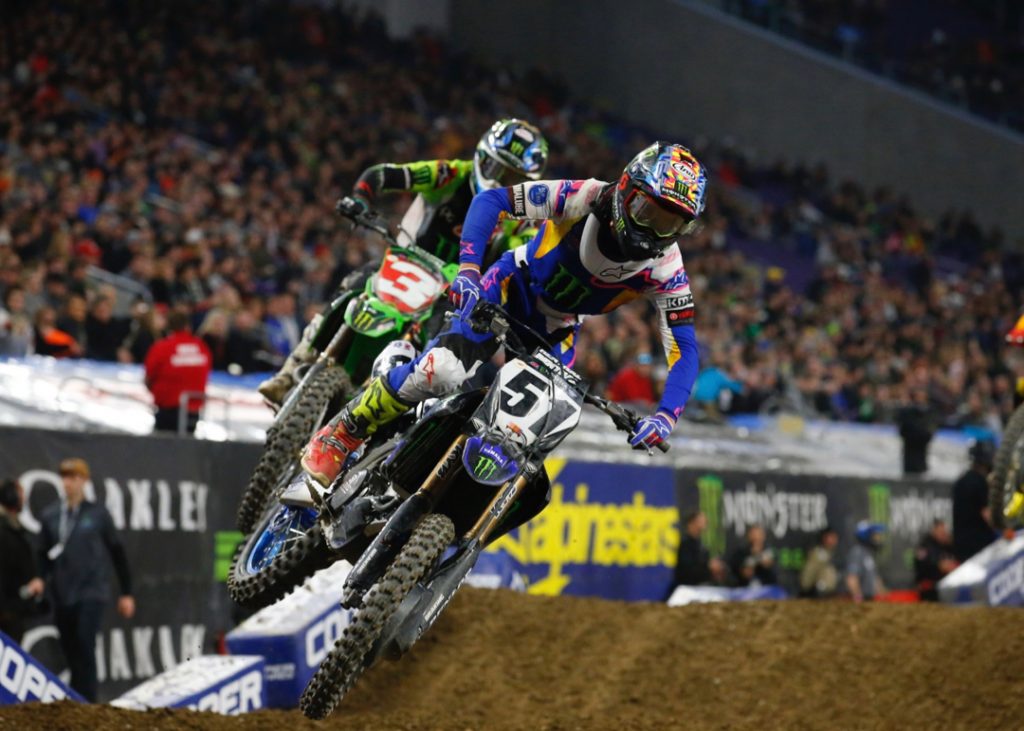 His rookie teammate Plessinger, continues to learn and progress in a very competitive 450SX class. The 23yr. old had a decent showing in his heat race, finishing fourth, but unfortunately a poor start in the main event had him at a disadvantage. Despite this he put his head down and worked hard and managed to fight his way up to 10th.
"It was a rough one for me. I definitely struggled on my starts. I got a break in the heat race. I got a bad jump, but shot the gap and made it. In the main event I didn't have that gap and I got shut off; I definitely need to keep working on it.
"We're going to go back to California this week, we'll get some more testing in on the bike and try and dial it in a little more for me. I just need to keep working on it, getting used to it. I'm going to go back and do some more homework and come back ready for Dallas."
The Monster Energy Yamaha Factory Racing Team will be back in action next weekend for round seven, which will take place at AT&T Stadium in Arlington, Texas, on Saturday, February 16.