Torture test a dream for teacher Trevor Wilson | News
The Dakar Rally is hard enough with the full support of manufacturers, mechanics, physios and motorhomes, so spare a thought for those in the Original by Motul category.
WORDS: ALEC CAMPLIN
Trevor Wilson, a former schoolteacher from Brisbane is the only Australian in the category this year. Competitors of the Original by Motul class are only allowed one small box to fit all their equipment and belongings in, one set of wheels, one set of tyres, a travel bag and a small tent.
Apart from this, they're totally alone. They must do all the mechanical upkeep of their bikes themselves. All while fighting the gruelling conditions and lack of sleep amongst everything else Dakar has to throw at them.
Wilson previously held the record for the fastest double crossing of the Simpson Desert. However, that epic 23 hour 38 minute achievement has been pale by comparison to Dakar for the race rookie.
"Being in the Original by Motul class is the ultimate challenge. I want to be broken and see what I have in me," said the 29-year-old.
"There's been a lot more to it than I realised. In the mechanical you're just rushing around like crazy trying to get everything done because you know the next day you need to have confidence in your bike," he said.
Wilson's journey to the start line has not been easy but is all part of fulfilling a lifelong dream.
"I was cruising through life as a school teacher and asked myself what regrets I might have and that was the Dakar rally, a race I had always dreamt of. I told my friends about it and they laughed," Wilson said with a smile on his face.
It's not easy switching from the chaos of the classroom to the sands of Saudi Arabia. There's the logistics part, financial savings part, long and hard training sessions.
In that time, he's quit his teaching job and started a waterproofing business to finance the dream. He's broken numerous bones and has endured countless setbacks along the way but he's made his dream a reality.
After not making it to the start line in 2018 and 2019, Wilson was determined to compete in this year. However, it almost wasn't to be.
In October last year, driving home from a training ride in Dubai, Wilson was involved in a high-speed crash. The accident wrote both cars off with the other driver believing he was dead.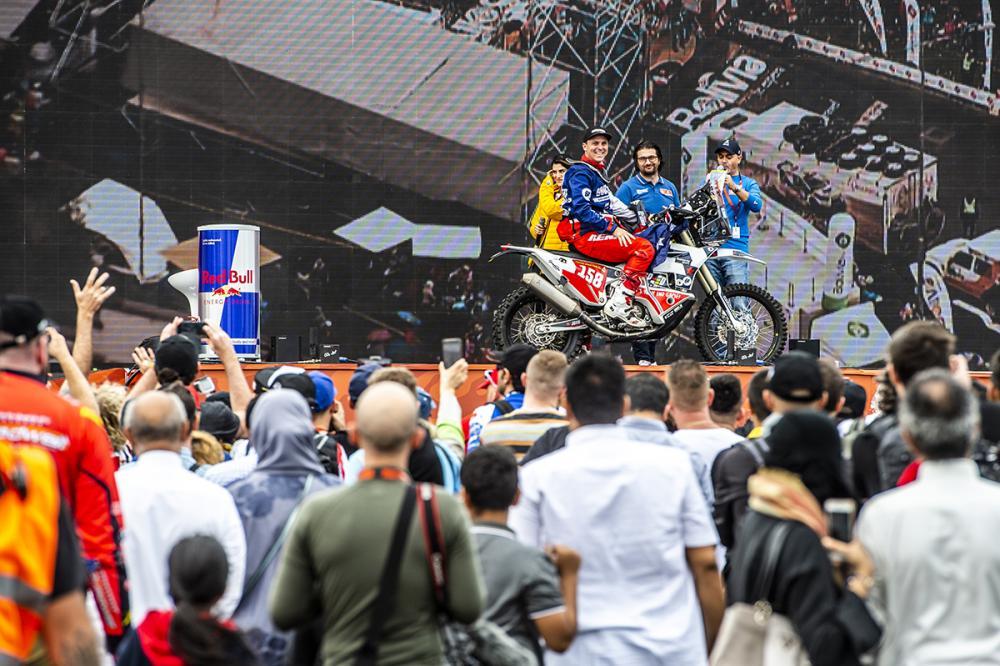 The driver of the other car told Trevor, "I then saw you jump out of the car and run to in between the safety barriers and I was for sure you could not be the driver. (Later) I said to my friend, tonight we witnessed a miracle."
Incredibly, the injuries sustained by the former PE teacher suffered were relatively minor but still kept him off the bike. However, the complicated the United Arab Emirates legal system left him in limbo – unable to leave the country for weeks.
Fast forward to December last year, two weeks prior to leaving for his lifelong dream one of Wilson's bikes was stolen from his home.
On his Facebook page he wrote, "Would I like her back? Absolutely. But sometimes you just got to sit back and roll with what life throws at you. Be blessed, new owner of my bike."
Again in a 'miracle' of sorts, the bike was found albeit in bushland by police, stripped of its Godspeed Racing stickers that made it so distinguishable.
Last year in the midst juggling a small business and intense training regime Wilson became stimulated to make his "selfish personal goal" much more, venturing into schools and prisons to inspire others to grasp their dreams.
"When we do Godspeed racing talks in schools and prisons we talk about their dreams and how to establish your cornerstone and work with, not against, your passions and interests. I share my story, my purpose in life. People tell me it's life-changing. No other race can do that," Wilson said.
Behind all this is the question that is plastered on his bike and on his social media: #whatsyourendgame? The idea of asking people what is the purpose of life and what is it all for.
Currently, the Husqvarna rider is placed 17th in the 'Original by Motul' class and is 76th overall ahead of today's final stage.
Follow updates from Wilsons Dakar journey on his Facebook page HERE.