Tough Opening Stage for Toby Price and Daniel Sanders at Andalucia Rally | News
KTM Factory Racing riders Toby Price and Daniel Sanders had the challenge of opening the day's stage and finished 17th and 19th respectively.
Kevin Benavides, Joan Barreda (Honda Team) and Lorenzo Santolino (Sherco TVS Rally Factory) finished first, second and third respectively in Stage 1 of the Andalucia Rally.
Tuesday saw riders compete in the short, nine-kilometer Super Special Stage, the results from which determined the start order for Wednesday's opening stage. It was the two Australians who took control on the slippery Spanish dirt tracks of the prologue, posting the exact same time on their KTM 450 RALLY machines. Toby Price was awarded the win, ahead of rally rookie Daniel Sanders in second.
Stage one featured 240 kilometers of timed special, split into two sections of 130km and 110km respectively. The terrain, similar to that of the super special, was made up of fast, dirt tracks that proved more slippery than anticipated for all riders and also created a lot of dust, especially when following and making overtaking difficult.
Toby Price was given the unenviable task of opening the 240-kilometer stage one. Although his strategy was to avoid any dust, navigation proved to be a real challenge with some errors arising with the road book and GPS. As first to encounter the problems, Price lost time to his rivals, ultimately finishing 17th on the stage and lies 17th overall going into stage two.
Toby Price: "Day one has been a little frustrating, the organization informed us of a few changes before the stage, but they didn't really give that much detail so it was tricky to follow things especially from the front. I opened the special for probably 80 or 90 percent and stayed on two wheels, so I'm happy about my navigation and riding. The body feels good and the bike is performing well and as always, the team are doing a great job. We'll see what tomorrow brings."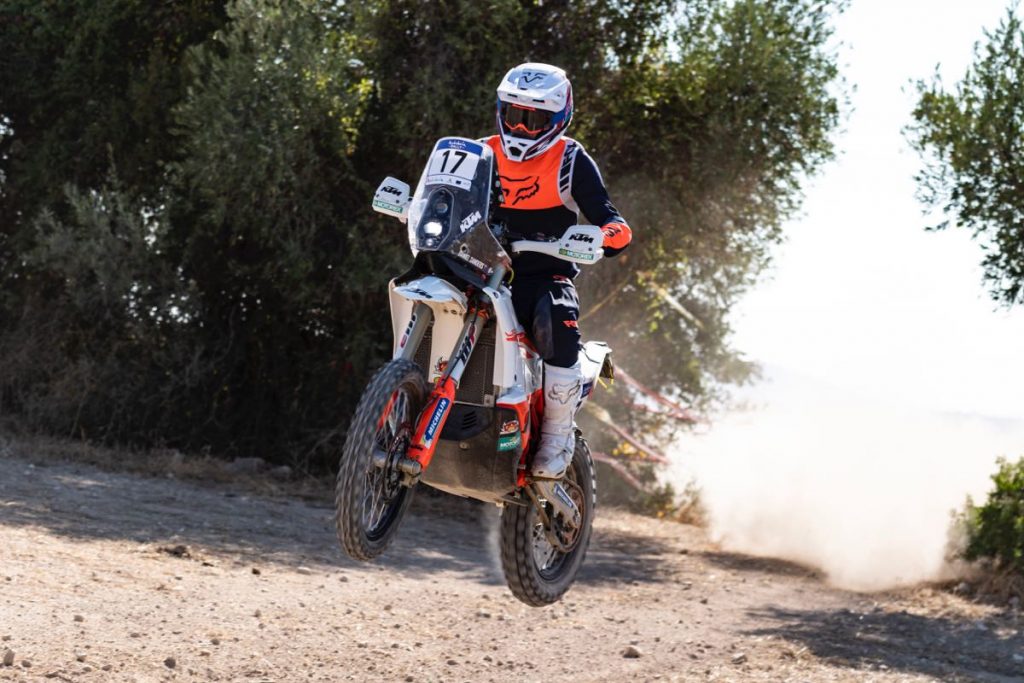 Making his rally debut in Andalucia, Daniel Sanders impressed immediately equaling his teammate and compatriot's time on the Super Special Stage. Second to enter stage one, Sanders performed well, running with the more experienced members of his team and the rally and making the minimum of mistakes on the tricky to navigate route. Posting the 19th quickest stage time, the 26-year-old Australian is feeling confident and looks forward to day two.
Daniel Sanders: "Well, my first day racing rally was certainly a tough one! I started off feeling a little uncomfortable, but by the halfway mark I was able to find my rhythm, keep a good pace and concentrate on the road book. I made a couple of little mistakes along the way but all-in-all it was good and a useful learning experience. There's three more days to go, so the goal is to make the finish safe and try and gain as much knowledge and experience as possible."
Provisional Results Stage One – 2020 Andalucia Rally
1. Kevin Benavides (ARG), Honda, 3:21:17
2. Joan Barreda (ESP), Honda, 3:24:32 +3:15
3. Lorenzo Santolino (ESP), Sherco, 3:24:36 +3:19
4. Xavier de Soultrait (FRA), Husqvarna, 3:26:25 +5:08
5. Adrien Van Beveren (FRA), Yamaha, 3:26:57 +5:40
Other KTM
7. Sam Sunderland (GBR), KTM, 3:27:56 +6:39
12. Matthias Walkner (AUT), KTM, 3:32:05 +10:48
17. Toby Price (AUS), KTM, 3:38:40 +17:23
19. Daniel Sanders (AUS), KTM, 3:41:32 +20:15
Provisional Standings (after stage one) – 2020 Andalucia Rally
1. Kevin Benavides (ARG), Honda, 3:28:00
2. Joan Barreda (ESP), Honda, 3:31:14 +3:14
3. Lorenzo Santolino (ESP), Sherco, 3:31:18 +3:18
4. Xavier de Soultrait (FRA), Husqvarna, 3:33:08 +5:08
5. Adrien Van Beveren (FRA), Yamaha, 3:33:36 +5:36
Other KTM
7. Sam Sunderland (GBR), KTM, 3:34:55 +6:55
12. Matthias Walkner (AUT), KTM, 3:38:38 +10:38
17. Toby Price (AUS), KTM, 3:45:09 +17:09
19. Daniel Sanders (AUS), KTM, 3:48:01 +20:01