The new 2023 YZ450F motocross machine is designed to be lighter and faster.
Yamaha has unveiled a heavily revised 2023 YZ450F motocross machine that it says is designed to be lighter, faster and easier to ride than the previous model.
Yamaha has been a dominant force in the World Motocross Championship for 50 years now and have clinched many FIM Motocross and US Supercross titles with both 2 and 4-stroke machines.
The new 2023 YZ450F motocross machine is designed to be lighter, faster and easier to ride to continue building on Yamaha's racing history.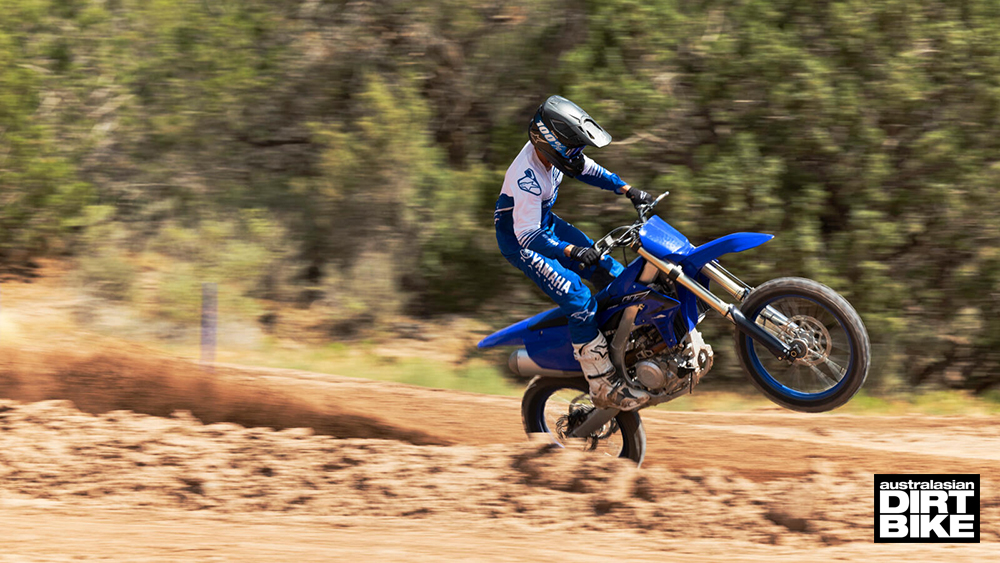 2023 YZ450F updates
Engine
The 2023 YZ450F engine has been redesigned to be lighter and more durable to deliver more linear output characteristics for improved rideability.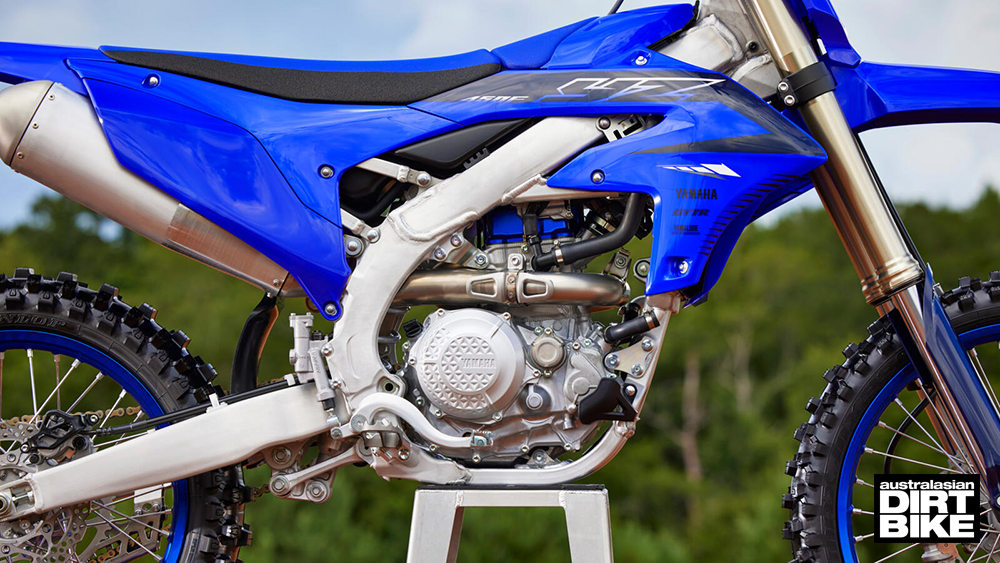 Engine internals
The new piston, lighter weight cylinder body and low-friction cam chain – along with the lighter crank assembly bearings and hollow balancer shaft, all contribute to an increase of 500rpm rev limit and reduced vibration.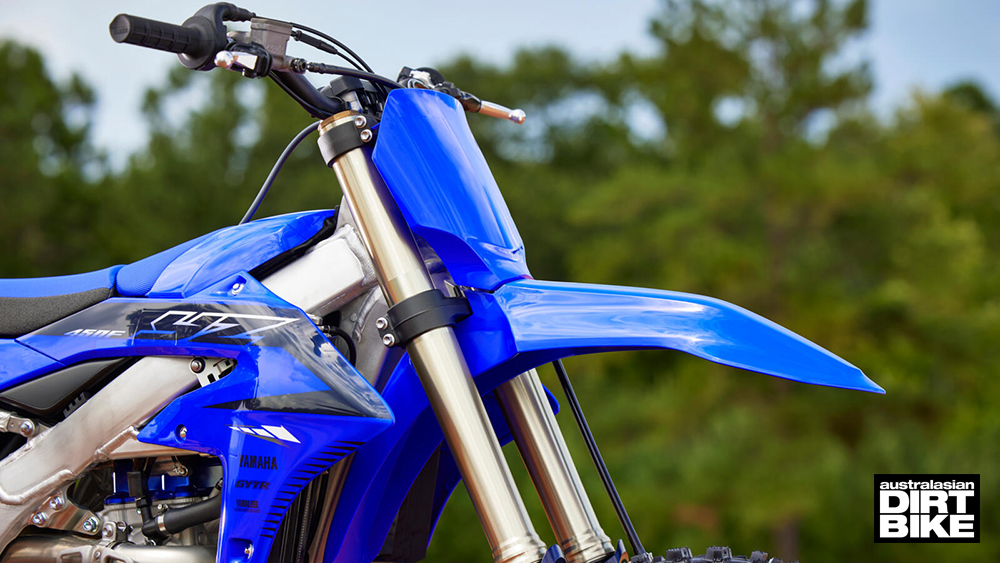 Valve air intake
The new reshaped intake port to the cylinder head is now a straighter path and the larger diameter titanium intake valves increase air intake volume by a claimed 9% at maximum valve lift.
Vortex airbox
The 2023 airbox design uses a vortex to separate the dust from the incoming air via centrifugal forces. Fresh air is now channelled to the airbox between the fuel tank, frame, seat and side panels resulting in less dust and particles and a slimmer bodywork.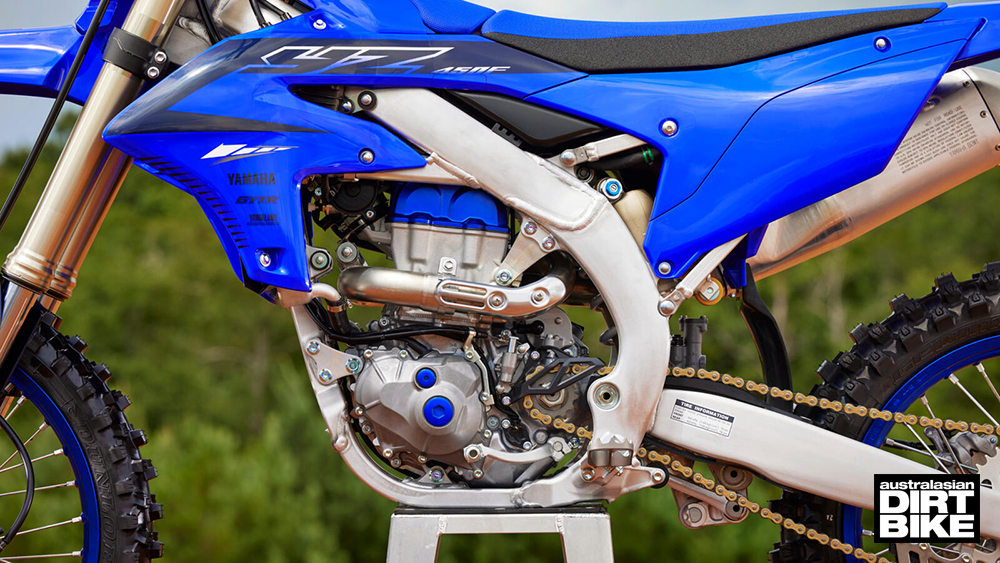 Transmission and clutch
A durable and lightweight one-piece steel design with disc springs and new lighter and slimmer clutch adds to the bikes overall weight reduction, and lightens the clutch feel.
Durability
Now with a wider rpm range, the new YZ450F engine has received an updated cooling system including dry sump and timing chain and tensioner for increased durability.

Frame
Yamaha's engineers have redesigned the aluminium bilateral beam frame focusing on geometry, rigidity and strength to provide a lighter feel, increased agility and improved stability.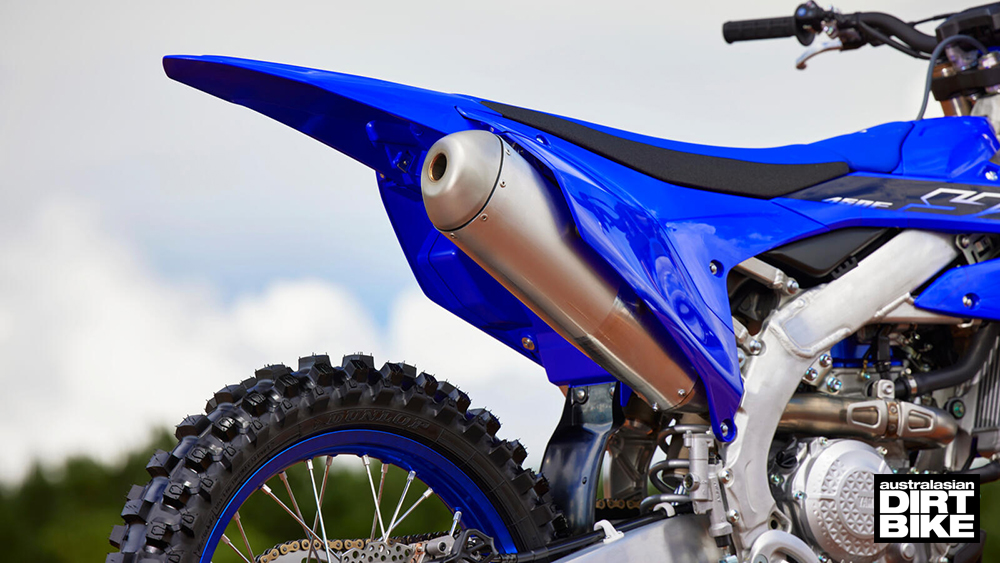 Bodywork
The YZ450F  is a slimmer and more compact body designed for rapid body weight shifting.
This is made possible with the elimination of the front air ducts, and fitment of compact shrouds and narrower fuel tank – giving a much slimmer centre section.
The shorter front and rear fenders give the 2023 YZ450F a more compact front to rear body length.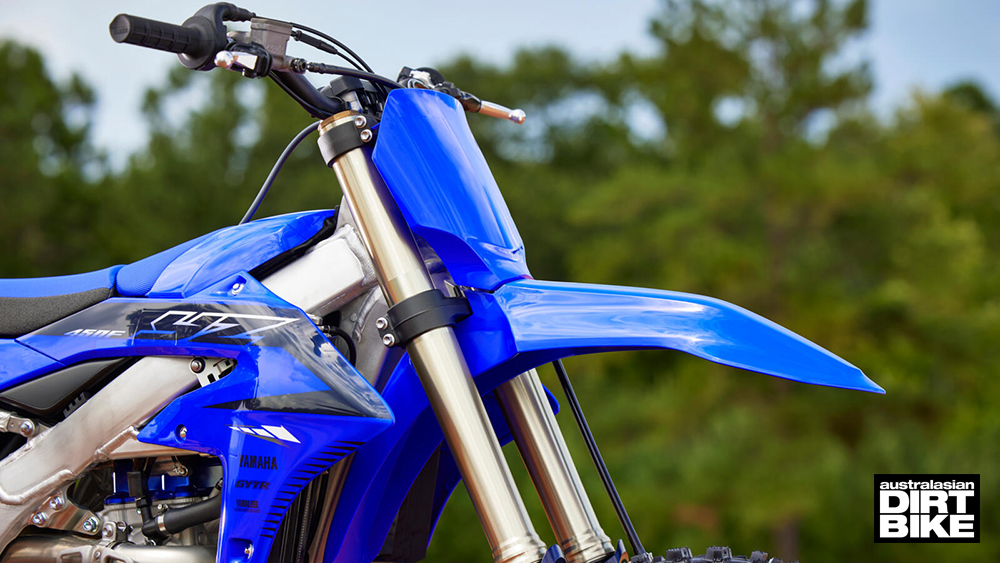 Suspension
The 2023 models gets new suspension valving to improve bump absorption. The KYB forks are also now equipped with hand-adjustable compression damping with settings now easily accessible via the Power Tuner smartphone app.
Traction Control
The new Traction Control System has 2 settings and can also be deactivated via the Power Tuner app, enabling the rider to select their preferred level of intervention depending on track conditions and experience.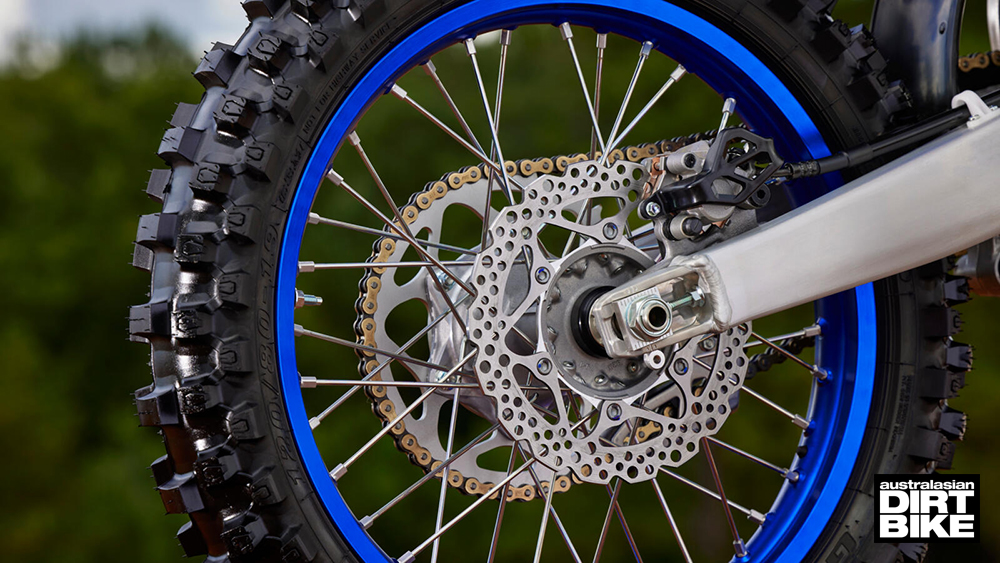 Launch Control
Designed to get the holeshot, the Launch Control System now has an adjustable 'Rev limit' function with a maximum rpm between 6,000rpm and 11,000rpm in 500rpm increments, for full throttle take off.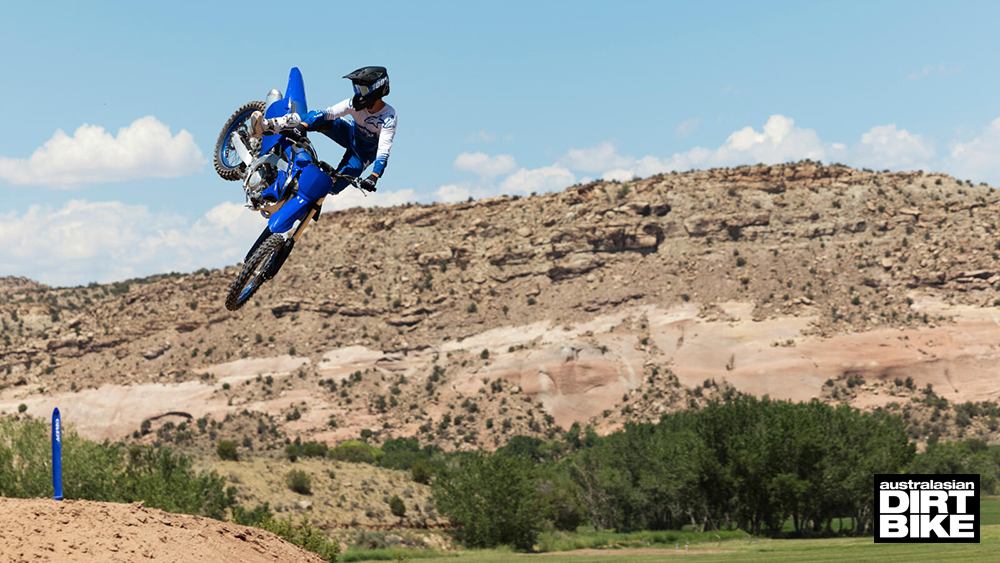 Weight
The 2023 YZ450F has undergone a diet throughout all components resulting in a weight down to just 109 kg wet – a reduction of 2.3 kg.
Power Tuner app
The 2023 Power Tuner app has been upgraded and features an intuitive 'Quick Tuning' function that makes it much easier and quicker to select the desired engine characteristics by sliding a scrollbar that runs from 'Smooth' through to 'Aggressive'. The new app includes additional functions including a lap timer, rpm, fuel consumption, speed and other data, and there is also a suspension FAQ page that helps the YZ450F owner to achieve their best set up.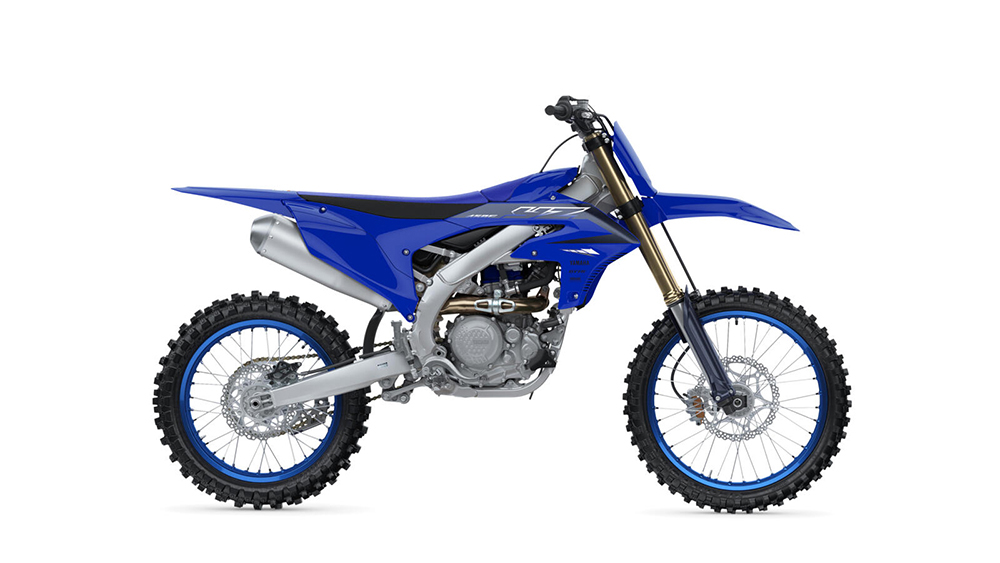 Technical Highlights
All-new lighter, slimmer and more compact 450cc engine
Increased linear power at all engine speeds, and 500rpm higher rev limit
Increased air intake capacity with 39mm intake valves
Revised 5-speed transmission and new lightweight clutch
New dry sump lubrication system
2.3 kg overall bike weight reduction to 109 kg wet with full tank of fuel
Redesigned bilateral aluminium beam frame with revised rigidity balance
Updated front fork and rear shock internal valving
New hand adjustable front fork compression damping adjuster
Slimmer and more compact bodywork for increased rider agility
Flatter and narrower seat for greater freedom of movement
New 3-mode adjustable Traction Control System
Updated Launch Control System
New more intuitive Power Tuner app with Quick Tuning
New lap timer feature and more
FAQ-style suspension set up guidance

Colour options
There are 2 colour options available:
The Monster Energy Yamaha Racing Edition features black bodywork with blue highlights and Monster Energy graphics, inspired by the factory race bikes.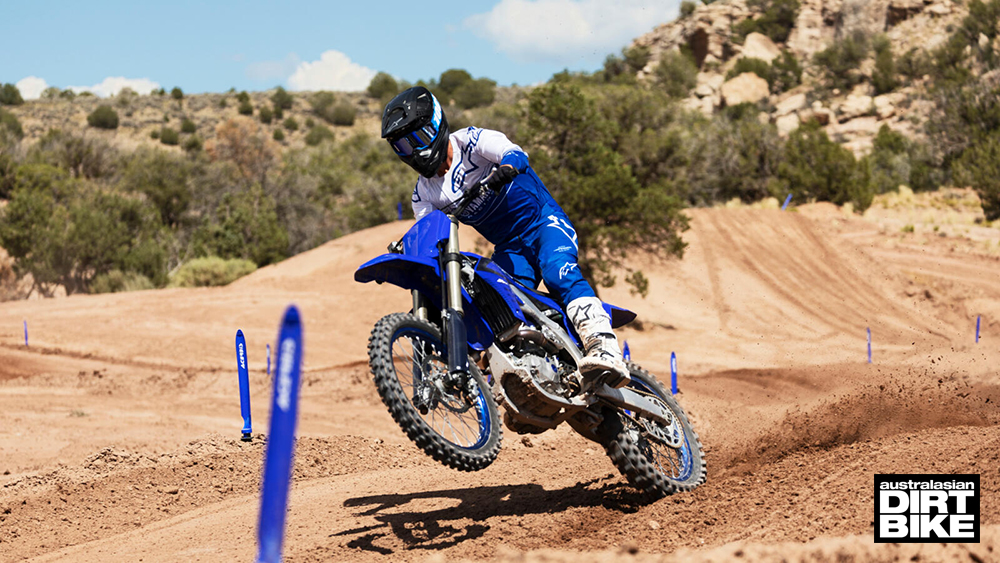 The new 2023 YZ450F will be available in Australia from November 2022.
Contact your local Yamaha distributor for more information.