I'm not the usual rider of this Yamaha YZ500F Supermoto bike. It was built for Australian Supermoto Champion Luke Traill
THE RIDER MAT BOYD
I was privileged enough to get the ride at the Newcastle International Supermoto. I know all the ins and outs of this bike, after spending years spinning spanners on it, but had never had the chance to ride it or any experience actually racing supermoto. Luckily for me, the bike needed no real adjustments and I was able to get comfortable on it straight away. Having it so well set up made my job much easier. Bikes don't come any more specifically set up for supermoto than this thing which meant, together with Luke's coaching, I was able to go round the Newcastle track matching lap times with some of the best supermoto riders. One of the toughest things for me to learn was to trust the tyres. Once I got my head around having loads of traction and got used to backing the bike into turns I was getting faster and faster by the lap and thoroughly enjoying myself. That was until I was cleaned up going into the first turn and got run over by several other bikes.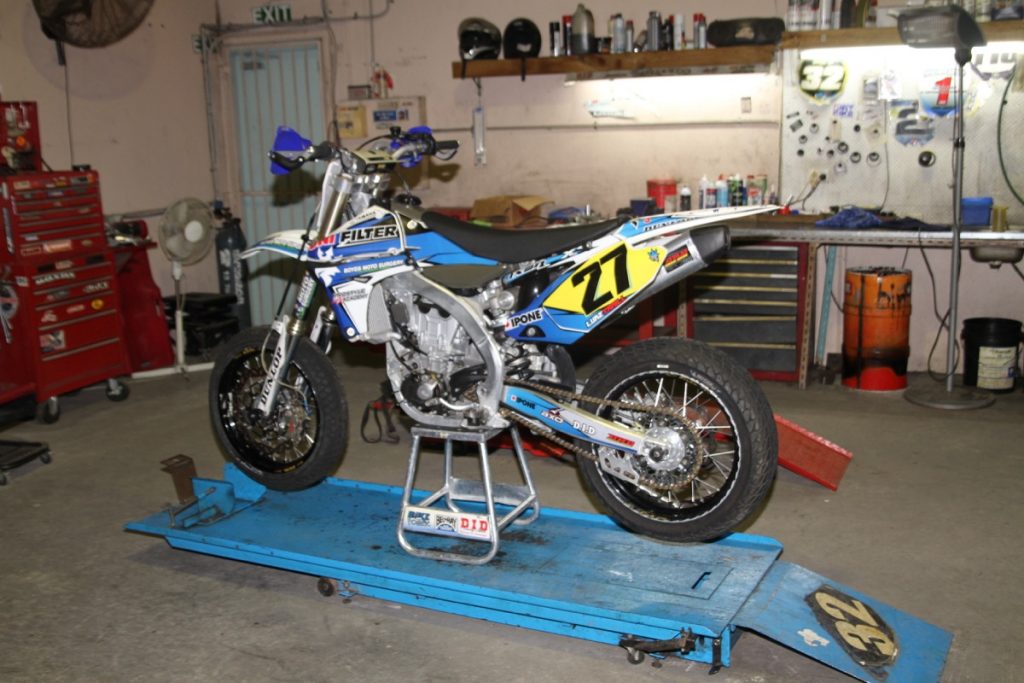 THE MECHANIC MAT BOYD
Setting a bike up for Luke is relatively easy as he knows from experience exactly what he wants in the bike and what he wants it to do. Luckily, through Luke's contacts and sponsors, we've had parts that are near-on impossible to get and they really finish this bike off perfectly. Even after the bike was built in 2012 it was far from finished. We spent hours tuning and testing to get it just right. What we have ended up with is a bike that makes a ton of power but is easy to ride. The power is smooth, which makes finding traction easy and makes carrying corner speed much more manageable while still being a rocket down the straights.
We have a bunch of different sprockets ranging from 13 to 14 teeth on the front and 44 to 48 on the rear, depending on the tracks. We have an adjustable steering offset and a choice between a 16.5-inch and 17-inch front wheel. We even have the option of a 500cc barrel and the ability to customize ignition mapping at the track. All this along with the ability to choose between different compound slicks so that we are able to adjust the bike to specifically suit any track we go to.
OWNER/MANAGER LUKE TRAILL
Due to injuries, marriage, children and buying a house I had decided to hang up my racing boots and take on a coaching role. This meant my bike was sitting unused so I made the decision to let Boydy ride it in the Newcastle International Supermoto to try his hand. He was really lucky because he got to jump on a supermoto bike already set up and didn't have to go through the pain of developing one from scratch.
A lot of research and development went into building the bike as I'm very particular. My first ride told me a lot of work was needed. The bike turned left really well but struggled turning right so the decision was made to Computrack it.
Basically this means the bike is stripped to the frame and it's computer aligned for optimum traction and handling.
For the 2012 season we fitted an Athena big-bore kit to turn the bike into a 500cc so I could contest the S1 Pro Unlimited class at the Australian supermoto titles. I instantly gelled with the 500 and came home with the title.