Yamaha's Xavier De Soultrait Wins Stage Three Of Dakar Rally | News
Delivering Yamaha their first stage win at the 2019 Dakar Rally, WR450F Rally powered Xavier de Soultrait has secured victory on stage three of the event in Peru.
Making today's stage even more successful for the Yamalube Yamaha Rally squad, Adrien Van Beveren claimed a fourth-place result and climbed to fourth in the event's provisional overall standings.
Following a well-calculated plan of attack, Xavier de Soultrait managed to make full use of his navigational skills during today's stage three of the Dakar. One of the first riders to find his way out of a tricky section in the first part of the stage, Xavier secured an emphatic stage win to move up to sixth in the event's provisional overall standings.
"It feels great to get this stage win in the bag. We had some challenging navigation today and I'm glad I made no mistake. For me this was the first proper rally stage of this race. My plan going into this stage was to push and everything worked to my favour. I had a steady pace from start to finish and this helped me secure the win. I want to keep that same momentum throughout this first week of the race and then try to push harder whenever I get the chance to do so. Everything is going well for me so far, the bike is working great and I've had no crashes or mistakes."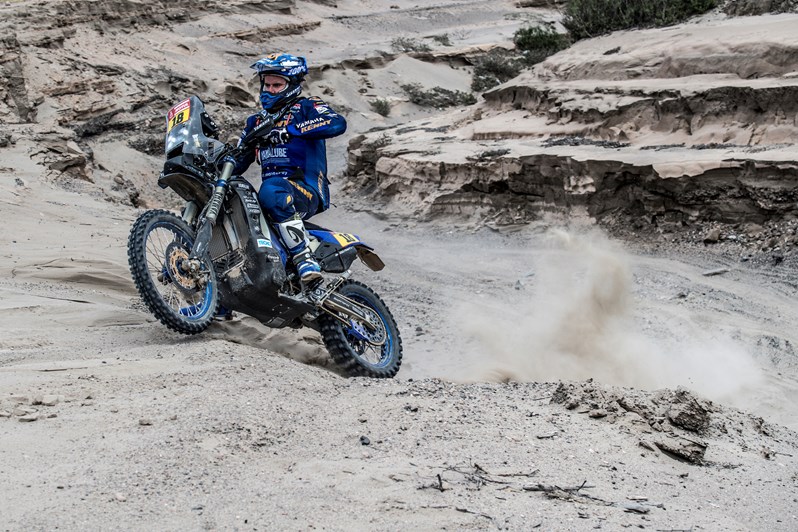 Putting in another solid performance today in Peru, Adrien Van Beveren managed to climb three spots in the provisional standings. Currently sitting 13 minutes behind the provisional overall leader and in fourth position, Adrien is looking ahead to the coming stages in the dunes of South America.
Stage three brought mixed fortunes for the Yamalube Yamaha Rally team. With Xavier de Soultrait and Adrien Van Beveren both enjoying a great stage and climbing higher in the overall rankings, their teammates Franco Caimi and Rodney Faggotter were unable to finish the stage, forced to sit out the rest of the 2019 Dakar Rally.
Suffering intense pain on his recently injured leg, Franco Caimi was forced to abandon the stage. As for Rodney Faggotter, a small technical issue after the last waypoint left the experienced Aussie with no chance of finishing the stage.
The two-day long marathon stage that takes competitors directly to the rest day kicks off tomorrow in Peru. Featuring a 405km timed special, stage four of the Dakar will bring all riders to the overnight marathon bivouac in Moquegua.
Dakar Rally 2019 – Stage 3 Provisional Classification
1. Xavier de Soultrait (FRA), Yamaha, 04:07:42
2. Pablo Quintanilla (CHL), Husqvarna, 04:07:57, +00:15
3. Kevin Benavides (ARG), Honda, 04:10:19, +02:37
4. Adrien Van Beveren (FRA), Yamaha, 04:14:24, +06:42
5. Sam Sunderland (GBR), KTM, 04:16:08, +08:26
6. Paulo Goncalves (POR), Honda, 04:17:13, +09:31
Dakar Rally 2019 – Provisional Overall Classification [After Stage 3]
1. Pablo Quintanilla (CHL), Husqvarna, 08:34:28
2. Kevin Benavides (ARG), Honda, 08:45:51, +11:23
3. Sam Sunderland (GBR), KTM, 08:46:40, +12:12
4. Adrien Van Beveren (FRA), Yamaha, 08:47:57, +13:29
5. Toby Price (AUS), KTM, 08:49:45, +15:17
6. Xavier de Soultrait (FRA), Yamaha, 08:51:20, +16:52