Yamalube Yamaha Rally riders tackle demanding Dakar Stage Two | News
Continuing their 2019 Dakar Rally adventure, the four Yamalube Yamaha Rally riders have tackled a fast-paced and highly-challenging stage two of the event in Peru.
Leading the team's efforts in South America, Adrien Van Beveren secured a strong seventh place result and is currently seventh in the event's provisional overall standings.
Living up to everyone's expectations, the 2019 Dakar Rally is proving to be demanding right from the get go. With stage two of the event taking competitors further south in the Peruvian countryside, all four Yamalube Yamaha Rally riders have safely reached the San Juan de Marcona bivouac.
Working hard to avoid costly mistakes during today's stage, Van Beveren posted the seventh best time in Tuesday's timed special. Currently seventh in the provisional overall rankings, the WR450F Rally powered racer is looking ahead to the coming stages of the rally.
"Today we were treated with a fast and difficult stage. There was a lot of fesh-fesh and some parts with loads of stones," said Van Beveren. "It's quite hard to feel comfortable racing in this terrain but I did my best to stay close to the leaders. There were also lots of tracks from the cars and it was easy to make navigational mistakes. In the dunes I felt good on my bike and managed to gain some time, but overall I had to be patient and try not to make costly mistakes. There's still a long way to go in this Dakar and I'm now set on tomorrow's stage three."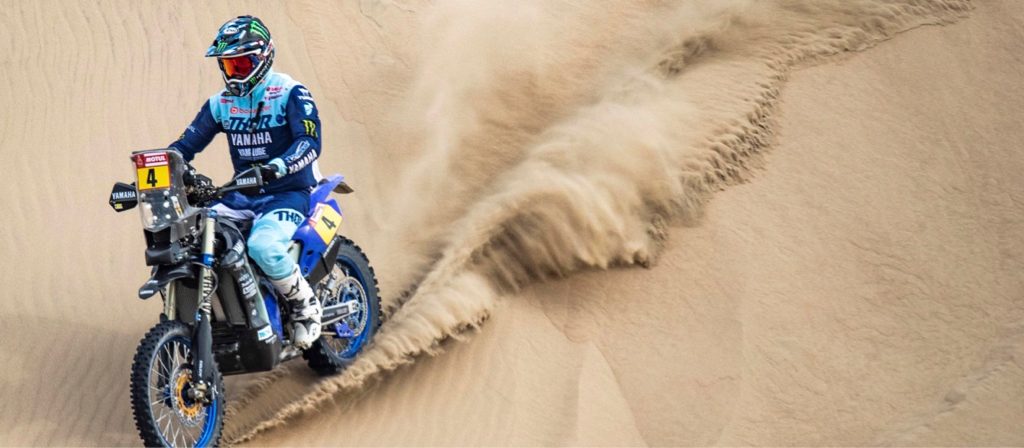 Xavier de Soultrait was the second Yamaha powered rider on Tuesday's special stage. Collecting a 13th place result on stage two, the rider from France is currently 12th in the provisional overall standings.
Suffering some pain in his recently operated leg, Franco Caimi opted to take no risks during stage two. Bringing his Yamaha home in 18th position, the Argentinean is positive for some better performances in the stages to come.
Experienced rally racer Rodney Faggotter put in another steady performance on stage two of this year's Dakar. Collecting a 29th place result, the Aussie is now 27th in the provisional overall.
"We're just two days into this Dakar and we've already entered the most demanding stages. The stage today was fast and long. For me, the goal is to remain consistent and bring my Yamaha back at the bivouac safely. It's all going according to plan so far and I'm looking forward to the dune stages to come."
Wednesday's stage three will see riders return to the dunes of the South American country. It features a massive distance of 798km and includes a timed special of 342km.