Short Squirt: 2017 Beta RR480 | Bike Reviews
We ride the Beta RR480 and the big girl doesn't disappoint.
There are some things that are hard to deny but is bigger really better? In most cases, yes, but in this case I'm going to say no. I've always been a fan of bigger bikes. I'm a lazy rider and tip the scales at 100kg so I like the extra torque you get from a big-bore four-stroke. But when I tested the Beta RR430 (ADB #453) and RR480 back-to-back I preferred the 430RR. That's not to say the RR480 is a bad bike, but the RR430 is awesome.
The RR480's suspension is exceptional. We rode at trail pace all day and I didn't have to change anything. It was incredibly accurate when I was steering through flowing singletrack and, while I never really got out of third, it refused to headshake or throw up any surprises in the fast sections.
The riding position is neutral and, unlike previous years, the handlebar bend, narrow and normal plastics, switchblocks and ergos feel just like the other colours. You could hop off a KTM or Husky and hardly notice the difference.
It does sit a little lower in the rear and the handlebar still feels a little too high when sitting but that just encourages you to stand up. The engine is significantly different from the 430.
The RR480 is incredibly strong and wants to keep moving and chugging along even when you are trying to brake for tight corners. The inertia of this bike is what makes it feel bigger than the 430.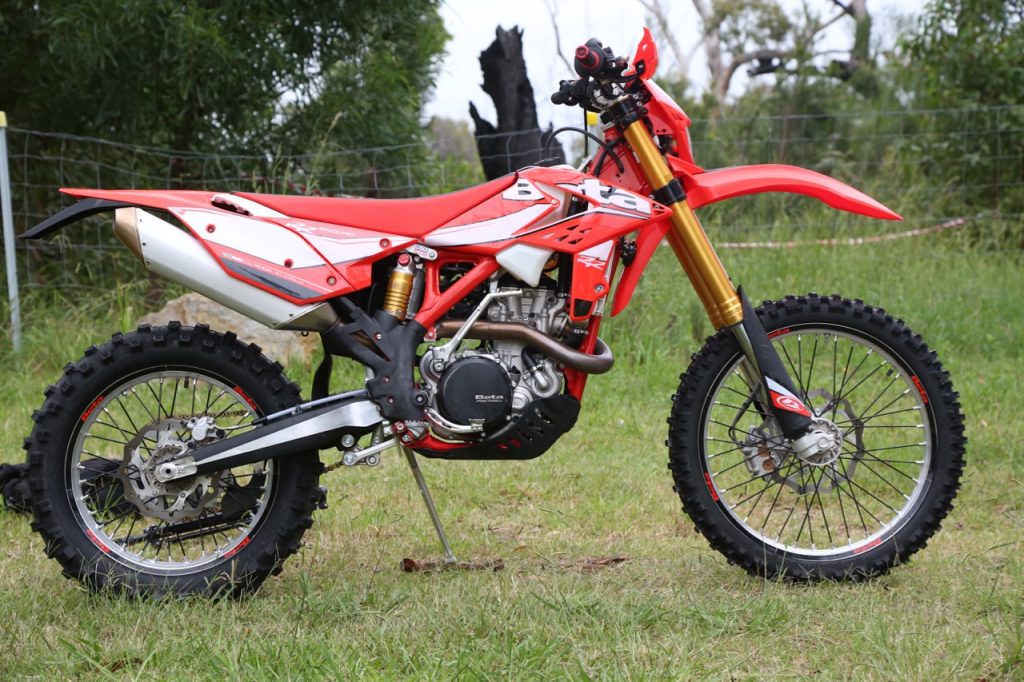 It's also a little more aggressive than the 430. The throttle response feels more abrupt. The 480 had done more kilometres than the 430 we tested, so maybe the throttle pull had become a little more slack and lost some progression with the extra hours on it, but I struggled a little to get the power to come on smoothly.
That being said, on the long hillclimbs the extra cubes were a massive benefit. Being able to use the 477cc engine's torque is a lazy mans game.
The standout feature of this Beta has to be the handling. For a bike with this many ponies, it's amazing how easy it is to carve through singletrack. But, in this case, bigger isn't better and if I was spending my hard-earned on a Beta I'd opt for the RR430 for it's superior engine. If I liked sitting down and being lazy with my gearchanges it would be hard to go past the RR480.
Editor Mitch Lees
See the full review in ADB issue #454