1976 Montesa 250 Enduro: Heritage Ride | Bike Reviews
In 1976, if you wanted to ride enduro bikes then the choices were limited and determined by your financial situation.
The Europeans were producing enduro machines but the first proper Japanese offering, the Suzuki PE250B, was still a year away.
The choices were to spend up big on the exotic Euro machines or go with a cheaper Japanese trailbike like a Yamaha DT1, and then spend time, effort and more money on suitable modifications. Needless to say the Japanese bikes were popular but most of the winners were riding something from Europe.
The Spanish Montesa 250 Enduro was instantly recognisable courtesy of the bright red paint on the tank, contrasting with white mudguards, unique "crinkle cut" fins on the air-cooled cylinder and laid-down shocks. The fin pattern was an attempt to cut vibration as "fin ring" was adding to two-stroke noise output. Decibel limits and noise meters were coming onto the scene.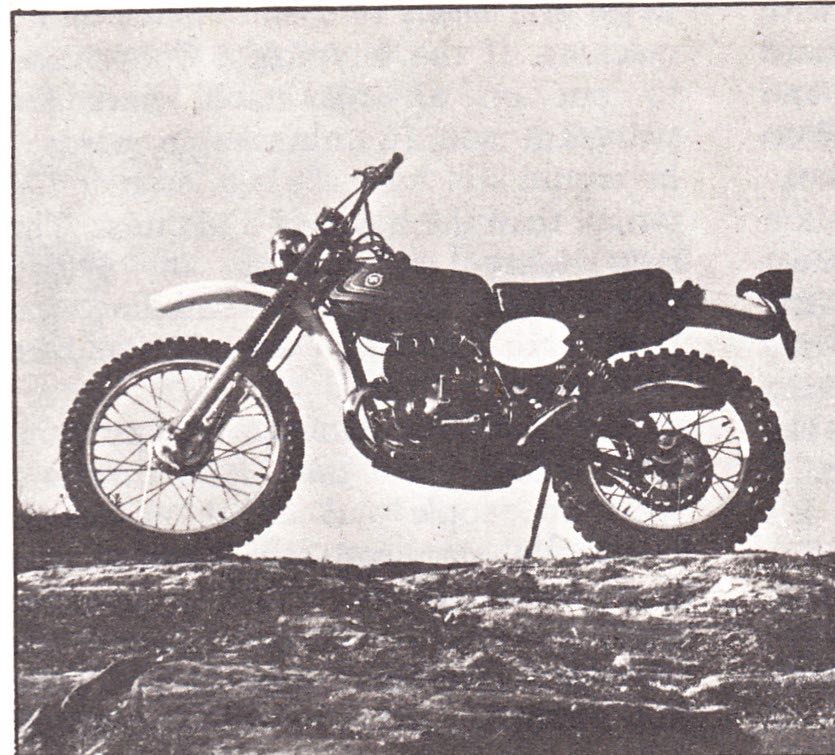 The tank held 12 litres of premix which was metered by a 32mm Amal carburettor on its way into the 70mm x 64mm engine and was fired by a Motoplat ignition. The power produced then went to the back via a five-speed gearbox with the gearchange on the left side. The laid down shocks, an early long-travel design, were by Telesco giving 165mm of travel while the Betor fork gave 177mm. Ground clearance was 240mm and footpeg height 340mm.
Air filtration was by an oiled-foam filter, the frame was a single-downtube design made from cold-drawn tubular steel and the cable-operated drum brakes measured 130mm on the front and 150mm on the rear. Wheelbase was 1425mm, seat height 860mm and the weight came in at 106kg but the test neglected to say whether that was wet or dry. It was only Geoff Eldridge's second issue.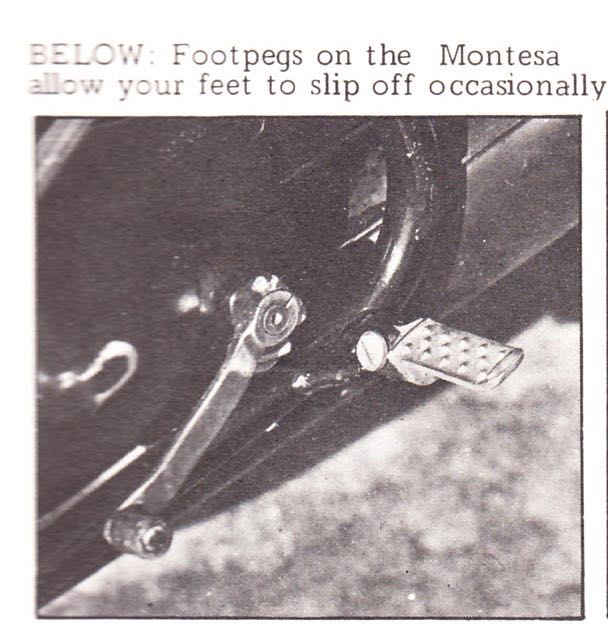 Chain adjustment was by snailcams, the footpegs were folding but only made of flat steel with protruding dimples while the expansion chamber was underslung and protected by a fibreglass bashplate which shattered after a few good hits. The fuel tap was unusual in that it was a Y-shaped rubber piece with a ball bearing inside that you squeezed to the on or off position and was not easily operated in muddy conditions.
The brakes were good and the Monty pulled strongly even up a long rocky climb carrying a pillion passenger. Yes it came with pillion pegs, so ADB tested them out. About the only negatives mentioned in the test, apart from the fuel tap, were that the brake pads disappeared after water crossings, a common thing with drums, and the chain tensioner rubber wore quickly. Parts prices were good, by todays' standards at least, and the supply was reliable. Rings cost $4.43, a gearlever $9.75, clutch and brake cables $1.75 and a cable for the quarter-turn throttle was an astronomical $4.50.
There was no doubt that those in the market for a 250 enduro mount were getting a competitive bike in the Montesa 250 Enduro, as the test bike had already scored a win in the 250cc class at the Amco 1000 Desert Rally ridden by Laurie Alderton and a sixth outright at a six-hour short track race. Heritage Editor Warren Jack