The Kawasaki AE80 belongs to an almost forgotten classification, that of the "midi" bike.
THE BASICS
WHAT
1982 Kawasaki AE80
WHEN
ADB, April, 1982
PURPOSE
Fun bike
HOW MUCH
Price not given
The Kawasaki AE80 belongs to an almost forgotten classification, that of the "midi" bike. The idea behind midis was to make them small enough and tame enough for kids and learners but big enough with adequate performance for adults to use as a playbike or, in the case of the street-legal AE80, a commuter.
Full-sized dirt bikes have a 21-inch and 18-inch wheel combination and minis use a 17/14-inch set. The mid-sized Kwaka fitted neatly in between with a 19-inch front wheel and 16-inch rear.
In the test, ADB suggested it was an ideal bike to take on holidays for the kids or for hubby to use to get to work on the days when the little lady needed the car to do the shopping. It was so quiet that the kids could even cut continuous laps around the Hills Hoist in the backyard without disturbing the neighbours watching the Mike Walsh Show.
The lights and blinkers were full size, the horn was loud and the rear rack could take a small load easily. Performance was more than enough to keep up with surrounding traffic if commuting but not so powerful as to scare any learners. The only problem for learners was the slightly high first gear causing a bit of stalling until they adapted to it. GE's neighbours' kids were all instantly attracted to the test bike and he spent a good bit of time teaching them. They didn't seem at all interested in the RM250Z or the IT465J he also had in the garage.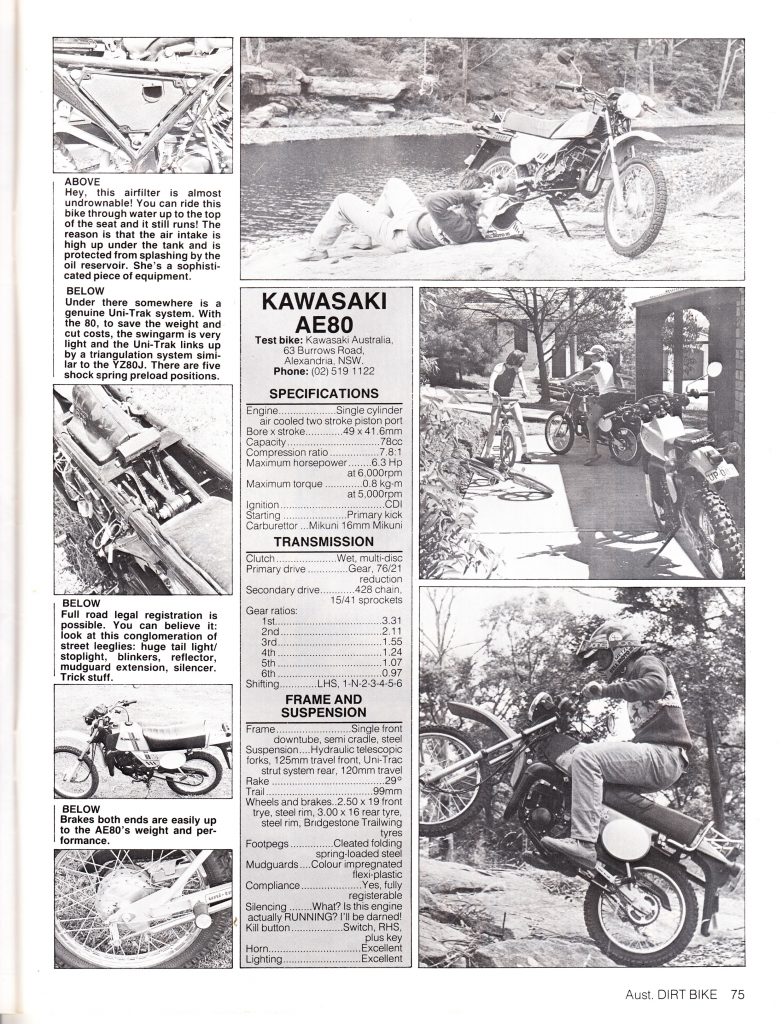 The Kawasaki AE80 was a suburban kids wet dream in 1982. Even the more motorcycle wary parents were soon won over by the cute green paint job and quiet exhaust note.
The motor was an air-cooled, piston-port two-stroke with oil injection, the radiator shrouds were for show only. The oil reservoir was behind the shrouds and did a great job of protecting the air intake under the tank from water splashing.
Capacity was 78cc with 6.3 horses kicking things along through a six speed gearbox. The fires were lit by primary kick and a CDI ignition and fuel came in through a 16mm Mikuni carburettor.
Spring-loaded cleated footpegs gripped the rider's boots and the colour-impregnated guards were of the thermoplastic type. Conventional telescopic forks gave 125mm of travel and the Uni-Trak rear had 120mm with five spring preload positions. The final word was that it was the ideal bike on which to introduce kids to dirt. While not the best bike for a sole form of transport on the road or for trailriding it was perfect as a family extra.
Warren Jack
See the full feature in ADB issue #451