Nigel Fern took a box of old rusty KX250 parts sitting in the backyard and built this beast of a 1988 KAWASAKI KX250.
Nigel Fern took a box of old rusty KX250 parts sitting in the backyard and built this beast of a 1988 KAWASAKI KX250.
THE RIDER BERNIE DEN HERTOG
An American mate of mine, Mike Secor, and I were all set to ride in the Vintage Motocross of Nations in Britain on borrowed KTM 500s when the bikes' owner pulled out. I had been chomping at the bit to race at Farleigh Castle and see the amazing old two-stroke iron on display. I was shattered.
Amazingly, the VMXdN organisers pulled some strings and, suddenly, it was on again thanks to the generous efforts of one of the other team managers, Nigel Fern. He offered us rides on two of his green bikes and his team was reshuffled and rebranded Team Kawasaki International. We flew to the UK and Nigel and one of our new teammates, Mark Dudley, took us under their wing. The next day I got the chance to take the 1988 KX250 for a quick ride in a paddock and, it rocked.
It was certainly a surprise package for me and really showed that the two-strokes did not lack horsepower when compared with modern steeds!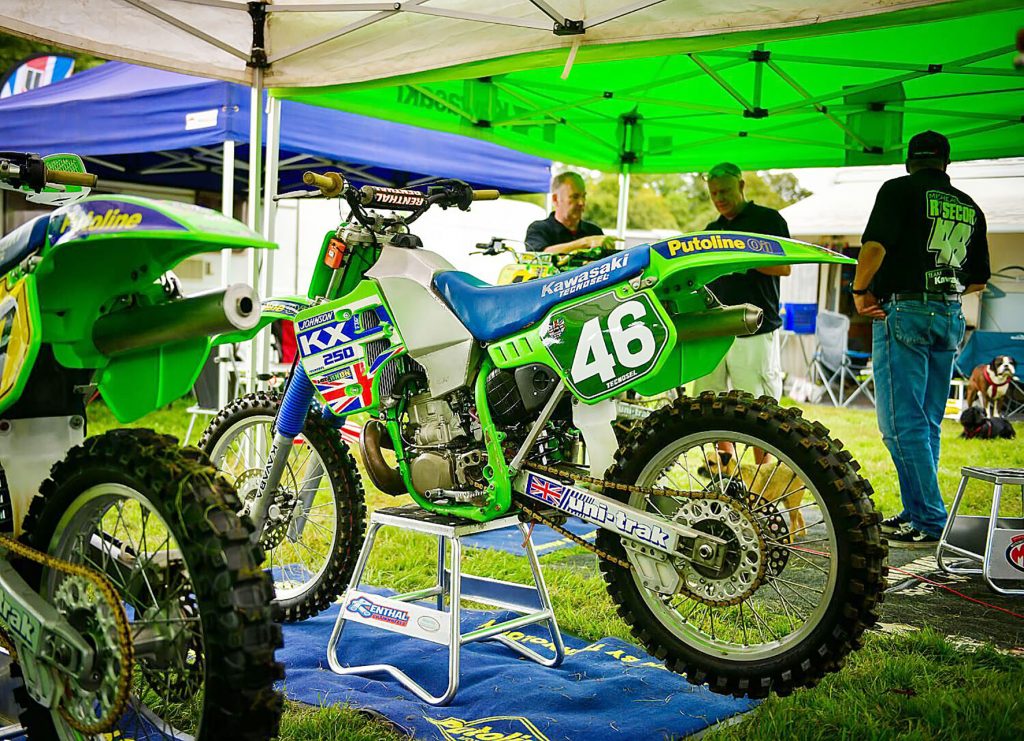 It was hard to believe it had been rebuilt from a pile of parts buried in weeds in someone's backyard. The 250 was a screamer, a very fast bike indeed and its pedigree was never in doubt after that first run in the paddock – it hammered! It had great brakes. The suspension was a tad soft for my 6ft 2inch frame but I could hardly complain.
The alloy tank gave the bike a nice low C of G, and it certainly looks the part.
The handling was great, and with a support crew on hand between motos to spin the spanners we were certainly given the red carpet. We didn't win the teams categories, that was Belgium and Germany. American Mike Brown won all our team classes on his Husqvarnas by massive margins and was a rocket to watch from the sidelines, let alone on the track. He blasted past me like I was chained to a tree.
Big thanks again to Nigel, Bev, Mark, Douglas, Johnathon and the whole UK crew for a fantastic time.
OWNER/MANAGER NIGEL FERN
I have been building old Kawasaki two-stroke bikes for many years. I was very fortunate to spanner for a good friend of mine, Brian Wheeler, back in his GP days. After his retirement from racing he concentrated on helping his son Bradley.
Back in 2012 I purchased a 1988 Kawasaki KX250 F1, Brian took one look at it and said "we're going Evo racing!" With a bike only two weeks old, we rode the Dave Thorpe Evo Series, and won the event overall. In 2012 and 2013 we attended the VMXdN at Farleigh Castle and won both years riding with the England team.
I built this bike for a good friend of mine, Danny "Magoo" Blakely. It was a real basket case when purchased. The frame/chassis had been sitting at the back of a garden in damp undergrowth with the engine in pieces stacked in two plastic boxes.
As with all my bikes, it was a full strip-down rebuild. The frame was blasted and welded in places for strengthening, the engine, brakes, swingarm, triple-clamps, subframe and hubs where all vapour blasted. The crank was split, polished and a new Wossner conrod fitted, all new main bearings, along with gearbox bearings, fitted. I sourced a billet clutch basket and fitted this along with a new clutch and springs. The bore was replated, the power valve cleaned, polished and then modified before being fitted to the cylinder along with a new Wossner piston.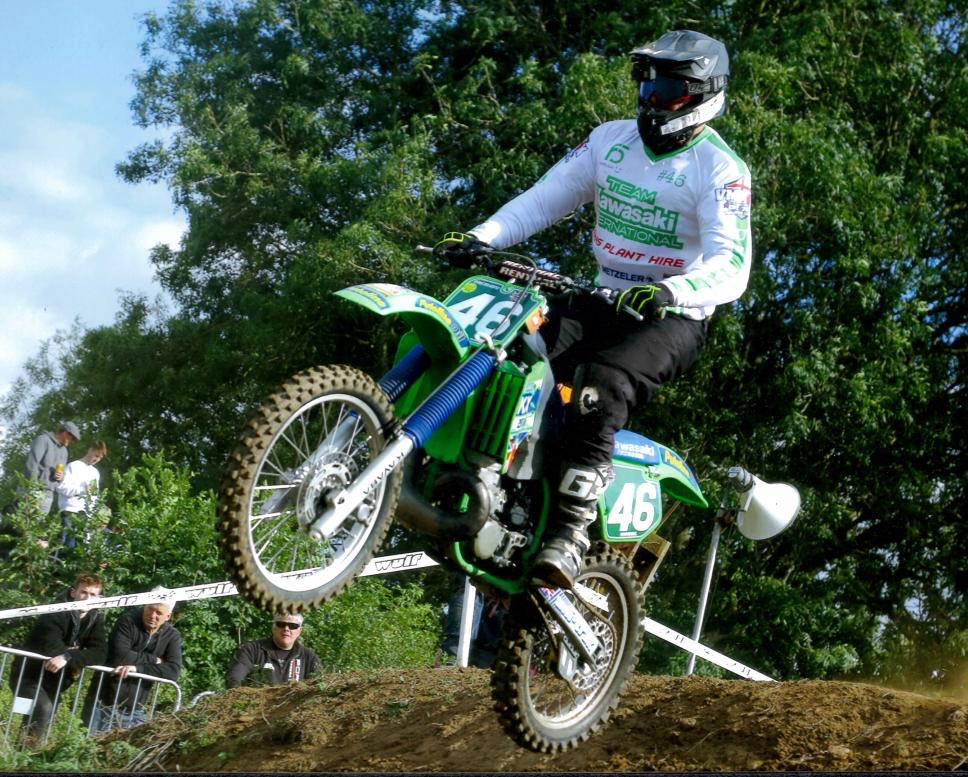 Oversized radiators were fitted, along with a hand-made aluminium tank, what a work of art! A new Keihin PWK39 carburettor was used, along with a V Force 3 reed block to help the old girl breath. I went with a handmade cone pipe coupled to a hand-made silencer to make her sing.
Magoo started to race her in local and national meetings and in September, 2015, we took her to Farleigh for the first time. Danny was down as a reserve rider but he went out in qualifying and set the fastest lap. We were up against some strong, young lads who were 25 years his junior but came away from the event with the overall win!
The following season, Danny was racing this bike again in local and national meetings and taking some good, solid wins with her. We raced the VMXdN with her again and came away with second overall that weekend, being just beaten by local GP rider Jordan booker who was 22 years younger than Danny. The following year Danny switched to KX500s.
Overall, all the Kawasakis have proved to be very successful at high-end racing with some well-respected veteran riders taking wins at Farleigh, national and local events. I'm currently building some more 250s and 500s but with some trick bits and a couple of ex-factory parts too. I just love helping to keep the dream alive of these old two-smoke girls and helping riders like Bernie DH to live the dream of riding them. Wolter Kuiper
5 THINGS YOU DIDN'T KNOW ABOUT THIS 1988 Kawasaki KX250
1 The tank is based on the 1989 slimline "low boy" design.
2 The bike runs the stock 43mm Kayaba fork that's been revalved and serviced.
3 New Excel rims have been laced to the stock hubs with stainless steel spokes.
4 Bernie didn't run the trick, handmade cone pipe and silencer built for the bike.
5 Mike Secor rode a fire-breathing KX500.