While we await the release of the first range of GasGas motorcycles under KTM rule, we take a look back at the Yamaha-powered EC 250 FSR from 2010!
THIS FEATURE WAS PUBLISHED IN ADB ISSUE #374 – NOVEMBER 2010 Gas Gas has been turning a lot of heads lately (ours included) with their trick-looking stable of 2010 enduro weapons. The baby of the four-stroke range, the Gas Gas EC 250 FSR is the first 250F from the company, which has manufactured enduro bikes for the last 21 years. To get the model off on the right foot Gas Gas played it safe and imported Yamaha's five-valve WR250F power plant, eliminating potential gremlins while they develop their own engine.
While likely to ruin the pure "Euro" experience for some buyers, the five-speed sushi-powered Spaniard is actually a smart idea. With Yamaha's hallmark smooth, linear delivery and no nasty surprises it's an engine perfect for the beginner-intermediate rider and – with a myriad of upgrade options out there (such as hot cams, hi-comp pistons and big-bore kits) – there's ample scope for more serious riders to create a competitive E1 class racer.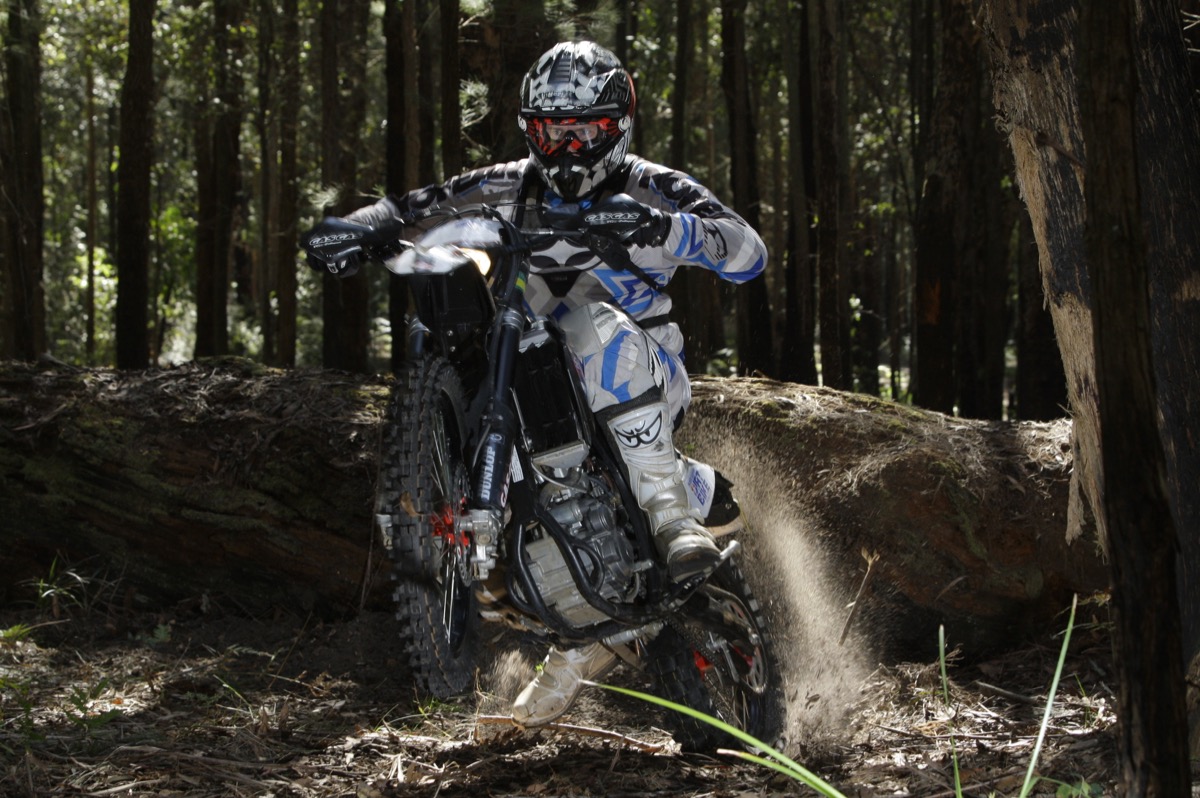 In stock trim there's more than enough grunt for typical trail riding, but heavier or faster riders will find the WR-F donk frustrating, especially when hills are involved. I couldn't help feeling like Homer Simpson wringing Bart's neck, while trying to keep up with my quick trail buddies!
Clutch action is light and predictable thanks to a hydraulic clutch lever, which is actually connected at the engine to a short cable, operating the Yami's clutch actuating arm.
The best thing about the Gas Gas range is they've developed one of the most stable and precise handling chassis' around, which makes carrying your speed a breeze once up to pace. It turns predictably, changes lines on command and allows you to get creative on the trails, so you can keep pace with your higher-powered mates.
The two-fitty gets sexy titanium nitride-coated Marzocchi legs (the rest of the range sport Sachs forks), which handled the roughest conditions well with no hint of deflection. Seat height is the same as the bigger bikes (940mm), but a clever offset shock bolt eyelet allows shorter riders to lower the seat height by up to 10mm. At the rear, the Sachs shock handled business without kicking and helped the rear wheel hook up well.
As with all Gas Gas's the side stand is a pain in the arse, as the miniscule foot disappears into soft ground. Overall, the EC 250 FSR is a quality offering from a small and passionate brand and an eye-catching point of difference next to your bland branded mates. Ant Lyon
2010 Gas Gas EC 250 FSR Specs
ENGINE
Type Liquid-cooled 4-stroke DOHC, 5-valve
Capacity 250cc
Bore and stroke 77mm x 53.6mm
Fuel system Keihin FCR-MX37 carburettor
Transmission five-speed
Fuel capacity 7.5L (claimed)
DIMENSIONS
Weight 110kg (wet)
Pricing
Warranty 12 months
RRP $11,799 (plus ORC)