With the new KTM and Husqvarna enduro models due any time soon, we thought the time was right to take a look back to April 2014 where we pitted the KTM EXC 300 against the Husaberg FE 501.
2014 Husaberg FE 501 VS 2014 KTM 300 EX
There's lots of choice in the trailrider's world right now, but these two bikes, the Husaberg FE 501 and KTM 300 EXC, were two of the most talked about in 2014. Aussie enduro champ Geoff Braico and I, a 40-year old trailrider with the odd grey hair to prove "experience", grabbed these two enduro weapons and spent a day on a hot and dusty enduro loop, packed with booby traps, a mix of tight sand ruts and open flat-out fire trail, monster logs and rocks, sand and everything in between. So which bike should you choose? Well, it really depends…
For flat out fun, the 300 EXC looks pretty good. It is a lively ride, moving around more than the heavier FE 501, sounding like the fires of hell when on the pipe and snappier than a crocodile farm at the throttle.
It whips into turns quicker than you thought you were capable of – especially when you haven't ridden a two-stroke for a while and forget to deal with the lack of engine braking – and once you're used to how to use the power, it's addictive.
But the 501 is fun too, especially when it comes to exploding large sand berms, brapping over a bit of trail rubbish with a well-timed stab of the throttle, or swinging your way down a long, dusty fire trail.
The 300 is more tiring to ride fast for the average trail boss, so the 501 on a long ride may remain fun long after the 300's zappiness has just become a nuisance.
It's these attributes that have created the unlikely situation where riders are forgetting the 2T/4T divide and are trying to choose between a pair of bikes on opposite sides of the combustion fence.
Which brings up a good point: avid four-stroke riders are more likely to find something they like in the two-stroke's nature than the other way around. You can set the 300 up to grunt thanks to a standard ability to choose between two ignition maps and three power valve springs. That's why some riders refer to it as a six-stroke – an engine so good it can ride like a two- or four-stroke.
The FE 501, on the other hand, is less likely to offer anything a two-stroke rider loves, as it's heavier and totally un-two-stroke-like as it goes about its trail business. This isn't a bad thing, it's just that this unashamedly four-stroke monster is less likely to please those crossing the great divide than the other way around.
Where the FE 501 shines though is that engine. If you run an older big-bore four-stroke – think KTM 525 EXC – you won't believe the improved useability of this thing.
If you also can't stand hiding a bottle of two-stroke oil in your airbox or hydration pack somewhere, then stuffing around in the servo or refuelling area trying to mix it properly, then your decision is made.
If your long trailride, however, involves tight technical terrain, any sort of pushing/lugging/grinding, then you'll kiss the ground the lightweight 300 rolls over. From lifting it off the stand, to rolling it into the ute, to picking the thing up off the ground after a gutsa, the 300 is meaningfully lighter. And this adds up over a day.
Trying to split the pair on features is all but useless – they are very similar spec. Both offer electric start, quality suspension (many trailriders will be comfortable with the 4CS fork on the Husaberg, it's mainly racers who need more than a spring change or clicker adjustment to firm things up), excellent brakes, solid plastics and easy access to the air filter, suspension adjustments and dash features.
The 300's gammy starter of years gone by was fixed the year before last, and both fire up with a button push very reliably, even from cold. Even here though, the 300 has a fun edge to it, the starter machine-gun-like in sound, though no longer a novelty on a two-stroke.
Price is a different matter. The FE 501 asks for $13,295 (plus delivery, etc), the 300 EXC just $11,995. That's not a huge gulf, but significant, and when you add in the proven cheaper running costs of a two-stroke, then a tight-arse's choice is made. The 300 EXC is a no brainer if money is an object of scarcity in your life.
So which would we pick if we couldn't have two? Geoff was a fan of the two-stroke, while I tended towards the four-stroke, mainly due to our age gap and differing riding pace. But each of us could be tempted to switch camps pretty easily. And we did, in fact, swapping bikes all day and finding something to like about each every time.
These are a formidable pair and each may have respectively blunted the edge of the traditional powerhouse 450cc category once and for all, and one has definitely put two-strokes back on the map. As always, buy the one that suits your type of riding as described here, but if you make the wrong choice, you won't be disappointed!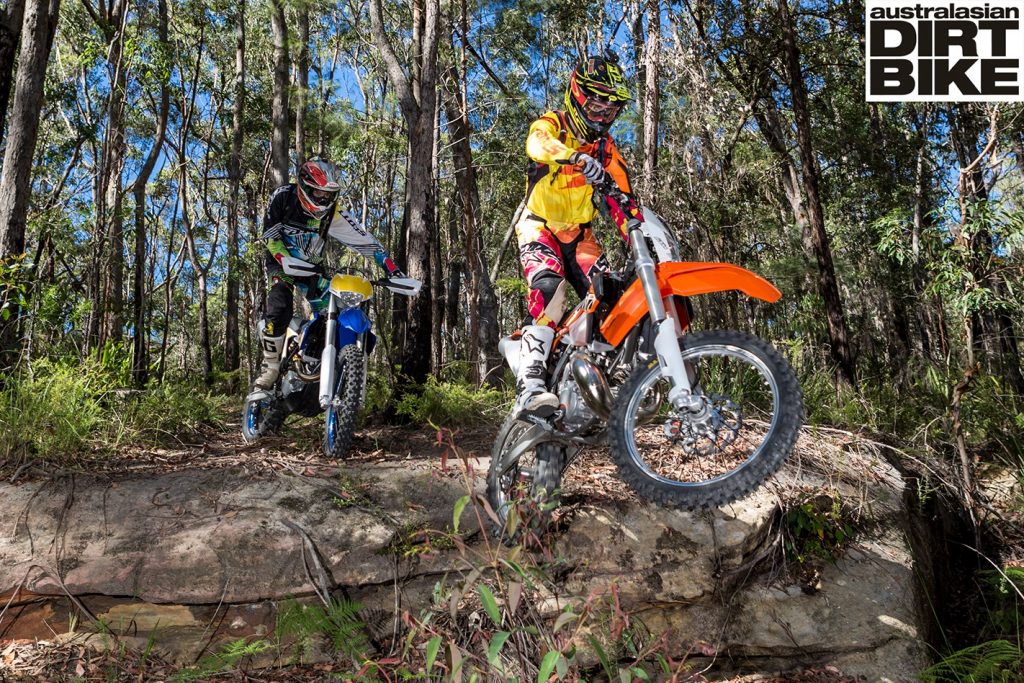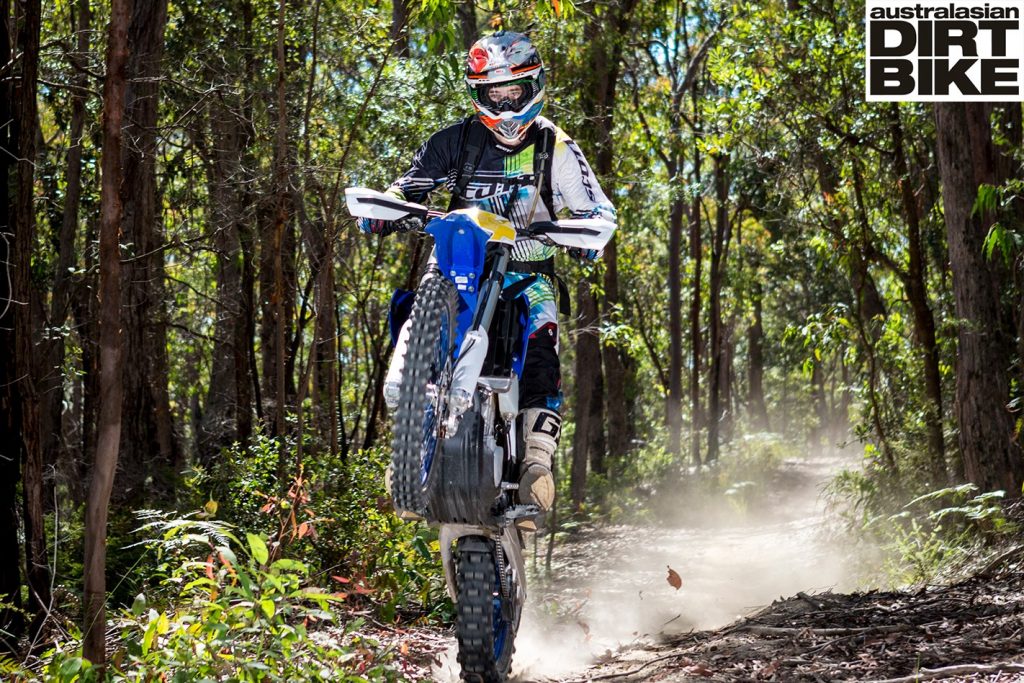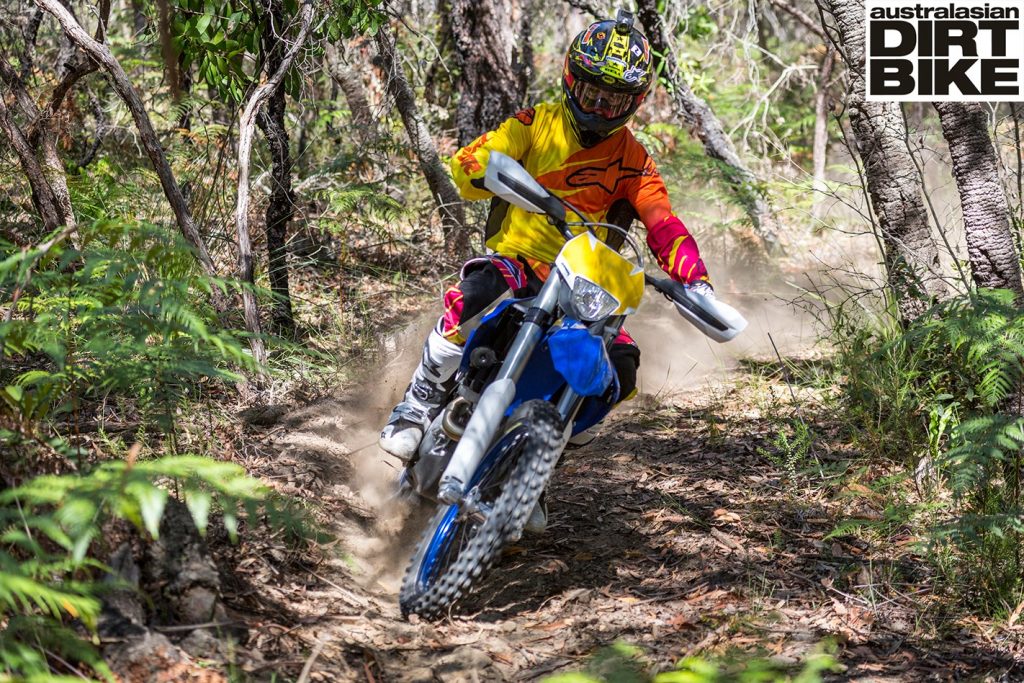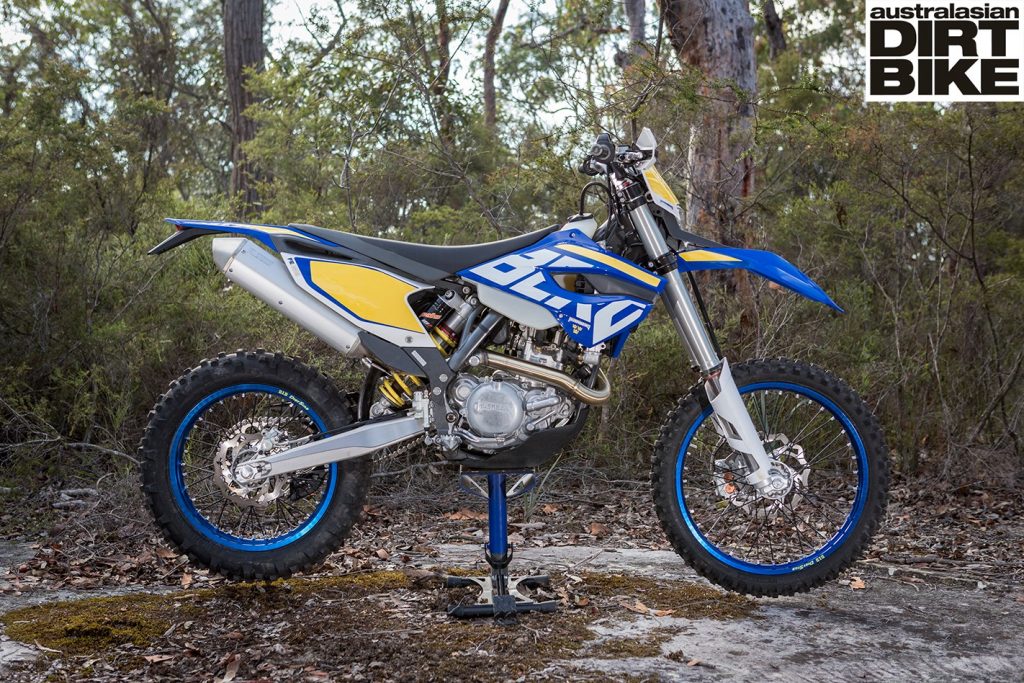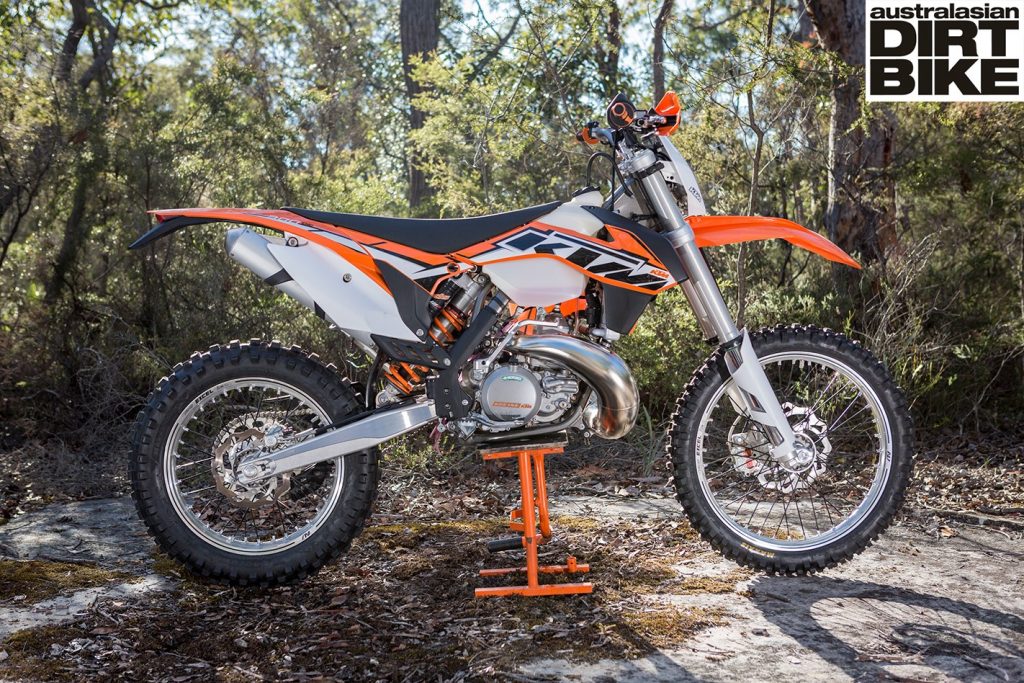 To receive the latest news, reviews and video highlights from the world of dirt bikes, sign up to our weekly newsletter here.