We ride the 2019 BMW R 1250 GS, a big bike which has some serious off-road prowess.
Social media throws up all kinds of trash. Two bits that stood out about the BMW R 1250 GS were – 'It's just not value for money anymore' and the age-old comment about big adventure bikes, 'It's just too heavy for serious off-road riding'.
Well we already know that big bikes can do some serious off-road riding. Our test of the off-road biased R 1200 GS Rallye X proved that. But what about the standard GS?
Do we really need the extra cubes for more power? I'm actually a fan of small bikes but when the tech and the engineers make a bike feel smaller than its actual size suggests then they've got my attention. BMW's big change from air/oil cooling to air/water cooling in 2013 included a huge jump in handling, the bike was heavier but felt lighter and smaller.
The engine performance went from capable old dog to spring chicken, and now ShiftCam variable valve timing has produced a testosterone-fuelled rooster. So short answer, yeah, who doesn't want to go larger? The other major addition for 2019 is the TFT dash and it's bloody brilliant.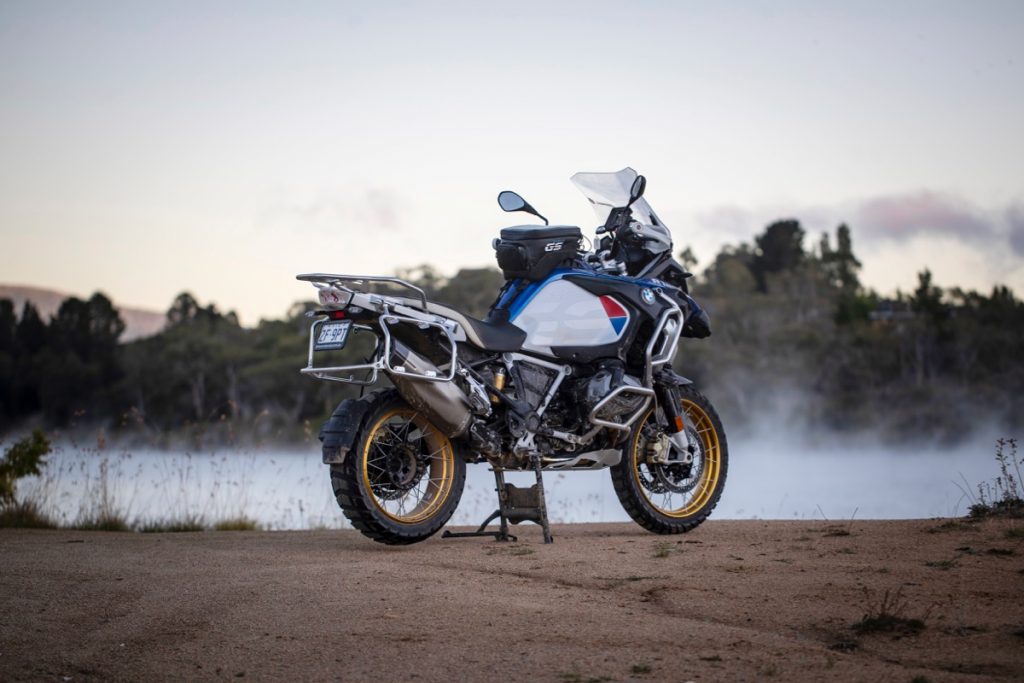 The new numbers are impressive on paper. The 1254cc engine, up from 1170cc, produces 100kW at 7750rpm, up from 92kW. Torque has increased from 125Nm to 143Nm at 6250rpm. In other words, a seven per cent capacity increase has delivered 14 per cent more torque and nine per cent more power.
To give you some more perspective, Charlie and Ewan rode around the world with 63kW and 102Nm. The BMW R 1250 GS has a whopping 110Nm available at 2000rpm, which demonstrates how good variable cam timing can be.
ShiftCam allows the bike's power to be less of a compromise between off-road and on-road. The inlet camshaft has two lobes per valve, one for partial load and one for full load. Depending on the load and engine speed, usually at about 4500-5000rpm, the camshaft shifts across and the more aggressive cam lobe sits in the hot seat.
The BMW engineers are a tricky bunch. They have the full-load cam lobes opening the valves together, whereas the partial-load lobes slightly stagger the valve opening to create a swirl of air-fuel mixture for a more efficient burn, so fuel economy is 4 per cent better than the 1200, but even better is how smooth the engine runs at idle, 100rpm lower than on the 1200.
This meant less chance of stalling on the infamous Tom Groggin River crossing. I was a little disappointed when ADV superhero Miles Davis answered my Shiftcam question with: "Well, I wouldn't say it kicks in." He said you just feel it has more up top.
MORE UP TOP
I had four days and 1400 kays on the GS and GS Adventure to find out whether I could feel it up top and to ponder if the ADV crowd would see value in the new tech. Not too many ADB readers would be crying out for more up top on a 1254cc 249kg bike but I am also a road rider and a bit more would be welcome. Our first day was all on the black top which was a great way to wear in the new Metzeler Karoo 3s and play with the myriad of options on the bright, clear and super-detailed TFT dash. I hooked up my iPhone and Sena 20s comms system with ease, asked Siri kindly to "play music" and cruised east from Canberra in the sunshine with no glare off the slightly matte and very flat instruments, checking out my album art work, the tyre pressures, planning my coffee breaks (yes, you can actually do that), checking out the four ride modes and various suspension options.
Some settings are available only while stopped, such as adjustments within the rider modes. The user interface is very intuitive and, with only a short briefing, I didn't need the manual at all.
My relaxed riding and music interlude was interrupted when we stopped for photos at the beginning of some tight twisties. I would have preferred a few more kays under my belt before winding it up.
The tyres still had a sheen on the edges and I was still in cruise mode.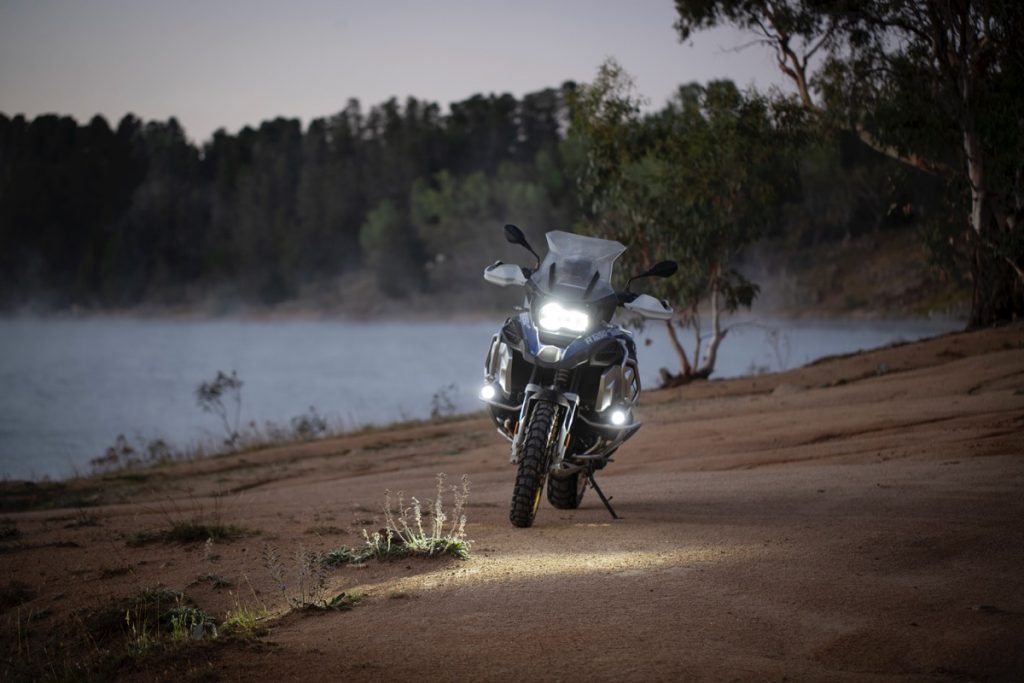 After bumbling through a few corners I realised I hadn't checked out the Shiftcam! Some of you may know the Kings Highway. We started on Clyde Mountain and finished at Clyde River. I can't really say too much about that 30 kays due to, ahem, not wanting to incriminate myself, but let's just say I am a huge fan of dirt's grippier cousin. Twenty five years ago when the oil heads were released I was scraping the pot on Turn 12 at Eastern Creek, I now know it wasn't the fastest around a corner but, the point is, GSs handle well.
Back then it was a novelty to have an adventure bike doing so well on bitumen. Now, it is expected and there is stiff competition. The GS still loves being cranked over, only now it really goes hard. Sure there are more powerful bikes and I don't think it has quite the top-end of the Multistrada Enduro or KTM 1290 but it sure feels quicker than the R1200GS. Could I feel the Shiftcam? Hmmm, maybe.
There is a power surge in the rev range where the cam shifts. It is quite noticeable and I would definitely miss it riding my old man's 2015 R1200GS. The engine is now even smoother than the 1200 wasser boxer, and that is a smooth engine! It is a tall bike and doesn't flip flop like a Ducati Panigale yet it is a brilliant road bike that deals perfectly with that mid-corner bump that features on so many Aussie roads.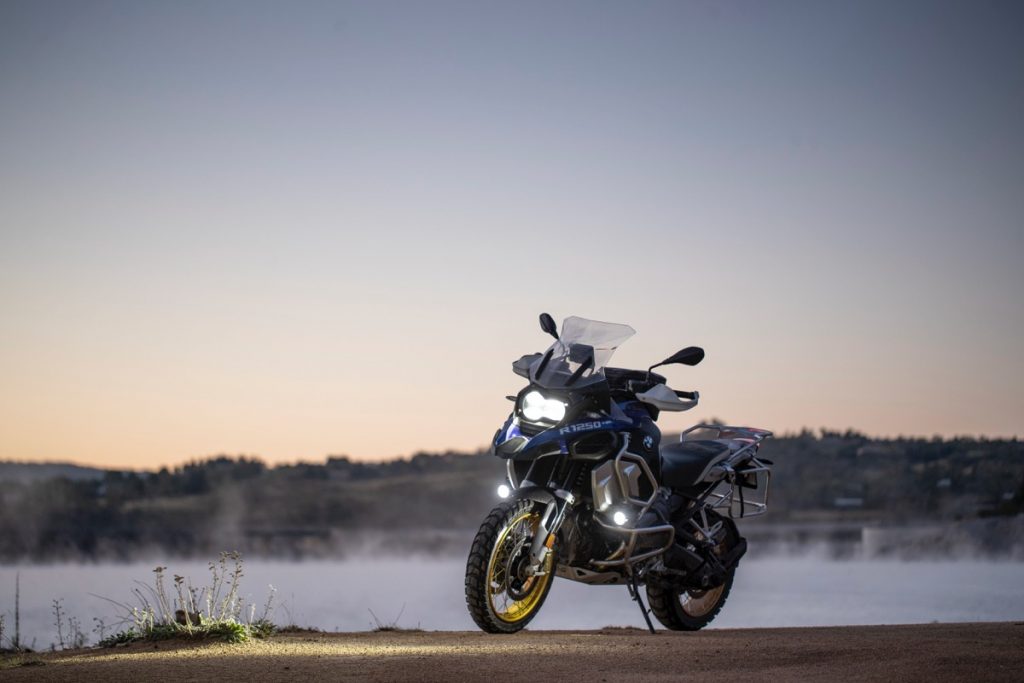 With the power increase the engineers tweaked the traction control. Previously in the road modes I would turn Dynamic Traction Control off. While cornering, little bumps in the bitumen surface would make the TC drop power and I hated that. It was much better to let it slide and re-grip in a natural way. On the Kings Highway I found a few such bumpy corners and proceeded to crank it over in third-gear, full-throttle which usually gets a slide going. Well something happened, I'm just not exactly sure what.
The rear-end felt a little fluffy, it slid a bit but not like I was expecting. I tried a few more corners and had similar results and came to the conclusion that I really like the new traction control. It will remain on in future.
THROWING IT
For an ADB reader it would be easy to go for the most dirt-oriented version, the $30,240 Rallye X, but I was given the standard GS ($23,565) and GS Adventure ($25,540) to punt through a billion corners and a million erosion mounds, down the coast and over to Albury via bucket-list country, aka the Snowy Mountains. The first challenge was uphill on a dry, dusty and rocky power-line road.
The GS just felt amazing in second while weighting and unweighting the suspension for traction and setting up for small monos over the mounds. It's a big bike but throwing it around like a dirtbike, with its low centre of gravity, feels so natural. We didn't tackle super-rough tracks but it plods and steers very well when bush bashing over logs and up and down steep embankments. We did some easy singletrack and that was fun but you'd definitely get more singletrack thrills on an enduro bike. If you're a bit rich and have 25-30k to splash on a second bike you might enjoy some bigger multi-day/week trips, maybe with a partner on the back. Okay, so scrap the partner idea… Like me, you obviously like to stand up and flog it through fire trails, constantly practicing wheelies, smooth landings off erosion mounds and the elusive start-sliding-before-the-apex slides! Yeah those ones, you can't do them with a partner on the back.
The BMW R 1250 GS could easily satisfy the off-road needs of skilled and not-so-skilled dirt riders. You might want the Rallye X to ride Finke, as Davis did. Anything else and the standard GS will deal with it. The GSA has longer travel suspension and 10 litres of extra fuel but is 19kg heavier (268kg wet).
MANY OPTIONS
I preferred the GS over the GSA simply because of the weight, the GS just handled better. On both bikes I settled on the Dynamic ESA setting which sets the preload on the go. It just works.
Miles gave me a quick lesson sliding at low revs and the BMW R 1250 GS is the perfect bike to practice on.
Come into a slippery corner on a clay-capped road standing up, a little bit of back-brake slide, tip the bike onto the inside of the tyre and, in a taller gear than you would normally select, feed on the throttle before the apex. Boom, you're sliding like a legend.
I did lose the front a few times but the wide handlebar and Karoos made light work of the correction. It's not all roses though. Both the GS and GSA were a bit clunky using the power-shifter in first, second and third. I tried to perfect the shifting without success.
The big ADV bike sector is definitely the ultimate bike for Australia. The bitumen and dirt capabilities have little effect on each other. The GS could exist solely as a dirt or as a road bike and still be well regarded. Obviously it will never replace an enduro bike for singletrack but it is, without doubt, great value for money and extremely capable as an off-road bike. Take that you internet trolls!
BMW R 1250 GS & R 1250 GSA
Engine
Type DOHC, four-valve flat twin
Displacement 1254cc
Bore & STROKE 102.5 x 76mm
Cooling Air/liquid
Compression ratio 12.5:1
Fuel metering Bosch EFI
Tank capacity 20L/30L
Transmission Six-speed constant-mesh
Clutch Brembo hydraulic, wet multiplate
Dimensions
Wheelbase 1514mm/1504mm
Seat height 850-870mm/890-910mm
Ground clearance N/A
Weight 249kg wet/268kg wet
Suspension
FRONT BMW Telelever, 190mm/210mm travel
REAR BMW Paralever, 200mm/220mm travel
Brakes
Front BMW four-piston, radial 305mm discs
Rear BMW twin-piston, 276mm disc
Running Gear
Handlebar BMW tapered alloy
Front tyre Metzeler Karoo 3, 120/70-19
Rear tyre Metezeler Karoo 3, 170/60-17
Price & Contacts
Price $23,565/$25,540
Web bmw-motorrad.com.au
Phone 1800 813 299
Warranty Three years
THIS FEATURE WAS FIRST PUBLISHED IN ADB ISSUE #476 – MAY 2019 | WORDS: JOSH EVANS, PICS: DEAN WALTERS