If you're looking for expert set-up tips and secret tricks for dialling in a Gas Gas EC300 I'll save you some time because you won't find it in this article.
You want to know the best thing I did the whole time we had this 2019 Gas Gas EC300? It was ditching the stock 48-tooth rear sprocket and installing a 50-tooth Renthal Ultralight, that's it!
Oh, and I knocked two clicks off the low-speed compression damping on the rear. Stop the presses! Save for the small tweaks mentioned above, this 2019 EC300 gave me 12-months of trouble-free bliss and all it asked of me was fresh transmission oil every few rides, a clean air filter and a tank of premix before each ride.
I'd had my eye on a Gas Gas long-term test bike ever since I rode the 2018 EC300 at the launch in Broadford, Vic. It was a significant day for Gas Gas because it was an all-new generation of motorcycle from the Spaniards after the last takeover, by Torrot.
I loved the bike the first time I rode it and the 2019 model which I've been lucky enough to ride for the past 12 months was even better, with its redesigned cylinder head, new exhaust porting, tapered handlebar and an updated electric starter. The 2019 Gas Gas EC300 offered a huge contrast to my previous long-term test bike, the Beta RR430. Nothing about them was the same but they cater for different styles of riding. The Beta was softer and more user-friendly while the Gasser felt more race-focused straight out of the box. On my first ride I almost careened off a cliff at the first corner because I had forgotten how to ride a two-stroke. I switched the engine map to wet mode and things only got better from there.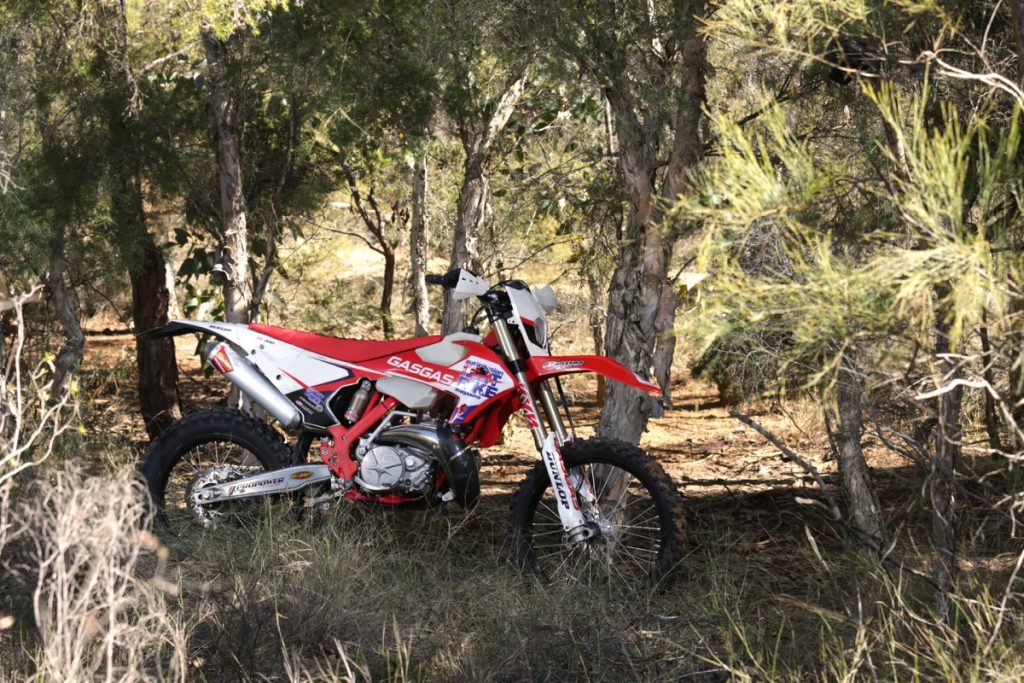 I liked how the Gas Gas EC300 was set up straight out of the box. In the 12 months we had it I never turned a clicker on the fork and it was only in the last two months that I took two clicks out of the rear low-speed. And it wasn't just me being lazy, everyone who rode the bike said the same thing.
Even though I didn't muck around too much with the bike's suspension settings, I did add some aftermarket parts. The first thing I did was protect the Gasser's vitals with a carbon-fibre pipe guard and aluminium radiator guards from Pro Power International.
I have a black mark on my record from when I crushed a radiator on the Beta RR430 so it's now company policy that all my bikes have radiator guards. As far as radiator guards go, these ones from Pro Power are unobtrusive and easy to install. They don't rely on a brace behind the radiator for their strength, all the front and side impact protection comes from the billet-aluminium guard which replaces the stock plastic louvres.
The carbon-fibre pipe guard is what you'd expect, it offers good protection from dings but if you have a huge crash it won't save your pipe from bending. This never happened to me and I'm sure the guard saved the pipe from digging in a few of my small crashes.
With protection sorted I decided the Gasser needed to look the part. The stock sticker kit is fine but it needed the ADB long-term fleet, don't-mess-with-me treatment. Willmax Graphics designed a tidy graphics kit and a seatcover from Strike Seats completed the look.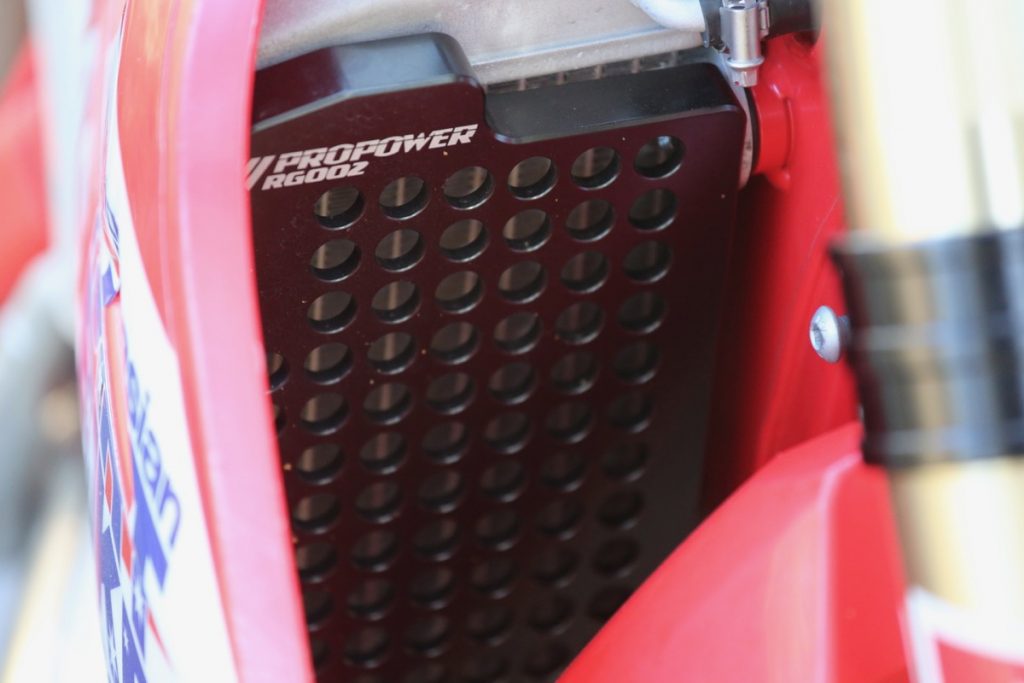 FRESH RUBBER
The Strike Seats cover was gripper/pleated. I had never used a pleated cover but Tech Editor Mat Boyd swears by them so I gave one a go and I'm glad I did. The gripper material obviously gives you much better grip than the stocker but the pleats keep you planted even when it's wet and muddy, conditions that would see you slipping off a normal gripper seat.
The 2019 Gas Gas EC300 engine is no snore-fest. It's a bit of an animal and more like 300s from yesteryear than the four-strokes-in-disguise we're all becoming used to. The extra grip from the pleats kept me planted in the saddle, reducing the workload on my skinny arms.
The stock hoops were the next things to go, replaced by a pair of Dunlops. The 2019 Gas Gas EC300 came with FIM-approved Michelin Enduro tyres and even though it's popular to bash FIM tyres, these ones were fine. They were round with knobs on and I found them to be great in most conditions, but I wouldn't recommend them for sand.
The Dunlops I fitted were a cut about, but that's to be expected. I opted for the MX52 on the rear and the MX33 on the front. A keen eye will notice these aren't matching tyres, which was my intention. I like a soft-intermediate tyre on the front because I've found they work on a wider range of surfaces than the intermediate-hard.
The soft-intermediate MX33 is a little skatey on hardpack but that's offset by the ridiculous grip it finds everywhere else. It gave me tonnes of confidence and confidence goes a long way to riding well, crashing less and having fun. Ben Grabham agreed – after riding the EC300 he fitted an MX33 on the front of his flat-track bike.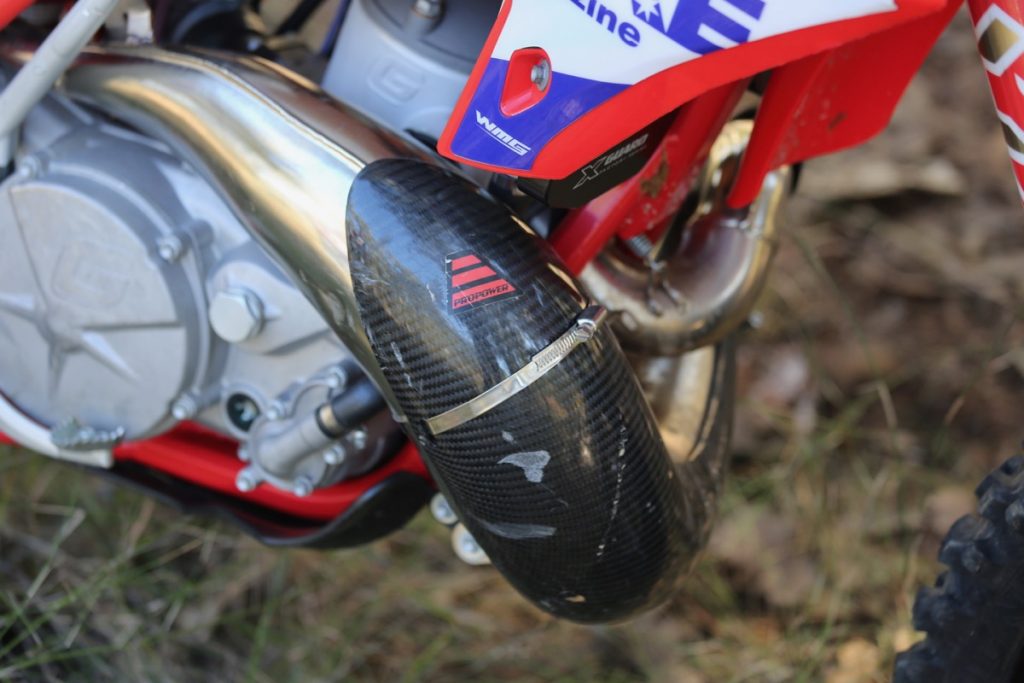 This could be a controversial opinion but I don't think rear grip is quite as important. Now hear me out, obviously rear-wheel grip is critical for putting down fast lap times and important for getting up hillclimbs in shitty conditions, but a slightly loose back-end in loamy conditions isn't going to dump you on your arse the way a loose front-end will.
A loose rear-end is more predictable whereas a loose front is plain deadly. That's why I went with the MX52 intermediate-hard terrain Dunlop on the rear, plus it lasted longer than a soft MX33.
All these changes, the graphics, the seatcover, the tyres, happened within the first two months and it wasn't until much later that I developed the urge to whip out the tools and start tinkering. I was on a trailride with Jeff Briggs and Grabbo and they agreed the standard 48-tooth rear sprocket was too tall. They recommended I try a 50.
Spurred on by these legends, I hit up Cassons, who supplied us with a 50-tooth Renthal Ultralight aluminium sprocket. Halfway through the installation I realised I needed a longer chain. JTR Express Posted me one of its RHK Gold X-ring chains and, despite cutting the new chain one link short, the new gearing was in, albeit with the Gasser's wheelbase slightly reduced.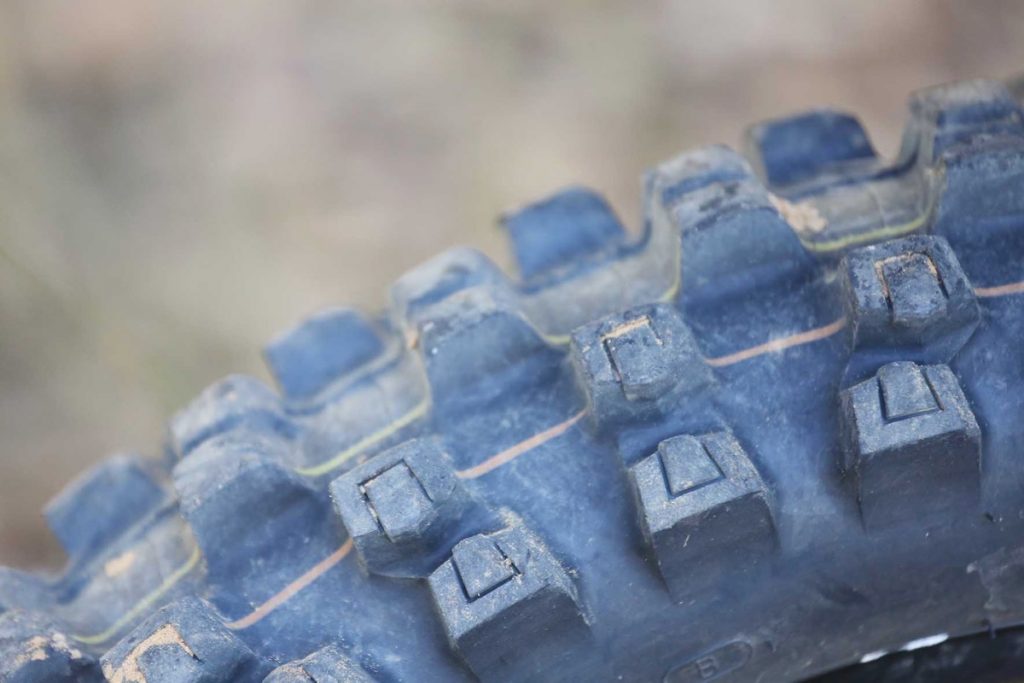 The new final-drive ratio transformed the bike. Third gear became the Gasser's happy place, whereas before I was clicking between second and third and even first far too often, and missing gears along the way. Obviously top speed was reduced but that wasn't an issue for me. I gave Briggsy a ride and he agreed, the 50-tooth sprocket was a great call. If you own an EC300 with the stock gearing, trust me, life begins at 50.
EASY LIVING
When you have responsibility for a brand-new dirtbike which someone else owns, there's the expectation you'll look after as if it were your own, if not better. You can't return a borrowed bike in sub-par condition, it's not a good look. Besides the obvious, like washing it after every ride and not racing it at Hattah during record-breaking rain, oil changes every two-to-three rides and a clean air filter kept the EC300 running sweet.
It was a very easy bike to live with and, seeing as I only put about 30 hours on the thing I didn't need to touch the top-end. Brake pads and discs also had plenty of life left when I handed the bike back, much to Enduro Ed Geoff Braico's disgust.
When Mitch received the call from Gas Gas asking for the bike because they had a customer chomping at the bit to buy it, I was on holidays so I didn't get a chance to have a farewell ride. The last time I rode it was in the sand dunes when I tagged along on a coaching session with Grabbo. That was one of the best rides I had on the bike. I put almost three tanks of fuel through the thing and still wanted to keep riding.
Something about flying around the dunes wide open is really fun. I had never ridden the EC300 in the sand and it showed how versatile the bike is. It comes down to the KYB suspension, which suited every terrain type and condition I encountered during the 12-months, from rough rocky singletrack, fast fire roads, grasstrack, single-line test loops and then finally sand. I'm glad the last ride was a fun one, it was a good send-off for an awesome bike.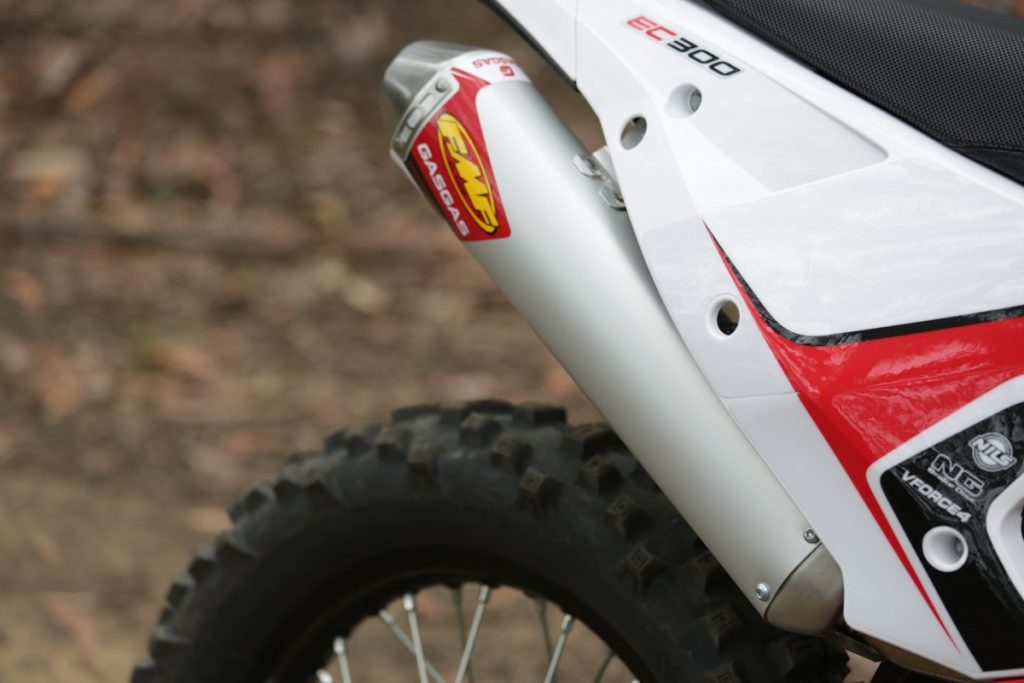 2019 Gas Gas EC300 Parts List
• Pro Power International pipe guard
• Pro Power International radiator guards
• Strike Seats ribbed cover
• Willmax Graphics kit
• Dunlop MX33 and MX51 tyres
• Renthal Ultralight 50-tooth sprocket
• RHK Gold X-Ring chain
WORDS: OLLY MALONE | PICS: MITCH LEES